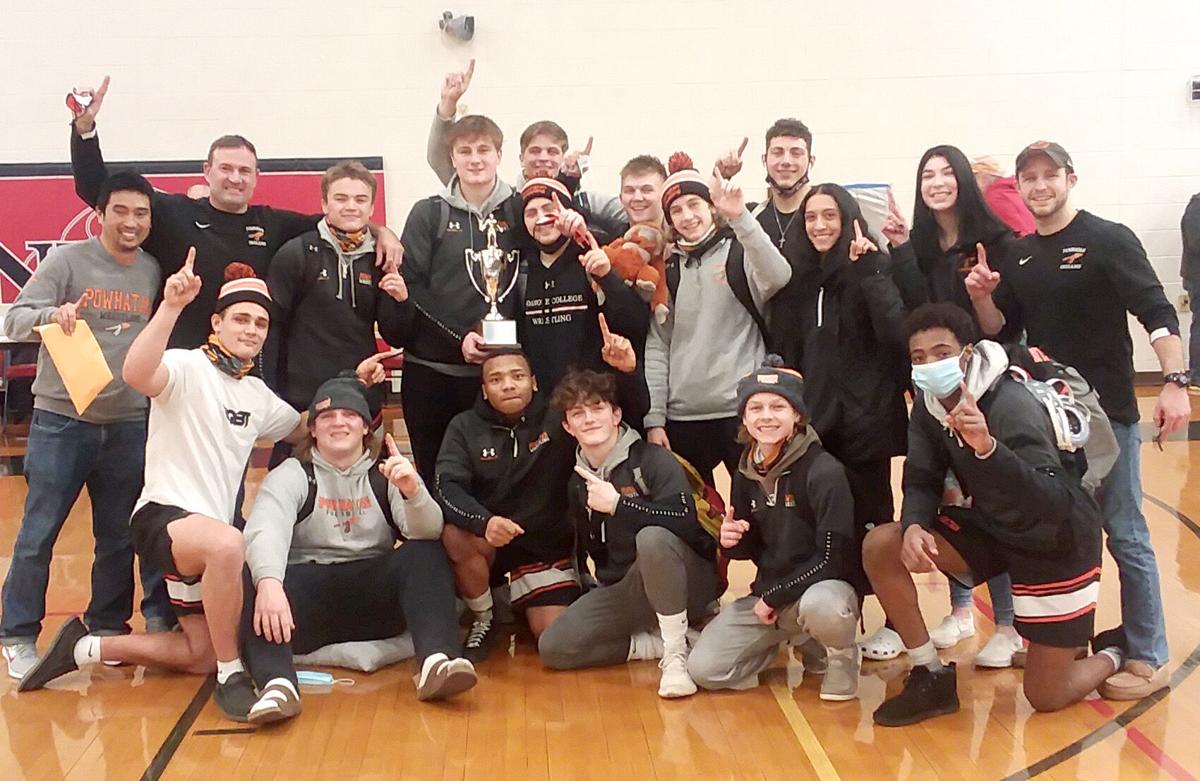 SPOTSYLVANIA – His team is one that's been four to five years in the making, and Powhatan High School senior Sean Hall has been waiting about that long to feel the feeling that he and his Powhatan wrestling teammates collectively felt in Spotsylvania High School's gymnasium on Saturday evening.
The elation that comes with being crowned the regional champions.
The battle-tested unit had come close in years past, but at last, Powhatan was able to hoist the Virginia High School League Class 4, Region B trophy after finishing first in points ahead of runner-up and perennial power Eastern View.
"It's just great to see that all of our hard work has paid off in our final year," said Powhatan senior Sean Hall, who became a four-time regional champion with his 3-2 triumph over Eastern View freshman Kadin Smoot in the 132-pound first-place match.
"This group of kids – through all of the adversity we've been through, through the situations we're in – they just kept grinding, kept putting in the work, and it's obviously been paying off," said senior Hayden Fitzsimmons, who broke through for his first regional championship while wrestling at 195 pounds. "I wouldn't want to go to war with anyone else but these people here."
It was the first regional championship for Powhatan wrestling.
"We thought we had the ability – it's kind of funny, me and Coach (Richard) Fitzsimmons were talking yesterday at practice and it was just like…one of the years has to be our year. One of the years, we have to have it where our kids perform about or better than where we think, because it just has to happen. Our kids are better than they've shown, and….if our program is where we think it is, then we need to show that," Powhatan head coach Jonathan Tanaka said. "I'm super proud of our guys for showing it…just proud of our guys, proud of our coaching staff. I'm sad that our fans couldn't be here to celebrate it with us. It's kind of a bittersweet moment, but we'll have a party when we get back to Powhatan, I'm sure."
Powhatan won two individual titles with Hall and Fitzsimmons, added four runner-up placements and three third-place finishes and had two more wrestlers reach the third-place match in their respective weight brackets. In addition to their two region champions, Powhatan will get to take the four runners-up – junior Dylan Coward (113 pounds), sophomore Britton Proffitt (138), junior Cade Van Buskirk (145) and senior Linwood Hill (170) – to the Class 4 state tournament.
"It's just obviously a big motivation for us that we finally got that regional title," Hall said. "We also got a district title this year, so we want to cap it off with a state title as well."
Hall and Fitzsimmons both went unbeaten with three wins each in their respective brackets. Hall pinned Courtland's Dalton Best in the first round, then earned his spot in his fourth regional final by routing Spotsylvania's Luke Wahlquist in a 15-1 major decision.
In the 132-pound first-place match, Hall and Smoot tied at 1-1 before Hall shot, got a hold of his opponent's right leg, stayed low, lifted Smoot's legs, pressed forward and then spun around to move both behind and above Smoot, pivoting him in a semicircular turn as Smoot's head stayed to the ground. The two points that followed on Hall's takedown ensured that he stayed in the lead.
"It feels good – it's a nice little cap-off that my last regional championship was kind of like my first in that it was with an Eastern View kid, and it was a pretty close match," Hall said. "It's a really great feeling to have."
Hall, a three-time top-three state placer, will seek his first individual state championship in his fourth state tournament.
Fitzsimmons punched his ticket to the regional final by pinning both Chancellor's Jamey Lewchanin in the first round and Jacob Epperly in the semifinals. From there, Fitzsimmons, who put in a ton of time in the weight room the last couple of years and built up his mass in his bump-up from 182 pounds last year to 195, turned and pinned Courtland's Charlie Henderson to secure his first regional title, as well as his return to states.
"It's an awesome feeling," Fitzsimmons said. "Thousands of hundreds of hours put in and blood, sweat and tears, really pays off to have this feeling like this."
"Hayden – nobody deserves it like he does; he just works really hard," Tanaka said. "I get jealous, man – I hope my kid wants to wrestle, too, because watching (Coach) Rich and (his son) Hayden get to wrestle and be with each other, I can't imagine how much fun and how special it is for them.
"Those two kids (Hall and Fitzsimmons) deserved it – Sean battled a really tough freshman kid at Eastern View and got all he wanted," Tanaka said. "Super-happy for both those guys. Hard work pays off."
This year's regional tournament worked differently in that the third-place match winners who did not get beaten by the losing wrestlers in the first-place matches were able to take on those wrestlers in extra matches for true second-place honors. The winners of the true second-place matches would get to advance to states.
Coward and Hill had to win their way in.
Coward at 113 dominated his opening match over Courtland's Tristen Picard in a 12-1 major decision before edging past Mechanicsville's Ryan Magill 3-2 to reach the regional championship round. He narrowly lost 3-1 to Eastern View's Elijah Smoot.
"Dylan's first regional finals, that's always kind of uncharted territory – you've got to figure out exactly how to get your nerves under control and how to keep all the butterflies out," Tanaka said. "I think he's going to learn a lot from it, and I think we'll probably see that kid again in the state tournament in two weeks."
Coward then faced Spotsylvania's Jacob Derby in the true second-place match. He took a 2-0 lead and steadily built up his advantage before pinning Derby with roughly 1:05 remaining to ensure his runner-up result and state berth.
Hill at 170 trounced Mechanicsville's Nick Owens in a 17-4 major decision in the first round, but in his next match he took a second-period pin to Eastern View's Griffin Smythers to move to the consolation semifinals, where he bested Dinwiddie's Oscar Cunningham in a 7-2 decision.
Hill muscled past Spotsylvania's Mason Christopher in the third-place match via an 8-5 decision to force a true second-place wrestle-off between himself and Orange County's Taylor Jenkins. Hill would go on to take the win, the overall second-place finish and the state berth by injury default.
"Linwood – man, so proud of him. He lost a really tough match to Smythers in the semis, and then just kept wrestling back," Tanaka said. "We told him that he would have that shot – you've just got to keep wrestling, and it would've been heartbreaking to see him not go to the state tournament. Now he's going to get to go. He'll finally get a chance to get up on that podium and show how good he really is."
While Hill and Coward are state tournament returners, Proffitt and Van Buskirk will be wrestling at that level for the first time.
Proffitt at 138 advanced to the regional semifinals by pinning Mechanicsville's Dominic Bischoff in the second period, then won a thriller of a semifinal match in which he took down Eastern View's Cam Sheads in overtime to earn the 3-1 triumph. He lost to Spotsylvania's Kyle Csikari in a 5-1 decision in the first-place match and retained second place as Sheads, whom he had already beaten, finished third.
"Semifinal match actually was super tough…Sheads is tough," Tanaka said. "Britton just wrestled a really smart match."
Van Buskirk at 145 broke a 4-4 tie with a takedown late in the third period of his first-round match, then grabbed three points on a near-fall to ensure his 9-4 win by decision over Eastern View's Nick Nazarro. He overcame an early 2-1 deficit in his semifinal match and racked up multiple takedowns to fend off Patrick Henry's Justin Morgan in a 13-8 barnburner.
Van Buskirk tied King George's David Norris 4-4 in the championship match, and it looked like he would get a go-ahead takedown, but the points didn't come, and Norris struck to take-down Van Buskirk for the lead. Van Buskirk added a point, and he shot one final time and was working his way towards a takedown that could get him the lead and the win…
…but time ran out in the third and final period of regulation before he could get the chance to follow through on the move. Norris narrowly held him off 6-5 for the win.
Van Buskirk, however, was also able to keep second place without contest as Morgan, whom he defeated earlier, took third place. 
"I love the kid – I taught him in class the last two years, parents are phenomenal. Kid just works really hard," Tanaka said of Van Buskirk. "Just proud of him for battling – it's not always been the easiest road for him, he's not always found the most success, and this year…he's just stayed away from those mistakes that have plagued him in the past, and couldn't be happier for him."
Senior A.J. Gaskin (152) capped his dominant first-round match by pinning Patrick Henry's Sam Fox with 43 seconds remaining, but took a heartbreaker of a 4-3 loss in the last second to Hanover's Luke Hart in the semifinals. He bounced back in the consolation semifinals with a 5-1 win by decision over Louisa's Tanner Painting. In what his likely his final high school varsity match, Gaskin, who committed to Ferrum, pinned Chancellor's Lorenzo Coleman in the third period to take third place in his weight class.
Junior Hans Rehme (182) opened his run in the tournament by shutting out King George County's Silas Teague in a 9-0 major decision, but took a pin to Caroline's Shane Shirley within the final five seconds of his semifinal match. He returned with an explosive showcase in the consolation semis, roaring out to a 5-0 lead before pinning Courtland's Joseph Meyer in 51 seconds. He pinned Mechanicsville's Kyle Whitlock with 12 seconds left in the second period to place third.
Junior Tanner Palmore (heavyweight) pinned Mechanicsville's Joseph Elaal with 1:28 remaining, but fell to Spotsylvania's Kyle Orris in the third period of the semifinals. He rebounded in the consolation semis by pinning Orange County's Thomas Pierce in 53 seconds, then pinned Elaal in 41 for third place.
Junior Andrew Cheatham (160) pinned Orange County's Solo Mthethwa in the second period of the first round, but was bumped to the consolation semis with a 7-1 loss to Eastern View's Daniel Taylor. Cheatham won his way into the third-place match by fending off Caroline's Trevor Beale in a 7-5 decision, but he lost in a 12-3 major decision to Patrick Henry's Lorenzo Verdelotti.
Junior Mitchell Johnson – who last year emerged as Powhatan football's leading running back, wrestled some varsity matches in 2019-20 and stepped up this year to wrestle at 195 and 220 pounds this year when an injury sidelined senior Micah Holt for the season – also fought his way to his respective third-place match at 220.
After he took a narrow 2-1 first-round loss to Dinwiddie's Ben Pfister, Johnson bounced back in the consolation bracket to pin Spotsylvania's Cotton Yelton, then overcame a 1-0 second-period deficit to take the lead from Mechanicsville's Adam Elaal with a three-point near-fall and pin him with 7 seconds left in the consolation semis.
Johnson rumbled out to a 10-3 lead over Pfister in a rematch for the guaranteed third place, but Pfister rallied to pin him in the second period.
Freshman Talon Harness (120) opened his first regional tournament with a 12-6 loss by decision to Eastern View's Aidan McCarton, but he bounced back in the consolation quarterfinals to pin Orange County's Jackson Atwood with 5 seconds remaining. He finished the tournament in the consolations semis, taking a 9-1 major-decision loss to Spotsylvania's Devin Burrows.
Sophomore Natalia Sanchez (106) lost by pin to Courtland's Chance Picard in the first round and to Chancellor's Aiden McLaughlin in the consolation quarterfinals.
Powhatan, whose last individual state title came in 2019 with J.D. McMillin, will look to break through both individually and on the team side in the Class 4 state wrestling tournament on Saturday, Feb. 20 at the Virginia Beach Sports Complex. Even though they'll only have six wrestlers, Tanaka and his coaching staff are really confident in those six wrestlers and their abilities.
They'll also now have "huge momentum" on their side following their regional triumph, Hayden Fitzsimmons noted.
"No one likes to come in here the past few years and come up just short, getting third or second – just fall short to these teams we always had," Fitzsimmons said. "To finally punch through and best them finally after all these years, it's going to be a big momentum-shift into states…we've just got to keep grinding."