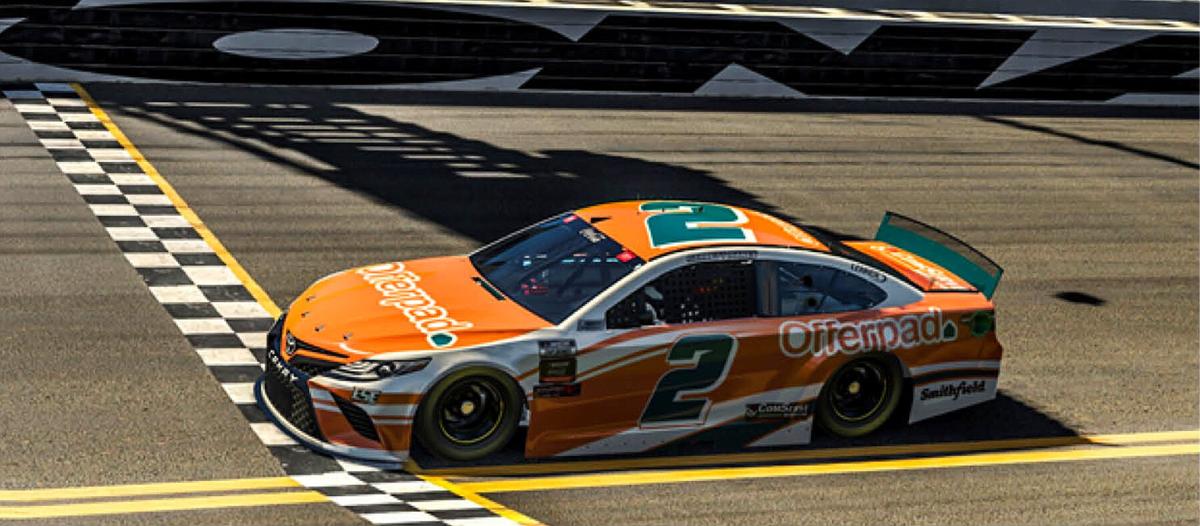 Garrett Manes' first foray into the premiere NASCAR-sanctioned eSports league – the eNASCAR Coca-Cola iRacing Series – is under way, and he's embracing the new challenge with a new sponsor and a familiar race team.
The racer from Powhatan County will look to continue to build on his successes with Elliott Sadler eSports as they join forces with Offerpad, an online platform for buying and selling homes. Like Manes, ESE and Offerpad are taking on their first year in the Coca-Cola iRacing Series.
"It's really cool to have the opportunity with Elliott – we put a lot of work into getting his team into the Coke Series, and everybody on the team is going to be able to be represented," Manes said, adding: "It's really cool to have the opportunity to represent Offerpad. I'm really glad they chose to sponsor me this year. I'm really thankful to everybody on the team that's been able to put in all the work to get us to this point.
"Really looking forward to being able to represent them this year and hopefully for years to come."
"I'm very happy to get Offerpad on the car and create a relationship with such an up-and-growing company; what they offer at times like this is second-to-none, and they're also getting their feet wet in the NASCAR realm as well," said ESE team owner, former NASCAR driver and Emporia native Elliott Sadler. "It's definitely a start of what I feel like is going to be a great relationship."
It was with Sadler's team ESE that Manes earned his first virtual Road to Pro and Pro Series victories and advanced his way into the elite Coca-Cola series.
"It's really cool to be able to stick with them throughout it all," Manes said of Elliott Sadler eSports. "Everyone over there is such a great team."
In addition to Manes' machine, ESE is also fielding the No. 1 Toyota that will be driven by Ashton Crowder, who along with Manes won for the organization in this past winter's six-race Pro Series. The car piloted by Crowder will feature another national brand in Nutrien Ag Solutions, who last year sponsored Ross Chastain in the NASCAR Xfinity Series.
"We just really got this team off the ground, and to already have great partnerships like we have is honestly pretty cool," Sadler said. "It's exciting, and we want to make the most of it."
ESE is unique in the series in that it embraces a Cup team concept. ESE's team members test together on a daily basis and conduct all of their marketing together. The team also features people in different positions, including engineers, builders and marketing personnel, Sadler noted.
All three of ESE's drivers in this winter's Pro Series – Crowder, Manes and Vicente Salas – advanced to this year's Coca-Cola iRacing Series.
"I'm not saying it's the right way or the wrong way, but I definitely have gone about this a different way, but to see the success that we've had so far with the Road to Pro and then the Pro Series...whatever we're doing's working," Sadler said. "The kids are working hard together. I think they're learning a lot in this type of company that we've built, because if they want to move to the NASCAR landscape, I've really tried to blur the lines between how a NASCAR team runs their company and how we're running our eSports team, so when they get to the next level, they're already used to the way all of this works."
The purpose of ESE, Sadler said, is to give an opportunity to young people who want to make it to the next level.
"I had a lot of people help me coming along that helped me get to Late Models, that helped me get to Xfinity, that helped me get to the Cup Series," Sadler said. "I want to create that same type of platform...where, guys on my team, I want them to have an ambition to make it to the NASCAR level, whether that's as a driver, an engineer, a spotter, a marketing person, what-have-you.
"I want them to gain this experience here with a little bit of knowledge that I have with almost three decades in the sport to try to help lead them in the right direction," Sadler said, "and I want to be able to help them any way I can to fulfill their dreams. My team is not for the person that just wants to just iRace and nothing else. I want them to have dreams and follow them, and have big success in iRacing, but learn different aspects of the racing as well."
His driver Manes, Sadler pointed out, is "fast everywhere he goes."
"He's got a really good head on his shoulders. He's very intelligent when it comes to setups and what he needs to go fast at different tracks," Sadler said. "He's just a great young man as well. All the discussions I have with him have always been 100-percent professional from his side as well.
"I honestly think, with a break here, or a break there, he's got a bright future in racing," Sadler said of Manes. "We've just got to try to navigate that correctly because it's so tough – the way the business model is now in NASCAR, it's so tough to create opportunities a lot of times, but he's a good young man. He's got all of the right buttons to push to make it to the next level. We just hope he can do that."
Manes got his first experience racing against this year's Coca-Cola iRacing Series competition when he took on The Clash, the series' preseason exhibition race on the Daytona International Speedway oval format, last Monday.
While he didn't come away with the win, Manes was in a winning position on the backstretch of the final lap. There were two main trains of cars – one line of cars stacked nose-to-tail on the inside, the other charging on the outside – and Manes was leading the outside train of cars. He was moving forward with a push from defending series champion Nick Ottinger. The two leaders, Logan Clampitt and Keegan Leahy, were to his left. As they continued down the backstraightaway, Leahy tried to move up the track, but because he was not clear of Manes, he made contact with the No. 2 ESE Toyota, leading to Manes getting sideways. Manes' car slashed from the top of the track to the bottom – hitting multiple cars on the way – as the multicar crash caused by the contact ensued.
Manes, however, straightened out his car, kept the front pack in sight and wheeled his machine to the start-finish line to take eighth in the non-points race. Clampitt won the event.
"I was not surprised by how difficult it was to make moves; I kind of assumed it was going to get to a gridlock stage with it just being three-wide, which, last year, they went green to checkered in a gridlock the whole time," Manes said of the race, "so I knew it was going to be important to have track position."
While the Clash has no season-long implications, Manes and his race team showcased a combination of resiliency and smart decisions that put them in a position to contend for the win in the wild, crash-filled virtual racing event.
After initially getting caught up in a huge crash within the first 20 laps that briefly lifted his car's wheels off the ground, Manes used the Clash's mulligan – the fast repair – to restore his car and return to the competition. After the race went green, two cars at the front of the pack spun out in a slide down low, and Manes, with a heads-up read, dove onto pit road to put himself in position to gain a lot of track position with many cars ahead of him projected to pit during the competition caution.
Manes fell back to 38th with no cars around him to draft with him, but another crash in the leading pack would soon bring out the yellow flag, and the incident plus his decision to pit earlier catapulted Manes all the way up to sixth.
"They actually wrecked coming off of turn 4, which, if I had waited until the best possible time to pit, I wouldn't have survived," Manes said. "Very lucky to have made that call and get up to P6, put us in position to really show what we had."
Manes made another read that paid off when he moved up to the front of the high line of cars that was charging to make it three trains of cars racing side-by-side in the superspeedway pack. The third high-side line had shown that it would eventually stall out after the initial surge, but before it could, another crash erupted, freezing Manes into third place via the caution with 20 to go.
Manes briefly led the race and stayed near the front all the way up to the backstretch of the last lap, when the contact with Leahy ultimately took him out of contention for the race win. It was Manes' push from the outside fourth-place starting position on the green-white-checkered, however, that propelled eventual race winner Clampitt to the front of the pack. Clampitt held off his William Byron eSports teammate Ottinger at the line in a photo finish.
"The level of competition in the Coke Series is definitely the strongest field you'll ever race on on iRacing," Manes said. "Everybody knows your next move – you're not going to make a move that nobody has seen before. Basically everyone knows how to counter what you're going to do, so you have to be very calculated and put people in a position that they can't defend, and there at the end, I felt like we were in that position – just, circumstances didn't work out, people tried to force a move that didn't work out, we got the bad end of it."
But for Manes, it was really cool to have Sadler on the box during the Clash.
"Honestly his feedback that I was hearing helped me in that race and helped me make better decisions, or just kept me making the right ones," said Manes, who had a new spotter for the race. "Overall it just helped our team as a whole...Elliott had feedback for what information I might need to hear, and he was spot-on. I agreed 100 percent."
Upcoming stops on the 18-race Coca-Cola iRacing Series points schedule will include two newcomers to the series, the road courses of Circuit of the Americas (May 18) and Road America (June 29), as well as Richmond Raceway, Manes' home track, on April 13.
"I told Richmond Raceway: it's still home turf, so hopefully we can get the repeat from the Pro Series," Manes said. "Definitely looking forward to that race."
Sadler said that Manes "has a great opportunity to win some races this year" and really make a name for himself in the Coca-Cola Series.
"This is the top of the top," Sadler said of the series. "For our guys to fight through the Road to Pro, which is so stressful, make it through the short Pro (Series) season, top 20, win some races in that to make it to the top 40 guys in the world as far as iRacing is concerned, this is the cream of the crop. Everybody's going to be fast. Everybody knows how to race. Everybody's very intelligent on pit decisions, so the margin of error is going to be very low. You've got to really be at the top of your game each and every week, just like watching the Cup Series on TV.
"That's why I think it's going to be fun for people to watch and pay attention to, and with iRacing and NASCAR becoming closer together it seems like each and every year, it's going to be a lot of eyes on the Coke Series this year, and we're proud to be a part of it," Sadler said. "We like our chances and we're optimistic and we're going to go have fun and do what we can with it."
All race streams will begin at 9 p.m. The first points race of the eNASCAR Coca Cola iRacing Series' 2021 season will run tonight at that time on the virtual Daytona International Speedway, and can be viewed at eNASCAR.com/live and iRacing.com/live, as well as through the NASCAR and iRacing Facebook, Twitch and YouTube channels.