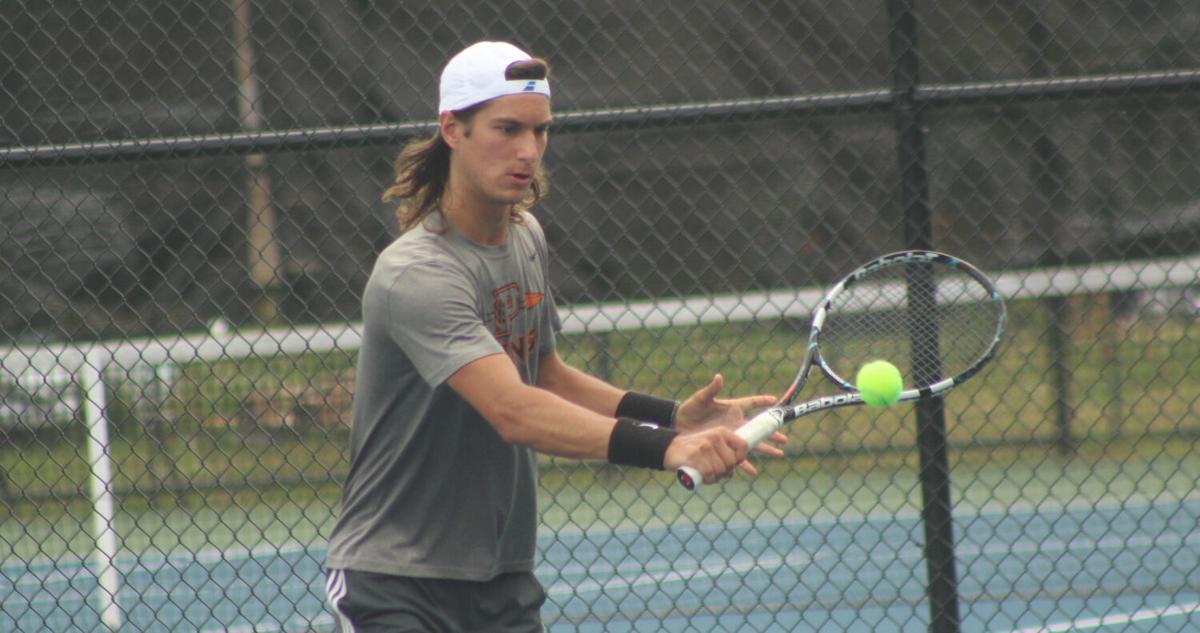 MECHANICSVILLE – Every day, at least for two hours a day, Jacob Pfab has kept his game sharp on the tennis court. Even when it would rain, or when it was cold, he'd work out. He'd do sprints. He'd run cone drills. As Powhatan boys tennis' head coach Lee Kelley put it, Pfab would make those calls to him, saying: "Hey coach, I need to put some time on the court." And when it's nice out, the Powhatan High School junior will play five hours a day.
Those long sessions – and all the work he's put in – came into play. Not long after he had played a three-set regional semifinal doubles match that had lasted around 2 hours, Pfab's ability to run down shots, cover the edge and slam powerful groundstrokes from baseline to baseline never wavered as he defeated Hanover opponent Ethan Belote 6-2, 6-0 to win the Class 4, Region B boys tennis singles championship.
"It feels good – all the work paid off," said Pfab, who secured his first regional title in singles. "Ethan's a great player. It definitely wasn't easy. I had to come out here and hit my shots. I didn't take anything for granted."
"It all paid off…practicing in the cold, running cone drills in the rain, it paid off," Kelley said. "He deserves it – he definitely deserves it."
After Belote won the first game of the match and led 30-15 in the second, Pfab gained momentum with his serve. He went-ahead 40-30, then tied the set at 1 game apiece on both a groundstroke return from the baseline and a powerful first serve, both of which Belote hit into the net.
Pfab set the tone in the third game when he stayed on the run in a wild rally before delivering a clear winner down the right set while in transition for the first point. He took a 30-15 lead when Belote netted Pfab's backhand return, then held out for the break point and a 2-1 lead after Belote double-faulted twice.
Pfab in the fourth game rallied from an advantage-out point with the help of another fiery first serve and won the game for a 3-1 lead thanks to another backhand return.
Belote swept the fifth game to trail 3-2, but Pfab rallied from a 30-15 deficit to win his next game while serving, then broke Belote's serve again on straight points to lead 5-2.
That seventh game featured one of the points that saw Pfab draw Belote to the net on a drop shot, catch hold of Belote's return shot and drive the winner past Belote and into clear court.
"Sometimes you're just guessing, but sometimes you can see a little flicker in his eye," Pfab said. "You can just see, 'Oh, he's going to my backhand,' so you step over there, but sometimes it's just guessing."
"Again, it's all based on practice," Kelley said. "If you have a plan, you execute that plan, you get the results that you need…and the intensity of executing that plan will be the results, and you could see it."
Pfab won a similar point to open the eighth game of the first set with a 15-0 lead, then went up 40-0 after quickly covering the left edge on a powerful return shot from Belote for his second, and also after seeing Belote hit out one of Pfab's first serves.
Pfab bounced back from a double-fault to deliver a winner on a low return shot and take the first-to-6 set in eight games.
The first set was a matter of patience, Kelley pointed out.
"He knows and I know that the first four games of any match pretty much determines the momentum," Kelley said. "He rode it out. That was it. The tidal wave happened."
Pfab bounced back from a 40-15 deficit in the first game of the second set to break Belote's serve when he ran down a shot, then responded to Belote's return stroke with a volley that Belote hit out.
From there, Pfab seized the momentum and rolled out to a 3-0 lead with the help of quick defending and powerful groundstrokes. He also persevered in an 18-point fourth game while serving, and he put away the sixth and final game of the set and the match with a winner down the right side.
Pfab will play his Class 4 state semifinal match on Friday, June 11 at Huntington Park in Newport News at 10 a.m.
Pfab plans on going into that match with a winning mindset.