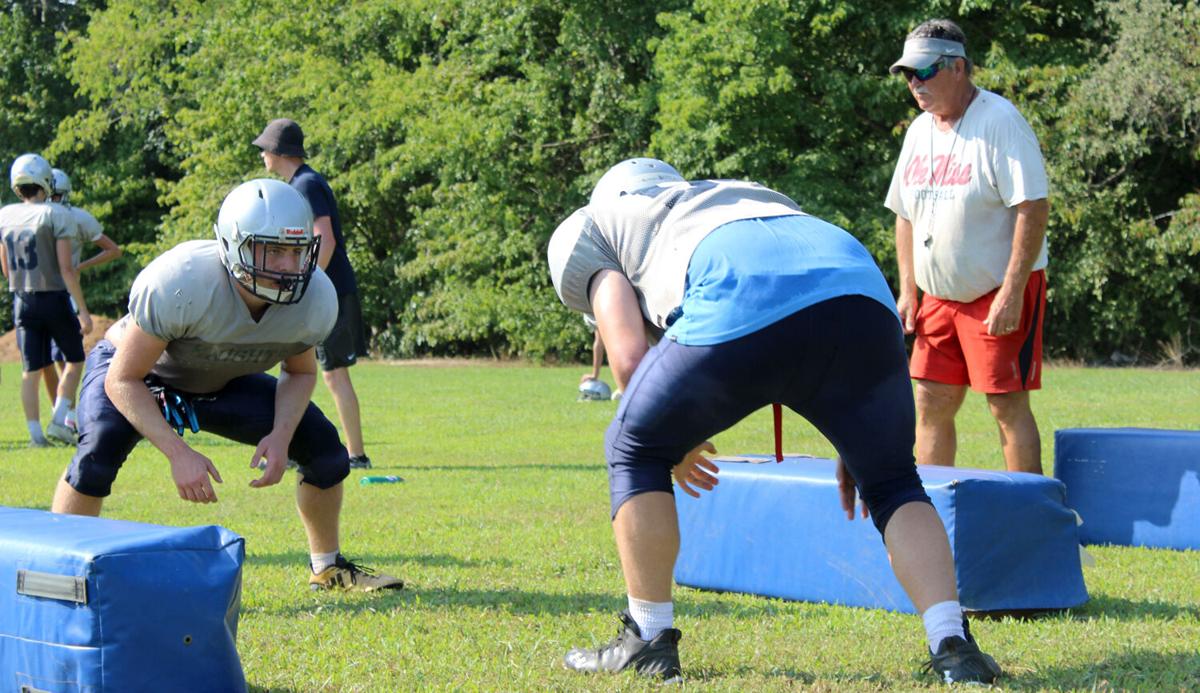 POWHATAN -- After a young Blessed Sacrament Huguenot football team gained valuable experience during last year's season – which was delayed to the spring and shortened to just a handful of games due to COVID – getting the chance to play a regular-sized schedule in the fall once more means "everything" to head coach Gary Brock.
"This is what it's all about, and so we're looking forward to it," Brock said. He added of their players: "They worked hard last year. They were just as resilient as could be with all the stops and starts that we had, and I'm proud of them for that."
Although this past season was relatively limited in overall games played, the Knights still embraced the opportunity to complete a 4-game spring stretch in the Virginia Colonial Conference's 8-man league. They faced Kenston Forest, Southampton Academy, Halifax Academy and a senior-laden Broadwater Academy, and they did come away with a dominant 32-0 win over Southampton.
Both the offense and defense will be returner-heavy. Senior fullback and Second Team All-State running back Josh Decker is back after a terrific junior season; he averaged 126 yards rushing, ran in six touchdowns and caught two more.
"He brings some power and some ability right there," Brock said. "He is a captain and he's been with us now four years, and it tells. This is his year."
Sophomore Hunter Case also shined in the running game last season and has been running the ball really well according to Brock. Both Case and sophomore Will Fichter, who also has been showing up really well, should bolster BSH's depth in the backfield. Both players were among those who did well in a recent scrimmage.
Six-foot-six returner Zander Nadeau helps elevate the Knights with his leadership, versatility and athleticism and can run, pass and catch the ball well. Afton Harrow, a sophomore transfer from Powhatan, could contribute to the Knights' offense at quarterback. Should Harrow start in the pocket, the coaches will want both Harrow and Nadeau on the field. Both players had good games in the recent scrimmage, Brock said; Nadeau had a couple strong runs around the corner and completed a couple of key passes, and Harrow threw for a touchdown and completed 5 of 7 passes against a tough team in the second scrimmage.
BSH looks to have a stonewalling presence on the offensive line as it brings back: junior Nathan Barras as the starting center; senior Garrett Musselman who is showing up really well at the guard position according to Brock; and returning junior guard Nathan Roberts, whose quickness Brock praised.
The Knights also have a talented returning wide receiver core featuring junior starters David Mann, who caught around 10 passes and could have caught around 15 to 16, Brock said, had he not been injured in the next to last game, and Jeb Hatfield, who according to Brock has "been latching on to everything."
On the defensive side, senior Harrison Lee, who will also run some offense for BSH, is back at the safety position. Brock this spring described Lee as a good tackler, and Lee also caught one interception apiece against Southampton and Broadwater.
"He covers so much ground and has good instincts," Brock said. "We look for him to have another great year."
Returning at linebacker are Decker, who excelled in the position this past season, and senior Gage Smith, who had a team-leading nine tackles against Broadwater this past spring.
Leading the team at the cornerback positions right now are Harrow and returning player and senior Julian Alcazar. Up front on the defensive line, Mann and Roberts will play at the ends, and Musselman will play inside.
With a small roster, the team has emphasized the importance of the players knowing multiple spots.
"So far, they've shown that they're up to the task," Brock said. "The biggest thing right now is conditioning. We saw several teams this past week out of North Carolina that we scrimmaged with and most of them had at least twice as many people as we did, but like I told (our players), you only play eight at a time, and we've got to be in great shape, it's just the way it is. And I think they're believers now, because we were breathing hard and we were sweating, but not like (our opponents) were. We had a little bit left in the tank at the end."
The Knights emphasize controlling the football and improving in the kicking game, and the defense looks to be more formidable this fall.
Brock praised the efforts and work of assistant coach Patrick Winterrowd, and the team is welcoming BSH alumnus and former First Team All-State Player and BSH Male Athlete of the Year Michael Kemp to the coaching staff.
"I feel like he's going to be another big addition to us," Brock said.