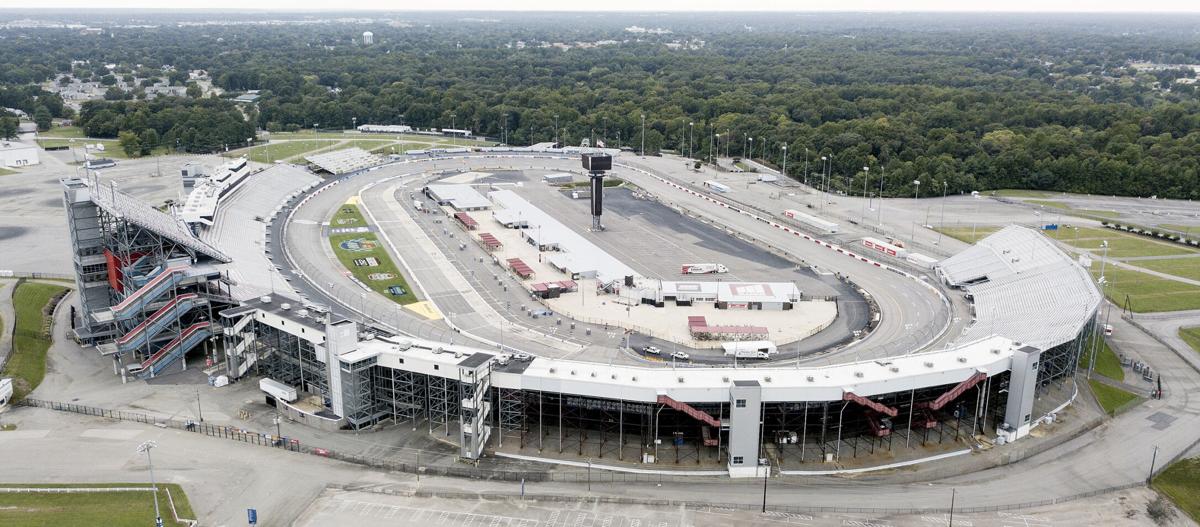 On revamped NASCAR calendar, Richmond's two race weekends will stay the same, feature day race in spring and night race in fall
In one of its biggest moves in years, if not decades, NASCAR has made sweeping changes with its 2021 Cup Series schedule.  Three new racetracks – the Nashville Superspeedway oval and the road courses of Road America and Circuit of the Americas (COTA) – will join the lineup, and two returning venues will feature new configurations. 
Indianapolis will switch its Cup race from the oval to the road course, and in one of the more surprising shifts, the spring race at Bristol Motor Speedway will be run on dirt.
Richmond Raceway President Dennis Bickmeier described the changes as "energizing."
"I've been in this for over 20 years now, and to see some of the big swings that have happened, it's pretty amazing . . . excited about that, excited about some of the changes," Bickmeier said. "I know the fan reaction's been positive to it, so that's good to see, and certainly thankful that we'll have NASCAR back here for two races again in Richmond."
Amidst all of the changes to next year's lineup, Richmond Raceway, celebrating 75 years in 2021, will see its two Cup race dates stay the same. Similar to its original 2020 plans before the COVID-19 pandemic, the 0.75-mile short track will hold its spring race on Sunday, April 18 during the daytime, and its fall race – the second event in the 10-race playoffs – on Saturday, Sept. 11 at night.
Official start times have not yet been announced.
"I think our job is to try to make the two races look different," Bickmeier said of having a day race and a night race. "We had done all night racing here for a number of years, and, look, that's a big part of our brand, was racing under the lights, we get that, we understand that – but we have an opportunity with a Sunday afternoon race to do something that's different."
And while the schedules for the Xfinity and Gander RV & Outdoor Truck Series have not yet been released, Bickmeier pointed to the possibility of additional events and/or races in other series prior to the Cup Series' Toyota Owners 400 in April.
"Really it's not just the Sunday – it's what we do on Saturday, what we do on Friday, what we do on Thursday – everything leading up to the Cup Series race," Bickmeier said. "I do think it's important as promoters to try to find the uniqueness in both of your events, and that's really our job: to change things up a little bit, have some fun with it, do something that's different."
Both races will be one-day Cup shows, meaning that teams, as they've had to do this year because of COVID, will not practice or qualify prior to the race. That will be the case for 28 of the 36 points races. Practices and qualifying sessions are only expected for the Daytona 500, the Coca-Cola 600 at Charlotte Motor Speedway, the championship race in Phoenix and races on the new tracks and configurations.
Bickmeier, however, feels that most of the changes that have come with that shift to one-day shows have been pretty positive.
"I'm not opposed to the one-day show. I'm not opposed to the no-practice," he said. "But no practice means that we have to entertain our fans when they're here. We've got to provide the value that they want for their ticket purchase, so how do you do that? You've still got to try to make the drivers available to them. Is it music? Is it Q&A's? Autograph sessions?
"We've had pieces and parts of those throughout our race weekends already, but now you've got to put an even bigger focus on it if you're a track that doesn't have a practice session or qualifying or something like that," Bickmeier said. "It's changed, but with that, we've got to put our heads together and see what kind of creative things we can come up with to keep our fans entertained."
Richmond will also be a part of a short track swing in the spring, closing out a three-race stretch in four weeks that sees the Cup drivers also visit the half-mile Bristol on dirt and the paperclip-like half-mile track in Martinsville, Virginia before heading to the state's capital.
"I'm glad we're the third one in that line," Bickmeier said. "I think some things will be building up to get to Richmond, so that'll be good . . . I think grouping the three races together is definitely going to be an interesting stretch in the schedule."
As for the three tracks' proximity to one another – Bristol is five hours driving from Richmond, and Martinsville is about three-and-a-half hours away – Bickmeier sees it as a positive, and with Martinsville and Richmond being back-to-back, he's hoping that they'll be able "to do some things that are creative for the fans ticket-wise and promotion-wise."
"To me, I just look at it as opportunity," Bickmeier said. "I'm looking forward to having those conversations with our colleagues at Martinsville and having some fun with it."
The 2021 slate will feature six points–paying events on road courses – seven if you count the Clash exhibition race on the Daytona road course – as the scenic Road America, the state-of-the-art COTA and Indianapolis' road course layout join Charlotte's ROVAL, Watkins Glen and Sonoma on the schedule, with the latter two races both rejoining the lineup after getting cancelled this year due to COVID.
"I'm excited to see Road America, I'm excited to see Circuit of the Americas," Bickmeier said. "The drivers in our sport have gotten so good at road course racing, and it's fun to watch."
As for covering Bristol with dirt, it won't be the first time it's happened. The half-mile concrete oval hosted dirt races in 2000 and 2001 with the World of Outlaws Sprint Car Series and dirt late models.
"When you go back and you look at things that are different and how to change things up and make things unique, that's certainly one way to make things unique," Bickmeier said. "Looking forward to seeing how that plays out."
But don't count on seeing Richmond Raceway covered in dirt anytime soon.
"I have not talked to anybody about even remotely thinking about doing that," Bickmeier said. "But here's why I say that, too . . . one of the things that we like and that we promote, that we market is that we're the only three-quarter-mile that the Cup Series races on, so you can't compare us to anybody else. We race different, the cars race different here, it's a blend of really fast cars on a short oval, and they carry a lot of speed here. It just makes us different, and I like that uniqueness about us."
Two tracks that were on the original 2020 schedule – Kentucky and Chicagoland, the latter of which was cancelled due to COVID – will not be returning in 2021. Dover and Michigan have each dropped from two races a year to one a year.
There were no concerns about Richmond Raceway going from two race dates to one, although Bickmeier noted: "You always have that in the back of your mind."
"We've seen these big swings in the schedule this year, so you've really got to be prepared for anything," he said. "You try to do everything you can to continue to deliver for the industry and continue to deliver for the race fans to keep some solid footing on the schedule."
While Richmond lost its 2020 spring race weekend because of COVID, it did feature four races in three days this September with the Xfinity Series running back-to0back races in less than 24 hours – the first at night, the second in the daytime as part of a doubleheader with Cup – and the Truck Series returning to the track for the first time in 15 years. Grant Enfinger rallied to win the Truck race, Justin Allgaier swept the Xfinity doubleheader and Brad Keselowski dominated the Cup race.
"It was great to have the Trucks back," Bickmeier said, "and I thought the Xfinity-Cup doubleheader, kind of a day-night doubleheader, worked really well."