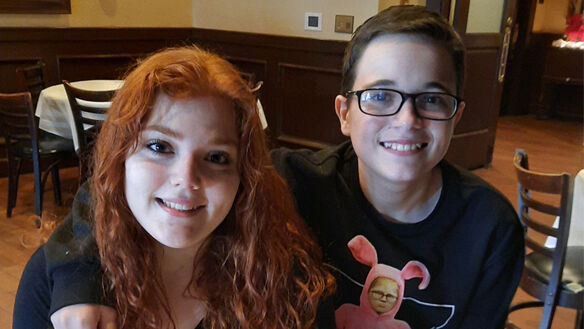 POWHATAN – The family of siblings Mackenzie and Benjamin Morelle remembered the Powhatan teenagers recently for the way they could fill a room with their energy.
Mackenzie, 17, was killed in a single-vehicle crash on May 23, and her brother, 13-year-old "Benny," died on June 1 as a result of injuries sustained in the accident. The accident occurred on Anderson Highway just east of Stavemill Road.
The brother and sister were on their way to King's Dominion for a day of fun together, said Roxanne Wentworth, their grandmother, of Powhatan.
"Tragedy can happen at any time to anyone. Ours happened on a Sunday afternoon when two teenagers were heading to King's Dominion. But that is who they were," she said.
Mackenzie, a junior, had recently transferred to Powhatan High School from Monacan High School and was enjoying her new school, Wentworth said. She was playing lacrosse until she got her first paycheck at Dunkin' Donuts and the allure of working made her shift her focus.
"She loved spending her money on eye makeup and hair products," her grandmother said with a smile.
But beyond the money she was earning, Mackenzie genuinely loved working as well as meeting and being around people, whether it was her co-workers or customers, said Dana Cosgrove, her aunt. It seemed like everybody she met had a different nickname for the vivacious young girl.
"It didn't matter who you were. She was friends with everybody," she said.
Mackenzie was also adventurous and wanted to travel and see different things, Wentworth said. In this she was quite different from her little brother, who at 13 often liked staying home to play games with his cousin and uncle and watch TikTok videos.
But Benny was still active, joining the track and cross country teams at Powhatan Middle School, where he moved halfway through the school year from Midlothian Middle School to finish his eighth grade year. He also loved roller skating.
The two teens came to live with their grandparents in November 2020 in Powhatan, and though they had been through some tough situations in their young lives, they didn't let the past bring them down, their grandmother said.
Sam Wentworth, the siblings' uncle, said they definitely made everyone around them much happier.
"Mackenzie made friends with everyone. Ben came to Powhatan and was really enjoying his time on the track team. He really was fitting in," he said.
The family thanked the Powhatan community, all of the kids' schools, emergency services, the VCU PICU unit, and Ronald McDonald Charities for their support after the accident.