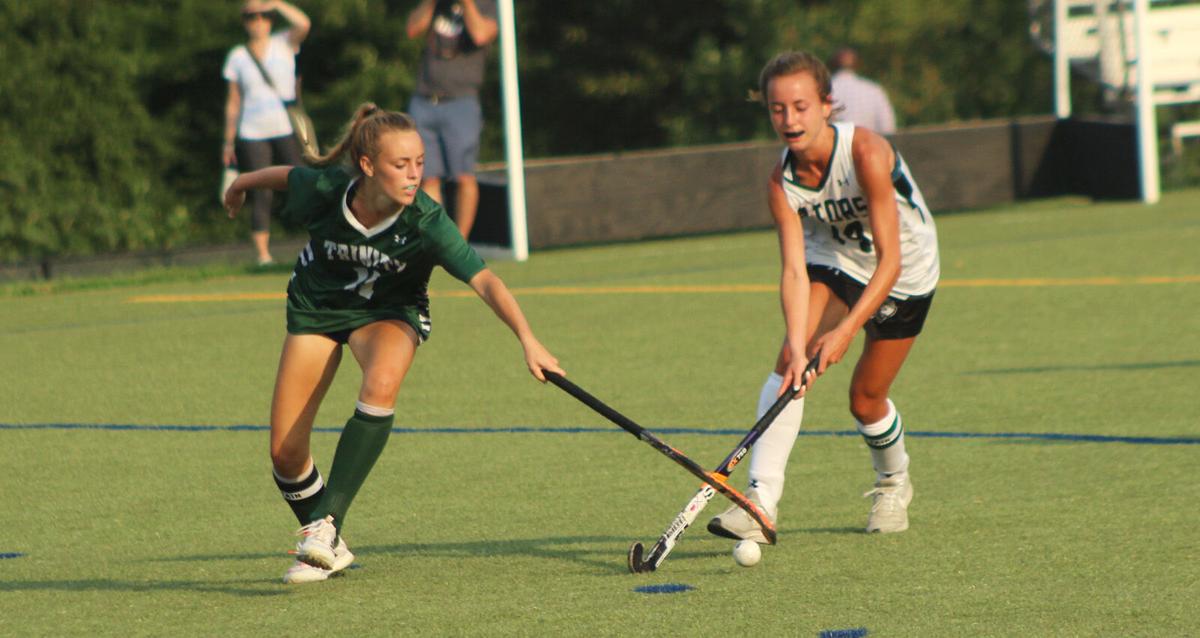 RICHMOND – Senior Lainey Nichols led the way with 2 goals and seven different players scored for Trinity Episcopal field hockey in its 8-0 shutout of Saint Gertrude on Tuesday.
Across six days, Trinity has outscored its three recent opponents 14-0.
"Especially this year - we have a young team - so starting off strong is definitely exciting," said Lainey, who is from Powhatan. "It's only getting better from here!"
"And I think just our team bond and our unity is such a powerful thing," said junior Kendall Fleet, who is from Powhatan and scored a goal for Trinity on Tuesday, "and I think it's just going to get stronger throughout the season."
A contributor to Trinity's state championships in both her freshman and sophomore seasons, Lainey is a midfielder/forward who, according to Trinity head coach Margie Snead, "really sets the pace, changes the momentum and gives us spark with her speed and skill and is certainly a threat on cage every time she has the ball."
Lainey on Tuesday showed command in swiftly transitioning the ball downfield, distributing it to her teammates, intercepting Saint Gertrude's passes and poking the ball free to reclaim possession. She also showcased the power of her swing by scoring on two long strikes in the second half.
"It's been good – it's been exciting," Lainey said of taking on a senior leadership role with the team. "When I was an underclassman, we had such strong leaders on the team, so I'm glad I'm finally in that position to lead the team."
Snead praised Fleet as a "stalwart defender" and said "she does a great job of holding shape, communicating and dictating what's going on at the back."
"We do a great job of just keeping calm under pressure and just keeping at it," Fleet said of her defense, "and winning those 50/50 balls a lot."
Trinity broke through after Saint Gertrude's defense held the team out of goal for nearly 10 minutes in the opening quarter. Ella Shirey got a hold of a long shot from Lainey off of a corner and drove it in. Within 22 seconds, Trinity made it a 2-0 lead as Ellie Johnson added a short-distance goal.
The Titans then went up 3-0 right before halftime with another goal off of a corner. Shep Ramsey shoved the ball into the cage after picking up a shot from her teammate Olivia Schmincke, who received a short pass from Lainey in the opening phase of the corner.
Scoring for Trinity in the second half in addition to Lainey (2 goals) and Fleet (1) were Schmincke and Ava Benson with 1 each.
The Titans will look to keep rolling with Friday's 4 p.m. road match at Norfolk Academy.
Next week, Trinity will host St. Catherine's School on Thursday, Sept. 23, at 4:30 p.m. and will play Cox High School at the USA Regional Field Hockey Training Center in Virginia Beach on Saturday, Sept. 25, at 5:30 p.m.
"We're just excited to be playing this season," said Trinity coach and Lainey's mom Heather Nichols, who is from Powhatan. "I think the girls are excited to be out here back playing hockey and we're just excited to see what they can do. I think they can do really good things."