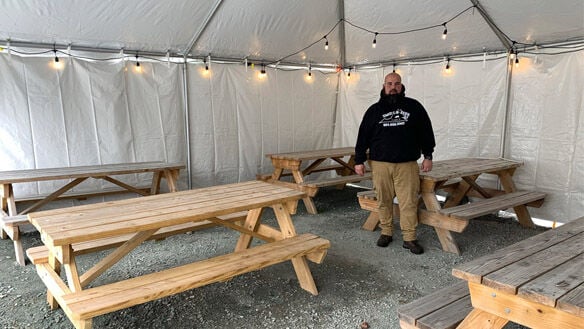 POWHATAN – Several local businesses have been bringing some extra warmth to the cold winter months for their customers thanks to winterization grants awarded by the county.
Last fall, Powhatan County sought to ease the hurting experienced by local businesses because of the COVID-19 pandemic by dedicating $517,404 of its federal CARES Act funding to grants for local small businesses, said Roxanne Salerno, economic development program manager.
Initially, the county awarded $373,771 worth of general business assistance grants to 33 local businesses in two rounds of funding. But when they didn't have enough qualified applicants to award all of the grant money in those first two rounds, county staff decided to get a little creative for the third round, Salerno said.
They came up with the idea for the Winterization Grant program, which was aimed at eating and drinking establishments, she said. The goal was to help businesses increase their customer capacity throughout the winter with new or improved outdoor modifications.
"We don't have a huge restaurant base in Powhatan, and it would be really awful in the winter time when they are struggling to not offer something to help them pivot what they need to do to get people through the winter with the restrictions," Salerno said.
In total, the county awarded six winterization grants totaling $54,583 of the federal CARES Act funds, she said.
The businesses that were awarded grants were allowed to spend the funds on a wide variety of outdoor equipment such as heaters and fire pits,seating, and tents, Salerno said.
"Because we don't have a huge selection in Powhatan, hopefully those businesses that utilized (the grant) and needed it can actually continue throughout the winter and keep those employees going, keep the revenue coming in," she said.
For Smok-N-Pigz, owner Kyle Crowder is hoping a tent with picnic table seating and heaters he purchased with a winterization grant will draw more customers in to sit and enjoy their food.
When the pandemic hit, Crowder's restaurant was massively impacted. Catering special events, which made up about half of his business, dropped off by roughly 80% in 2020 as people were warned to social distance, he said. The inside dining space is so small that it wasn't logical to have people eat in there. So, for many months, carryout orders are what has kept the restaurant going.
When Crowder heard about the winterization grant, he saw it as an opportunity to create extra space for his customers that can likely be used all year for outdoor seating. While it doesn't come close to making up for all of the lost revenue caused by the pandemic, it does offer customers a place to sit and enjoy their meal.
"A lot of locals that eat lunch on their lunch break like to just sit and eat versus doing takeout," Crowder said. "When it is really cold, people don't sit out there. But on the nicer days, people do sit out there."
Like Smok-N-Pigz, Fine Creek Brewing Company closed its taproom in spring 2020 and focused its efforts on to-go orders of its products. As restrictions eased in summer 2020 and the weather became nicer, the brewery reopened its extensive outdoor seating area, which was popular with both returning and new customers, co-founder Mark Benusa said.
But heading into the winter, the business didn't want to be forced to reopen its indoor seating area to keep customers coming in, he said. Hearing about the winterization grants, he realized taking that opportunity to apply for those funds would allow for more flexibility in following the desired path for the business.
Instead of a tent, Fine Creek used the grant to purchase a variety of heaters and fire pits that could be used with the porch and pavilion areas and the other seating around the lawn. Staff discussed purchasing a tent, but decided not to enclose any areas, instead capitalizing on nicer days.
"The last month or so, we have had some cold Saturdays and we will still ended up with a pretty decent amount of people coming through. It is because we are able to advertise about the heaters and the fire pits," Benusa said, adding purchasing that amount of cold weather gear was only possible because of the grant.
Throughout the last few months, the heating equipment has featured heavily in photos used for social media posts. But while they stress the warmth factor, Benusa said he is fully aware there will be days when it is simply too cold for even the heaters or fire pits to be completely effective, he added.
"Just in general, if we didn't have as much heaters and fire puts as we have now, people would not be as inclined to come or stick around as long when they did come," he said.
Jason Miller, co-owner/brewer of Crazy Rooster Brewing Company, was thrilled when he learned the business had received a winterization grant. Because of its age and the fact it didn't operate in 2019, the Crazy Rooster wasn't eligible for the business assistance grants the county offered in the first two rounds and many other forms of aid, he said.
"It was frustrating because we were struggling just like everybody else, and those monies really would have come in handy for us," he said.
The fledgling brewery did qualify for the winterization grant, which didn't have a restriction based on time in business, and the funds would allow them to better outfit the patio for additional space, he said. The business used the grant to purchase tents, tables, and heaters to winterize and make better use of its patio in the colder months.
"Once we get into the colder months and people are less likely to want to sit outdoors, that would give us the opportunity to not only utilize our indoor area but the outdoor area as well," Miller said. "And for those customers who still do now feel comfortable coming inside, hopefully they would feel comfortable taking advantage of the heated outdoor areas through the winter time."