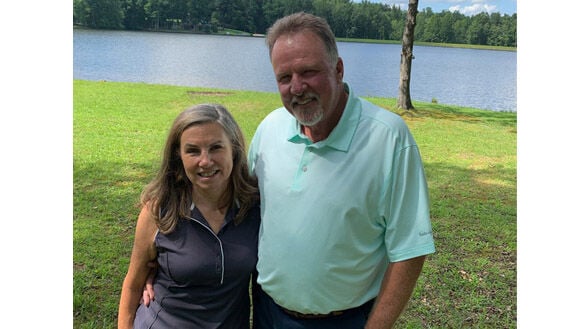 POWHATAN – Stepping into the role of the Christmas Mother without fully understanding what lies ahead is a well-established tradition in Powhatan County.
But when JoAnn and Jim Woodson agreed to take on the roles of the Christmas Mother and Father for the 2020 season, they were making an even bigger leap than usual.
The Woodsons know they are continuing a beloved tradition that dates back more than five decades in the county and holds a special place in the hearts of many. But in a time when COVID-19 precautions have turned so many traditions on their head, the couple had more than the usual questions about how the program would work.
While they don't have all of those answers yet, the Woodsons say that they have seen the list of members on the Powhatan Christmas Everyday Committee and know the caliber of volunteers who will be helping them along the way.
"I am not worried because I feel like we are part of a well-oiled machine whose goal is to get it done," JoAnn said.
"You look at that list and say, 'Hey I am not worried about this. We are going to get it done,' " Jim agreed. "On the other hand we are not going to be naïve to the fact that we are going to take the safety precautions in certain areas where it is needed."
Despite some uncertainty about what the year ahead will bring, the Woodsons said they are excited for the opportunity to serve the community in this new way.
It will be an electrifying challenge and something completely different for them, even having been married 43 years, having three children together, and having held well recognized positions in the county through their careers with Powhatan County Public Schools.
JoAnn is a Powhatan native (Powhatan High School Class of 1973) who studied physical education and health at James Madison University. She wanted to teach physical education in Powhatan when the pair moved back as a married couple in 1979, but there were no P.E. classes at the elementary school. So she began substitute teaching and started an after school movement education and gymnastics program.
She advocated for a physical education program to be added at Powhatan Elementary, which was the only elementary school at the time.
"People thought physical education was recess. They didn't understand physical education was health education and laying the foundation," she said.
JoAnn formally started her career as a physical education teacher at Powhatan Elementary in 1982 and stayed in the position until she retired. The educator loves children and cherishes the time she had working at the school trying to inspire youth to live healthier lives.
"I wanted to make sure children get a good foundation in health and fitness and have fun. They can't do anything else without it. You've got to value that," she said.
JoAnn retired in 2015 to spend more time with her grandchildren – the Woodsons now have six of them between ages 1 and 14 – and her mother.
Jim joined his wife in retirement in 2017 after working at Powhatan High School since 1979. Listing all of his accomplishments in the world of local sports could take a while. Most notably, the PHS alum (Class of 1973), coached at the school for 40 years. He was most widely known as the Indians varsity football coach, a post he has held for 34 years, and for earning the title of the winningest football coach in the history of the Richmond area, with a career record of 282-105-1.
He also coached JV football and basketball and varsity basketball and was athletics director for 18 years before retiring. He coached varsity football until 2018.
When this year's Christmas Mother selection committee met, the Woodsons were at the top of the list, said Betsy Blandford, Christmas Mother 2019. As longtime residents and dedicated educators, they have had a huge impact in Powhatan already. Added to that, they are warm, clearly can talk with all types of people, and have hearts to serve others.
"They expressed during our conversations a desire to give back to the community, which I think is a value that is important for the Christmas Mother," Betsy said.
Carol Baltimore, who served as Christmas Mother 2011 along with her husband Bob, said she has known for a while that JoAnn would make a great Christmas Mother and, if he was willing, her husband would be a valuable addition as well.
Carol, a former teacher, has known JoAnn all of her life. She never actually taught JoAnn, but she was her cheerleading sponsor at the high school and started to get to know her better then. They continued to get to know each other through the years because of their own bond and the dynamic of their husbands, who have known each other since Jim was in elementary school.
Through the years, Carol said she has witnessed how the Woodsons genuinely care about people in general and want to help and serve the residents of Powhatan. In particular, she appreciates that, although they have lived in the county for so long, the couple doesn't dwell in the past too much.
"JoAnn and Jimmy are looking to serve the county as it is now because it is certainly changing," she said.
Bob Baltimore said he has known JoAnn and Jim since they were in elementary school, and Jim was in the first classroom Bob ever entered to teach.
"He says that he didn't do it but I'm positive he is the one who put the tack in my seat that day," Bob said.
Bob is confident the Woodsons will do a wonderful job as Christmas Mother and Father as they love this county and have served it faithfully in so many ways. In this difficult and trying time, they are the perfect couple to carry on and to grow the legacy and charitable work of the program, he said.
"Their recognition as teachers who devoted themselves to educating the youth of Powhatan gives them instant credibility with the citizens of Powhatan," Bob said. "I would say to them that as they work through the season, know the importance of what the Christmas Mother Committee does and that it goes far beyond giving gifts at Christmas. Helping people who need assistance at Christmas is worth all the effort and time you will put in to make it happen."
Bob also added a second piece of advice for Jim: "Do what the Christmas Mother tells you and everything will go well."
While being Christmas Mother and Father are year-long positions, the mission the Woodsons are the most excited about is making sure children and seniors in need can have a truly wonderful Christmas.
Thinking back on her time as a teacher, JoAnn said she often wondered during the holiday season how many of her students may not be waking up on Christmas morning with presents under the tree.
"You can't fix it but you know with the Christmas Mother out there, they are going to have a Christmas. That one happy day, that is huge for children," she said.
"Everybody wants to open a present at Christmas. Everybody wants to get the boots, the clothes, the golf clubs, hint hint," Jim said, grinning at his wife. "But it is more than the present. It is knowing somebody cares. Somebody thought about me enough to give this to me. Somebody is caring for and loving me and that is probably the essence of all of it."
Jim said he wants to assist his wife and do all he can to help and give back to the community. He considers it a privilege and a blessing to help those that need it in large part because others once did that for him.
Jim said he moved to Powhatan with his mother when he was 8 years old, but before he returned to live with her, he had been placed in at least four different foster homes.
"It was shocker when we came to Powhatan. I am familiar with not having. When I got here there wasn't a bathroom in the house. There was an outhouse," he said. "There was no car, there was no phone until I was 16 years old, and the first car in the house was mine. That is what we lived through for those times."
Fortunately there were good people in the community that helped and provided the guidance he needed, Jim said. A long list of local men mentored and coached him as a child and teenager. When he thinks about possibly helping more children today in the county, he said it is a satisfying feeling.
"We couldn't have been where we are today without the help of the people in the community who helped us. And it is gratifying to give back," he said.
While there are plenty of unknowns, the Woodsons are also aware that in the aftermath of COVID-19, there are people who have always been able to provide for their families but may be going through hard times. JoAnn said she hopes they are willing to come and get some support and encouragement "because that is what we are here for."
"I hope that everybody wakes up to presents and a happy fulfilled Christmas, that we find them all and that Powhatan County has a blessed and happy Christmas. This is going to be a rough year for a lot of people, but we want to find them and make it a happy Christmas for everyone," she said.