The RTD's Discover Richmond touches on history, people, food, culture, travel and more – the topics that help define our great city and region. Enjoy the journey!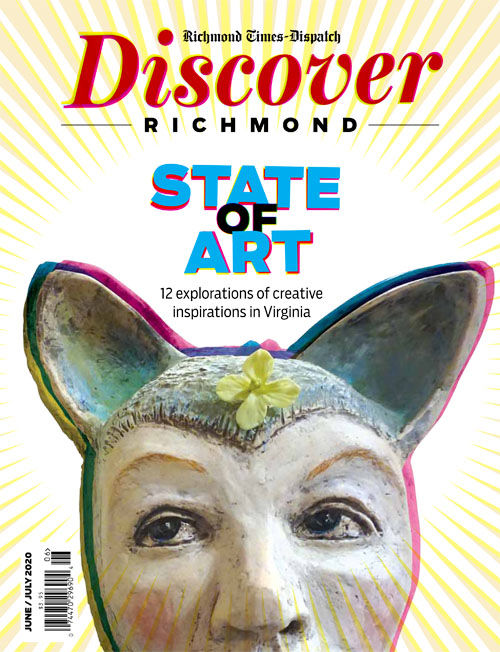 Will the spring of our discontent give way to a more glorious summer?
On the cusp of this new season, we hope for good health, continued safety and a chance to appreciate – actually, reappreciate – the culture and beauty that highlight Richmond and beyond.
In that spirit, our new edition looks at Virginia as a state of art. From a sparkling city to a natural treasure, from the nation's oldest folk art museum to charming trails and rural retreats, Virginia offers an expansive palette of artistic offerings. We spotlight a dozen notions that might inspire you to forge a creative path.
In other features:
* The Gibson Girl was one of America's idealized depictions of women, but Virginian Irene Langhorne Gibson was more than a pretty face.
* In honor of National Dairy Month in June, we visit two operations that are exploring interesting paths – like robots and ice cream – toward their futures.
* We meet a woman who hopes that a Chesterfield County Jail program will help her leave addiction behind.
* We revisit a historic (if quiet) moment in the history of local boundaries. And from the outdoors, we investigate a "cow killer" whose name isn't its only surprise.
We even get to the root of a stunning flower that shines only briefly in this new season. And in our spring of uncertainty, we hope this edition reminds you of the beauty and richness around us.
Here's to a safe and satisfying summer. Be well, Richmond.
Current and past editions of the Discover Richmond magazine can be purchased at our online shop or by calling the front counter of our downtown offices at (804) 649-6261.
In the Spotlight: 2020 Annual Guide
2019 RTD Person of the Year Edition
Hey Virginians, if you take a gallon of milk for granted, keep this in mind: Dairy farmers have no such luck. In 2019, the prices they received for their milk were the lowest in 15 years, according to the U.S. Department of Agriculture. The dairy industry has long struggled with lower demand…
When Ed Gale of Chesterfield County is asked to do a ceremonial dove release, no problem. Just don't expect doves.
As the coronavirus occupies our thoughts, the RTD's latest Discover Richmond magazine highlights a taste of local comforts – for now or in better times.
Mike Carroll still remembers walking through the front door and seeing the candy.
Monday, February 17, 2020
"The Kingfish" was doing a little celebrating at The Jefferson Hotel.
Kevin O'Donnell is special – the way the dodo was special.
History isn't written in stone, but along Virginia roads you'll find it emblazoned on familiar silver and black plaques.
What would Mickey Mouse have to say about slavery?