The RTD's Discover Richmond touches on history, people, food, culture, travel and more – the topics that help define our great city and region. Enjoy the journey!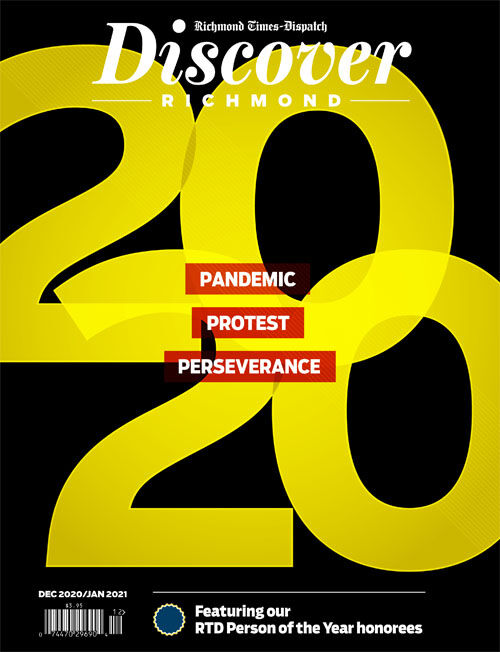 The word "celebration" hasn't been used much in 2020 – unless, of course, the word "postponed" was nearby.
Yes, we'll be happy to close out this momentously challenging year. Pandemic and protests are the lenses through which we've seen the Richmond region in 2020 – and in this edition, we reflect on those two historic developments, with the perspectives of Dr. Danny Avula and our own Michael Paul Williams.
But consider the wider view: Our community will endure.
That's in large part thanks to servant-leaders who have dedicated themselves to Richmond long before the events of 2020. Such efforts are indeed worth celebrating, and in the sixth cycle of RTD Person of the Year – the region's leading civic recognition program, with presenting sponsor Sonabank – we spotlight 17 individuals this year who, through their broad range of contributions over time, have strengthened our region.
Indeed, our 2020 RTD Person of the Year honorees offer compelling stories of service to Richmond. And individually, they have created lasting impressions in their fields. But collectively, our honorees make a powerful statement about dedication to community. Together, they represent an inspiring image of passion and perseverance – the qualities that will power our region forward.
Be well, Richmond. Here's to a happy and healthy 2021.

Current and past editions of the Discover Richmond magazine can be purchased at our online shop or by calling the front counter of our downtown offices at (804) 649-6261.
In the Spotlight: 2021 Annual Guide
2020 RTD Person of the Year Edition
Saturday, August 08, 2020
Mammy figurines. Lawn jockeys. And worse.
Pierson Geyer is a long way from a vacation.
Daniel Day-Lewis, Claire Danes, the list goes on: big-name actors who come to the Richmond region for film and TV production.
Hey Virginians, if you take a gallon of milk for granted, keep this in mind: Dairy farmers have no such luck. In 2019, the prices they received for their milk were the lowest in 15 years, according to the U.S. Department of Agriculture. The dairy industry has long struggled with lower demand…
When Ed Gale of Chesterfield County is asked to do a ceremonial dove release, no problem. Just don't expect doves.
As the coronavirus occupies our thoughts, the RTD's latest Discover Richmond magazine highlights a taste of local comforts – for now or in better times.
Mike Carroll still remembers walking through the front door and seeing the candy.
Monday, February 17, 2020
"The Kingfish" was doing a little celebrating at The Jefferson Hotel.
Kevin O'Donnell is special – the way the dodo was special.
History isn't written in stone, but along Virginia roads you'll find it emblazoned on familiar silver and black plaques.