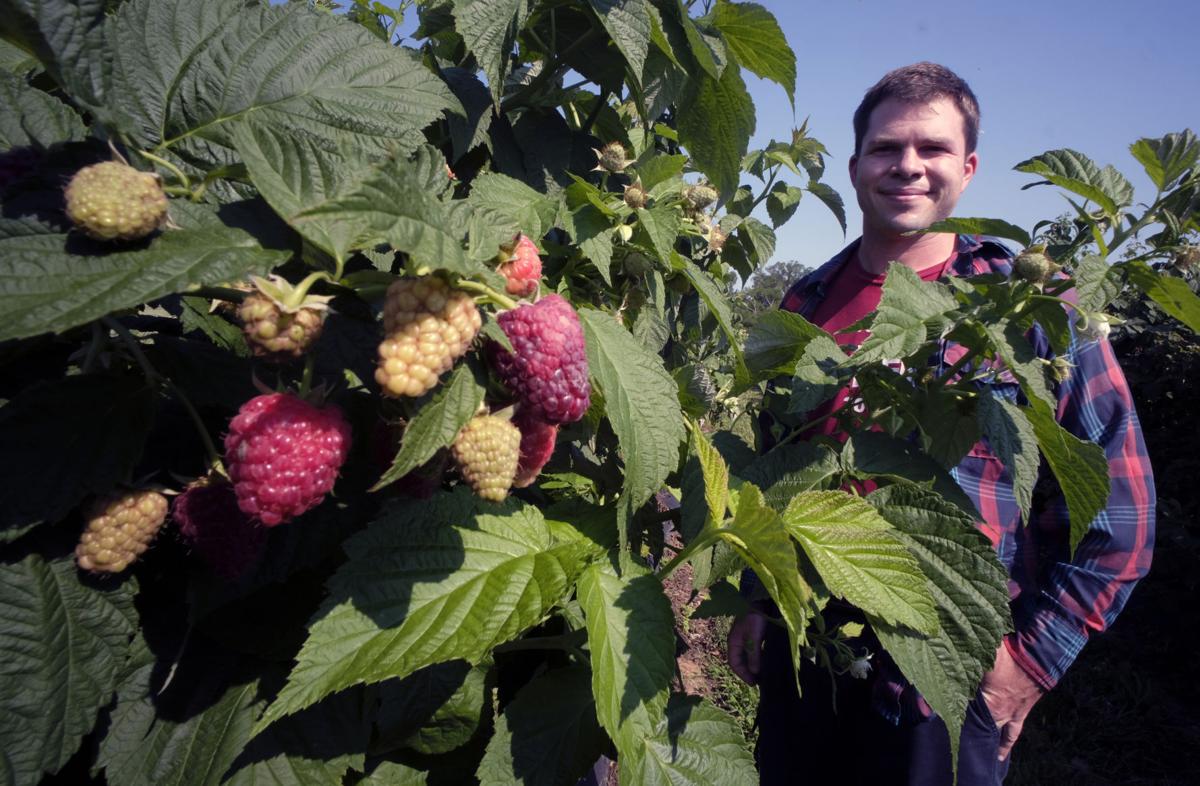 Pierson Geyer is a long way from a vacation.
Many folks traditionally spend part of July or August on the beach, but Geyer's break comes later – like the dead of winter. Think snowboarding on the slopes, not catching sunrays along the dunes.
Geyer is general manager at the Hanover County farm Agriberry, and at this time of year, "farmers markets are going strong," he said. This is where Agriberry literally shows off the fruits of its labor.
And it's a true labor. Like Friday being the start of a week, not the end. Or being at 12 farmers markets on a Saturday.
"We're small but can nimbly get products directly to the consumer," Geyer said. "And that also means we can pick really ripe, so fresh fruit goes out to consumers within 72 hours."
Luscious raspberries. Thumb-size blackberries. Lavender jam and aromatic peaches. All are harvested from a complex routine that takes practice – an act that Geyer's parents, Anne and Chuck, have refined since founding Agriberry in 2008.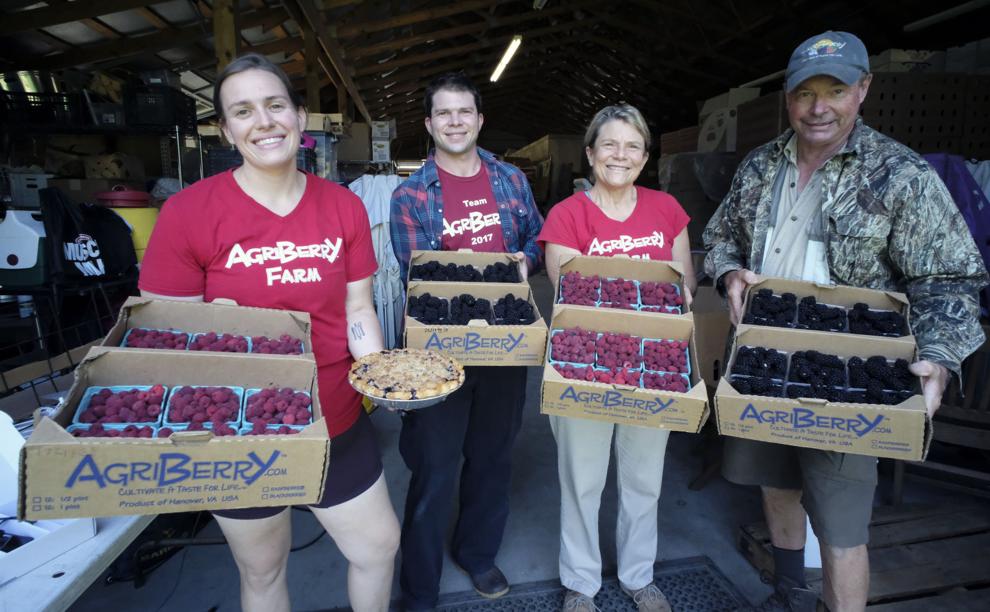 "There's a lot behind the scenes to make our first farm share site happen," Anne Geyer said.
That's at 3 p.m. Tuesdays at Agriberry's flagship weekday location: the Byrd House Farmers Market in the Randolph area near downtown Richmond. Anne Geyer offered this insight.
* On Fridays, she surveys the berry fields and checks the weather forecast. She is sizing up the following week's harvest and determining if any items should be supplemented by Agriberry's partner farms in the region and the Mid-Atlantic, who work together to ensure good supplies for customers.
Meanwhile, Shaina Pigliacampi pushes out a weekly email newsletter to Agriberry's 570 farm share participants, listing the contents of next week's box.
The farm share program – essentially, a purchase agreement between a customer and Agriberry – is an important part of the farm's operation. The arrangement provides ongoing funding for Agriberry, and in exchange, customers get a weekly box that includes fresh regional produce – plus the satisfaction of supporting local agriculture.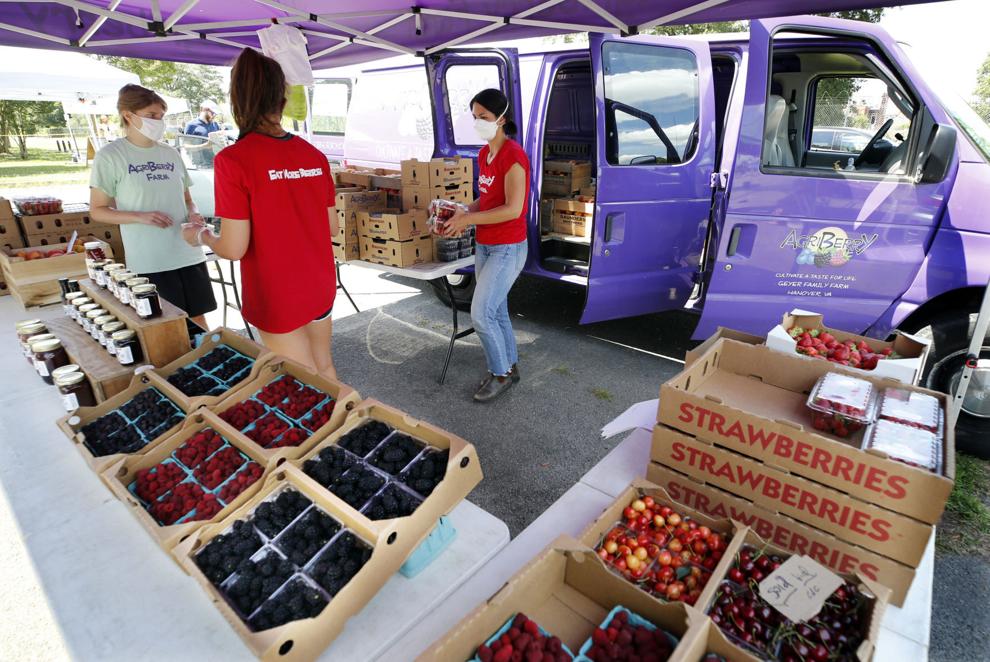 * On Saturdays, Agriberry's site leaders are at 12 farmers markets – seven sites across Richmond and others in Charlottesville, Cumberland, Spotsylvania and Williamsburg. Geyer and Pigliacampi also further refine the upcoming week's farm share distribution plan.
* On Sundays, Geyer checks the harvest at Agriberry's partner farms. In mid-June, for example, husband Chuck – Agriberry's patriarch and plant-production leader – picked up blueberries from an eastern North Carolina farm. Cherry and peach pickups were arranged with other partners.
Customers expect a range of produce at a farmers market, "and it's important for us to help sustain other family farms," Geyer said. This network is also a supply-chain cushion in case of significant crop loss.
"We have a long history with other farm families," she said. "Those relationships are so vital to 21st-century farming."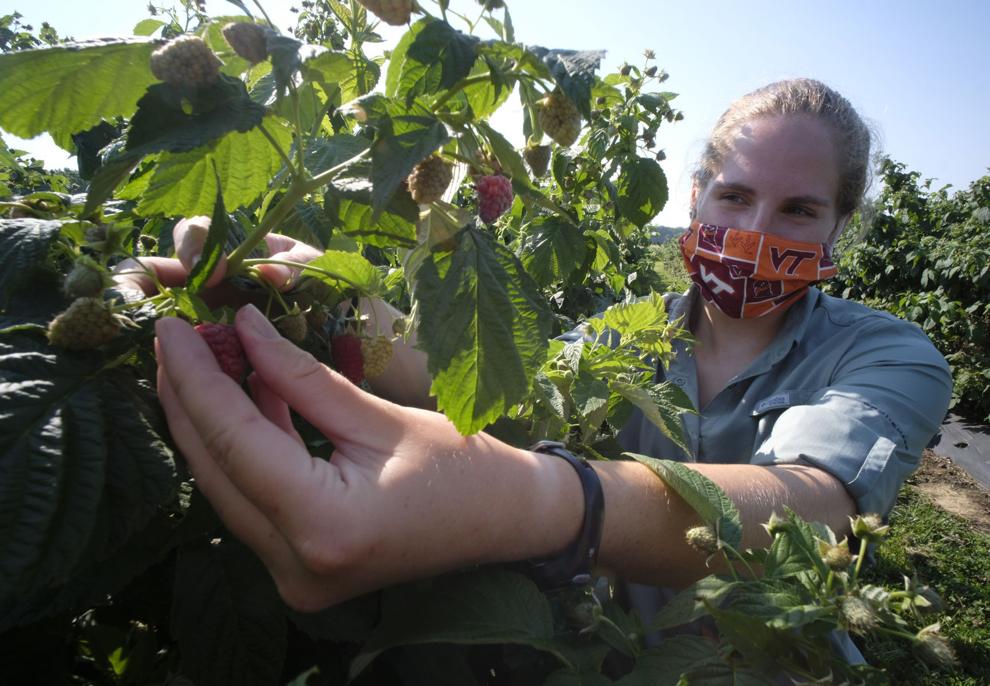 * On Mondays, the action is internal. Agriberry isn't at any markets, but Pigliacampi is busy printing orders for eight farm share pickup sites and communicating with customers who need special arrangements. An algorithm organizes the week's shares based on customer requests and preferences. 
Virtual team meetings also are held on Mondays. And after a June hiring spree, new harvesters who applied to join the Agriberry Young Workers program are trained on how to pick raspberries for quality and fulfill a quota.
"As you can imagine – 14 20-year-olds' first job – the plot thickens," Geyer joked.
* On Tuesdays, the market week kicks into motion at Byrd House and at Atlee Square in Mechanicsville.
"A team is grading cherries and packing them in flats to be put in the truck and unloaded at 1 p.m.," Geyer said. "Special orders are put together from the pack list. Then they separate what is available for walk-up customers versus farm share versus pre-orders. There is quite a bit to the dance."
Customers can pick up orders or shop at Agriberry's Hanover farm on designated days as well.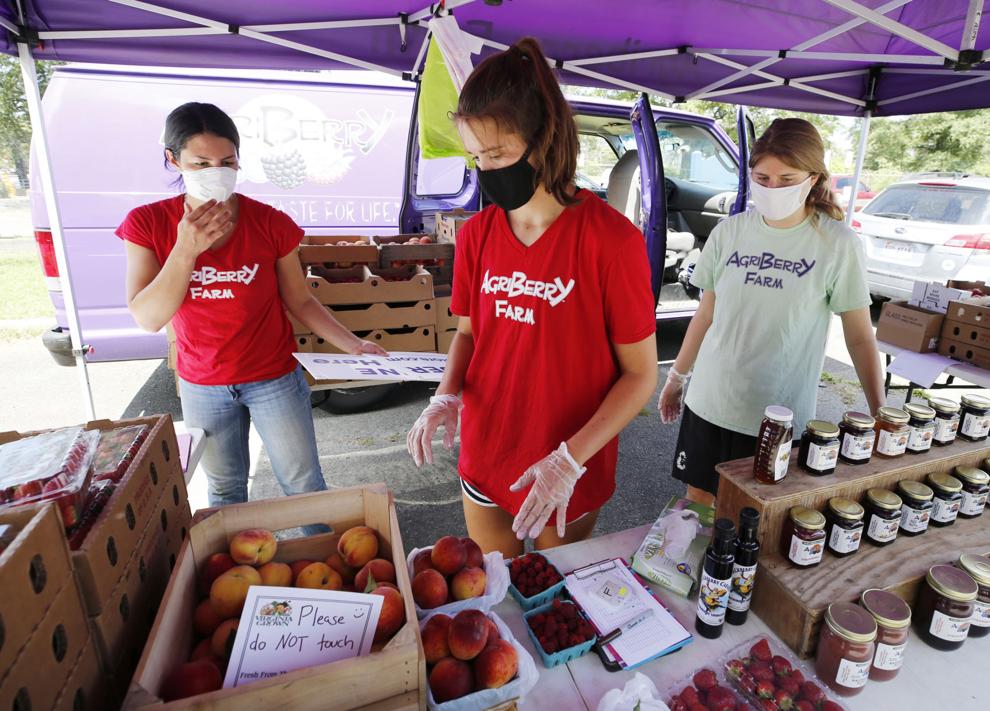 * On Wednesdays and Thursdays, Agriberry participates in farmers markets at seven area locations.
"At the end of the day, hopefully all orders are picked up," Geyer said. "Selling out is exciting for a site leader. There's always a lot of fine-tuning of how much to send because it's so perishable."
Unclaimed shares go home with the youth workers or into Agriberry's shelf-stable products, such as jams, jellies and applesauce.
"There's a lot of art and science to make those three hours at the market happen," Geyer said.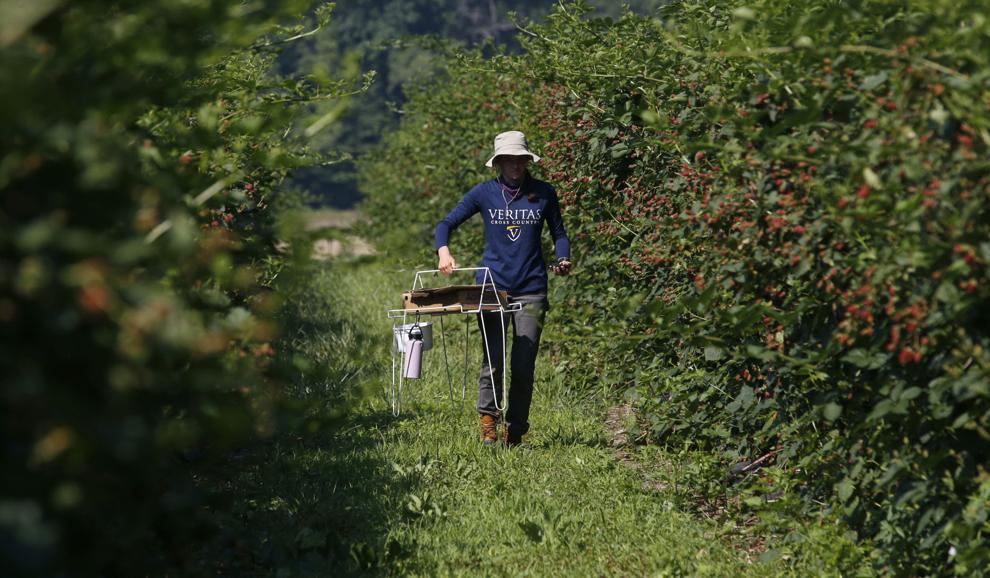 Those three hours at the market, and the taste of Agriberry's bounty, are the result of yearlong planning. GM Pierson Geyer offered this insight.
* From August to October, the inky blackberries and late-season strawberries are part of a well-planned late-summer harvest.
Staggering plantings and giving the soil time to recover are part of Agriberry's calculated dance to enhance the fruiting season. Geyer noted that raspberry and blackberry roots and crowns are perennial, but the life cycle of their canes – the thin, woody stems to which the fruit is attached – is only two years. So the Agriberry team plants multiple varieties that perform differently throughout the season.
"While one is peaking, another will be in a production valley, and vice versa," he said. "By diversifying our fruits, we're able to offer season extension. So we're in the farmers markets the first week of May to right around Halloween or Thanksgiving, depending on the market."
Agriberry's 20-week summer farm share program winds down, too, and the autumn program, which is smaller, comes into focus.
Also smaller: the staffing. "Our student workers are going back to school, so August is very much a paradigm shift sort of month," Geyer said.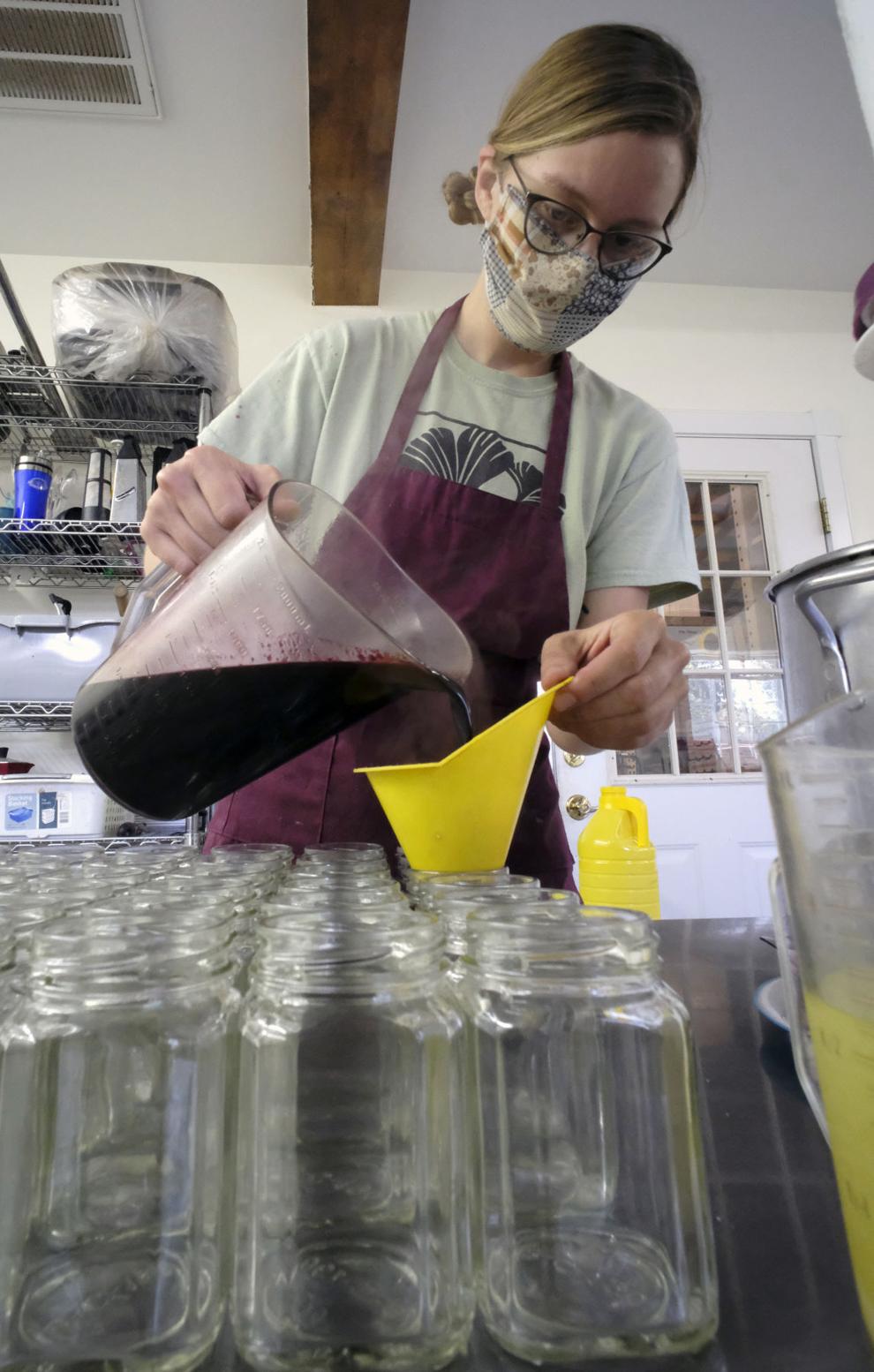 * From November to January, as some farmers markets shutter for the colder months, Agriberry is performing winter plant care that keeps community members employed in the offseason.
"Blackberry floricane removal is done all in November and early December, which allows us to maintain employment for up to 11 months out of the year," Geyer said.
Cash is being spent as sales are down, so the next year's farm share program is important. Memberships are for sale in December, and discounts encourage people to sign up early.
Also, winter growers' meetings are times to cultivate relationships and share information with partner farms, which Agriberry carefully vets to ensure they use similar growing practices and quality standards.
"By having good farm-community networking in high production season, you're able to fill in gaps for your supply needs," Geyer said.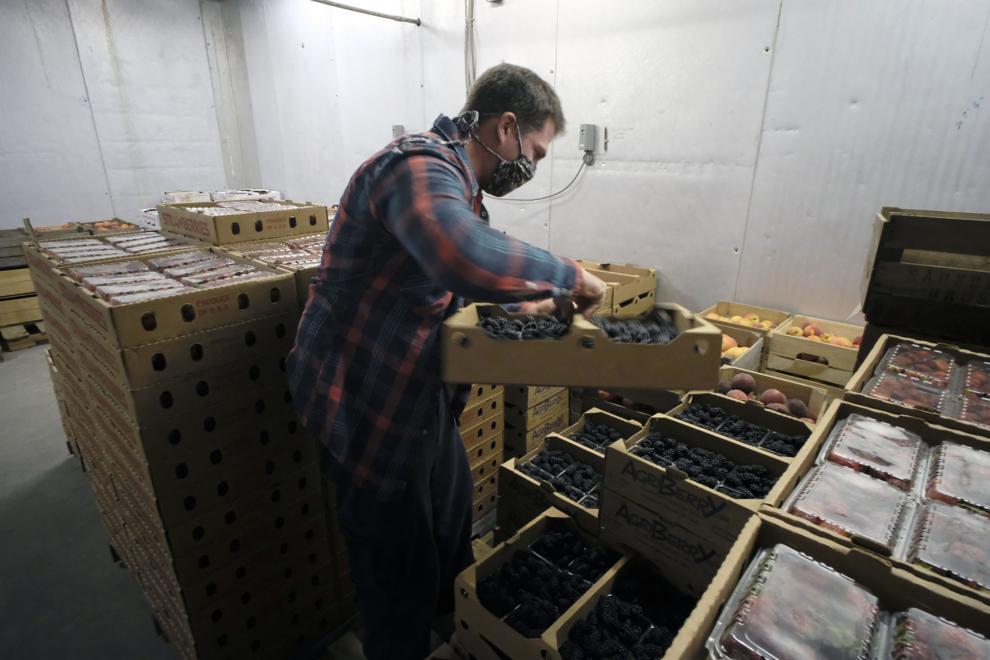 * From February to April, winter plant care extends into spring, with pruning finished by the first week of April.
"You plant blackberries and raspberries when they're immature," Geyer said. "Late April is an ideal planting time for them because they are very heat-sensitive."
Also in April, Agriberry staff help at a partner farm in Chesterfield County while that operation's seasonal agricultural workers are away.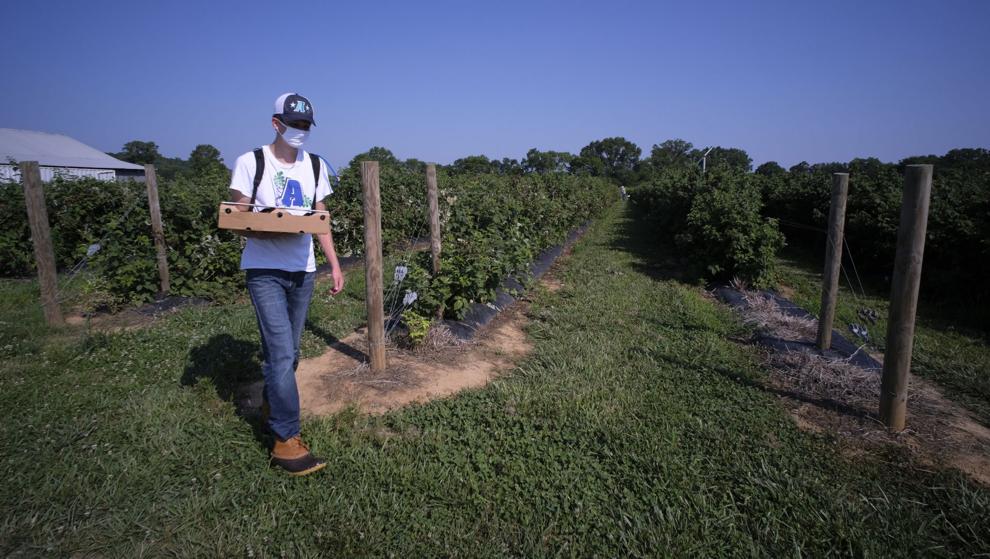 * From May to July, student recruitment is under way, and Geyer visits Hanover high schools to pitch job opportunities and provide agricultural education. Agriberry's raspberry and blackberry seasons deliberately overlap with local schools' summer break.
"We want as many student harvesters as possible, to get local youth involved in agriculture," he said.
Raspberries usually debut by late May, followed by strawberries and blackberries in June.
"We'll pick over 1,000 strawberry flats in a week," Geyer said.
As fruit is being harvested, his sister, Colleen, and her kitchen team process damaged berries for Agriberry jams and other products, commercial food services and breweries, including Hardywood Park Craft Brewery and The Veil.