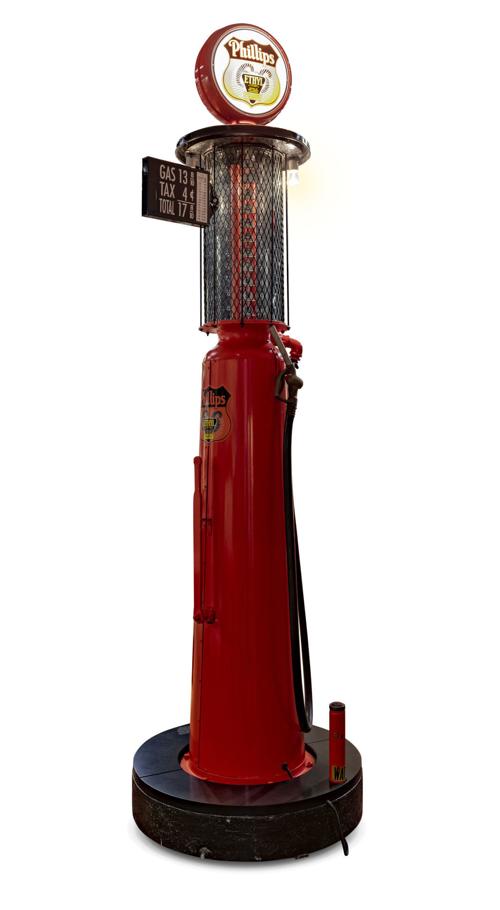 William Rasmussen, senior curator of museum collections at the Virginia Museum of History & Culture, fills the tank of knowledge from the early automobile era.
The old Richmond-Petersburg Pike was completed in the 1920s, and this gravity-flow gas pump – used near Petersburg – reflects Virginia's transition from horse-driven to gas-fueled transportation. It also points to Virginia's history in economics and land preservation.
Made by the Progress Manufacturing Co. of Arthur, Ill., this pump appears modern even by today's standards: Its form follows its function.
Called a "visible gas" pump, the unit features a clear glass cylinder that allowed customers to see if dirt was in the gas, which was a problem at the time. The unit held 5 to 10 gallons. By moving the manual pump back and forth, the customer would pull gas from an underground tank and into the cylinder. Through gravity, the gas would flow down a hose and into the car's tank.
This pump coincided with the growing economic impact of gas-fueled transportation in Virginia. The mass-produced Model T Ford, introduced in 1908, was so affordable and popular that by the 1920s, paved roads had become essential in the state.
Rather than sell bonds to finance more than 3,500 miles of new roads – and thereby plunge Virginia into debt – state Sen. Harry F. Byrd Sr. of Winchester insisted on a "pay-as-you-go" approach: The 3-cent-per-gallon gas tax he helped steer through the General Assembly in 1923 (and a statewide bond referendum he helped defeat) shifted the cost to the people who used the roads. Byrd's fiscal conservatism defined Virginia policymaking for decades.
But along the new highways, a proliferation of businesses and billboards emerged to alter the landscape.
The Richmond-Petersburg Pike that ran near this gas pump was a part of U.S. 1. (The later Richmond-Petersburg Turnpike/Interstate 95 opened parallel to it in 1958.) In a Works Projects Administration guide to Virginia from 1940, the old Pike was described as "lined with tourist cabins, garages and lunchrooms swathed in neon lights that at night convert the road as far as Petersburg into a glittering midway."
To many, the Pike had become a notoriously ugly road. One of the first projects of the Garden Club of Virginia was the redemption of such highway landscapes.
Club members pushed for legislation and resorted to warfare. A Richmond Times-Dispatch headline proclaimed, "Women Declare War on Billboards" and reported that their chauffeurs and yard men, with axes, physically removed 4,000 signs from roadsides.