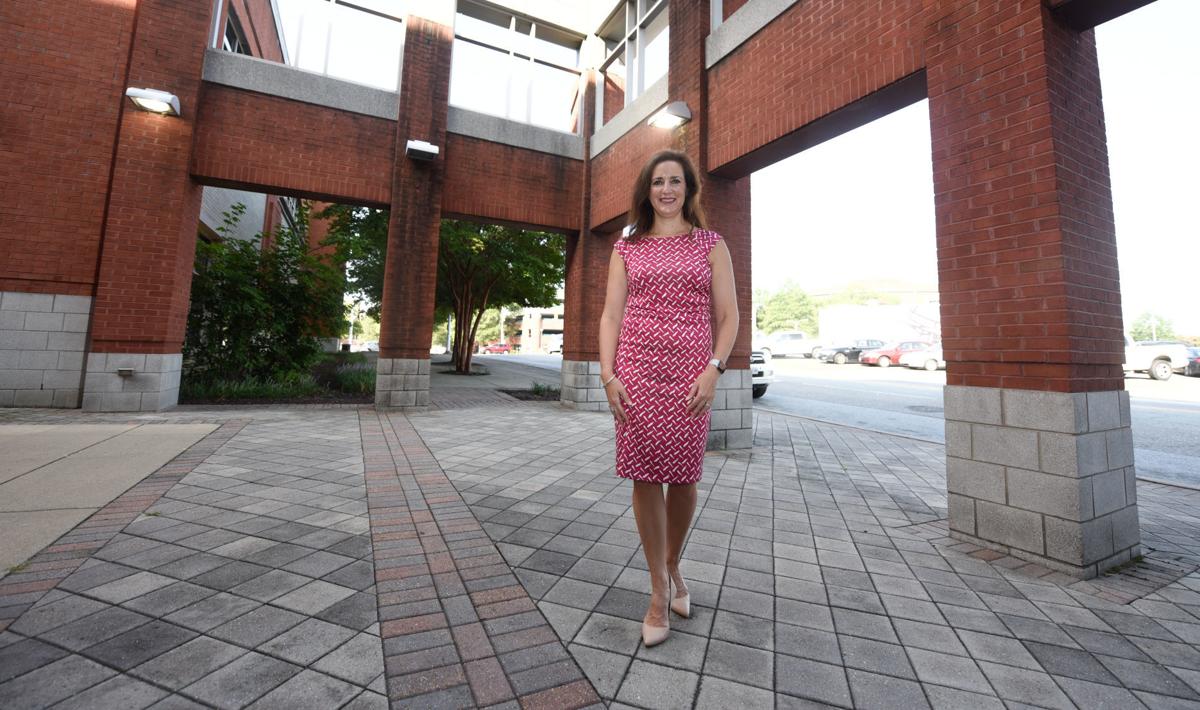 Sitting in her downtown office, Carrie Roth chuckles about her lengthy tenure – by her standards – in her current job.
"Some of my other positions have had time constraints that were not of my choosing," she joked, referring to roles in gubernatorial administrations.
But in 2018, Roth is marking her fifth year as president and CEO of the VA Bio+Tech Park. Located in downtown Richmond, the life-sciences and technology hub is home to about 70 organizations and businesses – ranging from small startup biotech firms to larger, established organizations such as Altria, the United Network for Organ Sharing and Virginia Commonwealth University.
The park is a centerpiece component of the local entrepreneurial ecosystem, and Roth has helped broaden its reach. From working with other organizations that support startups to intensifying the park's funding initiatives, Roth has been at the forefront of efforts to foster the growth of innovative businesses in the Richmond area and throughout Virginia.
"I saw what was taking place here – the early stages of something that is moving our region to the next level," she said.
Roth's view of the park's potential grew out of her government background. The Michigan native, who moved to Chesterfield County as an 8-year-old, earned a political science degree at VCU and had volunteered for George Allen's gubernatorial campaign. She held jobs in his administration and with then-Attorney General Jerry Kilgore, and she served as deputy secretary of commerce and trade under Gov. Bob McDonnell from 2010 to 2013.
In her government tenure, Roth served on the research park's board. In late 2013, she became its interim CEO, and she said she took the permanent job the following year because of the opportunities the park presents.
"We happen to have a physical location and hub in the capital city," Roth said, "but we are really focused on growing the entire ecosystem in our region and the commonwealth."
Nutriati, a startup that makes nonallergenic, high-nutrient food ingredients from chickpeas, was a park tenant for about three years before moving to its own space in western Henrico County in 2017. 
"Carrie was much more than a real estate provider – she was a business partner," said Richard Kelly, Nutriati's CEO. He noted that the park provided wet chemistry space, and Roth helped facilitate access to a protein analyzer for testing products. 
"She was always interested in our startup and finding ways to help," Kelly said. "She was a true advocate."
The effort to reach more startups now includes a significant financial commitment. Roth also leads a nonprofit – Activation Capital – that is associated with the research park, and it has created a $5 million fund that evolved from the sale of a building in the park. Activation Capital plans to distribute grants over five years to organizations that support entrepreneurship in the Richmond area.
"We are trying to put some acceleration in our ecosystem," Roth said of the fund.
Activation Capital already has given a grant of $1 million over two years to Lighthouse Labs, a nonprofit that provides mentoring for startup businesses. A $250,000 grant went to Startup Virginia, a nonprofit business incubator that is supporting dozens of startups in the new 1717 Innovation Center in downtown Richmond. 
"We are definitely heading in the right direction," Roth said of the Richmond area's startup environment.
"We want to get to the point where if something doesn't succeed, you can easily and quickly start on the next project – or find that next innovative company to work for – and you don't feel like you have to go somewhere else," she said. "You can always find a new opportunity here in the Richmond region and the commonwealth."
IN HER WORDS: CARRIE ROTH
president/CEO, VA Bio+Tech Park and Activation Capital
Hometown: Midlothian (moved from Michigan as a child)
Family: husband Doug, his two sons
Describe a small moment in your life that has had a lasting impact on you.
Just over 25 years ago, on a sunny day in a grocery store parking lot, I had a gun put to my head. Thankfully, the person I was with was trained in the military to get us safely out of the situation.
It really felt like a movie. It happened so quickly yet seemed like time was standing still.
At the time, Richmond was more known for crime than the vibrant, creative city it is today. The most disappointing part of the experience was looking through pictures of potential suspects, and not one was even close to the description of the person who committed the crime. I knew full well that no one would ever be charged.
You then make a choice of how you are going to live the rest of your life. To me, the only choice is to realize that every day of life is a risk. Live it fully – because you never know when that day might be the last.
Tell us about a setback or disappointment and what you learned from it.
After an election, I was without a job for the first time – after having worked almost every day for 10 years, beginning before I graduated from college.
This lasted for only about a month, but I learned that I was not very good at not working – and how all the hard work and tireless hours always pay off and lead you to unexpected paths along the journey. It led me to become a partner in a business and then start my own.
If you had to pick a different profession or course of study, what would you choose?
Sports commentator. Sports is a cornerstone of our family life, and it rallies people together in a way so few activities do. No matter your background or where you come from, you can share in the passion.
From the fundamentals to the strategies to the maybe missed calls and the victories – there is so much to talk about and learn from.
What is something you haven't done that you'd really like to do?
After running 11 marathons and coming so close – qualifying for and running the Boston Marathon.
What is something about yourself that might come as a surprise to others?
Lucky Charms is my breakfast of choice.
What is your favorite TV program?
The "John Adams" miniseries on HBO – not only because it was filmed in Virginia and I have a passion for history, but because it is a constant reminder of the fragility of the beginnings of our country and how we must continue to work to improve every day.
As a history buff, are there some moments that have stuck with you?
During my career, I have had the tremendous and humbling opportunity to spend the day or moments with those who are a great part of our history, or are part of history taking place.
I was working on Capitol Hill after 9/11, including on the effort to get Capt. "Chic" Burlingame a proper burial in Arlington Cemetery – he was the pilot of American Airlines Flight 77 that was hijacked by terrorists and crashed into the Pentagon. This is something that will stick with me forever. Later, as I visited the 9/11 Memorial in New York City, finding his name was comforting.
On a lighter note, I sat two seats in front of Muhammad Ali during the premiere of the film "Ali." I also ran down the hallway of the Russell Senate Office Building past Cal Ripken Jr., shared stories with Yogi Berra and stood next to Presidents Clinton and George W. Bush.
If you could deliver a message to a large audience, what would it be?
You could do so much more and be so much more if you don't care who gets the credit.
What is your greatest strength and your greatest weakness?
My greatest strength is my loyalty – which can also be a source of weakness.
If I had to pick one, it would have to be my Grandma Mills. She was hardworking, innovative and had a loving heart for everyone she encountered.
What is your favorite thing about the Richmond region?
The active nature of our people. We all bring diverse qualities to the table to make RVA the best – and everyone is willing to share experiences and lend a hand to help, no matter how big or small the task.