Mammy figurines. Lawn jockeys. And worse.
In Richmond and beyond, explore an antiques store and you can almost always find them: caricatures of African Americans that you might think were abandoned long ago.
Referred to, among other terms, as racist memorabilia or Black Americana, these items are sold in stores and online. Many of the objects are decades old. Others are shiny and new.
"There is a huge market for it," said Kelley Fanto Deetz, a historian at the Stratford Hall plantation museum in Westmoreland County who has written about the legacy of enslaved cooks. "Just look at how much some of the objects sell for."
Sure enough, an online search for "Black memorabilia" not long ago turned up a "little boy eating watermelon" planter for $19.99. A "Darkie Brand Toothpaste" calendar from 1912 for $20. A vintage ashtray "pickaninny styled" – as in, featuring a small Black child – for $69.99. And cast-iron lawn jockeys for $200 to $800 or more.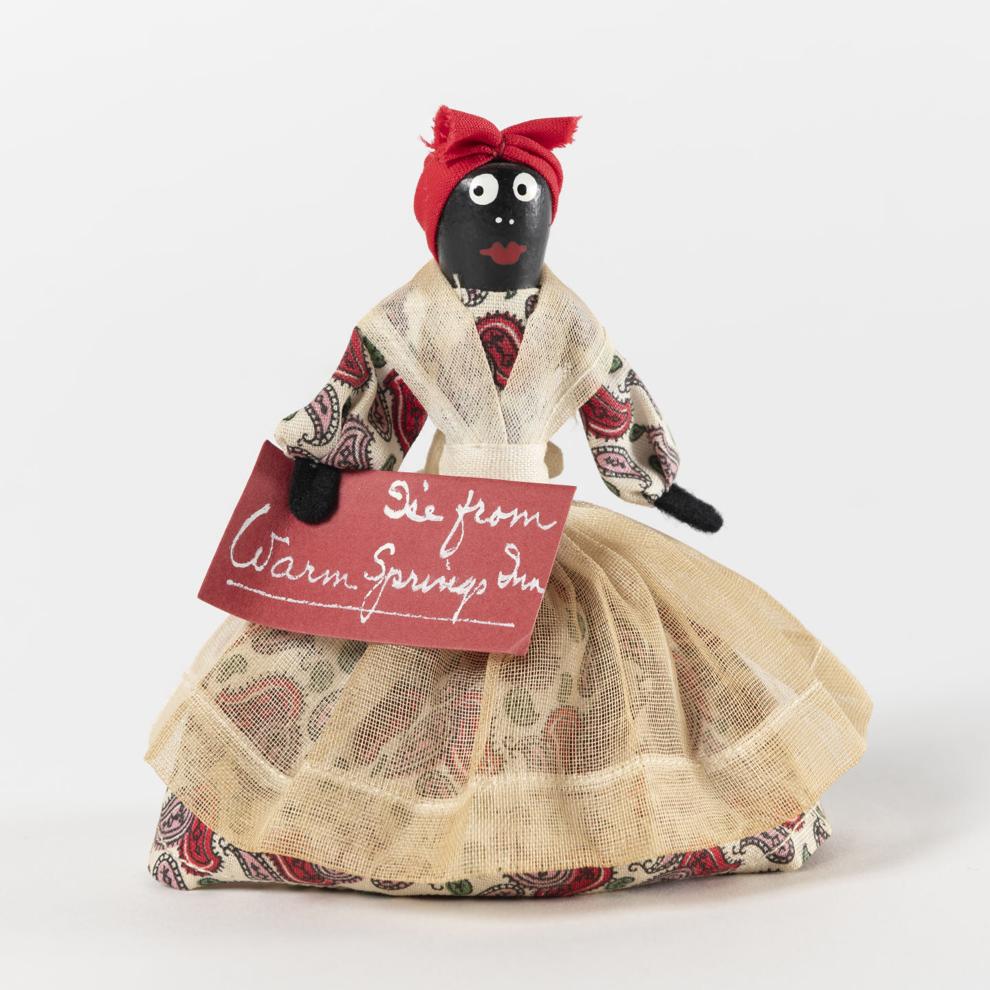 Amid a new national reckoning on race, these objects continue to have life. For more than a century, they have been part of a larger effort to portray Africans and African Americans as silly, lazy, subservient or, conversely, dangerous – something less than human. This imagery includes a handful of grotesque stock characters.
There's the happy-to-be-enslaved mammy – Richmond City Councilwoman Reva Trammell apologized in April for owning a mammy figurine, which was visible in her kitchen in a Facebook photo she posted. There's the subservient Tom. The dangerous brute. The wild-child pickaninny. The childlike Sambo. The sexually alluring Jezebel.
White people used such images to justify slavery, historians say, but their heyday ran from the late 1800s to the mid-20th century, during the Jim Crow period of brutality and legal discrimination against Black Americans.
Today, minstrel shows replete with blackface are gone, and more people see the racism in movies such as "Birth of a Nation" and "Gone With the Wind." But racist memorabilia remain popular.
In a jam-packed Richmond antiques shop, not far from gorgeous nutcrackers and lamps, visitors this year could find ceramic mammies, a red-lipped and big-mouthed fellow who's an ashtray, and other Black caricatures.
"I have a lot of customers who buy Black Americana," the owner said. "Some people have extensive collections. ... Some people bought hundreds [of items] from me over the years."
The owner talked at length in the shop but, days later, asked through an intermediary for anonymity – in apparent recognition of the sensitivity of the issue.
In the shop, the owner gazed at a lawn jockey. The roughly foot-high slender figure featured a black face, tight-fitting blue coat, white pants, brown boots and orange cap.
"That's part of history," the owner said. "How could that be offensive?"
In another store, a Richmond collectibles dealer said of such objects: "They are completely racist. They were made to be racist. ... I avoid it like the plague."
But even this store contained two small items: a mammy and a buffoonish Black figure with bulbous white eyes, red lips and one big tooth.
The items might have come into the store buried in big batches of other old things, said the dealer, who also requested anonymity.
Val Short, a volunteer at the Black History Museum & Cultural Center of Virginia in Jackson Ward, said there is a thin line between an object being whimsical or racist.
Short said an object becomes racist if it "provokes" the viewer or makes the viewer "feel uncomfortable" – say, if the object portrays a Black person as subservient.
A lawn jockey, she said, is "over the line."
Filmmaker Chico Colvard investigated the subject for his documentary "Black Memorabilia," which aired in 2019 on the PBS program "Independent Lens."
"I once thought it possible to eradicate these images from the stream of commerce, [but] I had underestimated the enormity of the problem," Colvard said in a statement with the film's release. "The marketplace for Black memorabilia was and remains in high demand. Flea markets, antique stores and online auctioneers are all in the lucrative trade."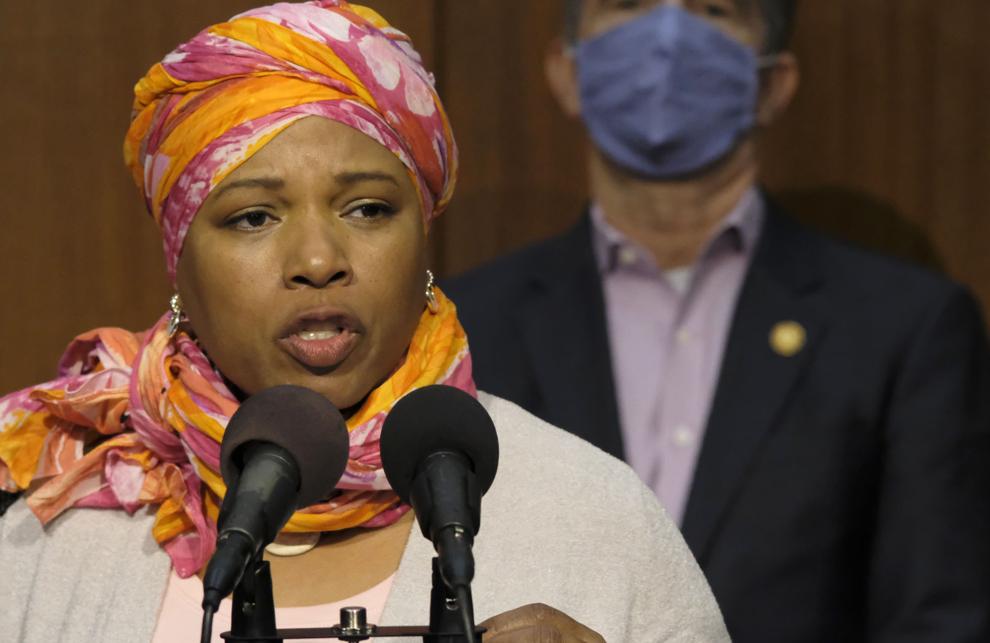 Lauranett Lee, a historian who teaches at the University of Richmond, said there appears to be a growing demand for racist memorabilia from collectors, many of whom operate virtually underground.
"It seems to be something they only talk about among themselves," she said, noting that demand for objects is not just Southern but national.
"It befuddles me," Lee said, of the interest in collecting racist memorabilia. But on the other hand, she views the issue as an academic – asking questions about what the objects say about themselves and their owners.
"It doesn't offend me, but then history is my field," said Lee, who was the founding curator of African American history at the Virginia Museum of History & Culture. "Sometimes I wonder if I'm being too dispassionate."
There are no hard figures, but experts say many collectors of racist memorabilia are Black. One is prominent Harvard University scholar Henry Louis Gates Jr., who collects what he calls "Sambo art."
Yolanda Jones Howell, a 68-year-old retiree in Hampton, used to collect, and she still has a small mammy figure and a caricatured doll. To Howell, a former history major in college, these objects are important reminders of the nation's racist past. She noted that many people used to think African Americans looked like these caricatures.
"My people were just on the plantation, on the side of the road eating watermelon and looking like a monkey," Howell said of the perceptions.
She added: "I look at [owning memorabilia] as a way to honor our history and to see how far we have come. I could have been nothing but a mammy. ... Now we can be anything."
Many Black youths today don't realize how common the attitudes reflected in racist memorabilia once were, Howell noted.
"We need these objects to show how we used to be and how we are now" – and, she added, as a reminder of the preciousness of civil rights.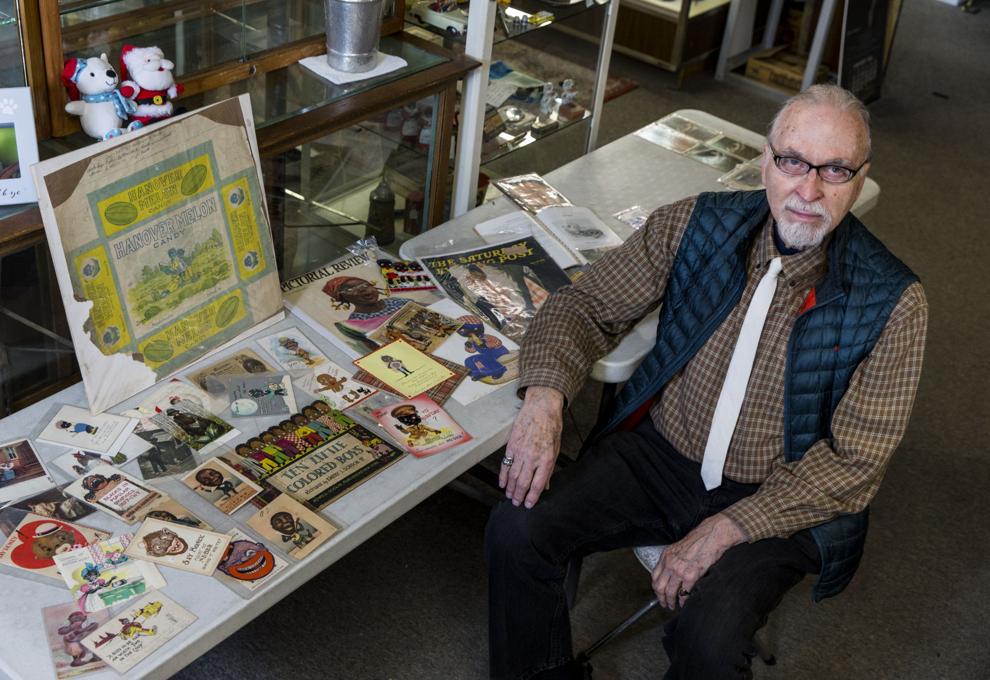 John Whiting, 81, of Richmond, taught history at Virginia Union University from 1967 to 1976. He began collecting Black memorabilia in the mid-'70s with his wife, Veronica.
Whiting has sold vintage paper items for decades at Antique Village on U.S. 301 in Hanover County. Among other highlights, he provided old magazines that were used as set decorations for the 2001 Russell Crowe movie, "A Beautiful Mind."
Whiting's Black Americana section includes magazine photos of African American celebrities such as Diahann Carroll and Dorothy Dandridge.
At the same time, Whiting sells postcards showing caricatures of Black children, some being threatened by alligators – "gator bait" is a common theme in racist memorabilia. Other wares include demeaning sheet music. His private collection includes a 1920s-era program for a Ku Klux Klan musical in Richmond.
Whiting is white; his wife, who died in 2003, was Black. He has Black children and grandchildren.
What did Veronica think of the caricatures of African Americans that the two bought all those years ago?
"She saw it for what it was," Whiting said. "Racist stuff that is also part of our history."
He said a lot of his memorabilia customers – Black and white – are "just fascinated by history." But by selling these items, is he perpetuating the distribution of racist images?
"That's a good question," Whiting said. "There's no question that some of my customers are overtly racist."
Thoughtfully, he went on: "I guess the fact that I've kind of struggled with the response to your question shows it does bother me some that it does get in racists' hands. I definitely trade in racist images. Am I perpetuating the stereotypes, or just selling artifacts that showed how things were in the past? ...
"I guess the question is: How are these images being used [after the sale]? ... You don't know."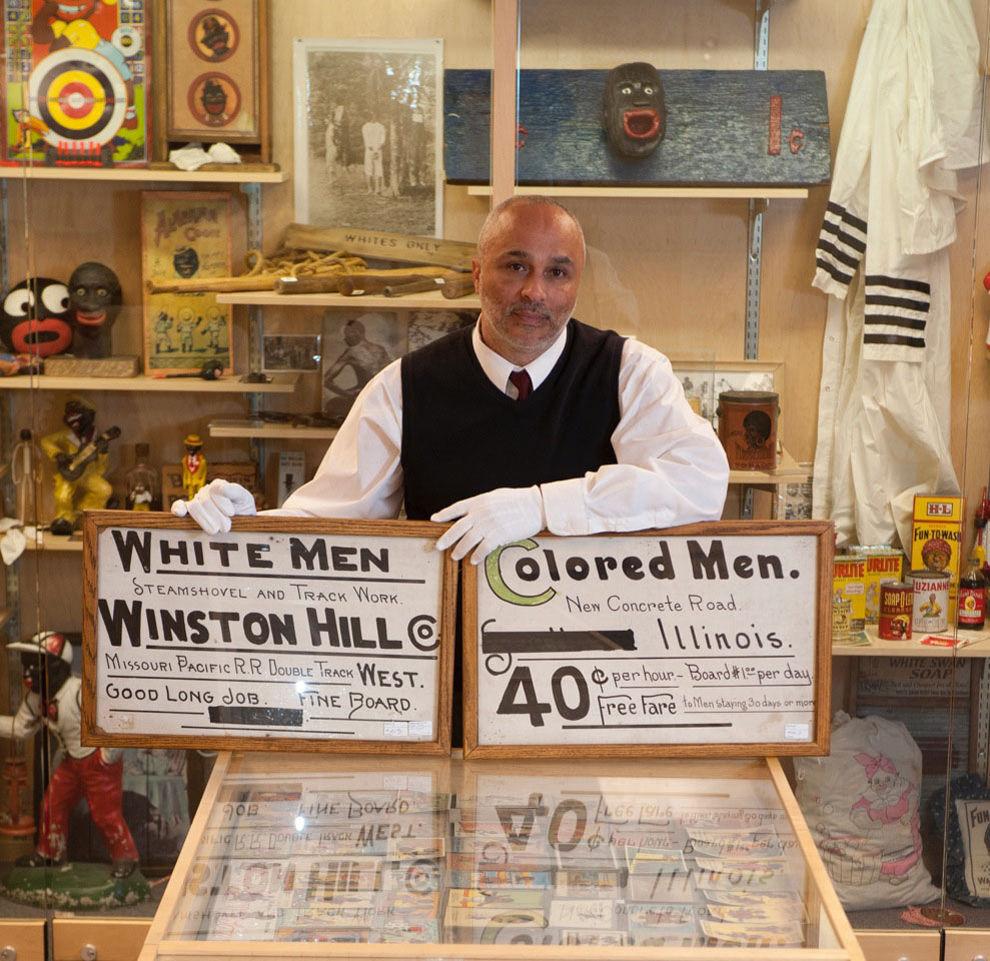 David Pilgrim is the founder and director of the Jim Crow Museum of Racist Memorabilia at Ferris State University in Big Rapids, Mich. The museum houses thousands of racist artifacts, and its motto is: "Using objects of intolerance to teach tolerance and promote social justice."
"It sounds corny, but we believe in the triumph of dialogue," said Pilgrim, a sociologist.
To be sure, many minorities have been caricatured in the U.S. and beyond – Native Americans, the Chinese, Jews, the Irish, the list goes on. But Pilgrim said no other group in this country "has been caricatured as often or in as many ways as have Africans and their American descendants."
These racist depictions continue today. For example, a section of the museum is devoted to portrayals of former President Barack Obama – as a Tom, a witch doctor, a sexual predator and a monkey, among other things.
Pilgrim said new racist objects are quickly created after well-publicized racial incidents. For example, "shock jock" Don Imus created an uproar when he described the Rutgers University women's basketball team as "nappy-headed ho's" in 2007.
"It was not two weeks," Pilgrim said, "before there were people producing pillows, posters, toys – whatever – that took that idea of nappy-headed ho and applied it to Michelle Obama, applied it to any number of African Americans."
At the museum, Pilgrim and others present racist objects to visitors and ask for their reactions. There is often agreement about the most vulgar items, he said, but sometimes someone will say, "That's just Aunt Jemima. I don't see anything wrong with that."
"Of course I push back," Pilgrim said, but he doesn't come on too hard. "If I crush a person, I can't teach them after that. It's certainly a tough balance."
In June, Quaker Oats announced that it would retire the Aunt Jemima brand of syrup and pancake mix. It dates to 1889.
Inside the Virginia Museum of History & Culture on Arthur Ashe Boulevard, historian Karen Sherry put on latex gloves to display a selection of its racist objects. Scores of them have been donated to the museum.
It keeps racist objects, Sherry said, as part of its mission to preserve Virginia history – the good and the bad. One is a coloring book from the 1930s whose cover depicts two caricatures of Black children.
"This was clearly marketed to children, so it's perpetuating these ugly stereotypes, teaching children at young ages that this kind of imagery is acceptable," Sherry said.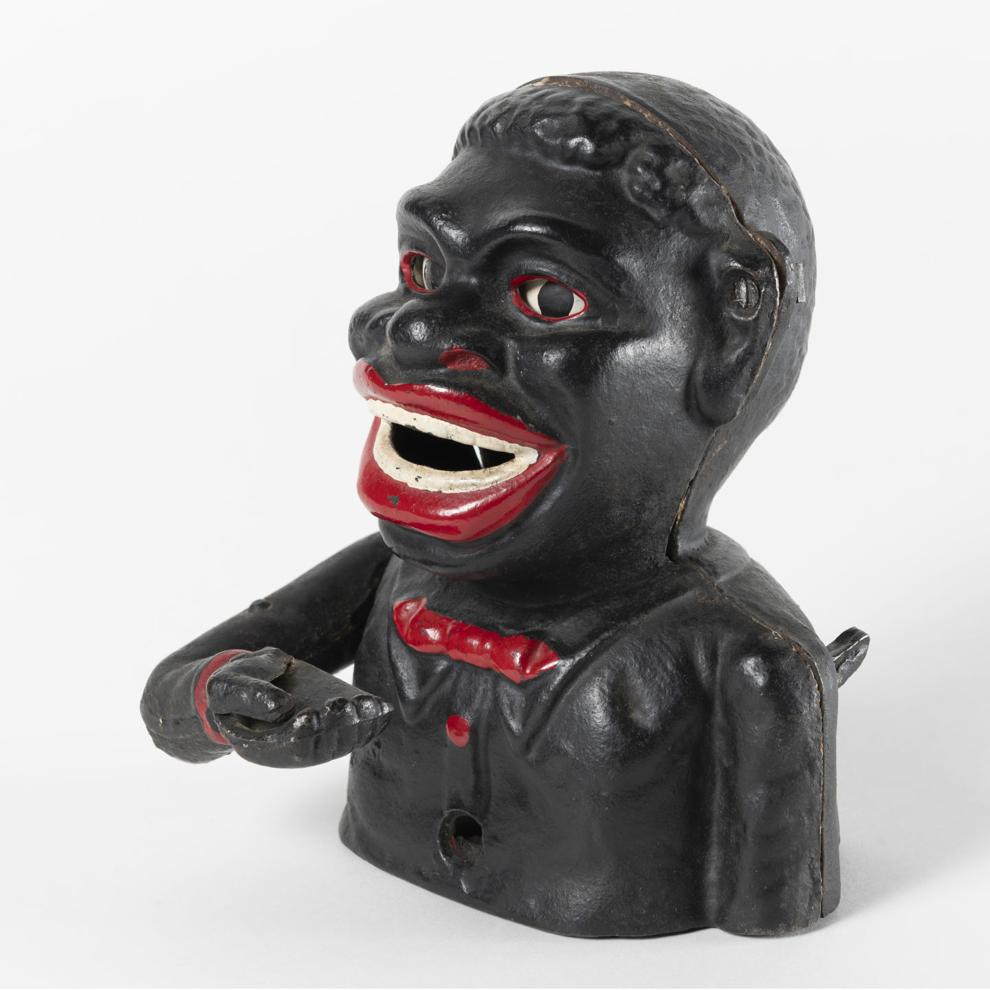 Moments later, she spotlighted a coin bank, probably made a century or so ago, that is a caricatured bust of a smiling Black man. If you put a coin in his hand and push a lever, the man's eyes roll back as he deposits the coin in his wide mouth. The words "Jolly N----r Bank" are stamped on the back of the cast-iron figure.
These items are sometimes marketed today as "jolly negro" banks or just "jolly" banks, with online sellers asking hundreds of dollars. Newer versions include "Jolly Obama" banks.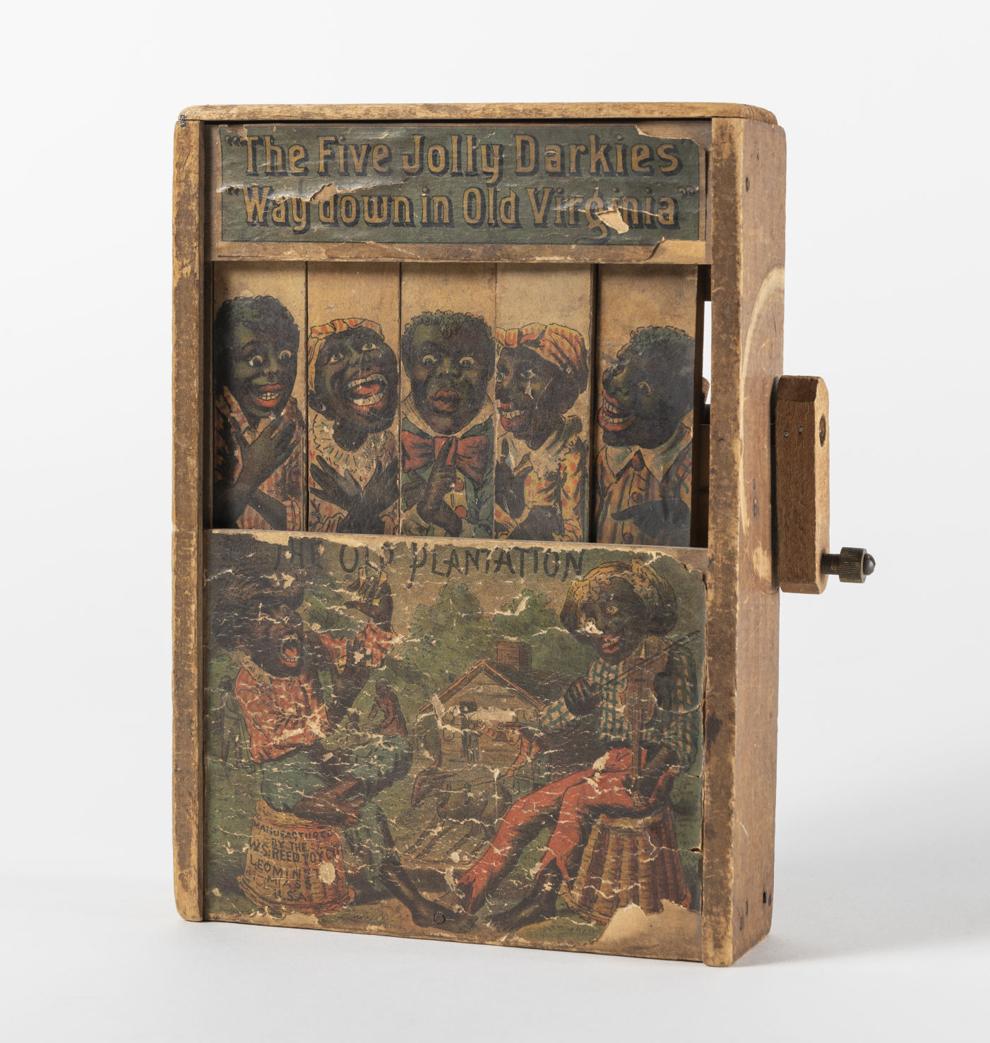 Sherry also picked up a rectangular wooden children's toy, likely from the late 1800s. She turned a crank, and five racist images of singing Black people, about the size of dominoes, moved up and down. Large letters spelled the toy's title: "The Five Jolly Darkies Way down in Old Virginia."
And she displayed two small bells fashioned into mammy figures, with dark painted faces, head scarves, and little aprons and dresses. Each carried a sign. One said: "I'se from Warm Springs Inn." The other: "From Berkeley Plantation."
The mammies were souvenirs, probably from the mid-20th century.
"These tourist sites were perpetuating the nostalgic image of the old South that Black people, including enslaved workers, were happy in servitude and well-suited to domestic labor," Sherry said.
People often donate racist memorabilia to the museum after finding it in the belongings of a loved one. The racist objects are in storage; the bank was part of a Virginia history exhibit years ago.
"It's a very painful reminder of how overt and pervasive racism was during the Jim Crow era," Sherry said of racist imagery. Racism today is usually "a little more covert, but it is rooted in long-standing negative stereotypes."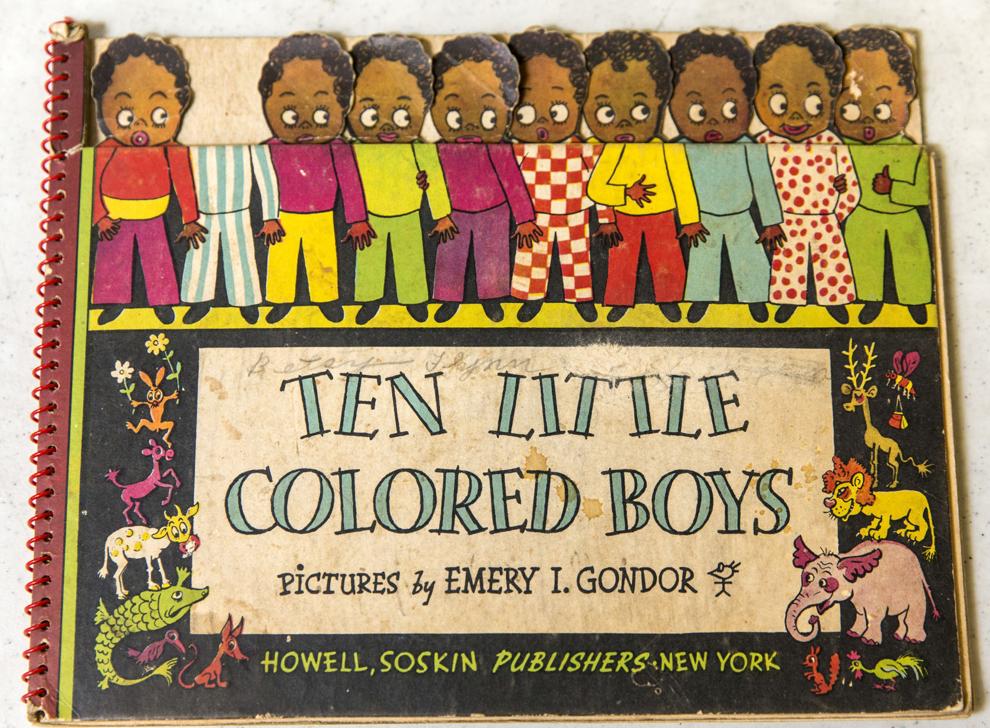 Antiques dealer Jay Johnson, in his early 70s, sees racist memorabilia as a product of prejudice and commerce.
"Money was to be made by combining racial stereotypes and racist images in the marketing of functional items, souvenirs and the like," said Johnson, a retired pilot in Loudoun County who leads talks about the memorabilia.
Johnson, who is white, has been collecting Black Americana for more than 20 years. His collection also includes items related to civil rights.
Some people are surprised to learn that racist objects continue to be made today. Many come from China.
"They're affordable," Johnson said. "Where a genuine [racist bank] might be $300 or $400, they can buy a [reproduction] one for $10 or $20."
He said that when he talks to audiences, he presents the racist objects as historical artifacts and lets viewers make their own judgments.
"I think folks come away with an appreciation of where we are today" in race relations, Johnson said. "We have made advances, but we have a ways to go."
(TO READ SIDEBAR - "Racist imagery has been a sad American tradition" - either scroll down or return to top left "More Information" link.)