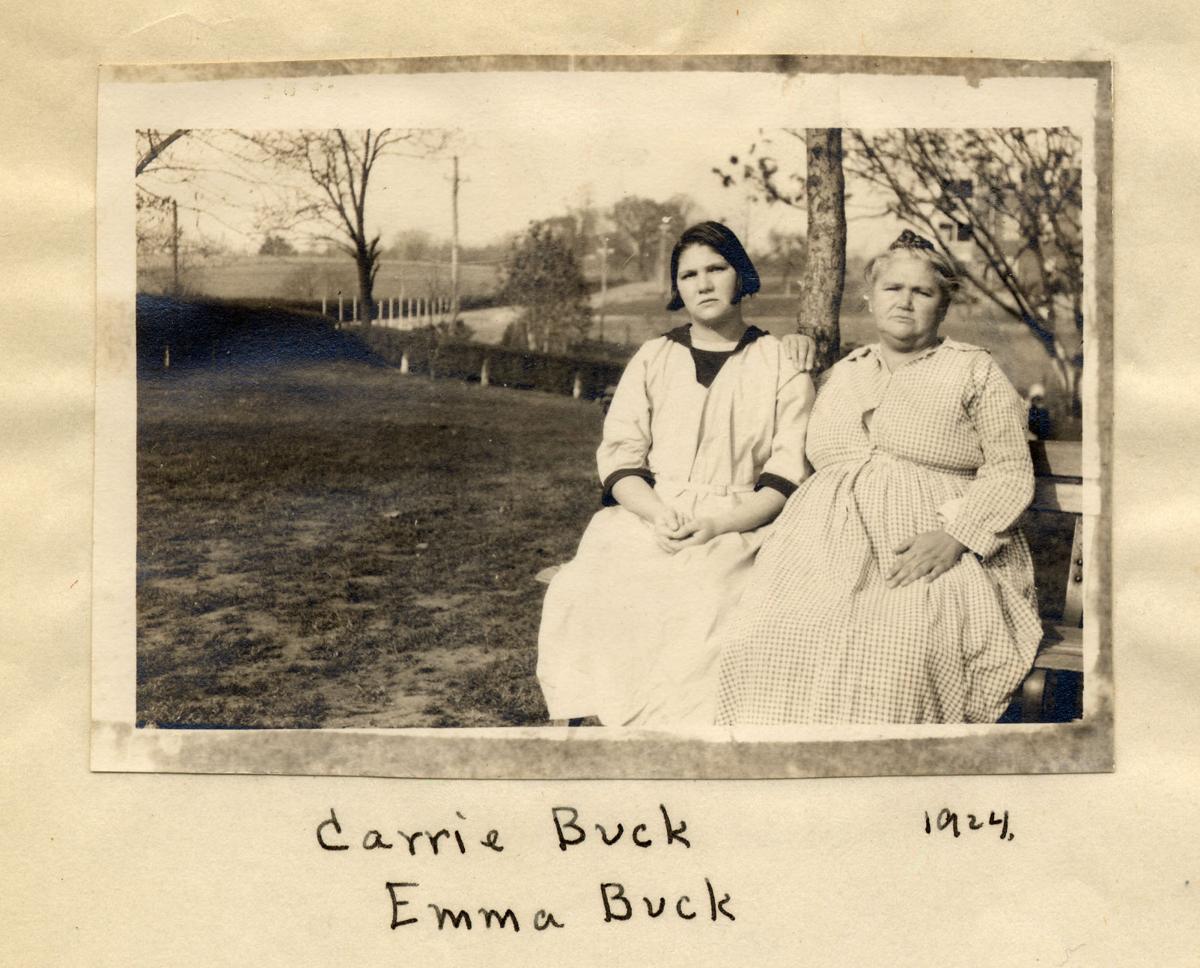 In April 2020, the final resident was relocated from the Central Virginia Training Center, which is closing as part of a government settlement to transition residents to community-based settings. Located in Amherst County near Lynchburg, the center was Virginia's oldest residential institution for those with mental disabilities. It was also at the heart of a dark chapter in Virginia history.
The Virginia State Colony for Epileptics and the Feebleminded was founded near Lynchburg in 1910. Two years later, Dr. Albert Priddy was lobbying the General Assembly.
"Feeble-minded" was a catch-all term for the mentally challenged, uneducated and undesirable, and Priddy, the colony's superintendent, wanted an expansion to serve women of childbearing age. He wrote of his determination to stop "dissemination of defective protoplasm," adding that "no psychic trauma is inflicted by eugenic sterilization," according to research at the Claude Moore Health Sciences Library at the University of Virginia.
Among his targets were prostitutes, "antisocial morons" and "nonproducing and shiftless persons," those who lived on public or private charity.
During the Progressive Era, enthusiasm for eugenics – improving humanity and society through genetics – had grown, though Virginia didn't have a law specifically authorizing involuntary sterilizations. (Indiana was the first state to pass one in 1907.)  
Priddy had performed many sterilizations, in part under a law that allowed medical procedures on institutionalized patients. That got him sued in 1917. He won the legal battle, but to firm up his legal standing, Priddy needed Virginia to pass a law expressly about sterilization.
Using language in eugenicist Harry Laughlin's model sterilization act, which gave states a template for such laws, Priddy and state Sen. Aubrey Strode of Amherst County drafted Virginia's legislation authorizing involuntary sterilization of the feeble-minded. It was approved by the General Assembly in 1924.
Priddy had his law. Now he needed a test case – and he found it in Carrie Buck, an unwed teenage mother.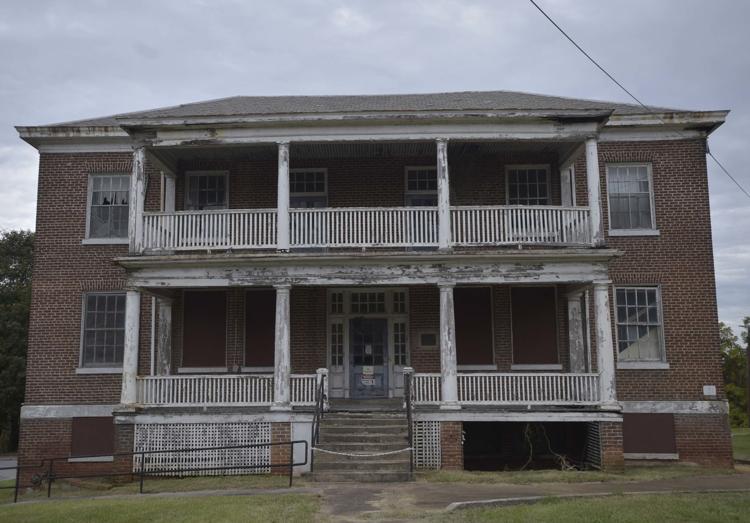 Carrie Elizabeth Buck was born to Emma Harlow Buck and Frank W. Buck on July 2, 1906, in Charlottesville. Emma, who was admitted to the colony in 1920, was deemed by authorities to be a "low-grade moron" and suspected prostitute who had Carrie out of wedlock, according to transcripts from Amherst Circuit Court.
That wasn't true. The marriage license and other documents show that Carrie's parents were married 10 years before her birth but had separated when she was young, according to Paul Lombardo, professor at Georgia State University College of Law. He extensively researched eugenics as a student at UVA and later wrote the book "Three Generations, No Imbeciles" based on the Buck case.
Unable to support her daughter, Emma placed Carrie, then 3 or 4, in the care of John and Alice Dobbs.
Carrie's school records show she had progressed each year. Her sixth-grade teacher characterized her work and behavior as "very good," but she was pulled from school to work for the Dobbs family before she finished the grade – common practice at the time for poor children in rural Virginia.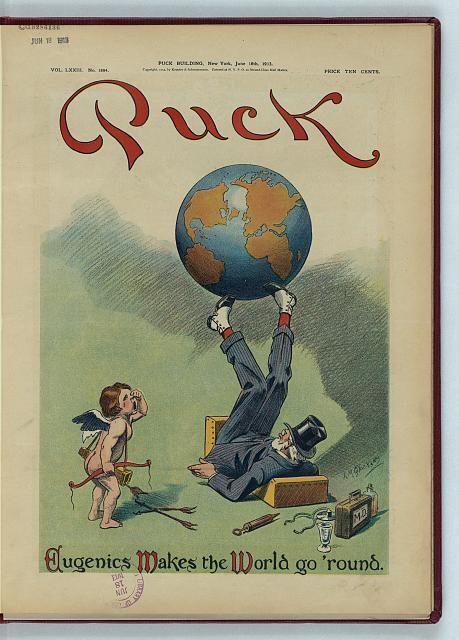 In summer 1923, 17-year-old Carrie became pregnant while her foster parents were away; she claimed a Dobbs nephew raped her. 
"See, he promised to marry me and he didn't do it," she told NPR's "Horizons" in a broadcast on July 16, 1980.
Viewing the pregnancy as evidence of promiscuity, the Dobbs family set out to have Carrie committed to the colony as feeble-minded. The commitment papers claimed she suffered hallucinations and outbreaks of temper, and that her symptoms grew worse until they no longer could care for her.
State officials never questioned it. Carrie Buck fit the stereotype – poor, uneducated and pregnant. A court hearing on Jan. 23, 1924, deemed her feeble-minded.
Her daughter, Vivian, was born two months later in March – the same month the General Assembly passed the bill on involuntary sterilization. Vivian became a ward of the Dobbs family. (School records show she was an honor roll student until her death at age 8 of enterocolitis.)
Several months later, on June 4, 1924, Carrie joined her mother at the colony. Priddy assessed Carrie and Emma, deciding they shared the hereditary traits of feeble-mindedness and sexual promiscuity. Now he needed to demonstrate that baby Vivian likely would share the feeble-minded traits of her mother and grandmother.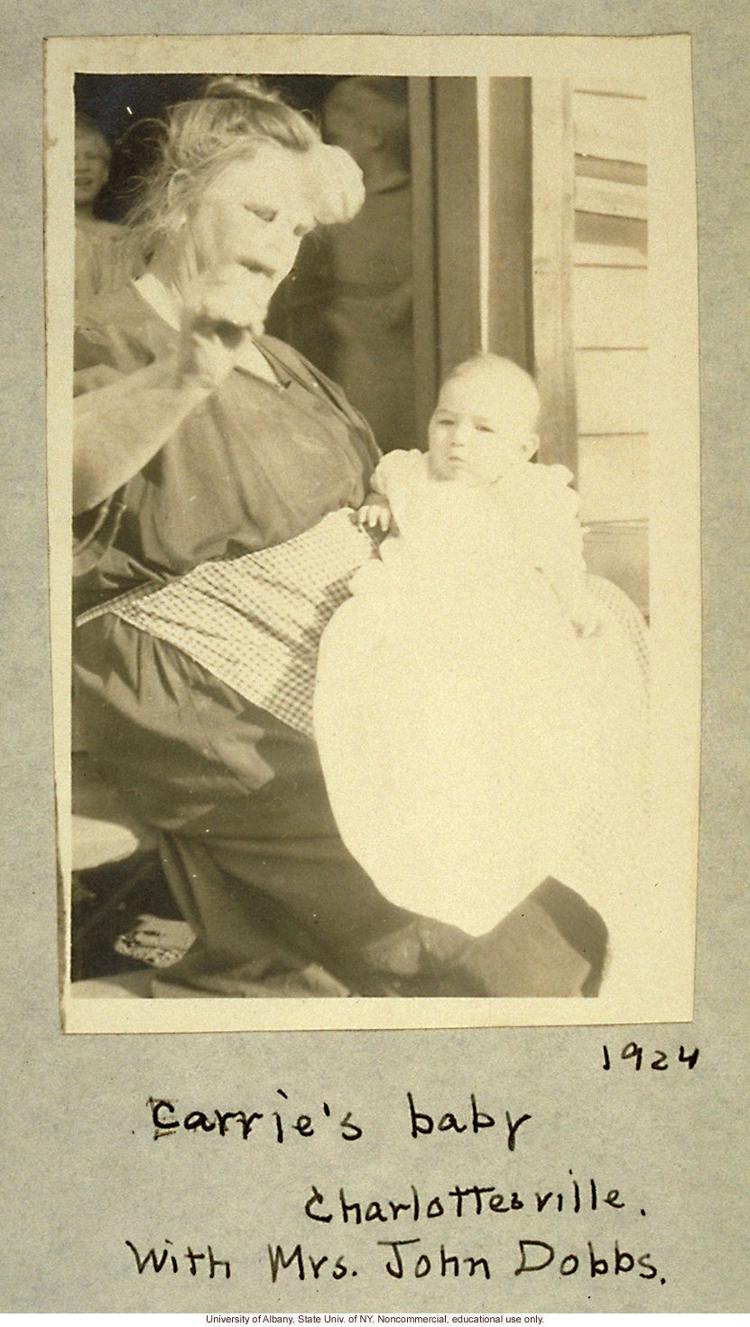 To see that Virginia's new law would withstand any challenges, Priddy held off on sterilization orders at the colony except for Carrie's, and he wanted to ensure that the case would be appealed all the way to the U.S. Supreme Court. It was, and it became known as Buck v. Bell – after Priddy died in 1925 and Dr. John H. Bell replaced him as the colony's superintendent.
In October 1924, the sterilization order for Carrie was first appealed on her behalf to the Amherst Circuit Court. Strode, the state senator who helped draft the law, served as the lawyer representing Priddy and the colony. Irving Whitehead was appointed as Carrie's attorney – but he also had served on the colony's board and signed off on Priddy's sterilization requests.
In a trial that featured witnesses who had never met Carrie, transcripts show that she had no voice in a process that ultimately deprived her and tens of thousands of Americans of the ability to have children.
"The said Carrie Buck is feeble-minded and by the laws of heredity is the probable potential parent of socially inadequate offspring, likewise afflicted, that she may be sexually sterilized without detriment to her general health and that her welfare and that of society will be promoted by her sterilization," according to the court transcript.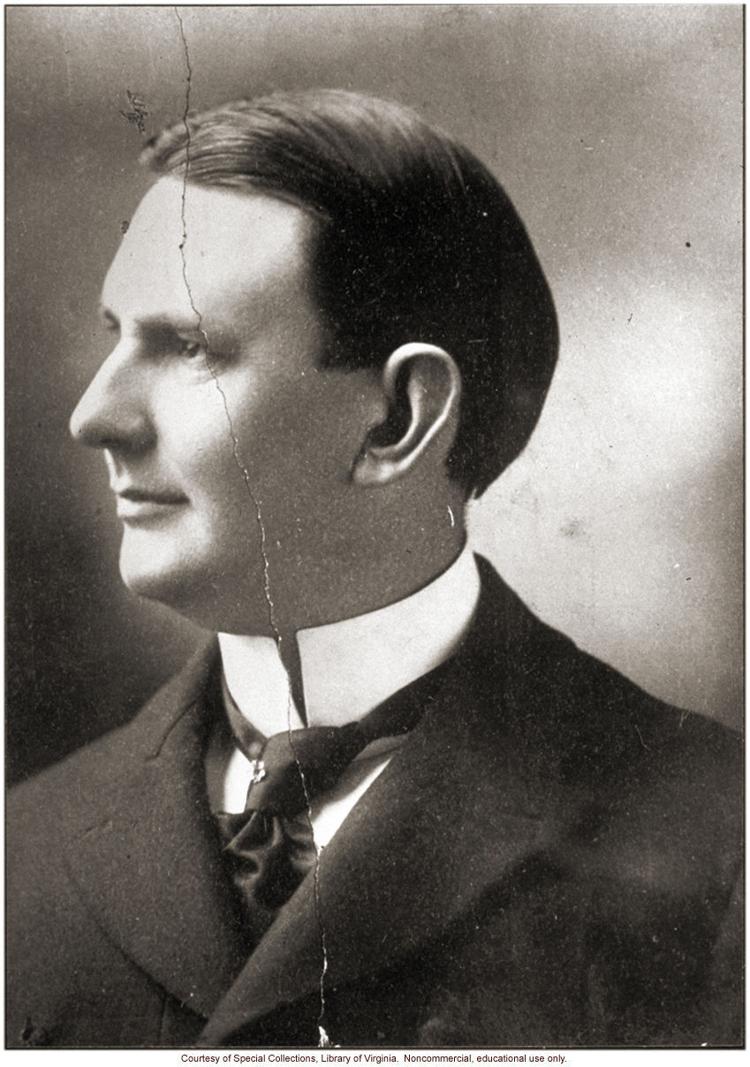 Priddy testified that Carrie could leave the colony and support herself after sterilization, and the state wouldn't have to take on the burden of supporting her feeble-minded offspring. Otherwise, she would have to remain an inmate of the colony for the duration of her child-bearing years.
Her mother, Emma, then 52, was described in court documents as having a record of "immorality, prostitution and untruthfulness; has never been self-sustaining; was maritally unworthy, having been divorced from her husband on account of infidelity."
The eugenicist Laughlin, assistant director of the eugenics record office of the Carnegie Institution, a group whose mission was to seek out cases of feeble-mindedness that ran through generations, provided a written analysis describing the Bucks as belonging "to the shiftless, ignorant and worthless class of antisocial whites of the South."
Red Cross nurse Caroline Wilhelm told the court that baby Vivian likely shared her mother's traits, describing her as "not quite normal."
Of Carrie, Wilhelm said that "her mother had three illegitimate children, and I should say that Carrie would be very likely to have illegitimate children." 
Dr. Joseph S. DeJarnette, a eugenicist and superintendent of Western State Hospital in Staunton, testified that the "standard of general intelligence" in the state would be raised if people like Carrie were not allowed to reproduce.
"See that girl: She was a good worker and never brought into conflict with the law until she was pregnant," DeJarnette said. "If she had remained sterile, in all probability, she would have been there at home working, with Mrs. Dobbs, who seems to be very fond of her."
Representing Carrie, Whitehead didn't challenge the weaknesses of such testimony, and he called no witnesses. 
"The case was so patently weak from a factual point of view," said Lombardo, the law professor and author. "If it is supposed to be a demonstration of people who are of limited capacity, or morally suspect, you should have some evidence to that effect."
In April 1925, an Amherst judge's written ruling upheld the sterilization order. The following November, the Virginia Court of Appeals upheld the lower court's decision.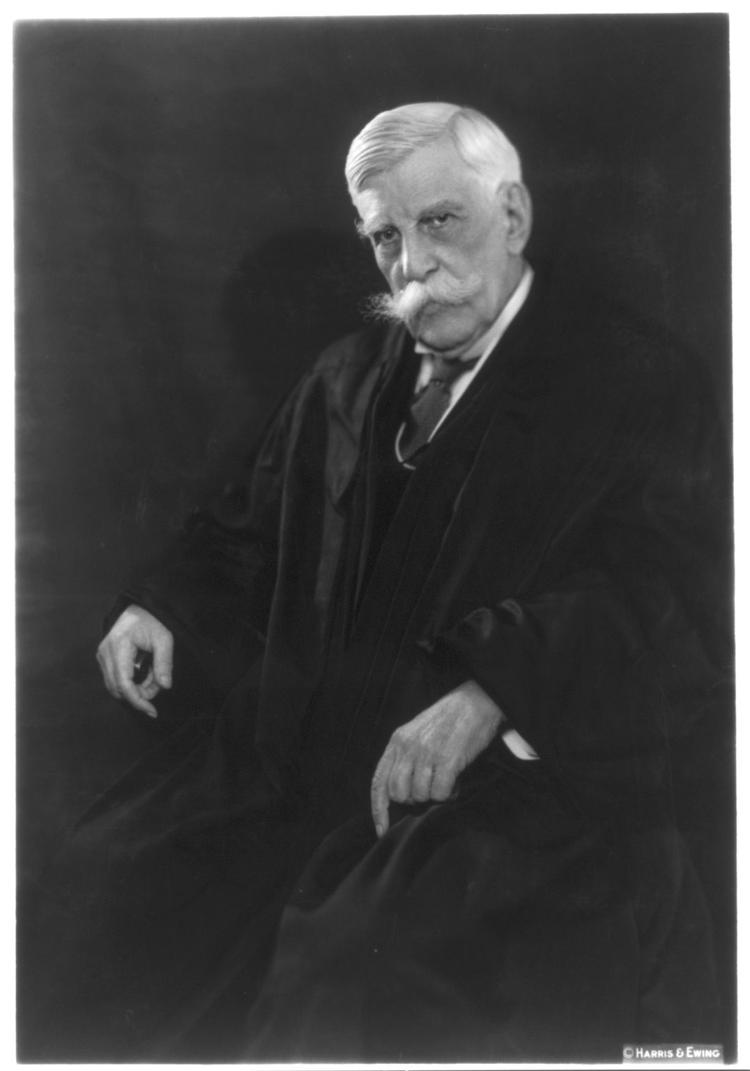 The U.S. Supreme Court accepted the case a year later, and on May 2, 1927, it upheld Virginia's law by an 8-1 vote. Justice Oliver Wendell Holmes Jr. wrote the majority opinion, comparing Virginia's sterilization law to that of a Massachusetts law requiring schoolchildren to be vaccinated against smallpox.
"It is better for all the world, if instead of waiting to execute degenerate offspring for crime, or to let them starve for their imbecility, society can prevent those who are manifestly unfit from continuing their kind," Holmes wrote. "The principle that sustains compulsory vaccination is broad enough to cover cutting the Fallopian tubes."
He infamously added: "Three generations of imbeciles are enough."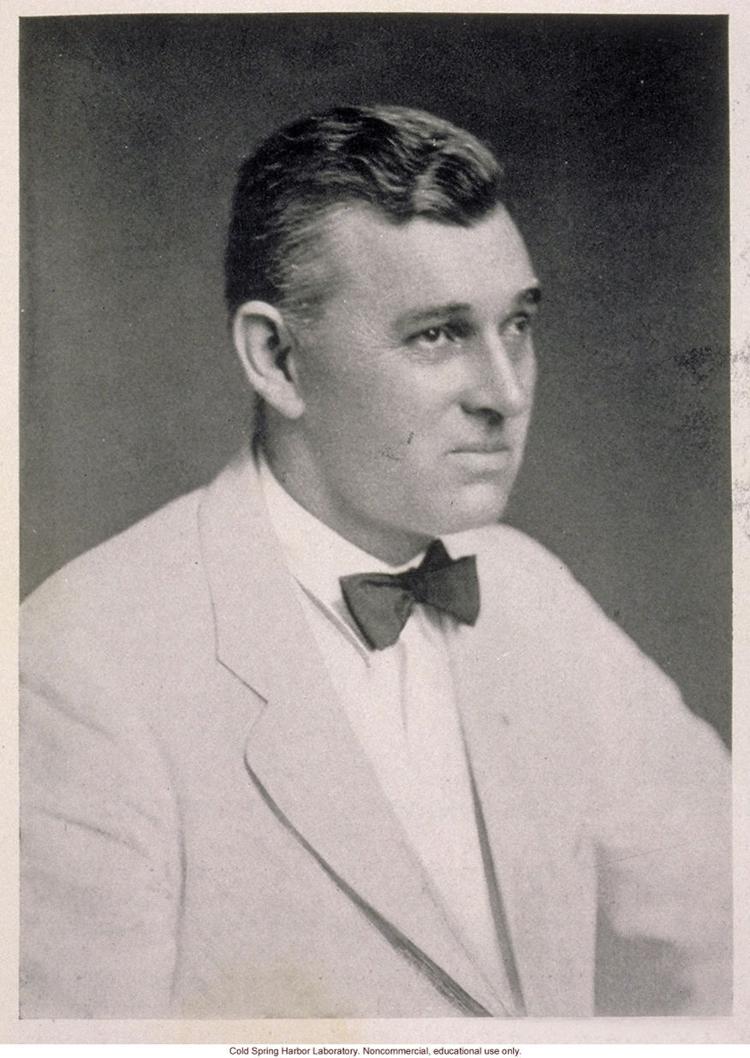 On Oct. 19, 1927, at age 21, Carrie Buck became the first person in Virginia sterilized under the law. Notes from procedure, performed by Bell, indicate that it took about an hour.
Less than a month later, on Nov. 12, 1927, she was released from the colony. She moved to Bland County and married widowed carpenter William Eagle in 1932. The following year, she wrote Bell asking about her mother, who remained at the colony.
"Dr. Bell I would just love to take mother out for this winter and if nothing happens so I can't and if you will let her come, I will make preparations for her to come and will meet her. I do not have but two rooms but still she is welcome to come and stay with me. ... I will see that my mother is well taken care of and plenty to eat if you will let her come. I am real anxious for her to come," according to letters Lombardo obtained during his research.
There is no documentation that Emma ever got to visit. She died in spring 1944 at the colony. Carrie, then 37, learned of her mother's death only after traveling to Madison Heights for a visit. By then, Emma had been buried in an unmarked grave at the colony's cemetery.
Widowed in 1941, Carrie Buck Eagle remarried in 1965 to Charles Detamore.
Lombardo interviewed her just a few weeks before her death. 
"She didn't have any particular detailed reflections on the event," he said of the sterilization. "She did say she felt like she had been done wrong."
In the 1980 NPR inteview, she said: "I was sad 'cause, see, I wanted to have children."
Carrie Buck Eagle Detamore died Jan. 28, 1983, at age 77 in a nursing home in Waynesboro. She is buried near her daughter in Oakwood Cemetery in Charlottesville.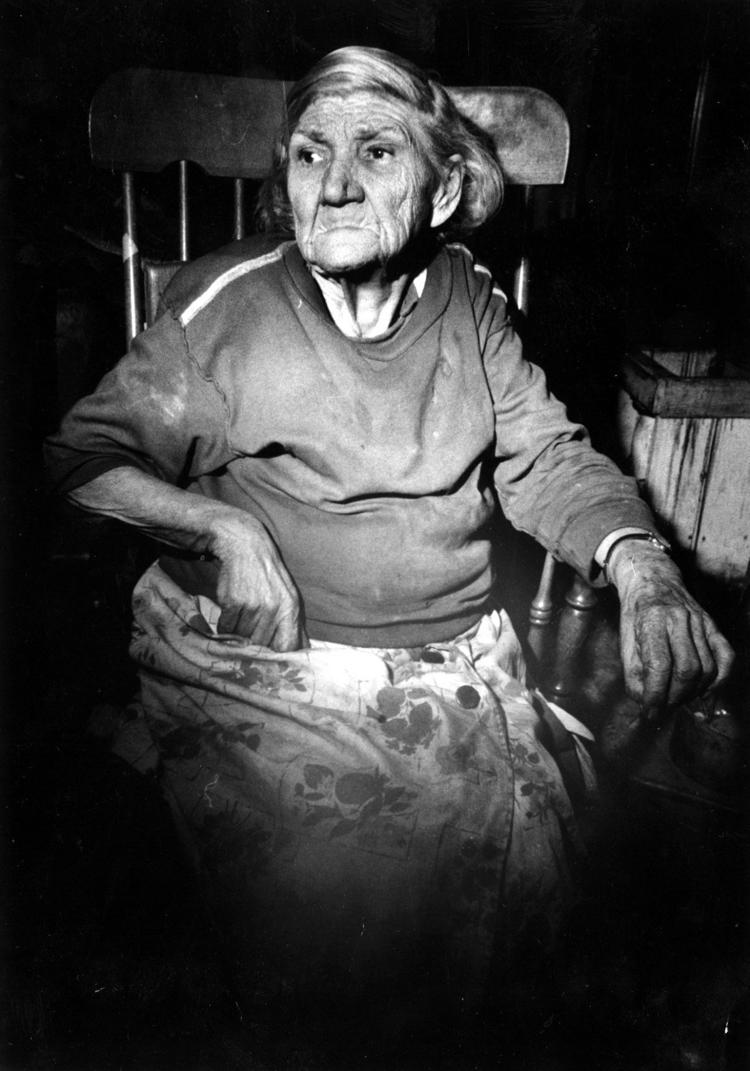 The three-year legal battle in Carrie Buck's otherwise modest life had a lasting effect.
Of the roughly 8,300 Virginians sterilized (among nearly 80,000 nationally), almost 3,800 of the procedures took place at what now is known as Central Virginia Training Center. Officially, the practice ended there in 1956, though it is believed to have continued until 1972.
Buck v. Bell was never overturned, though Virginia repealed its sterilization law in 1974.
The influence of the case didn't stop at the U.S. border. Nazi Germany instituted its own sterilization program in 1933, adopting language from Laughlin's model eugenics law – the same document that served as the basis of Virginia's law nine years earlier.
Pressure on the General Assembly to acknowledge and apologize for the state's sterilization law began in the late 1990s after historians and the media drew links between Virginia's law and Nazi Germany's eugenics policy. In 2001, the assembly expressed "profound regret" for the "incalculable human damage done in the name of eugenics."
The following January, another resolution honored the memory of Carrie Buck 75 years after her sterilization, and a historical marker was placed in her memory on Preston Avenue in Charlottesville near her childhood home.
Resolution No. 299 states that "legal and historical scholarship analyzing the Buck decision has condemned it as an embodiment of bigotry against the disabled and an example of using faulty science in support of public policy."
In 2013, North Carolina became the first state to award compensation, of $50,000 per person, to eugenics victims. In 2015, Virginia agreed to provide victims $25,000, though providing the necessary records has proved challenging: Only several dozen people have been compensated.
Today, traces of the thousands of sterilizations performed at the Central Virginia Training Center are hard to find. The historical marker sitting at the entrance says nothing about the subject. 
Like most of the 90-some buildings on campus, the one where the procedures were done still stands, decaying and condemned – and bearing little reminder of this dark chapter in history.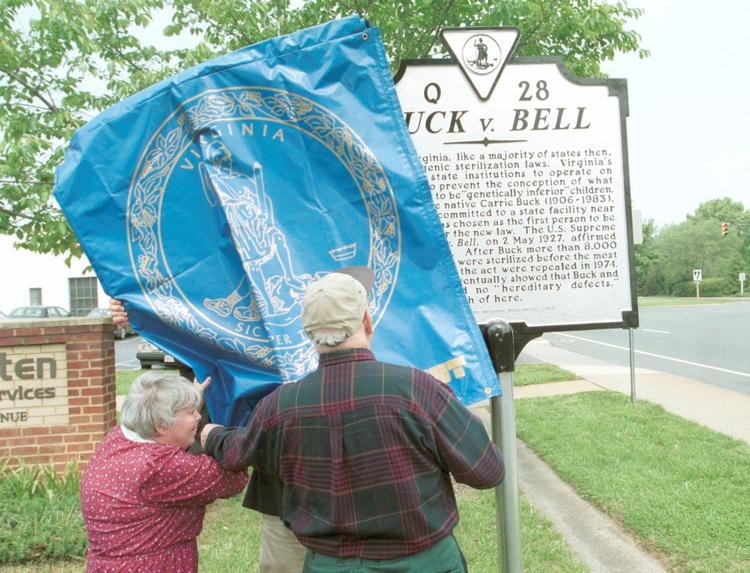 Carrie J. Sidener is special publications editor for The News & Advance in Lynchburg.