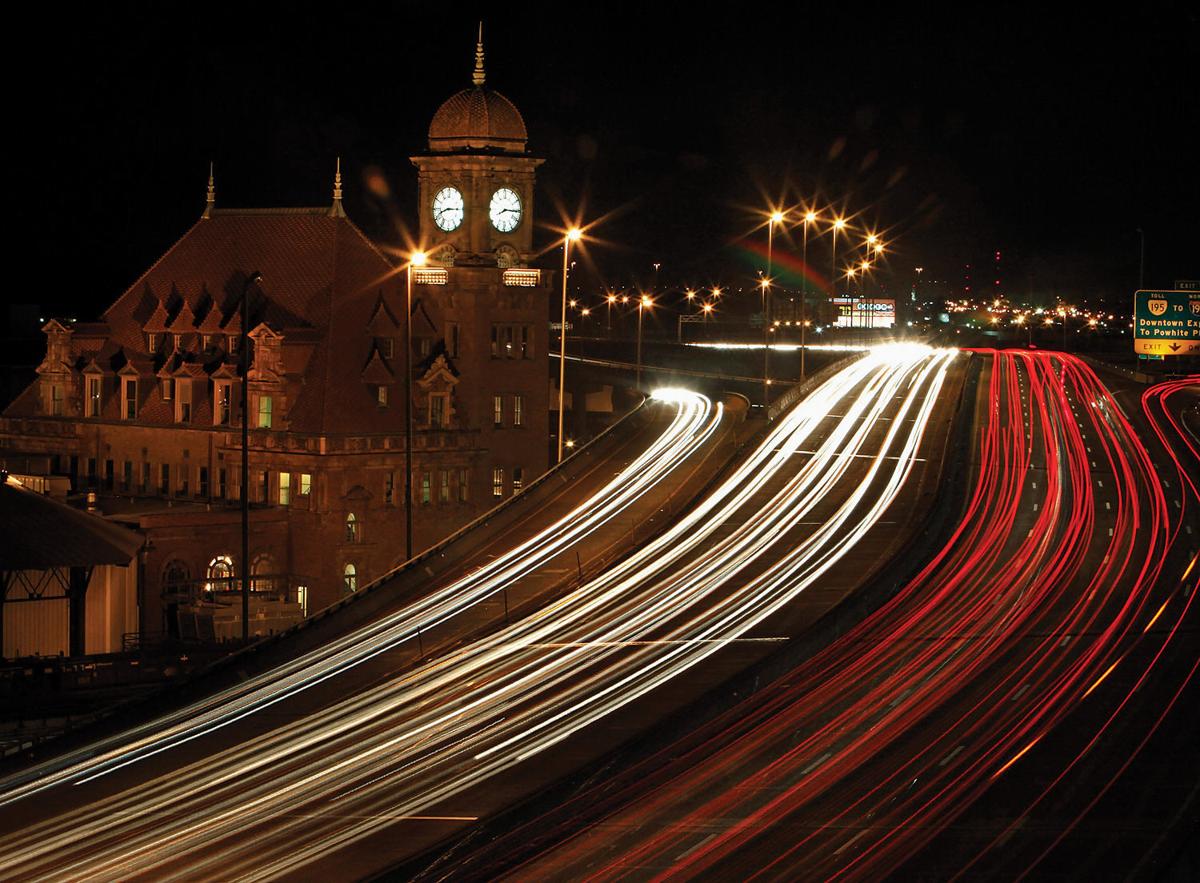 Whether you prefer exploring historic battlegrounds, walking atop the Richmond Floodwall or just enjoying nature, the Richmond area includes many places of historical significance and natural beauty. (Area code 804 unless otherwise noted.)
17th Street Market: Once a historic open market, the site now hosts events on the 17th each month, a night market on the second Saturday and yoga on Wednesdays (all ending in mid-December). Available for other events. (17th and Main streets; 646-5773; richmondgov.com/farmersmarket)
Altria Theater: Entertainment venue built in the 1920s by Acca Temple Shriners; formerly known as the Mosque and the Landmark Theater, now part of CenterStage complex. (6 N. Laurel St.; 592-3368; altriatheater.com)
"Bojangles" Statue: Honors tap dancer Bill "Bojangles" Robinson, a Richmond native, at intersection of Adams and Leigh streets, at Chamberlayne Parkway. This was the first statue of a Black man in Richmond, situated where Robinson saw two children attempting to cross a busy intersection – so he paid to install what was the first traffic light in that area.
Bryan Park: Serenity in North Richmond, with trails, ponds and the Azalea Garden. The 262-acre park is listed on the National Register of Historic Places. It was the site of a planned slavery insurrection known as Gabriel's Rebellion, and during the Civil War, the nearby area marked Richmond's outer defense line. (4308 Hermitage Road; 646-5733; friendsofbryanpark.org)
Byrd Park: Lakes, hiking trails, tennis courts, architectural masterpieces amid 287 acres of green beauty. Highlights include the 240-foot Carillon bell tower, Dogwood Dell amphitheater and the Pump House, a striking example of Gothic Revival architecture. (600 S. Boulevard, at Blanton Avenue; 646-5733; richmondgov.com/parks)
Canal Walk: The 1¼-mile walk along James River's north bank – from Historic Tredegar at Fifth Street to 17th Street, including Kanawha and Haxall canals – features four centuries of the city's history. (788-6466; venturerichmond.com)
Canal rides: A 40-minute narrated history tour is offered by Richmond Canal Cruises; covered boats depart on the hour from the Turning Basin at 14th and Dock streets on Virginia Street from May through September. (649-2800; venturerichmond.com)
Capitol / Capitol Square: Neoclassical building designed by Thomas Jefferson opened in 1788; visitors enter from the plaza near 10th and Bank streets. Capitol Square highlighted by impressive public art, including statues of Virginia notables, the four-sided Virginia Civil Rights Memorial, a tribute to Virginia Indians and the Virginia Women's Monument. (1000 Bank St.; 698-1788; virginiacapitol.gov)
Carillon / Dogwood Dell: The Carillon, a tribute to Virginia's World War I dead, features a 240-foot Georgian bell tower (1300 Blanton Ave in Byrd Park). Dogwood Dell amphitheater, home to the summer Festival of the Arts, holds 2,400 people. (600 S. Arthur Ashe Blvd.; 646-1437 or 646-3355 for events; richmondgov.com/parks - click "Cultural Arts" link)
City Hall Observation Deck: Striking views of the downtown and beyond from the top of the 19-story building. (900 E. Broad St.)
City Point Park: On May 5, 1864, the U. S Colored Troop regiments in Brig. Gen. Edward Hincks' division seized the City Point Site, which became Grant's headquarters and the Civil War supply center in Hopewell during the Siege of Petersburg; now part of the Petersburg National Battlefield Park. (1199 Pecan Ave. in Hopewell; 458-9504; nps.gov/pete/index.htm)
Church Hill: Historic neighborhood in Richmond's East End features gas-lit cobblestone streets, St. John's Episcopal Church and several historic parks. (churchhill.org)
Confederate Memorial Chapel: Interdenominational chapel built in 1887 by Confederate veterans to honor the Confederate dead; now operated by the Virginia Museum of Fine Arts and located on the southwest corner of the museum grounds. (2900 Grove Ave.; vmfa.museum/about/grounds-history)
Egyptian Building: 1845 building in Egyptian Revival style is now part of VCU Medical Center. (1223 E. Marshall St.)
Executive Mansion: Neoclassical mansion (open for tours) has been home to Virginia's governors since 1813. (Capitol Square at Ninth and Grace streets; 371-2642; executivemansion.virginia.gov)
Fan District: Turn-of-the-century Richmond neighborhood "fans out" from near Belvidere Street toward the Boulevard along Grace, Main and surrounding streets. (fandistrict.org)
Fed Experience: Interactive educational exhibit brings the economy to life at the Federal Reserve Bank of Richmond; tours available for school and other groups. (701 E. Byrd St.; 697-8110; thefedexperience.org)
Great Shiplock Park: Easternmost of the restored Kanawha Canal locks in Shockoe Bottom; part of Virginia Capital Trail. (Dock and Pear streets; 646-5733; jamesriverpark.org)
Hebrew Cemetery: Dating to 1816, this cemetery is believed to be one of the first Jewish cemeteries in America (North Fourth and Hospital streets on Shockoe Hill; 358-6757; bethahabah.org/heritage/hebrew-cemetery - click on "heritage"); the cemetery's predecessor, dating to 1791, is the Franklin Street Burial Grounds. (21st and East Franklin streets)
Hollywood Cemetery: Designed in 1847, it is a burial place for notable Virginians, including two American presidents and six Virginia governors. (412 S. Cherry St.; 648-8501; hollywoodcemetery.org)
The Jefferson Hotel: Opened in 1895, this opulent landmark remains a five-star property. (West Franklin and Adams streets; 788-8000; jeffersonhotel.com)
Kings Dominion: The theme park in Doswell has an array of roller coasters, the Soak City water park and, of course, its visual calling card: a one-third-size replica of the Eiffel Tower, which beckons drivers along Interstate 95. (Doswell exit off I-95; 876-5000; kingsdominion.com)
Lewis Ginter Botanical Garden: One of the nation's top public gardens, with more than 50 acres of natural beauty, renowned holiday light displays, special presentations and classes for adults and children. (1800 Lakeside Ave.; 262-9887; lewisginter.org)
Library of Virginia: A trove of historical treasures that goes far beyond books, with exhibitions, genealogical research materials, book talks and much more. (800 E. Broad St.; 692-3500; lva.virginia.gov)
Lumpkin's Slave Jail: Site of antebellum slave-trading compound in Shockoe Bottom was once known as the "Devil's Half Acre"; after the Civil War, it became a black seminary that was a forerunner of Virginia Union University. (1500 E. Franklin St.) 
Maggie Lena Walker Memorial: At an entrance to historic Jackson Ward, a statue and plaza honor the pioneering female entrepreneur. Walker, the first African American woman to charter a bank, also started other businesses and worked for the social and financial advancement of African Americans. (East Broad and Adams streets; 771-2017) 
Maymont: Once an estate, this city park on 100 acres has been a destination for 90 years and features Italian and Japanese gardens, an exotic arboretum, the Dooley family's Gilded Age mansion, carriage collection, nature center, Maymont Farm and more. (2201 Shields Lake Drive; 358-7166; maymont.org)
Mini Statue of Liberty: The 8½-foot likeness of Lady Liberty was dedicated by the Boy Scouts of America in 1950; a stone nearby honors the royal residence of Indian chief Powhatan. (Chimborazo Park, 32nd and East Broad streets)
Oakwood Cemetery: Opened in 1856 and located near the Confederacy's Chimborazo Hospital, Oakwood is the final resting place of 17,000 Confederate soldiers. (3101 E. Nine Mile Road; 646-4473; richmondgov.com/parks/cemeteries.aspx)
Old City Hall: The 1894 Victorian Gothic masterpiece is now an office building. Interior "courtyard" is a three-story painted cast-iron marvel. (1001 E. Broad St.; richmondgov.com/visitors/landmarks.aspx)
Petersburg National Battlefield Park: Site of the Civil War's Battle of the Crater is explored in exhibits and film. Entrance to drive-through park (great for runners and horses) is on the merged Washington/Wythe Street, immediately before the entrance to Fort Lee. Park also supervises Five Forks Battlefield in Dinwiddie, where the armies fought along the route to Appomattox, and City Point Park in Hopewell, site of a vast Union supply base. (732-3531; nps.gov/pete/index.htm)
Randolph-Macon College: The private liberal-arts school was founded in 1830. (Henry Street and College Avenue in Ashland; 752-7200; rmc.edu)
Richmond Floodwall: Parallels the James River downtown (starting at south end of 14th Street bridge) and protects low-lying areas; monthly walking tours on the second Sundy start at the Railway Museum at 102 Hull St. (richmondgov.com/visitors/tours.aspx; 231-4324) 
Richmond Light Infantry Blues Monument: A memorial to the volunteer militia unit that existed from 1789 until 1968. (Sixth Street near the Coliseum)
Richmond National Battlefield Park: Thirteen units across Hanover, Henrico, Chesterfield and Richmond (226-1981; nps.gov/rich/index.htm); in addition to Chimborazo headquarters, area battlefields with visitor centers include Cold Harbor (5515 Anderson-Wright Drive), Fort Harrison (8621 Battlefield Park Road) and Glendale/Malvern Hill (8301 Willis Church Road).
Richmond Region Visitor Center: Main site at Greater Richmond Convention Center (401 N. Third St.; 783-7450 or 888-742-4666; visitrichmondva.com); satellite locations at Richmond International Airport (236-3260) and VMFA Robinson House (200 N. Arthur Ashe Blvd., 340-1515)
Richmond Slave Trail: Covering nearly 3 miles on a self-guided trail, 17 markers chronicle the slave trade's history, beginning at the Manchester Docks at Maury Street and continuing to the site of Richmond's slave markets. (698-1070; richmondgov.com/commissionslavetrail)
St. John's Episcopal Church & Cemetery: Richmond's oldest church (c. 1741) was site of the Second Virginia Convention and Patrick Henry's "Liberty or Death" speech; free re-enactments held seasonally. Notables buried here include Elizabeth Arnold Poe, mother of Edgar Allan Poe, as well as George Wythe, who signed the Declaration of Independence. (2401 E. Broad St.; 648-5015; historicstjohnschurch.org)
St. Paul's Episcopal Church: The Greek Revival masterpiece was consecrated in 1845. (815 E. Grace St. across from Capitol Square; 643-3589; stpaulsrva.org)
Secretariat's Birthplace / Meadow Event Park: Birthplace of the 1973 Triple Crown champion Thoroughbred and home to the State Fair of Virginia. (13191 Dawn Blvd. in Doswell; 994-2800; meadoweventpark.com)
Shockoe Bottom / Slip: Historic commercial district features shops, restaurants, businesses, nightlife and residences. The Bottom roughly encompasses the stretch from 15th to 27th streets between Dock and East Broad streets. The Slip, established as a trading post by William Byrd in the 1600s, is centered along East Cary Street for several cobblestone blocks leading into the Bottom. It was once a narrow passageway of land used to load boats on the Kanawha Canal.
Shockoe Hill Cemetery: Historic cemetery is the burial site of U.S. Chief Justice John Marshall and Union spy Elizabeth Van Lew. (Fourth and Hospital streets; 646-1291; richmondgov.com/parks/cemeteries.aspx)
Sixth Mount Zion Baptist Church: The Rev. John Jasper, who was born a slave, founded the church in 1867. (14 W. Duval St.; 648-7511; smzbc.org)
Slavery Reconciliation Statue: The 15-foot bronze sculpture, one of three identical statues and a stop on the Richmond Slave Trail, is part of a reconciliation project connecting Richmond; Liverpool, England; and the Republic of Benin in West Africa as key sites in the history of slavery. (15th and East Main streets)
University of Richmond: The private liberal-arts school was founded in 1830; the 350-acre suburban campus is about 6 miles from downtown. (28 Westhampton Way; 289-8000; richmond.edu)
Virginia Capital Trail: The popular 52-mile bicycle and pedestrian route links the modern and early capitals of Richmond and Jamestown. From Richmond, the trail begins along the James River in Shockoe Bottom and follows the state Route 5 corridor. (Pear and Dock streets; 788-6453; virginiacapitaltrail.org)
Virginia Commonwealth University: Monroe Park campus (centered near Fan District) and VCU Medical Center campus (downtown near Interstate 95 and East Broad Street) are the heart of the large urban public research university. (828-0100; vcu.edu)
Virginia State University: The historically black university, located in Ettrick in Chesterfield County, has roots dating to 1882. (1 Hayden Drive; 524-5000; vsu.edu)
Virginia Union University: The historically black university has roots dating to the end of the Civil War. Historic structures on campus include the Belgian Friendship Building and Bell Tower. (1500 N. Lombardy St.; 257-5600; vuu.edu)
Virginia War Memorial: With a glass-and-stone centerpiece shrine and majestic statue called Memory, this site honors Virginians who have died in the nation's wars since World War II. The memorial includes a large education center. (621 S. Belvidere St.; 786-2060; vawarmemorial.org)