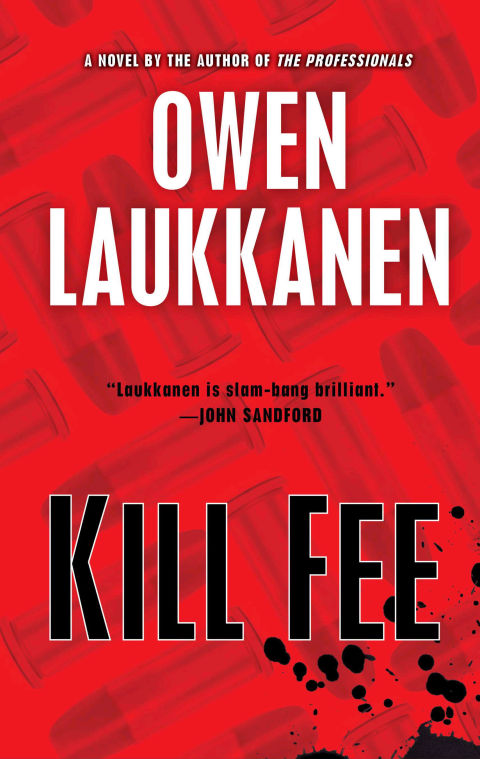 Typically, investigators arrive at a crime scene after the crime has been committed. In Owen Laukkanen's new crime thriller, "Kill Fee," his sleuthing duo actually witnesses a killing.
In fact, FBI special agent Carla Windermere and state investigator Kirk Stevens, who had been enjoying a leisurely, postprandial stroll, nearly apprehend the killer immediately after he has brazenly shot a billionaire in downtown St. Paul, Minn.
But Windermere hesitates for one critical moment as she stops the killer in front of his car.
"It was his face," Laukkanen writes. "His eyes. It was his slack expression, the way he studied her with no hint of malice, no fear, barely any comprehension at all. Windermere slowed, involuntarily, wishing again that she'd remembered her Glock."
As Windermere watches, the man climbs into his car — "calm, deliberate" — and drives away.
"I just lost it," Windermere tells Stevens, afterward. "It's like I was a potted plant, the way he looked at me. A cloud or something, insignificant. Like I wasn't a cop and he wasn't a killer."
The killer, a young man named Lind, isn't finished, either. A few days after the St. Paul killing, he strangles a man in Duluth, Minn. A boy playing outside sees him leaving the house and studies Lind "intently" before turning his attention back to playing.
Later, the boy gives Stevens a few clues about Lind, but he's too shy to mention how unsettling his appearance was.
A clerk at a car rental counter speaks up about it when Stevens interviews her, though.
"There was something spooky about him, I remember it now," she says. "Like he was looking through me, you know?"
There's a reason Lind looks so odd. He's a deeply troubled Iraq war veteran, and as Windermere and Stevens eventually discover, he has been recruited into a murder-for-hire operation run by a computer-savvy man who understands how to brainwash vulnerable vets into doing his bidding as if they're drones.
"He found them in steady supply," Laukkanen writes. "Two wars were raging. Young men and women were returning from the combat zones by the planeload, many of them psychologically scarred and extremely vulnerable."
Untangling the clues that lead to the operation's coldly efficient mastermind is going to be tough. Even as Windermere and Stevens close in on Lind, the mastermind is already recruiting a replacement killer.
"Kill Fee" is the third installment in the Windermere and Stevens series, and it's further proof that Laukkanen is one of the best young thriller writers working today. His pace is relentless, his plots are satisfyingly intricate and his prose is cut-to-the-bone lean.
Plus, he's cunning enough to put the physical attraction between Windermere and Stevens on a low, multi-book simmer.
Perhaps as importantly, his books boast social relevance. Like David Baldacci, a veteran of the thinking man's thriller genre, Laukkanen understands the value of tying an exhilarating adventure back to the pressing concerns of the real world.
It's a smart tactical decision. Baldacci has enjoyed 18 years at the top of best-seller lists with a long string of socially and politically engaged books. Fingers crossed, Laukkanen's run could last that long, too.
Doug Childers is a Richmond writer and edits WAG, a literary website, at www.thewag.net.