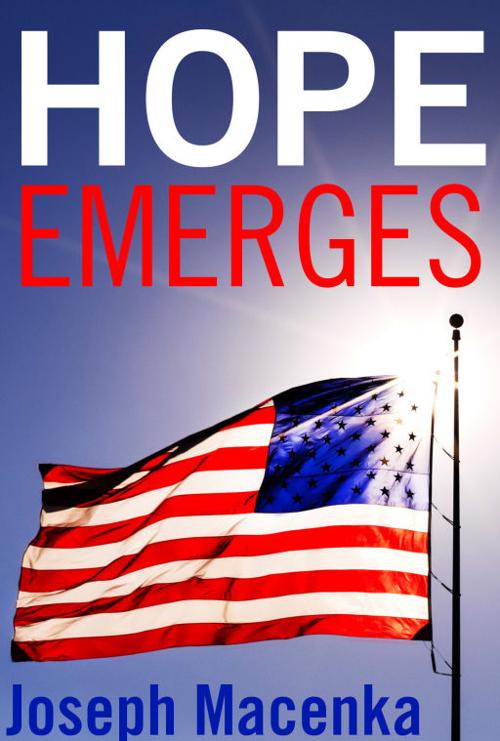 The wars in Afghanistan and Iraq have left many American veterans suffering from traumatic injuries.
But at McGuire Veterans Affairs Medical Center in South Richmond, some are finding help. And it's their story that Joseph Macenka tells in "Hope Emerges" (364 pages, Create-Space, $16).
Macenka, a reporter for the Richmond Times-Dispatch and a veteran of more than 35 years in journalism, was granted access to McGuire's Polytrauma Rehabilitation Center, and the result is an inspiring look at the remarkable work being done to improve the lives of America's wounded warriors.
Filled with stories and photos of the center's medical personnel and their patients, "Hope Emerges" offers readers a close look at the work being done to facilitate healing and provide hope for America's vets.
As Macenka writes, "The VA established the five polytrauma centers around the United States to create a better system of care for the nation's military and veterans. It ended up getting an oasis in Richmond, where passionate and personalized medical care are the rule and not the exception, where the staff members will put their hands on you, sit with you, laugh with you, cry with you and for you, and be joyful for you when you leave."
When a heartbroken Jeannie Light left her home in 1977, she found a new one in Graves Mill in Madison County, where she was drafted to help reopen an old country church.
She relates her adventures in "Beautiful on the Mountain" (277 pages, Tyndale House, $14.99), a memoir that recounts her challenges in helping to midwife the rebirth of a tiny Baptist church.
"During those years in Graves Mill," she writes, "I was privileged to be a part of a history that had almost vanished. Living in the mountain hamlet was, in many ways, a step back in time to a simpler world. … To have been part of that community's renaissance, to have seen the cross on the mountain … what a gift!"
Light, who graduated from Kalamazoo College in Michigan and holds a master's degree from the University of Virginia, lives in Louisa County.
From the shores of Lake Erie to the banks of the James River, U.S. 250 travels some of the most historic — and most beautiful — sections of America.
It's a journey that Robert A. Musson explores in "From Cedar Point to the Confederacy: A Pictorial History of U.S. Route 250" (160 pages, Zepp Publications, $19.95), a 516-mile journey from Sandusky, Ohio, to Richmond.
Musson, a physician who lives in Medina, Ohio, leads readers on a road trip that traverses, as Musson writes, an "isolated, tortuous landscape with minimal upgrades."
Filled with more than 440 black-and-white images, the book should be of particular interest to Virginia readers, with numerous textual entries and fascinating photos of the road's Virginia route, from Monterey to Richmond. Included are historic shots of many locations, including Staunton's Western State Hospital (formerly a mental hospital and currently a condominium development), Afton Mountain (home of the Blue Ridge Terrace, once a popular restaurant, now apartments), Charlottesville and on to Richmond.
• Former major-league umpire Al Clark, who lives in Williamsburg, spins numerous real-life baseball yarns in "Called Out but Safe: A Baseball Umpire's Journey" (240 pages, University of Nebraska Press, $24.9) written with Dan Schlossberg. Clark's high points include being on the field when Cal Ripken Jr. broke Lou Gehrig's consecutive-game record, Nolan Ryan winning his 300th game, Dave Righetti throwing a July 4 no-hitter for the Yankees and Randy Johnson pitching his first no-hitter. He also was present when a major earthquake hit San Francisco during the 1989 World Series. The low points include being fired by Major League Baseball for misusing money from an airline ticket and spending 120 days in prison on a mail-fraud charge.
• Born in Richmond in 1864, Varina Anne "Winnie" Davis was the youngest daughter of Confederate President Jefferson Davis and his wife, Varina. Richmond native Heath Hardage Lee tells her story in "Winnie Davis: Daughter of the Lost Cause" (248 pages, Potomac Books, $29.95).
• Presbyterian minister Robert Bluford Jr. explores a pivotal Civil War moment in "The Battle of Totopotomoy Creek: Pole-green Church and the Prelude to Cold Harbor" (190 pages, The History Press, $19.99). At age 95, Bluford, a Richmond native, remains active in religious and historical work and was awarded the Edwin C. Bearrs Lifetime Achievement Award by the Civil War Preservation Trust in 2013, as Jerry Finch — retired ombudsman of the Richmond Times-Dispatch and former managing editor of The Richmond News Leader — points out in his "about the author" note.
• Richmonder Edward G. Kardos' new novel, "Leap of Faith" (224 pages, Raven's Wing Books, $12.99), focuses on friendship, learning and healing in the lives of teenage boys.
• Maine resident James C. Thompson, who once lived across the Rivanna River from Monticello on what once was the farm of Thomas Jefferson's eldest daughter, Martha Jefferson Randolph, is the author of "Thomas Jefferson's Enlightenment: Paris 1785" (160 pages, Commonwealth Books, $50 hardcover, $30 softcover).
• Kristin Barton Cuthriell, a psychotherapist who practices at Eden Counseling Center in Norfolk, offers ways to fight negativity in "The Snowball Effect: How to Build Positive Momentum in Your Life" (229 pages, AuthorHouse, $29.95).
• In "Until I Saw Your Smile" (421 pages, Kensington, $15), J.J. Murray looks at second chances of love in his latest romantic comedy. He lives in Roanoke with his wife, two sons and Lovie the Wonder Mutt.
• Kwame Alexander's "The Crossover" (237 pages, Houghton Mifflin Harcourt, $16.99), a basketball novel aimed at young readers, tells — through free-verse poetry — the story of a stable African-American family. He lives in Herndon.
• Laura Long, who resides in Charlottesville and teaches at Lynchburg College, has written her first novel, "Out of the Peel Tree" (148 pages, Vandalia Press, $16.99), which examines the lives of a far-flung, contemporary Appalachian family.
• James Kennedy George Jr.'s debut novel, "Reunion" (303 pages, AuthorHouse, $19.95), begins and ends in Princeton, W.Va., but also is set in the Virginia localities of Marion, Blacksburg, Pearisburg and Charlottesville.
• Michael Bluemling Jr., founder and CEO of Power of One, a disabled-veteran-owned company based in Richmond, has written "Turning the Page: Overcoming Abuse to Reach Life's Fulfillment" (156 pages, Trinity Press International, $17.99).
• Richmond native Woodrow Landfair, who grew up in Springfield, is the author of "Land of the Free" (204 pages, Harbinger, $27.95), a semi-autobiographical novel that describes how, in 2006, he pawned everything he owned and set off on a 48-state motorcycle tour of the United States.
• Virginia native and Army veteran Lynn Seldon, who lives with his wife in Oak Island, N.C., has written "Virginia's Ring" (274 pages, Indigoblueink, $18.39), a debut novel that explores the experiences of two cadets at Virginia Military Institute and is set in Lexington and Richmond.
• In "My Racket, How It Worked Out" (256 pages, America Star Books, $27.95), Vinton resident Raymond Allen relates how he who grew up in poverty in the mountains of Virginia. After graduating with a poor record in high school, failing marks in spelling and acute stage fright, he joined the Army and ended up teaching in the aviation and transportation schools. He served for more than 20 years as senior pastor of the Blacksburg Baptist Church, across the street from Virginia Tech. His travels have involved extensive preaching, teaching and leading volunteer mission efforts.
• "The Barn Teacher" (20 pages, Thea Verdak, 99 cents), an e-book by Fredericksburg resident Thea Verdak, gives young readers a look at the perils of chaining dogs.