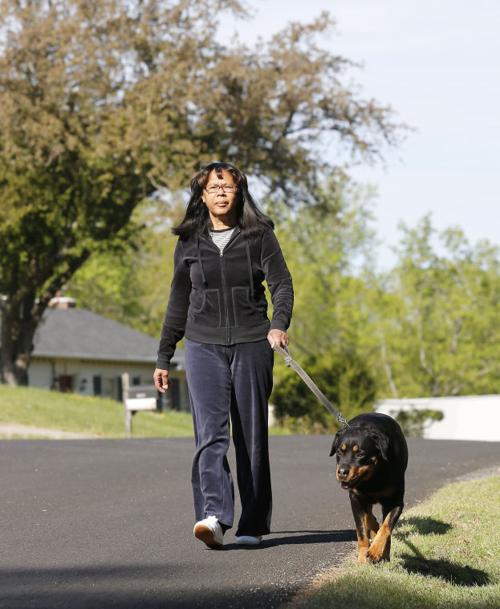 Have you walked your dog lately? If not, you're missing out on a cheap, easy fitness opportunity. And so is your dog.
Chesterfield County resident Barbara Bowens takes daily walks with her 125-pound Rottweiler named Nya, and they are sometimes accompanied by her 7-pound Jack Russell mix, affectionately known as Little Dog.
Even though Bowens gets a lot of exercise in her job as an overnight stocker at Walmart, she wouldn't miss the dog walks.
"I love walking with Nya and Little Dog because it's much more relaxing (than the exercise at work), and you can listen to music," she said.
Today marks the start of National Pet Week. In celebration of that, let's take a look at the reasons for walking your dog.
First off, it's good for you.
According to a study by Michigan State University, people who walk their dogs are 34 percent more likely to meet federal recommendations on physical activity. The study analyzed the amount of leisure-time activity engaged in by dog walkers in comparison with those who own dogs but don't regularly take their furry friends for walks. Leisure-time activities include recreational sports, walking, dancing and gardening.
Public health advocates say Americans should be getting either 75 minutes of intense exercise a week, or 150 minutes of moderate (leisure-time) activity per week.
Dog walkers, the study showed, do a better job of meeting those benchmarks.
In addition to the health benefits to you, there are the obvious benefits to your dog.
Veterinarians report that more than half of America's dogs are obese, according to the Association for Pet Obesity Prevention.
Walking is a simple solution.
"Running is great for healthy, younger animals, but it's not suitable for older dogs who may have arthritis," said Dr. Erica Kellar Brown, a veterinarian at Three Chopt Animal Clinic in Henrico County.
Walking is safe for most dogs, except those with injuries or serious health conditions, Brown said. "It helps them maintain muscle tone. It also helps with GI mobility." In other words, it keeps them regular.
"I encourage harnesses for every dog," she added.
Nationally, fitness and dog enthusiasts are taking dog walking to another level. They're creating fitness programs designed specifically for Fido and owner.
Dawn Celapino is the San Diego-based founder of Leash Your Fitness, a workout program that encourages you to get active with your canine companion. She offers classes such as Bonding with Bootcamp, and Butts and Guts with Your Mutts. In addition, she offers excursions for camping, hiking and surfing with your tail-wagging buddy.
"If it's an activity, we figure out how to incorporate the dog," she said with a laugh during a recent telephone interview.
Many times, the inclusion of the dog is what gets the overweight human off the couch.
"The dog is the ice breaker," said Celapino, a longtime personal trainer who works out alongside Jack, her 20-pound cairn terrier.
In the Richmond area, the options for working out with your dog are on the rise.
Kat French, who formerly ran the River City Rover dog-walking business, has contacted Celapino about opening a similar workout business here.
French now has a full-time job in IT consulting, but she misses the dogs, and the exercise. After closing River City Rover, "I put on 40 pounds right away," she said. She'd like to offer weekend dog-and-owner workout classes in the future.
Already in place here is a meet-up group that takes walks and hikes with dogs. Josh Rickey, with Canine Adventure, organizes everything from a 2.5-mile beginner "Happy Hour Hike" on Belle Isle to a 5.5-mile intermediate/advanced "Figure 8 Hike" on the Buttermilk Trail off Riverside Drive in the city.
Canine Adventure is a dog-walking and pet-sitting service that specializes in taking high-energy dogs on local trails, sometimes allowing them to swim in the river.
The meet-up groups have grown steadily in popularity.
"So many folks get a dog because they want to be more active," Rickey said. Time demands, however, can make it difficult to follow through on those intentions.
"I feel like it's important to carve out that time and do what you intended to do with the dog because it's good for everybody involved," he said.
Maria Howard is a group exercise instructor for the YMCA of Greater Richmond. Her column runs every other week in Sunday Flair.