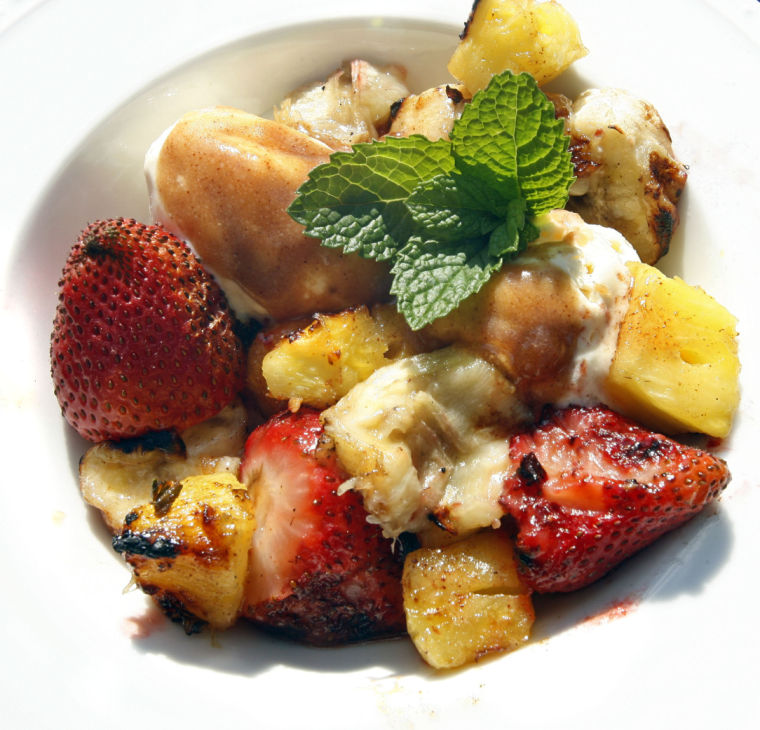 Are you going to a Memorial Day cookout? That holiday menu often focuses on high-fat grilled meats: hotdogs, hamburgers, ribs, steaks and bratwurst. Traditional side dishes can include high-fat potato salad, baked beans (cooked with extra bacon) and pasta salads.
So here we are at the beginning of swimsuit season with cookout choices that could sabotage good health intentions. But with a little planning, that holiday meal could become guilt-free.
Enjoy smaller portions of high-fat meats, and balance them with leaner choices. Add some chicken, fish or leaner meats, such as London broil or filet mignon, to the grill. If using marinades, select such fat-free ones as barbecue or teriyaki. For a homemade marinade recipe, you can often cut the oil by half.
My mom's London broil marinade calls for ½ cup oil; ¼ cup ketchup; 1½ tablespoons soy sauce; ¼ cup water; one small, finely chopped onion; and 1 teaspoon garlic powder. I cut the oil to ¼ cup or less and increase the water. Sometimes I use dried onions to save time, and add extra garlic powder.
Be careful how you cook your protein. The American Institute for Cancer Research recommends avoiding burnt or charred meats. Potentially cancer-causing compounds are formed when meat is cooked at higher temperatures to well-done states.
Select smaller portions of your favorite sides. Also, add some colorful, nutritious grilled fruits and veggies. Cook them as kebabs or in packets in aluminum foil. You can toss them right on your grill, too.
When cooking fruit directly on the grill, cut it in half and leave the skin on to help the fruit retain its shape. Sprinkle with a little cinnamon, allspice or nutmeg to enhance the sweet flavor, and then spray with nonstick cooking spray to prevent the fruit from sticking to the grill.
Firm fruits such as apples, pears, pineapple and even watermelon slices grill well. Grill until just tender. You also can grill such softer fruits as peaches and bananas, but watch closely to keep them from becoming mushy.
Vegetables are just as easy to grill. Try the Summer Vegetable Kebabs recipe at your Memorial Day cookout this weekend. Feel free to char your grilled fruits and veggies because, unlike meats, they don't release those cancer-causing compounds.
For food safety, make sure you grill fruits and veggies separately from raw meats. Or grill them after the meat, cleaning the area so you won't have the residue of hamburger on top of your pineapple.
---
This recipe lists specific veggies, but you can use your family's favorites. Cut the veggies into small pieces, and let the kids help put the kebabs together. For a large crowd, double or triple the recipe, but you won't need to increase the oil. You also can season with your favorite fresh or dried herbs.
2 yellow squash (or zucchini)
8 ounces button mushrooms
2 tablespoons balsamic vinegar
Wash veggies well and cut into 1-inch pieces.
In a small bowl, combine oil, vinegar, salt and pepper to taste.
Combine dressing and veggies in a resealable plastic bag. Toss to coat.
Marinate for at least 30 minutes, or overnight.
Place veggies on wooden skewers and grill over medium-high heat for approximately 4 minutes on each side.
Tip: Soak wooden skewers in water at least one hour to prevent them from burning on the grill.
Nutrients per serving (without added salt): 173 calories, 4 grams protein, 14 grams fat, 11 grams carbohydrate, 3 grams fiber, 15 milligrams sodium.
Mary-Jo Sawyer is a registered dietitian with VCU Medical Center where she provides outpatient nutrition counseling. Contact her at maryjosawyer@ymail.com, and follow her on Facebook at Practical Nutrition, Mary-Jo Sawyer, RD, or on Twitter, @MaryJoSawyer.

Read more advice from Mary-Jo Sawyer, a registered dietitian with VCU Medical Center, who shares nutrition information and recipe advice on Richmond.com.