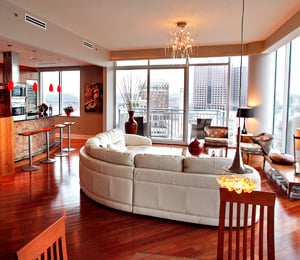 Bob Scudder and Dougie Bowman would have had a spectacular view of downtown Richmond from one condo on the 15th floor of Vistas on the James.
They decided to go for the knockout.
Scudder and Bowman, working retirees who married four years ago, bought two adjacent condos last year, gutted them and created a 2,600-square-foot unit with a breathtaking panorama that sweeps across the James River and Canal Basin, taking in all of downtown from the Landmark Theater to Church Hill.
Floor-to-ceiling windows provide city views from the open living spaces -- kitchen, living room, dining area and den -- and the master bedroom/office. If you're standing at the kitchen sink, the mirrored backsplash reflects the face of the state capitol.
"The whole purpose of the house is to be able to take advantage of the view and make sure you're bringing the outside in, but also to be sure the warmth of the inside draws you in," said Scudder.
The Scudder/Bowman condo and 14 other private residences will be open to the public next Saturday from 10 a.m. to 5 p.m. for Downtown Loft Tour 2009. The second annual tour, which drew 800 visitors last year, will include units in Shockoe Slip, Shockoe Bottom, Jackson Ward, Manchester, Rocketts Landing and the Riverfront/Canal Walk.
Scudder, a former U.S. Navy dentist and now an executive/business coach, and Bowman, a consultant who retired from Wheat First Securities, were living in a third-floor condo in Riverside on the James when the Vistas opened. The couple fell in love with the views, open layout and contemporary design of the project, where units ranged from the high $200,000's for a studio to more than $500,000 for larger units.
Construction began in January 2008. They moved in Labor Day weekend.
The home perfectly suits their lifestyle. Scudder and Bowman can walk 10 minutes to VCU for health care, drive 10 minutes to the airport for business trips or catch the elevator down to the lobby for a quick walk to the end of the condo driveway for dinner at Morton's Steakhouse. The drone of traffic on the Downtown Expressway becomes white noise for the condo.
"It's all beautiful," said Scudder, standing on a balcony off the living room, watching a CSX train chugging along the tracks by the river. "We really enjoy the urban lifestyle."
The condo is what Scudder calls "warm contemporary" in design and furnishing. The kitchen island is gently curved, with a face of pebbly-textured copper tile that brings to mind the river stones 15 stories below.
The cherry cabinets seem to reflect the brick buildings outside the windows. Beneath the cabinets is a series of resin panels embedded with oriental reeds; a larger panel hangs in the master bath.
Scudder loves to cook, and proudly says when the couple entertains, everyone seems to huddle around the granite-topped island. "It's perfectly designed for that," he said.
The kitchen is in full view of the living room, the centerpiece of which is a curved off-white leather sofa perched on a fluffy rug. Brazilian cherry floors change color as the sun moves. Living room, dining room, den and master bedroom furnishings have clean, contemporary lines. There is much wood, leather and metal, with few fabrics. "Some say it's cold," Scudder said. "We certainly don't see it that way."
The open layout reflects Scudder's business philosophy. "Each area has its own integrity, but without being confining," he said. "That's how I work with my clients. You never lose site of the overall purpose and overall flow."
---
hide bars where she hangs clothing.
Lofts and transitional-style homes, which have become popular within the past two decades, pose the challenge of creating harmony in an open layout. We asked loft owners and interior designers how to tackle spaces that aren't defined by walls or doors:
Walk around the space and map out areas for working, relaxing and entertaining. Imagine the area divided into little "rooms."


Think of creative ways to divide spaces. "Of course, one can always make use of screens for extra privacy, but usually a designer utilizes the placement of area rugs and furniture to delineate the function of one space from another," said Maura Flynn of Janet Brown Interiors on West Cary Street.


Jennifer Stoner of Mosaic Interiors in Richmond suggests dividing spaces with bookcases that are open on the front and the back or hanging fabric from the ceiling that can be closed for privacy but draped to the side to enjoy the open space.


The "separate" spaces should have one identity to avoid looking too choppy, Stoner said. "Keep your wall colors fairly consistent and pick one great accent color to repeat in each space," she said.


Lofts are best suited to contemporary style furnishings, according to Shari Hiller, host of HGTV's "Room By Room." Clean lines and combined smooth surfaces of wood, glass and metal enhance the unique architectural features, she said.


Scale can be tricky in a small space, but Stoner said nothing works better than a large scale piece of art to make a statement. "Small spaces don't always call for small furnishings, so keep an open mind for using larger pieces that make an impact," she said.


Bob Scudder and Dougie Bowman used neutral wall and area-rug tones in their Vistas on the James condo, but provided splashes of color through light fixtures and artwork. Too many colors throughout the space may make it appear haphazard.


Vintage ads and posters are ideal for lofts. Wall's flat is decorated with city posters, license plates and photos, giving it a chic downtown feel.


Add mirrors to magnify the size of your space, reflect a beautiful view or enhance the amount of sunlight.


Since they're usually in plain view, stainless steel kitchen appliances, both large and small, will blend with contemporary décor.
Use furniture and objects at varying heights to fill in spaces with high ceilings, Flynn said.
---
Downtown Loft Tour 2009
A look inside 15 private lofts and condos in historic Richmond neighborhoods.
When: March 28, 10 a.m. to 5 p.m.
Where: Shockoe Slip, Shockoe Bottom, Jackson Ward, Manchester, Rocketts Landing, Riverfront/Canal Walk. Park at the 14th and Cary Street deck. Shuttle buses to the sites will run every 10 minutes.
Tickets: $20 in advance; $25 day of tour. Buy advance tickets online at www.venturerichmond.com or at La Difference, Waller & Co. Jewelers, J. Emerson, Papeterie, Wine & Beer Westpark or The Boathouse at Sunday Park in Brandermill. Buy same-day tickets at the loft-tour information area on the Canal Walk at 14th Street.
Sponsor: Venture Richmond, which engages business, community and city leaders to enhance downtown vitality through projects and events.