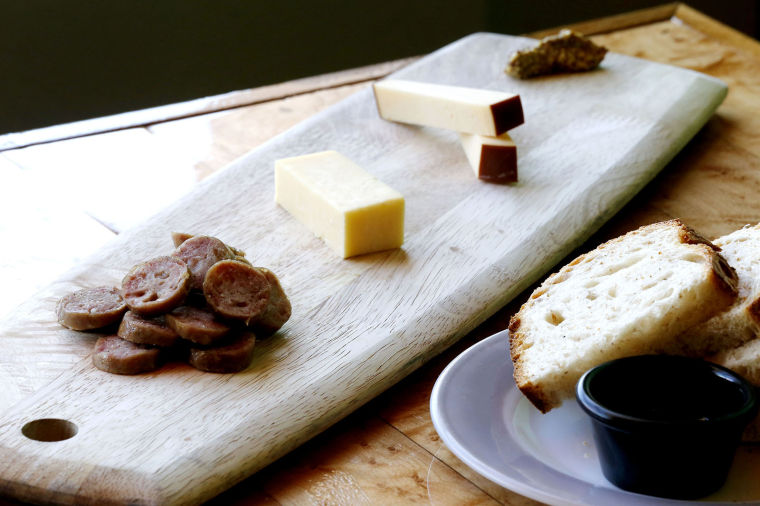 "This is like a wine bar for guys," said my dining companion as we settled into a small table near the garage-door style windows of The Cask Café & Market on a recent Friday night.
"When you and your girlfriends want to go to Carytown and play oenophile at Secco, I can come here and relax with my friends," he continued.
Looking around the spartan two-room café, its walls adorned with a couple of chalkboard brew lists and a ledge lined with beer bottles, I couldn't agree more.
Open since late October across from the GRTC bus depot, The Cask isn't trying to offer something for everyone. But for those who like craft beer served by people who know craft beer, this is definitely your place.
Brought to you by co-owners David Garrett (River City Cellars and Carytown Wine and Beer), James Talley and Sean O'Hern (Commercial Taphouse) and Jason McClellan, The Cask is not quite a restaurant and not quite a bar.
It's a cozy in-between, where the beer options heavily outnumber the food options. Still, The Cask's nibbles include quality items from local purveyors, including Sausage Craft, Billy Bread, Pizza Tonight and Flour Garden Bakery.
You can belly up to the wood bar to sip on a bottle of Orval Trappist Ale ($7) and nibble on a plate of garlic-laden Sausage Craft kielbasa with sauerkraut and Czech-style potato salad ($9). Or you can make a quick stop-in to grab a 32- or 64-ounce growler (which cost $2.50/$4.50) of Schönramer Pils ($13/$24) and gluten-free pizza dough ($5) for dinner at home.
Wine lovers aren't forgotten. You can choose a bottle of vino ($10-$19) off the shelf for on- or off-premises consumption. There's a $5 corking fee after 7 p.m., but even with the fee, my bottle of Encostas Do Lima Vinho Verde ($12/$17 with fee) was a steal of a deal — especially when you consider I was able to take home what I didn't drink there.
But with 12 taps and a rotating lineup of bottled beer, The Cask's main mission is wowing brew lovers. Wanna know about New Holland Blue Sunday ($6.50) or Stone Brewing Co. Double Bastard Ale ($11)? The friendly staff is well-versed in beerspeak and can offer plenty of suggestions … as long as those suggestions remain available.
During our visit, two taps were sold out when we sat down and two bottle options were switched out for others during the course of an hourlong dinner. The constantly rotating lists are great for those looking for something new, but it can be frustrating if you're depending on a specific old favorite.
Same goes for the food. The Cask serves meat and cheese boards, two sandwiches, three panini, a hot dog and a sausage roll, but the restaurant was out of turkey and pastrami during our visit, further limiting the already limited choices.
The tomato, cucumber and cheese sandwich ($6.50) was hearty for a vegetarian option, featuring smoked Dutch maasdam cheese and crispy-chewy Billy Bread.
We opted for Kasekrainer sausage on the sausage and cheese panino ($7) and loved how the pork, beef, Gruyere and bacon in the sausage became even more decadent when covered in melted maasdam.
Topped with a mountain of sauerkraut, Sausage Craft's smoked frankfurter ($5) was deliciously filling for the price. You can add a side, such as Route 11 chips ($2.50) or olives ($2), if you need a little more.
While the sandwiches are good, the meat and cheese boards (one item $4, three items $10) are clearly the most popular menu items, with one or two gracing almost every table in the packed house.
We couldn't get enough of spicy Saturday Nite sausage, made with Hardywood Park beer and Sriracha, as well as a pungent Danish blue cheese and creamy, mildly tangy taleggio.
While sausage and cheese are logical partners for The Cask's lineup of interesting ales, I'd like to see the menu expand some as the café's popularity grows. When that happens, my usual wine bar hangouts might have some stiff competition.
Freelance writer and graphic designer Dana Craig has been reviewing restaurants for The Times-Dispatch since 2004. The Times-Dispatch pays for the meals on her unannounced visits to restaurants. Contact her at dcraig@timesdispatch.com. Follow her on Twitter: @danacraigrtd.