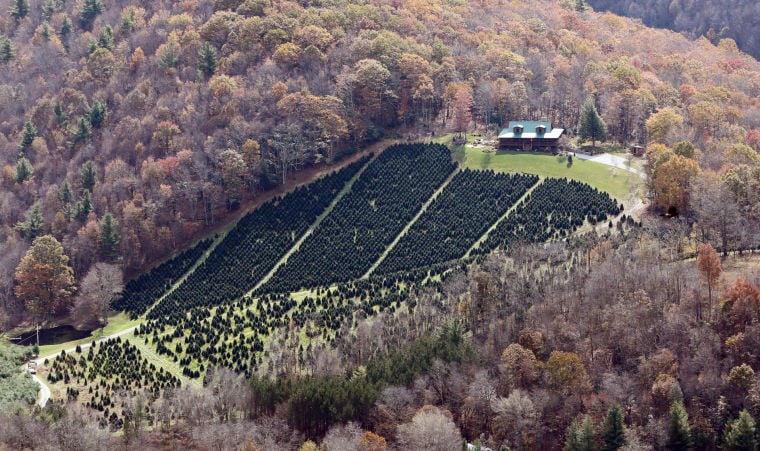 WHITETOP — The steep and rocky mountains of Grayson County are some of the tallest, most spectacular in Virginia, wonderful for hiking and sightseeing but less than ideal for farming — unless you are growing Christmas trees.
The raising of Christmas trees — mostly Fraser firs, which grow in this part of the world anyway — has become the No. 1 agricultural industry in Grayson County, a county that needed the economic boost.
"Whitetop has been a pretty remote area for a lot of years, and this tree industry has really opened up this country," said Rodney Richardson, who grew up in Whitetop and has been farming trees for more than 30 years. "Plus, you can make a decent living. I started with zero and ended up with 400 acres and a house paid for, so I guess that ain't too bad."
Richardson, 59, owner of Mount Rogers Christmas Tree Farm, has become a familiar face of the Christmas tree industry, having presented Fraser firs to Virginia governors (Timothy M. Kaine and Bob McDonnell) for the Executive Mansion and a 25-footer for the state Capitol in 2009.
This year, he won a National Christmas Tree Association competition to provide a tree to Vice President Joe Biden.
Democrats. Republicans. There's nothing political about a Christmas tree, Richardson said. Besides, everyone has been gracious to him.
"It's good for the industry," he said. "It helps you sell trees."
And they sell a lot of Christmas trees in Grayson County and the nearby surrounding area — hundreds of thousands of trees a year — according to the Mount Rogers Area Christmas Tree Growers Association.
Christmas tree farming was just gaining a toehold in Grayson County when Richardson "jumped in with both hands and feet" in 1980. He wasn't long out of Berea College in Kentucky, where he became acquainted with the business, working with a crop of Christmas trees on the college's farm.
He eventually came home to Whitetop, a small community along U.S. 58 just down the road from Virginia's highest peak, Mount Rogers, and not far from where Virginia, North Carolina and Tennessee converge.
He and his wife started their farm with seedbeds and an ultimate goal of planting 1,000 trees a year and harvesting 1,000 trees a year. When that seemed to work, they started planting 2,000 a year, then 3,000 and on up to the point where they were planting 30,000 trees a year.
Their timeline of success is indicative of the industry as a whole in Southwest Virginia. It was the mid-1970s to early 1980s when Christmas tree farming became an organized effort across the region and growers began to take a scientific approach, said Jack Davis, president of the Mount Rogers Area Christmas Tree Growers Association. Davis' father, like others in the area, had raised Fraser firs on a small-time basis decades earlier.
But the business did not gain traction until later as manufacturing jobs began to disappear, growing tobacco became less viable and raising cattle struck some farmers as too erratic from year to year, Davis said. Some locals turned to farming Christmas trees as a sideline business, while others went into it as their primary means of making a living, he said.
"It raised the land values in the area and created economic activity," said Davis, who, like Richardson, his college roommate, was born and raised in Whitetop but now lives in Scott County on the other side of Bristol. "We put people to work in an economically depressed area.
"It's become a pretty stable industry."
Christmas tree farming is a long-term endeavor. Trees require seven to 10 years or longer to reach the optimum height and also need year-round tending: pruning, fertilizing, keeping the bugs down and keeping the ground cover between the long rows trimmed and, in the case of someone like Richardson who is deep into determining the best genetics of his Fraser firs, grafting, planting and replanting.
When seedlings are a year old, they are little more than "one bud and five needles and about an inch tall," Richardson said. At five years, they might be little more than a foot tall, but they pick up the pace in the succeeding years.
Fraser firs need good moisture —– which they received plenty of this year — but they "can't have wet feet," as Richardson put it. That means the trees require good drainage, which they get in the rocky soil and on the steep hillsides.
Virginia is among the top 10 Christmas tree-producing states, according to the most recent national Census of Agriculture, with between 1 million and 2 million trees sold every year, according to the Virginia Christmas Tree Growers Association.
The state has thousands of Christmas tree growers — from wholesalers farming hundreds of acres to small retail choose-and-cut fields — but there's no bigger concentration of large commercial growers than in Southwest Virginia.
"It's a huge deal out there," said Elaine Lidholm, director of communications for the Virginia Department of Agriculture and Consumer Services. "You do have some cattle farmers out there, and you're beginning to see some specialty crops — pumpkins, gourds, squash, the cooler-weather crops that do well there. But a lot of that land is hilly and rocky. You can graze it and plant trees, but you can't plant wheat."
On an overcast late October afternoon, the crisp autumn air was filled with the sound of chain saws and the sweet scent of fresh-cut evergreen.
It smelled like Christmas.
Felled Fraser firs lay on their sides up the hillside of one of Richardson's leased fields as workers busily slid trees through a gas-powered bailing machine that bundled the trees for shipping to his customers that include grocery chains, Lions Clubs and little leagues and even a high school in Northern Virginia, as well as various mom-and-pop operations.
His trees are sold not only in Virginia but also in Kentucky, North Carolina, Ohio, Tennessee and West Virginia. Fraser firs have a reputation for retaining moisture and their needles better than some trees, particularly with proper care and watering, Davis said.
The first few hundred trees cut by Richardson's crew in October — he expects to harvest 20,000 this season — went to Busch Gardens in Williamsburg for a holiday display of lighted and decorated real trees.
"I reckon it's spectacular," Richardson said. "I've never been to Busch Gardens, but my nephew and his family went last year, and he said it was unbelievable."
Richardson is beginning to scale back his operation, planting fewer trees each year so in the coming years he can handle the future harvests.
His wife, Cindy, died of cancer at age 42 in 2010, leaving him to run the operation and raise their two children, Hailey and Riley, both now in their teens. Hailey was chosen homecoming queen this fall at her high school.
"I'm getting too old to think about 30,000 trees a year," Richardson said. "If I can do 10,000 trees a year, that will be enough."