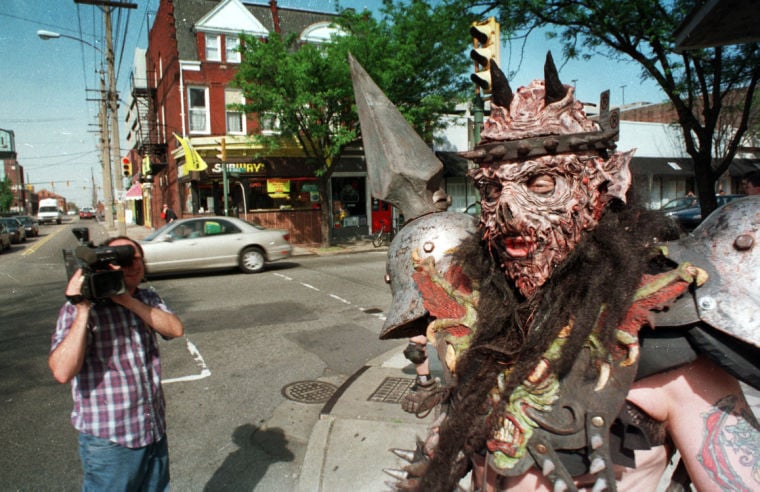 RICHMOND – Dave Brockie, the lead singer for the Richmond-based heavy metal band GWAR, has been found dead in his home at the age of 50, leaving the group without any of its founding members.
Jack Flanagan, the group's manager, said in a statement Monday that Mr. Brockie died about 6:50 p.m. Sunday.
"His body was found by his band mate at his home in Richmond, VA. Richmond authorities have confirmed his death and next of kin has been notified," he said in an emailed statement.
"My main focus right now is to look after my band mates and his family. More information regarding his death shall be released as the details are confirmed," Flanagan said.
Richmond police spokeswoman Dionne Waugh said that officers were called to a residence in the 4800 block of West Seminary Avenue at 6:53 p.m. Sunday for a report of a dead person. Officers found Mr. Brockie dead inside, Waugh said.
Detectives do not suspect foul play at this time, according to Waugh, who added that the body was sent to the medical examiner's office for an autopsy to determine the cause and manner of death.
"I'm in a state of shock and overwhelming sense of sadness. It's such a huge gap. He had such a large presence," said former GWAR drummer Jim Thomson, who played with the group from 1987 to 1989 under the moniker Hans Orifice.
Thomson said he first met Mr. Brockie at a surprise birthday party for him in 1984.
"I had just moved to Richmond to go to VCU after high school. I kept hearing about Death Piggy and Dave Brockie," he said.
"His vibe was already larger than life. When he walked in the door of his apartment on Harrison, everybody piled on top of him. Everybody seemed to love this guy. I didn't know him but I piled on, too."
Thomson, who later founded his own independent label Electric Cowbell Records, said that Mr. Brockie was truly "a soldier" for art and creativity.
"He helped me to revise my thinking. In many ways he shaped me and others around him. The scene, the community, Richmond. He was just inspiring and fun to be around. He was a fire starter, a provocateur. He seemed immortal," he said.
A native of Ottawa, Canada, Mr. Brockie moved to Richmond in the early 1980s and played in a local punk band named Death Piggy before founding GWAR in 1984.
With their lavish stage costumes — a mix of "Lord of the Rings" and "Texas Chainsaw Massacre" — provocative theatrics, obscene but humorous lyrics, and their routine of spattering fake blood on stage, GWAR quickly built a reputation in Richmond and beyond, arguably becoming the city's most famous anti-heroes.
GWAR were nominated for a Grammy twice, the first time in 1993, for their video "Phallus in Wonderland," and in 1995 in the category Best Metal Performance.
Mr. Brockie described his stage character — Oderus Urungus — as an "intergalactic humanoid barbarian" with devil horns who carried a sword. He started off with playing guitar and later became the group's lead vocalist.
Over the years, GWAR toured worldwide and released 13 albums — the most recent was "Battle Maximus" in 2013.
In his last post on his Facebook page, Mr. Brockie on Thursday proudly announced the date for the fifth annual GWAR-B-Q, a yearly "fest of metal music mixed with the gluttonous consumption of flesh," that was set for Aug. 16 at Hadad's Water Park in Richmond.
"Once again, it's on," he wrote.
Mr. Brockie had previously posted pictures from his group's first tour in Japan and voiced his frustration with the winter, which "seems the longest ever" and that the cold made him feel "positively gloomy."
Mr. Brockie's sudden death left many in the Richmond music community in shock and it quickly became a trending topic on social media.
"Dave was not only a great artist, musician, vocalist, and band leader, but he was a great cheerleader," said his friend Darell Hyden, a local musician.
"He truly loved the Richmond music scene. He often took local bands – like Lamb of God, Municipal Waste, Buzzoven – out on the road with GWAR over the years, and could often be found in the crowd at shows in town lending his support and having fun. Everything now can only be referred as 'post-Brockie,' " Hyden said.
Randy Blythe, lead singer of Lamb of God, another successful Richmond-based metal group, said his group learned how to become a real touring band from GWAR.
"They gave us our first shot at this thing," Blythe said in a Facebook post Monday. "Richmond, VA has lost one of its most creative people. This is a crying shame to me. RIP Dave Brockie. Oderus, enjoy your trip back home," he said.
Mr. Brockie wasn't the first member of GWAR to die suddenly. In 2011, the group's lead guitarist Cory Smoot, 34, was found dead on the band's tour bus. An autopsy attributed his death to heart disease.