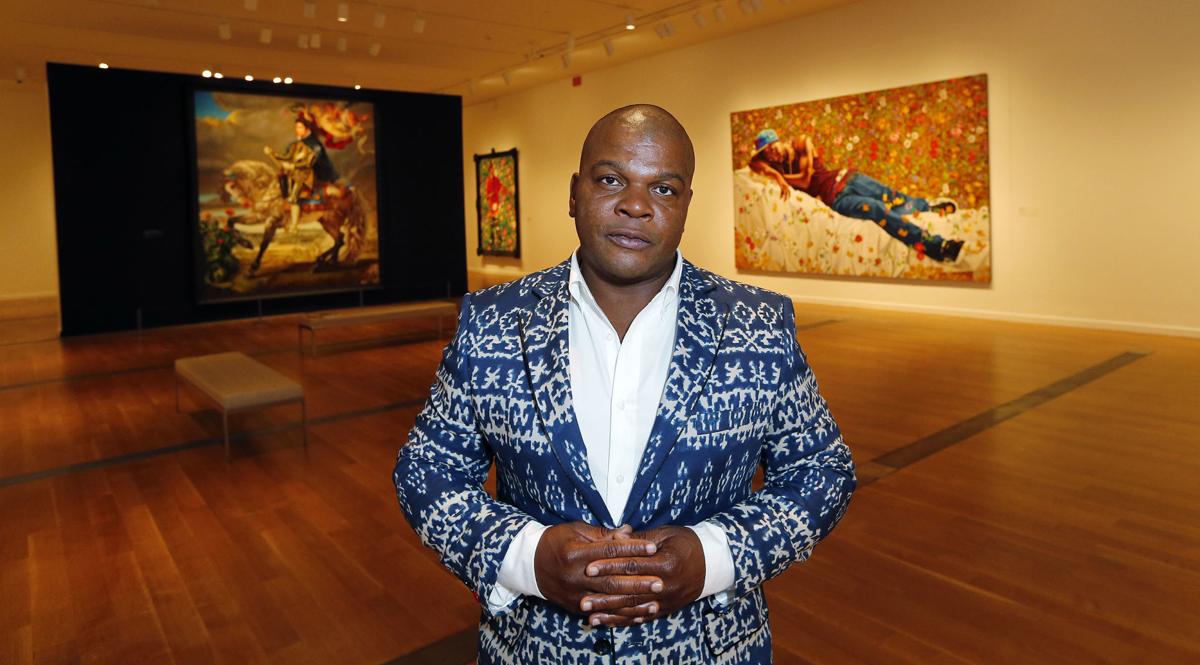 Richmond's newest monument got a one-of-a-kind unveiling in New York's Times Square on Friday.
Kehinde Wiley, along with a group of speakers, unveiled his massive monument, called "Rumors of War," to a crowd of cheering onlookers during an event livestreamed online.
Created in response to the monument of Confederate Gen. J.E.B. Stuart in Richmond, "Rumors of War" depicts a young African American in urban streetwear, sitting astride a horse in a striking pose. Wiley's figure incorporates male and female characteristics. The sculpture is more than 27 feet tall, including a stone pedestal.
At the Times Square unveiling, Wiley talked about how the inspiration for "Rumors of War" came from his visit to Richmond and encountering the monuments on Monument Avenue.
"I'm a black man looking up at those things that give me a sense of dread and fear," Wiley said at the unveiling. "What does that feel like physically to walk a public space and to have your state, your country, your nation say, 'This is what we stand by.' No. We demand more. Today, we say yes to something that looks like us. To broader notions of what it means to be an American."
"Rumors of War" will remain on view in Times Square until Dec. 1.
After that, it will be moved to Richmond, where it will be permanently installed at the Virginia Museum of Fine Arts' entrance at 200 N. Arthur Ashe Blvd., not far from the J.E.B. Stuart monument.
Wiley saw Richmond's Confederate monuments while he was visiting for his career retrospective "Kehinde Wiley: A New Republic" at the VMFA in June 2016.
Best-known for his official presidential portrait of Barack Obama, the 42-year-old artist has built his career on creating larger-than-life, regal portraits of minorities in classical poses, positioning his subjects in ways typically associated with wealthy and powerful white men.
Wiley said the title of the monument, "Rumors of War," refers to the New Testament and a "changing of times."
"The idea is that in the 'change times,' there will be wars and rumors of war. ... And there are moments where art has to step in," Wiley said.
Other speakers at the Times Square unveiling included Mayor Levar Stoney, VMFA Director Alex Nyerges and Dr. Monroe Harris, president of the VMFA board of trustees.
"Today is a monumental day," Stoney said. "In Richmond, we have 10 Confederate monuments to the Lost Cause. I think that is 10 too many."
Stoney appointed a commission to study the monuments on Monument Avenue in 2017. The commission recommended removing the monument to President of the Confederacy Jefferson Davis and adding context to the four other Confederate statues. But state law protects the removal of statues as war memorials and it is still a question whether localities can assert control over their monuments.
Stoney talked about how Richmond has changed over the past 200 years and said that adding "Rumors of War" to Arthur Ashe Boulevard will be Richmond's "symbolic battle cry" to change.
"The installation of 'Rumors of War' at the VMFA later this year will be a historic moment for our museum and for the city of Richmond and the commonwealth of Virginia," Nyerges said earlier in a statement.
"Rumors of War" is Wiley's first public artwork and his largest three-dimensional work to date.
"The sculpture belongs right here on our grounds," said Valerie Cassel Oliver, the museum's curator of modern and contemporary art. "It allows us to shift the gravitational pull of Monument Avenue and the conversation in general. Given that Virginia has the largest number of memorials and monuments dedicated to the Confederacy, it is a watershed moment. We are expanding conversation about monuments — who gets memorialized; who is edified."
Said Nyerges: "When you look at Virginia as a whole, at least 20% of all Virginians trace their heritage directly to Africa. The fact that Richmond itself is a black majority city, it is important to us to be able to put this in context with a great work of art, which will hopefully further the conversation about these 19th- and early 20th-century monuments."
Since 2015, the VMFA has been building its African American art collection with the goal of becoming one of the top three in the world for African American art.
Museum organizers hope that visitors can explore Wiley's monument by foot or car on Arthur Ashe Boulevard and then proceed to explore the Confederate monuments just a few blocks away on Monument Avenue.
William Martin, executive director of the Valentine, which records Richmond history, described adding Wiley's monument as a "moment of axis" to Richmond's collection of Confederate monuments on Monument Avenue.
"This is a perfect monument to mark where we are in this very moment, in a language we'll understand," Martin said. "Nothing expresses Richmond more than these things together: the monuments on Monument Avenue and the new Wiley sculpture."
He talked about how the monuments in Richmond are changing with the addition of the Arthur Ashe monument in 1996, the dedication of the Virginia Women's Monument in Capitol Square next month and the addition of Wiley's monument in December.
"Sometimes it takes art to encourage conversations in ways we don't anticipate," Martin said. "This is the moment for Richmond when the conversation begins between these monuments."
"Rumors of War" was acquired by the VMFA in late June for an undisclosed sum and is the most expensive acquisition of a sculpture the VMFA has ever made. The acquisition was funded by an endowment of private donations, not state money.
"The monument is an evolutionary leap in Wiley's practice. It is a stunning work of art. It will change the face of the VMFA," Oliver said.
Harris, president of the VMFA board of trustees, said at the unveiling that it's "the most important acquisition this museum has ever made."
(804) 649-6151
Twitter: @collcurran