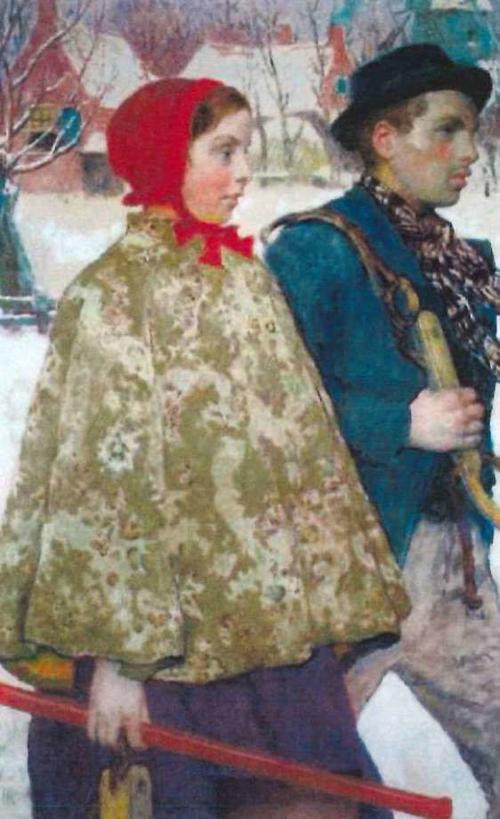 The FBI has confiscated a painting by local artist Gari Melchers that was forcibly obtained by the Nazis in 1933.
According to a press release sent by the Gari Melchers Home and Studio—which is located in Stafford County and is operated by the University of Mary Washington—and a report in the Albany, N.Y., Times Union, the painting, titled "Winter," was removed Sept. 10 from the Arkell Museum in Canajoharie, N.Y., where it has hung since 1934.
Melchers, who was born in Detroit and later settled in Stafford with his wife Corinne, lived and painted in Holland and Weimar, Germany, in the years leading up to World War I.
German Jewish businessman and publisher Rudolf Mosse purchased "Winter" from him at the Berlin Art Exhibition in 1900.
Mosse's art collection and business holdings, which included a newspaper, passed to his daughter and son-in-law after his death in 1920.
As the Nazi party rose to power in the 1930s, the newspaper published articles critical of the regime.
When the Nazis began targeting Jews, the Mosse family fled Germany and surrendered their businesses and all other holdings, including the art collection, to the state in 1933.
The painting was sold in 1934 to an unknown buyer and then appeared in New York, where it was sold again to Bartlett Arkell, who founded the Beech-Nut company and established an art museum in Canajoharie, N.Y.
In 2017, descendants of Rudolf Mosse established the Mosse Art Research Initiative to recover their family's stolen art collection.
"Joanna Catron, curator of the Gari Melchers Home and Studio, Falmouth, assisted the effort by providing papers documenting Rudolf Mosse's purchase directly from the artist and 'Winter's' reappearance in 1934 at a Macbeth Gallery sale, New York," the press release states.
According to the Times Union, the painting is being held at the FBI's Albany office until it can be reunited with the Mosse family.
Adele Uphaus–Conner: 540/735-1973
@flsadele