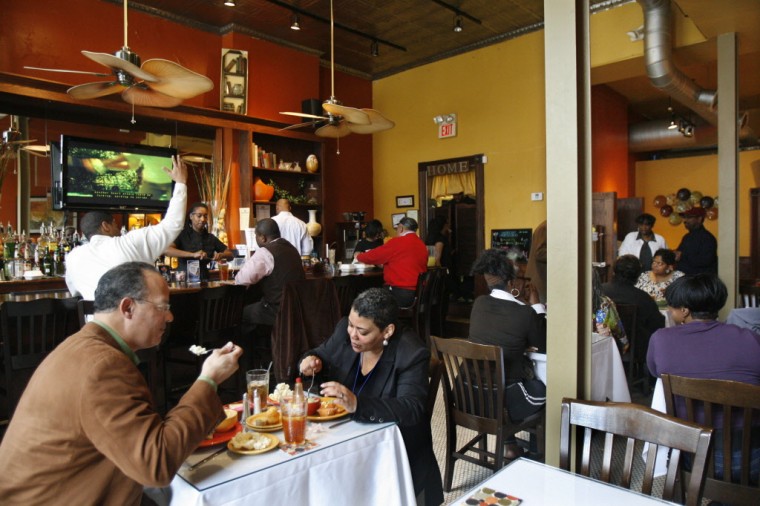 There was a time, not too long ago, when food was not only simple and tasty, but also a conduit to getting the family together. Mama J's stated goal is that the restaurant is "designed to take you back to a simpler time where family gatherings were commonplace and everyone looked forward to them because of the food and fellowship."
They manage this experience with a limited menu of items that they are really good at preparing. There is no foie gras or fusion cooking, just down home fried chicken, pork chops, greens and corn bread. They are not trying to elevate your food sensibilities, but more have you recede back to the comforting aromas of your mother's or grandmother's southern home.
We were seated quickly into the refinished building in Jackson Ward. The first surprise is that the decor is decidedly not your Mama's dining room. The strikingly high ceilings, the fashionable paint and the wall hangings all set a romantic atmosphere that demonstrated Mama J's ability to be a date place. There is a large wooden bar that anchors a set of TVs making watching the game plausible (something most Mamas don't allow at the dinner table). The bar was stocked with liquor, but the beer and wine options were limited.
Our waitress greeted us with a smile and quickly took our drink orders. The menu contains both classic southern fare, such as baked and fried chicken, catfish and barbecue ribs, plus a bevy of sides from seafood salad, mac and cheese, and candied yams. Mama J's also offers several sandwiches, soups, salads, desserts and a kids menu.
We started with catfish nuggets ($6), which were served with a choice of tartar or cocktail sauce. The well portioned nuggets were gently fried and the fish was moist and tasty, and matched especially well with the tartar sauce. Our plate was loaded with nuggets, which made it hard for us to finish before our entrees arrived, but we enjoyed them nonetheless.
Leah ordered the crab cakes. For $10, we were surprised to receive two cakes about the size of a drink coaster; they certainly don't skimp on portions. The cakes were tasty and well prepared, but could have benefitted from an aioli or other sauce to make the entrée moister. The chosen sides of string beans and mashed potatoes (each $2) were both excellent. The beans were sautéed in olive oil, which gave them a savory flavor that fit the comfort food theme. The mashed potatoes were not overloaded with butter or cream, and boasted an especially nice flavor when matched with the thick brown gravy.
Jon enjoyed two fried pork chops and gravy ($9) served with optional onions and bell peppers and sides of mac and cheese and fresh greens (each $2). The pork chop was astounding with the homemade gravy. The pork was fried just enough to keep it moist; this is no dry diner dish. Abundant moist pork flavors satisfied and the texture was not too crisp or chewy. It was a classic example of southern home cooking. The onions and bell peppers did slightly detract from an otherwise excellent dish; they were not integral to enjoying the pork, so we might skip this addition next time. The gravy was superb. The mac and cheese was mixed with thick shreds of cheddar cheese, but slightly missed with the lack of a breadcrumb crust. An excellent example of soul food done right, the warmth and bitterness of the greens complimented the pork very well.
Mama J's serves a great purpose in the collective restaurant scene of Richmond by supplying a tasty meal that is so classically Richmond, yet without the added fusion elements found in so many other restaurants specializing in Southern cuisine. The service was friendly and made us feel right at home, though they could work on some of its timing and the bar could use a few more options. It is a must eat for any resident of the Jackson Ward area and a great option for anyone looking for a little home cooking in a cool city setting.
Jon and Leah Nelson, like most married couples, can't agree on how the dishwasher should be loaded, so they eat out a lot so someone else can worry about the dishes. As RVA natives, they have had plenty of practice checking out what the city has to offer. You can follow Leah on Twitter @leahwnelson.