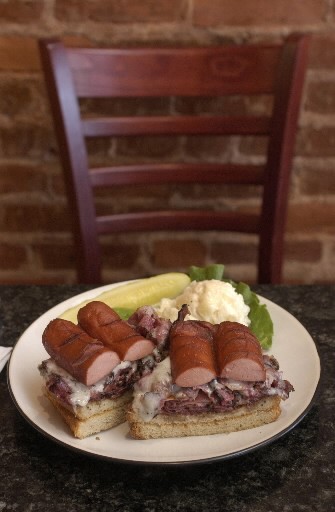 Rife with physical reminders of its place in history, Richmond is highly aware—and sometimes even justifiably proud—of its political, social, and cultural contributions.
But one of Richmond's less recognized local offerings may arguably come in culinary form, meriting mention only on sports bar, deli, diner and pub menus and may, in some indirect way, be considered a relic of World War II.
The brazen assemblage of hot pastrami, grilled knockwurst, melted Swiss and hot mustard on rye bread, curiously known in these parts as a "sailor sandwich" is, most likely, a true Richmond native. Carytown's New York Deli, established in 1929 and operating at its current location since 1934, bills itself as "the birthplace of the sailor sandwich."
Owner Demetrios Tsiptsis, who boasts a 1940s-era New York Deli menu on which the sailor appears, proposes the following: "If anyone doubts that we're the creator, I challenge them to produce an older menu with (the sailor sandwich) on it."
Documented evidence aside, Tsiptsis offers a compelling story to back up the claim: The University of Richmond hosted a Navy V-12 program, a course of training for officers, between 1943 and 1945. According to Tsiptsis, the deli was a popular eatery for the trainees, who would fill its booths when they got their paychecks on the 1st and 15th of each month.
Around 1943, someone at the New York Deli (Tsiptsis explained that no individual has ever taken credit for the innovation.) created the sailor sandwich to satisfy the appetites of the aspiring Navy officers. When presented with requests for the novel dish, the owner's wife would alert the kitchen by shouting an order for "another sandwich for the sailors!" (The sandwich, according to Tsiptsis, was never officially named.)
The sailor's ingredients may beg to be identified with delicatessens in New York and New Jersey, but the sandwich appears to be virtually unknown in the Northeast. A cheeky inquiry placed with the famed Carnegie Deli in New York City was met with this unambiguous disclaimer: "We have never heard of this sandwich and have no knowledge of it." 
Yet sailors are nearly ubiquitous in Richmond and surrounding areas. So locally familiar is the sailor—and so dear to our collective palate—that even the British-style menu of Penny Lane Pub includes an "English sailor sandwich," described as a Reuben topped with a banger. Knowing its market, the pub aptly assumed that Richmond diners would catch the meaning.
How extensive is the sailor's sphere of influence? A Google search of "sailor sandwich" yielded few results outside, primarily, Richmond-area menus. Notably, in the course of my research, I also came across an inquiry from a woman, puzzled by references to sailor sandwiches in Patricia Cornwell's Richmond-based novels, who wondered (reasonably) if the term was a local name for tuna sandwiches.
When my Internet search turned up mention of a sailor sandwich on the menu of the Deli King, in Clark, New Jersey, I contacted Ken Lavroff, Deli King co-owner, explaining to him that I live in Richmond and was curious as to how his deli first learned of the sailor sandwich.
"It's funny you should ask," Lavroff responded. "It was passed on to us by a visiting customer from Richmond and we liked the idea so much we put it on our menu."
(In later correspondence, Lavroff clarified that he thought the customer may actually have been from Portsmouth, but from the Commonwealth, nonetheless.) After their encounter with the visitor from Virginia, the Lavroffs offered a kosher adaptation of the sailor—substituting sauerkraut for Swiss cheese—as a special and, noting its popularity with their customers, they eventually gave it a permanent home on their menu.
Warranting the attention of a national franchise, the sailor has insinuated itself into Jason's Deli's three Richmond locations. According to Alex Williams, Jason's Deli district manager for Virginia and Maryland, Richmond customers' requests for sailors simply couldn't be ignored. "We had never heard of the sandwich before this," Williams told me. "We used to carry knockwurst on our menu, so we had a supplier to contact and all the other ingredients had always been on our menu, so we went ahead and met the demand." Richmond diners, it appears, are the sailor's most ardent supporters. "There is not much demand in any of our other markets, including Virginia Beach or northern Virginia," Williams pointed out.
While the sailor sandwich has a slim chance of making its way onto the must-do lists of tourists visiting Richmond, the local—and perhaps not entirely conscious—affection for this meaty indulgence is undeniable. Sustained by its hometown's quiet devotion, the sailor sandwich is an institution that Richmond can call its very own.