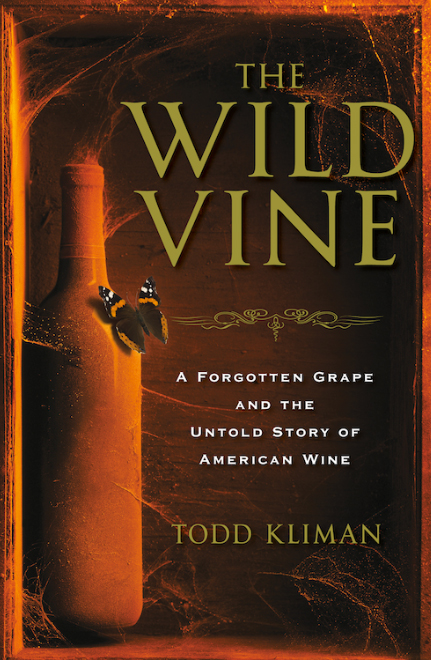 Passion raises the heart rate. It drives desire. Information conferred passionately is easy to remember. Like the memory of that first kiss, it lodges itself into our brains, becoming known real estate in a primitive locale. If the fervency is shared, then this becomes a place of mind one returns to for certain pleasure. This week, The Virginia Historical Society welcomes the ardently curious author, current Washingtonian Food and Wine Editor and impassioned conversationalist Todd Kliman.
Kliman will discuss his book, "The Wild Vine, A Forgotten Grape and the Untold Story of American Wine."
Learn his thoughts on the Richmond dining scene, the local food movement and how the Norton grape has integrated itself into the Virginia wine lexicon. Be careful—Kliman's passion for this grape is contagious.
Q: Throughout "The Wild Vine" you define the winemaking term "terroir" as the "enduring mystery of individuality," referencing the individuals who've cultivated the Norton grape as "outsiders." Describe the unique flavor profile of Norton grown in Virginia soil and the type of individual who drinks this wine.
I'm not sure I can tell you who drinks Norton. I do know that throughout its tortured history it has always attracted—how shall I say? Extreme individuals. Outsiders, obsessives. It has always somehow spoken to these people, captured their imaginations—and I mean above and beyond its qualities in the glass. This is my attraction, too. The Norton story is the story of not fitting in, of thwarted hope, of dashed dreams, but also of trying, trying, trying. Contrast that with the pinot noir—elegant, beloved, much sought-after. The noble grape. Norton is the ignoble grape. Just as America, in the 19th century— the century of Twain, Whitman and the Norton—was often derided for its bawdy and, often, unruly energies.
Now, as for taste, it's an oddball wine, there's no question about that. It's a red and it's big, but it's also high in acidity, something you don't find with red wines. And unlike many of the big reds coming out of California, it's low in alcohol. The Nortons in Virginia are generally very fruity—odd for a red, too—but also pretty earthy. I love that it's so hard to get a handle on—I love all these wildly clanging qualities.
Doesn't mean it's the wine I want to drink every night of the week. But I enjoy its difference, even if I don't find myself thirsting for a glass of it. And I get a kick out of the fact that people either love it or hate it. That it provokes such extreme reactions.
Q: You talk a lot about "outsiders" in the book, Norton is an outsider grape, Jenni McCloud is an outsider in her mission to produce the best Norton wine in the world, Missouri is/was an outsider to the California wine industry, so, I assume you are a bit of an outsider yourself, the outsider chronicler. For someone who reviews food and wine for a living, a job many would consider that of an insider, how does an outsider reconcile his opinions with clubby, trendy, celebrity-chef driven dining trends? Or do you tend to see them coming?
It's an interesting question and one I think about a lot. I haven't always written about food and wine. Sports, politics, books, music —I've written about all these things. I used to do long pieces on subcultures, immersing myself in a world for a month, two months, and writing about the experience. I went back to high school as a student. I lived with gang members. I hung out with bullfighters. I've done a good bit of travel writing.
I never imagined writing about food before I did it. And then when I did, I didn't see it as some sort of departure but as an extension, of sorts, of all the other writing I've done—a chance to incorporate all these influences and interests and perspectives.
Many food writers concern themselves only with what's on the plate. I'm interested in the plate, obviously, but I'm just as interested in everything beyond the plate, too. The plate as portal into the wider world.
I have always tended, in my writing, to come at things from the outside and, in the food writing I do, I strive to maintain that sense of distance, of apartness. I don't want to be influenced by the PR machinery, the blogs, the chatter.
Knowing what the insider knows, that's immensely valuable. Details. Insights. A sense of how a system functions. But to write as an insider—to write only for those in the know, to write as some kind of Olympian authority, to write without any sense of entering into a kind of dialogue—that seems to me to squander a great opportunity.
Q: You've written an entire book devoted to Norton, the Richmond grape, arguing that is the only local varietal that makes age-worthy wines akin to Bordeaux. The timing for your book is dead-on. Richmonders can't read a restaurant review, food blog or grocery store signage without being inundated with the words "locally grown," what are your thoughts on this movement?
Eating locally is great. If you can afford to do it, terrific. You can, in general, eat really, really well.
But it remains, largely, a privilege of certain people, the local movement, and though there have been changes in what we eat in this country, those changes have not gone all that deep—the movement has yet to alter the way the society works at the deepest levels.
There are a lot of self-congratulatory events out there, a lot of photo ops, a lot of high-minded talk that is never put into practical action. Many food lovers are content to wrestle earnestly with the issues, and strive to make small changes in their world—shopping at farmers' markets more often, supporting locally-minded restaurants. I would like to see the power players in the world of food exert more pressure on agribusiness to reform, on government to subsidize different crops and on big grocery stores to stock more wholesome foods.
I would also like to see many of the chefs with clout tackle the problem of fast food. Slow food is never going to become the way of America—this is the country of speed, efficiency and the quick buck. Like it or not, we have to accept fast food as the law of the land and agitate for better, more nutritious fast food. Why couldn't a Jean-Georges Vongerichten create a massive, many-tentacled franchise of fast food outlets a la McDonald's or Wendy's? Who's to say Wolfgang Puck couldn't do his own version of Applebee's?
Q: Victorian horticulturists were curiosity seekers, cultivating countless varieties of unique seedlings. This passion for uniqueness is the drop cloth of "The Wild Vine," its threads connecting the Victorian experimentalist Dr. Norton in Richmond, to mid-century grape grower Jon Held in Missouri, to vigneron Jenni McCloud at Chrysalis Vineyards in the 1990s. Today, seed choices, grape choices, seem limited in comparison. Market produce selections run to a few select types of potato, tomatoes or melons that travel well or fit uniform standards of consumer expectations. Farmers' markets offer more selections, but not to the extent of a Victorian horticultural hobbyist's greenhouse. Since you've written the book, have you heard of other Virginia vintners (excluding Dennis Horton and Jenni McCloud) who've planted the Norton grape? In response to the local food movement, have you encountered more interest in this grape?
Norton is gaining ground, for sure. I can't see it ever really becoming a market force in Virginia, just because it's so divisive and because the wine industry in the state is itself divided in its mission.
I like that it remains, after all these years, a thing on the margins. Loved, despised. Misunderstood, misappropriated. I like that.
But yeah, there's definitely an increased interest in it. I've seen marshmallows made with Norton. I've seen Norton added to a lot of wine lists in and around D.C. I think it's best appreciated and understood, as a wine alongside game meats and big, bold, rusticky flavors.
I've heard from people all over the country who have read the book and are excited to experiment with it—winemakers from California who are ripping out part of their vineyard to grow Norton, complete novices with no prior interest in viticulture who are interested in making wine—specifically, Norton wine. I've gotten emails from people in France wondering whether I can direct them to some of the more obscure 19th century sources I cite in the book, sources that speculated the Norton might be the savior of the Languedoc, which was then in the process of being wiped out by an almost undetectable louse called phylloxera. Some of them have even asked for my advice about growing it, which I take as a wonderful compliment because it means that my writing somehow fooled them into thinking I'm some great expert on the care and tending of the vine.
Q: You spent some time in Richmond researching Dr. Norton, a 19th century Jackson Ward resident. Did the food critic in you discover a Richmond restaurant you'd like to return to for a meal?
I really love the city and try to return as often as I can. The place I find myself pining for—and it may be because barbecue is a great obsession of mine and I can't find enough good spots in the D.C .area —is Buz and Ned's. A rack of those ribs and that sauce, and a glass of Basil Hayden on the rocks.
But there are a number of places I like …
Edo's Squid is another. I love the space, the lack of pretentious, the cooking that doesn't try too hard. It's like slipping into an old, comfy jacket.
Millie's Diner—the fantastic selection of tunes, the quirky, intimate setting, the menu that almost always has a half-dozen things that make me salivate.
I'm sure there is somebody out there—probably many somebodies—reading this and shaking their heads and thinking: Pfft! He doesn't know a goddamn thing, does he?