At 2 p.m. Aug. 23, artspace will close its show "Terra Incognita" with a gallery talk by the artists, Ignat and Konstantina Konstantinov. The husband-wife duo, both art teachers at St. Margaret's School, are widely known in Richmond's arts community as the "KonKons."
The 22 paintings and three installation works in the show take their inspiration from the couple's world travels. The works aren't faithful renditions of particular places; instead, they're abstract and metaphorical representations of stormy oceans, wide-open skies, mountains, cliffs and flooded riverbanks. As always, the artists have explored the visual qualities of their signature material, sailcloth.
The gallery talk, during which the couple will discuss their global travels and encounters with famous artists, is free and open to the public. The show runs through Aug. 23 at 0 E. Fourth St. Hours are noon-4 p.m. Tuesday-Sunday.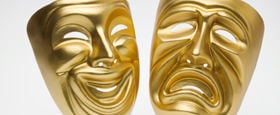 Read more news and features from the Times-Dispatch's coverage of fine arts and theater productions in the Richmond area.