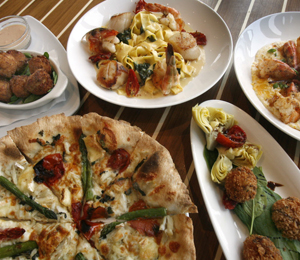 It's about time someone realized that a restaurant overlooking the James River would be, oh, I don't know, an absolutely brilliant and wildly popular idea.
Considering that the river is such a defining element of Richmond's essence, I'm shocked that its shoreline isn't clogged with scenic eateries.
As of a few months ago, however, we finally have a downtown spot right on the water. The Boathouse at Rocketts Landing features a panoramic view of Richmond's skyline, a classy bar and a safe but satisfying menu of thoughtfully prepared seafood and steak.
But it seems that owner Kevin Healy didn't think that was enough. This second location of The Boathouse -- the original is in Brandermill's Sunday Park -- isn't just a waterside fish house. It's a striking feat of modern architecture, a coolly chic, open space wrapped in glass, steel and brick.
As you approach the restaurant, it's almost hard to believe you're in Richmond. With so much glass, the building is see-through, its glowing walls of windows dotted with the silhouettes of diners, drinkers and date-makers. Inside, a cool palette of blues and greens offsets wave-shaped light fixtures, a wood-fire pizza oven and a contemporary fireplace.
With its one-of-a-kind atmosphere, you might expect a painfully trendy menu overwrought with gastriques, foams and fancy culinary terms.
Nope, not here. The Boathouse's menu features raw-bar selections, seafood entrees enhanced with palatable touches of creativity, a handful of fillets and wood-fired pizzas perfect for bar-side noshing.
During several visits, ranging from appetizers and drinks with friends to full multicourse dinners, I've been pleased with The Boathouse's ability to cater to a variety of audiences. This is a place I would take my parents, out-of-town guests or just friends in search of a happy hour.
With exotic cocktails served in half-carafes, a wine list praised by Wine Spectator magazine and plenty of beer, The Boathouse offers every libation lover's favorite quaff.
Be forewarned: Any night you visit, there will be a crowd. Come prepared, and take in the views from the outside bar if it's not too chilly.
My Tuesday visit went swimmingly. A Friday visit (and subsequent two-hour wait beginning at 7 p.m.) was just as good food- and service-wise but a little more trying on the nerves.
Appetizers range from average -- the crab and artichoke dip ($8) is what you'd get anywhere -- to exciting, such as arancini ($7) and crab "puppies" ($9).
The arancini -- breaded and fried balls of mozzarella, Parmesan, risotto and prosciutto -- pack an amazing flavor. Accompanying roasted tomatoes and artichoke hearts cut through the saltiness with a blast of tang.
The crab "puppies" are anything but your standard hush puppy. A generous portion of crabmeat is mixed with red peppers, scallions, mustard and horseradish before being coated in buttermilk and a ricotta-cornmeal batter and fried to a golden brown.
Served atop fresh tagliatelle pasta cooked to a gentle al dente, shrimp and scallops cittadino ($19) is accented with sauteed spinach, tomatoes, Pecorino Romano cheese and a delicate Alfredo sauce. The shellfish is clearly the star.
Flounder Charleston ($17) is an adventurous marriage of flavors and textures. The generous fillet is coated in a peppery breading and topped with cayenne aioli, Tasso ham and a vinegary three-pepper relish. Creamy cheese grits, sauteed spinach and a surprise treat of fried oysters make each bite dynamic.
Shrimp and grits ($17), topped with red onions, roasted red peppers and Tasso ham, is equally thrilling when the kitchen doesn't go too heavy on the shellfish's seasoning.
If you want to relive your childhood, dive into the Pizzookie ($6), chocolate cookie dough cooked in the pizza oven until it's a gooey mess and then topped with vanilla ice cream. You might think you're full, but once you get a whiff of that molten chocolate, you'll find room.
The Boathouse is one of those restaurants you must try at least once. The wait there can be trying, but with those unbelievable views and undeniably tempting cocktails, just grab a seat, sit back and enjoy.