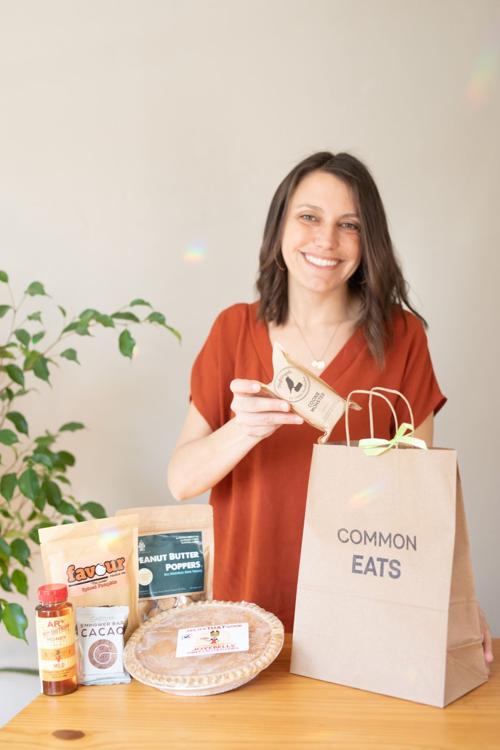 In the past year, Richmonder Tori Stowers found herself missing dining out and supporting local businesses. But it wasn't COVID-19 and the ongoing pandemic that was keeping Stowers at home, it was a far more common major life change: children.
With a 1- and 3-year-old regularly in tow, Stowers found getting anywhere to be a challenge, so she developed Common Eats — an online market where Richmonders can buy food and food-related products from multiple local makers in one place — and get the products delivered to their doors.
The "local food hub," which is how Stowers refers to it, launched last week.
"Before kids, I loved trying new restaurants, food shops and pop-ups around Richmond. However, this became much harder with kids and having to deal with car seat logistics, looming tantrums, and general craziness that comes with young ones," Stowers said by email. "I felt out of touch with the local food scene that I loved and realized that the only barrier for me was accessibility and convenience."
For launch, Stowers partnered with 15 local food makers — including Elegant Cuizine, Nightingale Ice Cream, My Empanada, Poor Georgie's Bake Shoppe, Joyebells, and Curds and Whey RVA — all Richmond-based companies that make their own products, such as custom dinner entrees, ice cream sandwiches, empanadas, baked goods, pies and Italian dishes, as each of the aforementioned companies do. Shoppers will also find beef jerky from Honestly Smoked beef jerky, kombucha by from Ninja Kombucha and SoulSmith Kombucha, and honey and hot sauce by AR's Hot Southern Honey.
Common Eats works like this: shoppers browse common-eats.com for available products each week and load up their carts. Orders placed by Wednesday are delivered Saturday morning — courtesy of Richmond delivery company, Chop Chop. There's no minimum order, no membership required and delivery is free within 20 miles of Common Eats, at 104 Shockoe Slip. Orders can also be sent as gifts to others. To start, ordering is every other week, so this week and then the week of March 8.
"While I don't have a background in food (this has been quite the experience for me because of that!), I have a love for our local Richmond food scene and want to support our amazing chefs and bakers. My background is in digital advertising which I do full time at Lewis Media Partners," Stowers wrote. "I'm lucky to work with some amazing local and national brands and help grow their businesses. It has also given me insight and knowledge into what it takes to market a business, which has been extremely beneficial for this effort."
Common Eats can be found online at common-eats.com and Stowers encourages folks to sign up for the Common Eats newsletter to get the latest updates for what's available.
(804) 649-6321
Twitter: @KarriPeifer