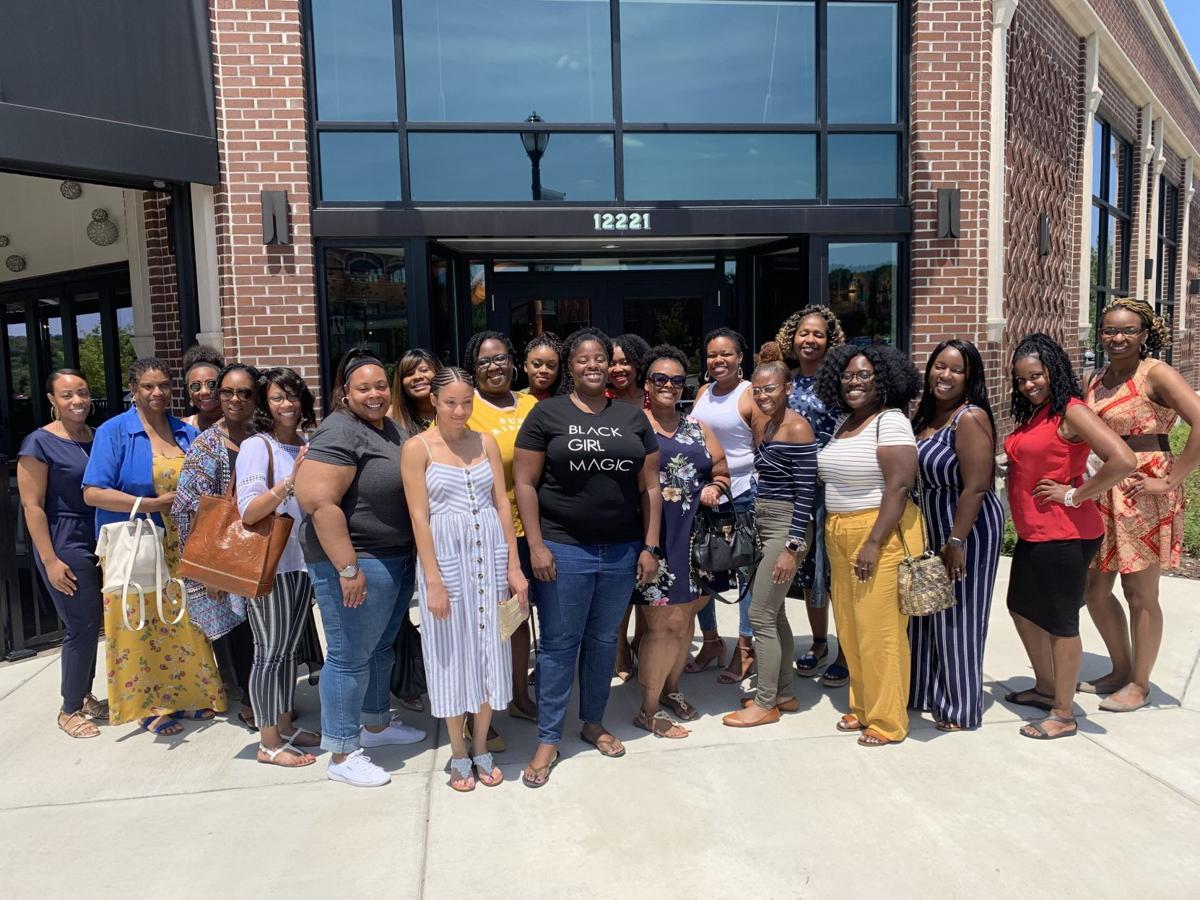 Richmond natives Lilly Jackson and Melissa Mason have been best friends since they met in second grade at Blackwell Elementary School.
When Jackson, 40, moved to Las Vegas in 2017 for a job opportunity, she realized she'd have to create a new community for herself with her best friend now thousands of miles away. Not one to hit the club scene, she began attending brunches she found through Meetup.com.
After seeing the connections Jackson, who works in human resources, was making, Mason, also 40, wanted to create her own. Familiar with Meetup, Jackson helped Mason find friends in Richmond to brunch with by posting an opportunity for women of color in August 2018 to the site with the intent of finding her a group of local friends.
The first Richmond brunch was hosted in September 2018 under the name of Brown Skin Brunchin' at Max's on Broad. According to Mason, the event originally was going to be a reservation for about five to 10 women but had to extend it to 15 due to popularity of the listing.
Mason, who works as an analyst for the state, remembers feeling a sense of excitement, and that a sense of community had developed after the first brunch. She said that by the end of the brunch, the attendees opened up and were asking for details about the next event.
Since their initial meeting in 2018, Jackson and Mason's idea has expanded to 20 cities in the U.S., amassing nearly 13,000 followers on Instagram and more than 7,000 on Facebook. With chapters in Los Angeles, Las Vegas, Washington D.C., Minneapolis and Atlanta, over 5,000 women of color have connected over a brunch hosted through the company. The company became an LLC in 2020.
In terms of membership, women can sign up through the company's website (www.brownskinbrunchin.com), they'll then have access to the private Facebook groups and event information. For each event they attend, the women pay a $10 fee. Jackson said that they choose to charge dues only for events attended rather than yearly dues so members can pick and choose which events to attend based on their financial situation. In addition to the monthly brunches, Brown Skin Brunchin' also hosts community service events and offers travel opportunities for the women in other cities to attend.
Mason, who runs the Richmond chapter, said that the company and the brunch concept allows for women to make more substantial connections with one another than if they were to meet in a class or at work. Jackson also noted that the brunches are also designed for women who are new to their areas and are lacking support systems.
Mason said their original concept was to create a non-intimidating space for women of color to connect, and that the events of last summer, including the murder of George Floyd, highlighted the need.
"I feel like women of color need a safe space," Mason said. "They need a space to be with each other, they need a space to be able to talk with one another and not in a combative way, like in a productive way, in a supportive way, in a familiar way. And understand that what they may be going through, they can actually relate to someone else.
"It's not someone else, outside of our culture, telling them how things should be or what's going on, you're having these conversations with each other."
Richmond native Shay Singleteary, 41, said she grew up with Mason and the two have been friends since meeting in the fifth grade when Mason transferred to Maymont Elementary School. She's been with the Richmond chapter since the beginning and attended several brunches. She said that the brunches have provided her with a reprieve from day-to-day life.
"I think it's important to have [a chapter] in the city of Richmond because it's hard for a community of Black women to come together for anything, really, because we're so busy — like it's work, it's your family and the kids," Singleteary said. "So to have something like this to set aside, just the Saturday or Sunday just to hang out with other Black women and fellowship with other Black women over good food. It's always a great thing to me."
Norma Wilson, 44, moved to Houston from Minneapolis in October 2012 after falling in love with the city during her daughter's college drop-off at Prairie View A&M University. She had tried once or twice to connect with other women in the area through the Meetup.com app, but it wasn't until she found Brown Skin Brunchin' in 2019 that she found a group that stuck.
Wilson, who owns her own life coaching business, Norma Motivates, said she began to attend the monthly brunches in September 2019. Her first brunch, which Jackson said was also the first brunch hosted by the chapter, was small, about four women at a restaurant in downtown Houston. She said it was the atmosphere created through their conversations that made her want to return.
She said she began her life coaching business about six months after starting Brown Skin Brunchin', and that she received her first client, who resides in Las Vegas from the group's expansive network.
She continued to attend the Houston brunches, and when the opportunity to become the organizer for the chapter presented itself, Jackson said Wilson was nominated for it.
When Wilson left Houston for a brief period in 2020 and returned to her hometown of Minneapolis, and she started a chapter there. However, when she returned to Houston in October, she passed the responsibility of leading the Minneapolis chapter to another member.
She said she believes that connections like the ones developed through the brunches are valuable for Black women as they help build up power within the community.
"I think it's very important because us as Black women are always looked at [like] we don't get along, that ... we're just not a cohesive unit," Wilson said. "And so it's important to me to bring women of color, women that look like me together in a positive environment, where we can network and, and just be positive and feed off of each other and learn from each other."
As with the other cities within the company, organizers are tasked with coordinating the monthly brunches for the women. This includes locating a restaurant and setting reservations. According to Jackson, the organizers are volunteers, and, no one within the company receives compensation and everyone is there on a fully voluntary capacity.
Similar to Wilson, Kamari Brownlow, 39, is also a chapter organizer for Brown Skin Brunchin'. Brownlow, who works in the healthcare field, is the organizer for the Inland Empire chapter in California. Originally a member in the Los Angeles chapter, she joined the group in November 2019. Her first brunch was at a winery in Malibu. She said she considers her first brunch to be her favorite.
"We were in Southern California, like, the sun is shining, I mean, it's just, it's just beautiful," Brownlow said. "You're looking out over the city, you're with all of these people, everybody's smiling and having a good time."
After attending about three more brunches, she decided she wanted to start a chapter in Inland Empire. Brownlow makes candles through her company Amora Design Studio, and created a candle after her experiences with Brown Skin Brunchin' called "Brunch Vibes Only."
"That's just how much of an impact this group has had on me and on my life, and you know, how much I connected with the people and the idea of sisterhood." Brownlow said.
As with Wilson, Brownlow said the connections made through Brown Skin Brunchin' have made a significant impact on her life.
"I think that what this group really solidifies for me is the importance of standing in your truth and standing in your power," Brownlow said. "And that there's always going to be someone rooting for you and the people who are complete strangers, may root for you more than people that you know very well ... people that you potentially engage with every day. But this, of course, is still out there. And I think that the bonds, the friendships that we're building are really everlasting."
Both Wilson and Brownlow said they've had to postpone events due to the pandemic, but have recently started hosting brunches again. Throughout the pandemic, Brown Skin Brunchin' hosted virtual events for all chapters to attend, which, according to Mason, included online yoga and dance classes hosted by instructors.
In terms of the future, Mason said the company has a goal to have chapters in 50 cities by the end of the year, and to be international by 2022.