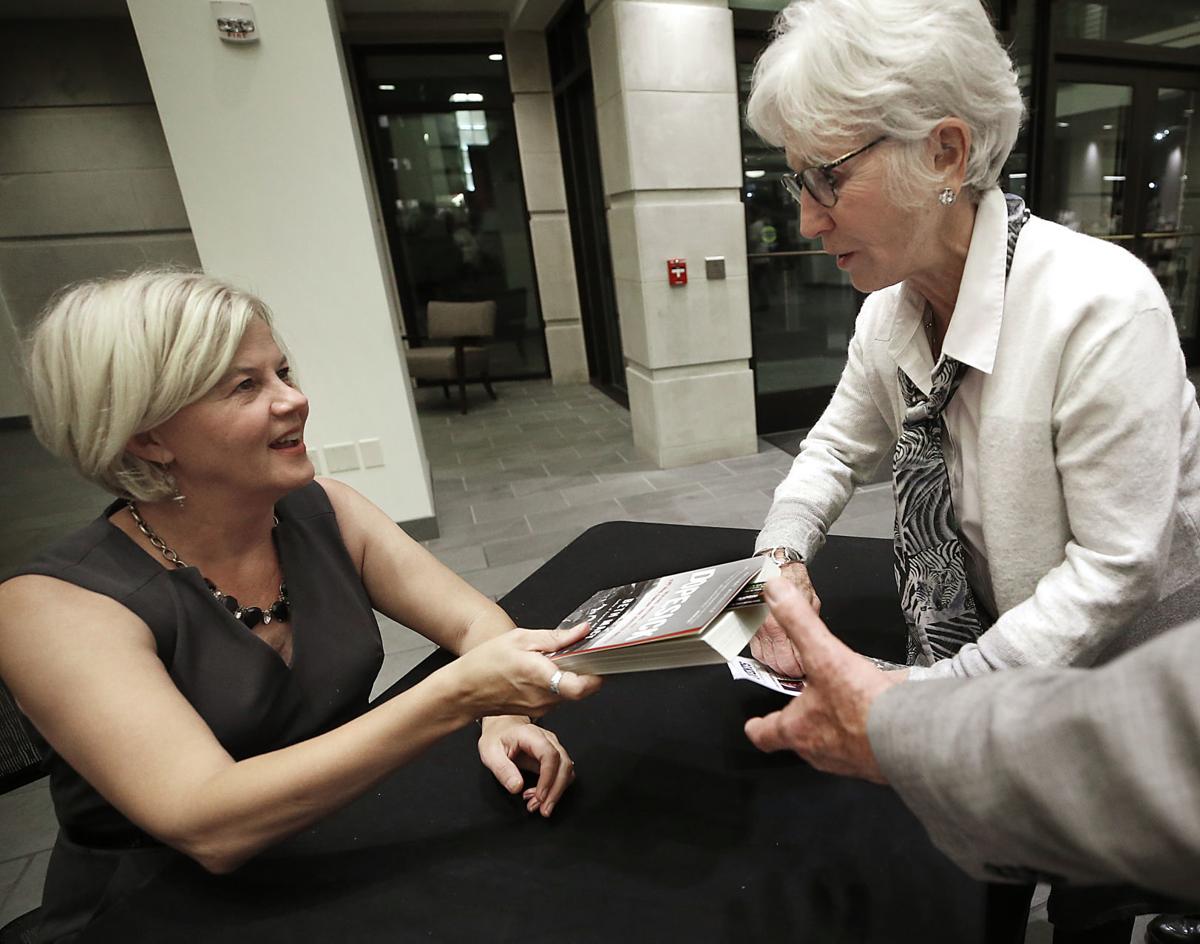 New York Times bestselling author Beth Macy headlined the inaugural RTD Book Club event on Monday evening, drawing about 200 people to the Virginia Museum of History & Culture.
Much of her talk was devoted to her latest book, "Dopesick: Dealers, Doctors and the Drug Company that Addicted America," about the opioid crisis.
"'Dopesick' is what users call 'withdrawal,' and they all say the same thing: They say it's the worst flu times a hundred - it's diarrhea, vomiting, nausea, sweats," along with "crushing anxiety and depression," she told the audience. "And at the end your journey, they tell me, you're not shooting heroin to get high; you're doing it so you won't be dopesick. And that is what propels people."
Macy also discussed growing up in a family that struggled financially and having a father who abused alcohol, and she talked about how she got into writing about drug addiction.
After the talk, Macy signed copies of "Dopesick" for attendees.
Macy, who has been a journalist and author based in Roanoke for more than 30 years, is the author of the widely acclaimed and bestselling books "Truevine" and "Factory Man." Her reporting has won more than a dozen national awards, including a Nieman Fellowship for Journalism at Harvard University.
The Times-Dispatch will host award-winning novelist and Richmond native David Baldacci as the second guest speaker in the series, just as he releases his new novel, "A Minute to Midnight."
Baldacci, also a New York Times bestselling author, will give a talk about his new book the day after it publishes in November.
General admission tickets are $60 and include a copy of "A Minute to Midnight," the next in his Atlee Pine series. The book talk begins at 6 p.m. Baldacci will be available to sign books after the event.
The event is Nov. 20 at the Cultural Arts Center at Glen Allen, 2880 Mountain Road, Glen Allen. To purchase tickets, visit Richmond.com/Baldacci.
Baldacci graduated from Henrico High School and earned a bachelor's degree from Virginia Commonwealth University, followed by a law degree from the University of Virginia.
He has sold more than 130 million books worldwide. His works include "Absolute Power," which was made into a movie starring Clint Eastwood and Gene Hackman.
In addition to his literary works, Baldacci co-founded with his wife the Wish You Well Foundation, a nonprofit organization to support literacy efforts in the United States.