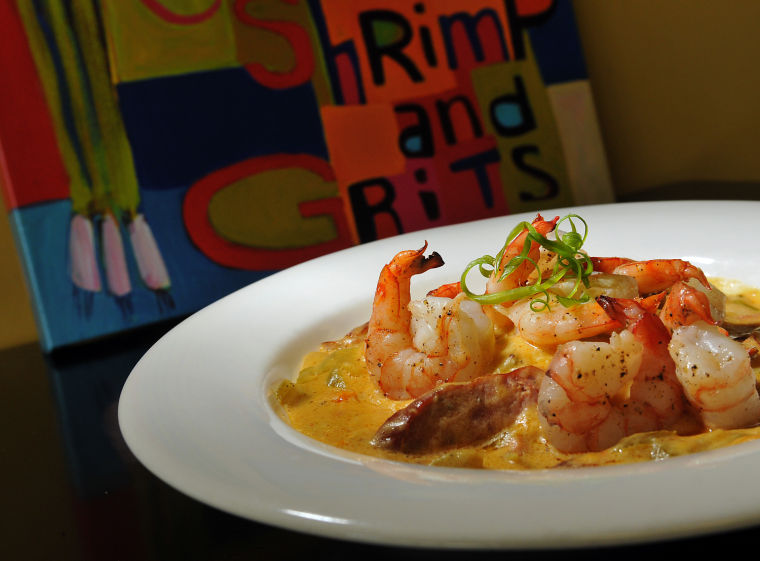 Barbecue is nice, and fried green tomatoes have a catchy name. But if you want the dish that truly represents the South these days, skip them both and turn to another recipe entirely:
Shrimp and grits, the shrimper's breakfast born on the tidal creeks of the Lowcountry, has become the iconic dish of the South.
"It's become the go-to dish that represents the South," says Matt Lee, who writes Charleston, S.C.-based cookbooks with his brother, Ted Lee.
"Shrimp and grits say 'Southern' in such a clean, elegant way."
For those who come from outside the South, grits inevitably inspire a little hesitation. To quote Joe Pesci's character in "My Cousin Vinny": "What the heck is a grit?"
But for the caterers and party planners who were asked to "tell the story of Charlotte and the South" at welcoming events for the Democratic National Convention, shrimp and grits was a no-brainer, said caterer Jill Marcus, who served it several ways at several parties.
"They wanted to taste what Southern food tastes like," she said.
"That was one of the dishes we make that is Southern, and it was easy to do on a large
It also was a chance to correct some impressions, she said. Many visitors from the Washington area had already formed a negative opinion about grits.
"They said, 'I didn't know I liked grits.' I said, 'Well, if you do them right.' "
What's "right," according to Marcus? "Butter, cream and cheese. And you have to start with good grits." She uses stone-ground, heirloom-corn grits from Geechie Boy Mills on Edisto Island, S.C.
Given its history, we shouldn't be surprised that shrimp and grits has traveled so far. It may have started at breakfast in Charleston, but it made the jump to the national scene in Chapel Hill, N.C., in the hands of the late chef Bill Neal.
Neal was a native of South Carolina, so he knew the original, a breakfast of shrimp sautéed in bacon grease and butter and poured over grits. But at the restaurant Crook's Corner in the 1980s, he dressed it up and served it as a dinner dish.
Today Bill Smith Jr. is the chef at Crook's Corner, where he continues Neal's legacy as well as creating cuisine of his own. He is asked about the dish all the time, but he says he never tires of making it.
"It sounds sort of hokey — it's sort of Mayberry-sounding," he says. "But it's really good. It's like a sophisticated Italian supper."
Matt Lee has been researching the history of the dish for "The Lee Brothers Charleston Cookbook," due next spring. The original version, he said, wasn't tomato or cream. It was a pound of shrimp sautéed in a half-pound of butter, flavored with salt and pepper and served over hominy grits. The shrimp were tiny, very fresh creek shrimp that exuded their juices to make the sauce.
In the 1950s, the sauce changed to a tomato-based gravy that involved ketchup, Worcestershire, bacon grease and flour.
Lee thinks Bill Neal restored the original by keeping the bacon but losing the ketchup.
Today, he says, chefs all over the South are doing what he calls "shrimp and grits 2.0," with all kinds of riffs.
Lee is elated Charleston has shared a dish that's caught on so well with the rest of the South.
"We've loved on (N.C.) barbecue for a while now and that's not really a Charleston thing," he said, laughing. "So the score is settled."
Tomato-Based Shrimp & Grits
Culinary historian and author Matt Lee thinks the classic Junior League book "Charleston Receipts" was one source of a version that included ketchup. It was originally called "Breakfast Shrimp." Since the original didn't include directions for cooking grits, called hominy in Charleston, we added directions from "The Lee Bros. Southern Cookbook" (Norton, 2006).
1½ cups stone-ground grits
4 cups water, divided, PLUS a little more to finish the sauce
Salt and freshly ground black pepper to taste
3 tablespoons rendered bacon drippings (see note)
2 tablespoons chopped onion
2 teaspoons chopped green pepper
1½ cups small, peeled, raw shrimp
1½ tablespoons all-purpose flour
1 teaspoon Worcestershire sauce
Stir the grits into a bowl of cold water and allow to settle. Skim any floating hulls and drain the grits. Bring the milk and 3 cups water to a boil over high heat in a medium saucepan. Add the grits, stirring with a wooden spoon. Reduce heat to medium, add salt and simmer, stirring occasionally, for about 10 minutes. When the grits begin to thicken, reduce heat to very low and cook, stirring often and adding more water if needed. Cook 35 to 45 minutes, until grits are fluffy and creamy. Season with salt and pepper.
Begin the shrimp gravy about 15 minutes before the grits are done: Heat the bacon fat in a skillet and add the onion and green pepper. Cook gently until both are soft and the onion is golden. Add the shrimp and cook, turning several times. Add enough water to make a sauce. (The book directs: "Do not cover the shrimp with water or the sauce won't have enough taste.") Simmer 2 to 3 minutes, just until shrimp are cooked.
Whisk the flour with about 2 tablespoons water to make a paste. Stir into the sauce with the Worcestershire and ketchup. Cook slowly until the sauce thickens. Season to taste with salt and pepper and serve over the grits.
Note: Many Southern cooks once kept bacon grease on hand, but most of us don't do that anymore. For this recipe, fry several slices of diced bacon in a skillet, remove with a slotted spoon and drain on a paper towel. Use the bacon fat in the skillet to sauté the vegetables, then stir the diced bacon back into the gravy just before serving.
Crook's Corner Shrimp & Grits
Chef Bill Smith Jr. of Crook's Corner says they still make it according to Neal's original recipe, but they skip the nutmeg he included in the book. (Supposedly, Neal didn't use it either.)
1 cup grits, preferably stone-ground
Butter, Tabasco and white pepper to taste
¾ cup grated sharp cheddar cheese
1 cup finely sliced green onions
1 large clove garlic, peeled
2 tablespoons fresh, chopped parsley
Grits: Bring salted water to strong boil in a saucepan. Slowly sift the grits through one hand into the water while stirring with a whisk in the other hand. When all the grits have been added, continue stirring and reduce heat to low until only an occasional bubble breaks the surface.
Continue cooking 30 to 40 minutes, stirring frequently to prevent scorching. Beat in a good quantity of butter, Tabasco and white pepper, then stir in the cheese. Hold in a warm place or in the top of a double boiler over simmering water.
Peel shrimp, rinse and pat dry. Dice bacon and sauté lightly in a skillet, until edges are browned but bacon isn't crisp. Add enough peanut oil to the skillet to make a layer about 1/8-inch deep. When hot, add shrimp in an even layer.
Turn shrimp as they start to color, add the mushrooms and sauté about 4 minutes. Turn occasionally and add the green onions. Add the garlic through a press and stir around. Season with lemon juice, a dash or two of Tabasco, parsley and salt and pepper.
Divide grits among four plates. Spoon the shrimp over the grits and serve immediately.
From "Bill Neal's Southern Cooking" (UNC Press, 1989 edition)