In 1908, single woman Anna Jarvis conceived of the idea of Mother's Day as a way of honoring the sacrifices mothers made for their children.
The idea was simple: Mothers would wear a white carnation as a badge of honor to visit their mothers or go to church.
Mother's Day became a national holiday in 1914.
But once the greeting card companies and florists descended on the holiday and turned it into a commercialized affair, she tried to have the holiday rescinded.
We all know how that turned out.
In 2020, for this Mother's Day, we wanted to hark back to Anna Jarvis' original vision to honor local mothers for the sacrifices they've made: for their children and especially now, during the coronavirus, the sacrifices they've made for their community.
Here's to all the moms. We see you. We honor you. You amaze us.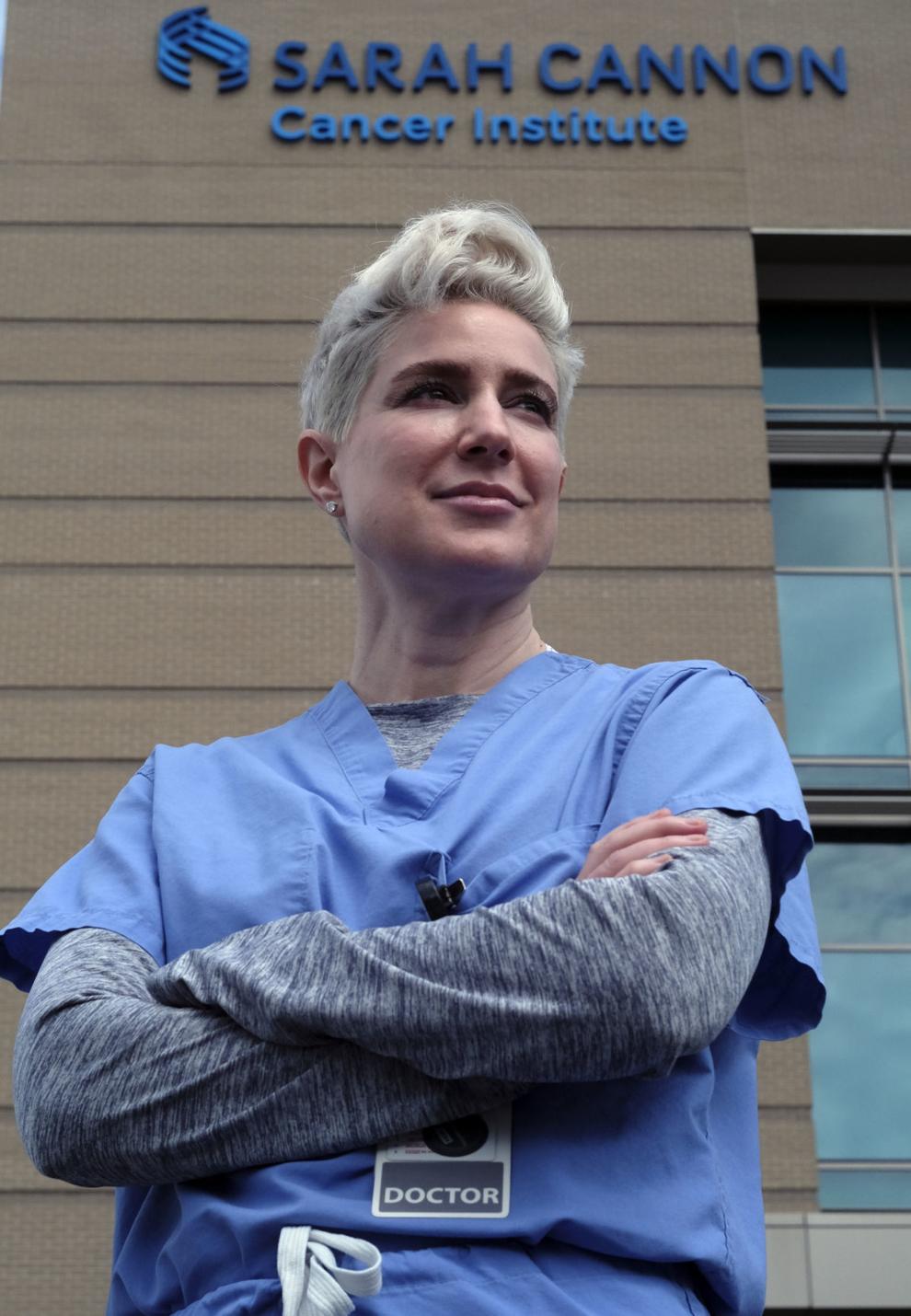 Dr. Laurie Cuttino
Radiation oncologist at the Sarah Cannon Cancer Institute at Henrico Doctors' Hospital
Mother of three: ages 15, 19 & 21
"Our patients keep thanking us for our service. They feel that, in their words, 'We didn't sign up for this.' While it's always nice to be appreciated, we are healthcare providers. We took an oath to keep patients safe from harm. It's our duty. It's exactly what we signed up for. While it's certainly nerve-wracking to show up for work, it's what we do. It would never occur to me not to that. I'm proud to do that. I'm proud to do what we do, what women have always done: to get the job done.
Women have been expert multi-taskers for millions of years. Every mother in the world walks a tightrope every day. Every mother has a hard balancing act.
When I get home, there is still laundry to be done, the kids need to talk to me. It can be really hard sometimes. Sometimes when I get home, my fondest wish is that nobody talks to me. But this is a terrifying time for everybody and the kids need to talk about intense subjects. As much as I would like to say, 'I need a break' or 'Give me a minute, I can't.' This is terrifying for them and you have mom up.
One of the hardest things has been seeing how worried my children are for me. I have lupus and am immune comprised. I know that my risk is very minimal and I think I'll be fine. One of the most difficult things has been seeing the fear in my children's faces. But they don't need to be worried. I tell them, 'Mom has this.' Mom has this under control, as moms do.
At work, I feel like we did sign up for this. This is our duty and our job. Our cancer patients have enough to worry about. Our ultimate goal is to give them the confidence and peace of mind, to take that one piece off their plate, to let them know, 'This is safe. We're going to take care of you and help you get better.'"
"Typically, my fondest Mother's Day wish is to have a few hours of quiet mom introvert time. This year, I'd really like to sit on the couch by myself with the dog."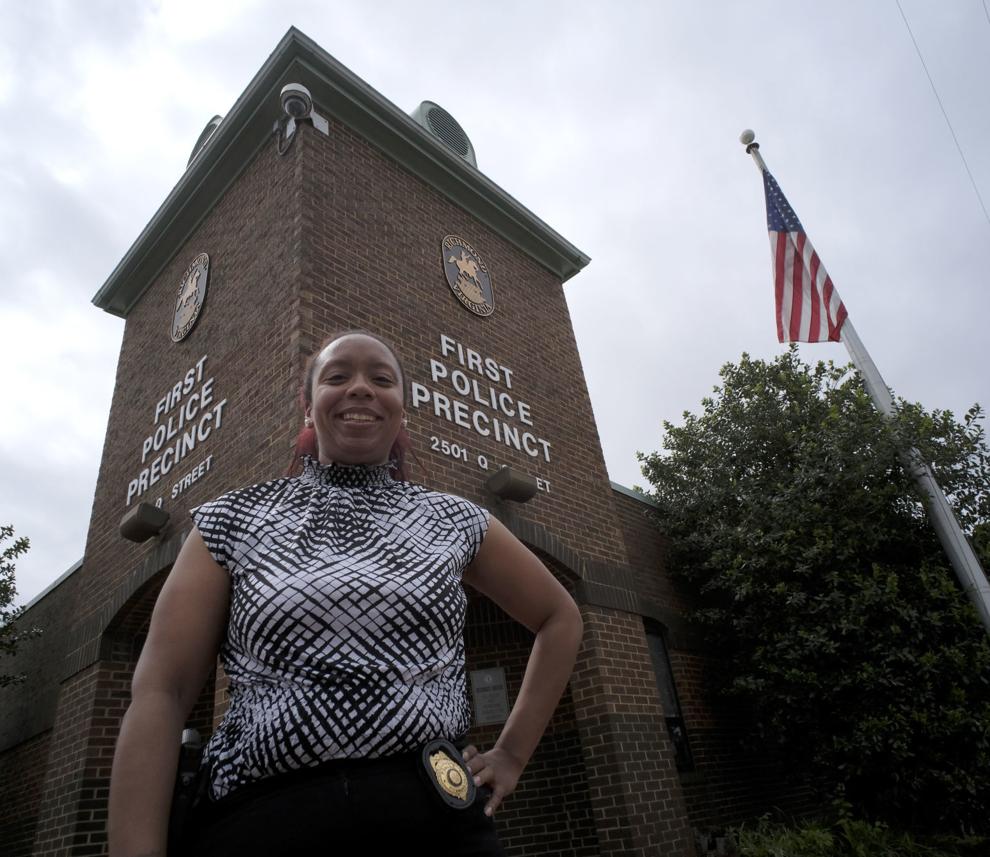 Detective Kenise Ford
Property crime detective with Richmond Police Department
Mother of one: age 7, also caring for goddaughter age 6
"I'm responsible for Mosby Court, Fairfield Court, Creighton Court — all the projects. When I first come in to work, I check the reports from the night before and then make contact with the victims. Sometimes I will go out and try to make contact with them, get any extra information, see if I can get video footage or speak to any eye witnesses.
"I wear a mask. I'm optimistic about it. I know I don't want to take it home to my family. I know that we're higher risk dealing with the public. I take vitamins. I wear the mask and do a lot of wiping down of surfaces with Clorox wipes.
"During the day, the kids go to the YMCA child care for essential personnel. They were heaven sent. They opened up in the nick of time. I was trying to figure it all out and didn't know what to do. The kids love it. They get to make slime and have little parties." (In late March, the city of Richmond partnered with the YMCA of Greater Richmond and The Community Foundation to establish emergency child care centers for medical and other essential workers.)
"I'm a single mom. At times, it's hard. Juggling work and then figuring out the home-schooling. I had to tell my son's teacher that he wasn't going to make the Zoom classes [during the day]. She was very understanding. When we get home, I give the kids a few minutes to get situated. I give them something fun to do, like a mind activity or color. They love to color. Then I transfer into schoolwork for the day.
"As hard as it is, it's given me more time to spend with my kids. Before, I didn't get to sit down and see what my son is learning. That has been the most rewarding part, that I'm playing a bigger part in their education."
"My son Jalen loves to ride bikes. He'll say, 'Let's go ride bikes, Mom.' He loves Pony Pasture. We ride down the hill and it's great."
Cameron Walker
Nurse in the Emergency Room at the University of Virginia
Mother of two daughters: ages 6 and 10
"I live in Powhatan and commute to Charlottesville, three days a week, for 12-hour shifts. I wear a mask now 24/7 [at work]. Working in the ER is stressful in itself. [With the coronavirus], it adds another component — especially with my family and children. I'm always terrified that I could be exposed and bring it home. I think everyone in health care feels that way.
"When I get home from work, I take my shoes off before I enter the garage. I strip everything off in the garage — which is great when it's cold out — and then I hold all my stuff and make a beeline straight to the laundry. Everything goes in the washer and then I go straight to the shower. I don't touch anything. Everyone I know at work does the same.
"There's a meme going around that says, 'If you see your neighbor on the front lawn naked, don't be alarmed. They're probably just a health care worker.'"
"Honestly, I would be 110% overjoyed to just sit here and hangout and not do anything. I feel like we've been going 100 miles per hour. It would be wonderful to sit around and enjoy each other's company. Have a picnic outside if the weather is nice."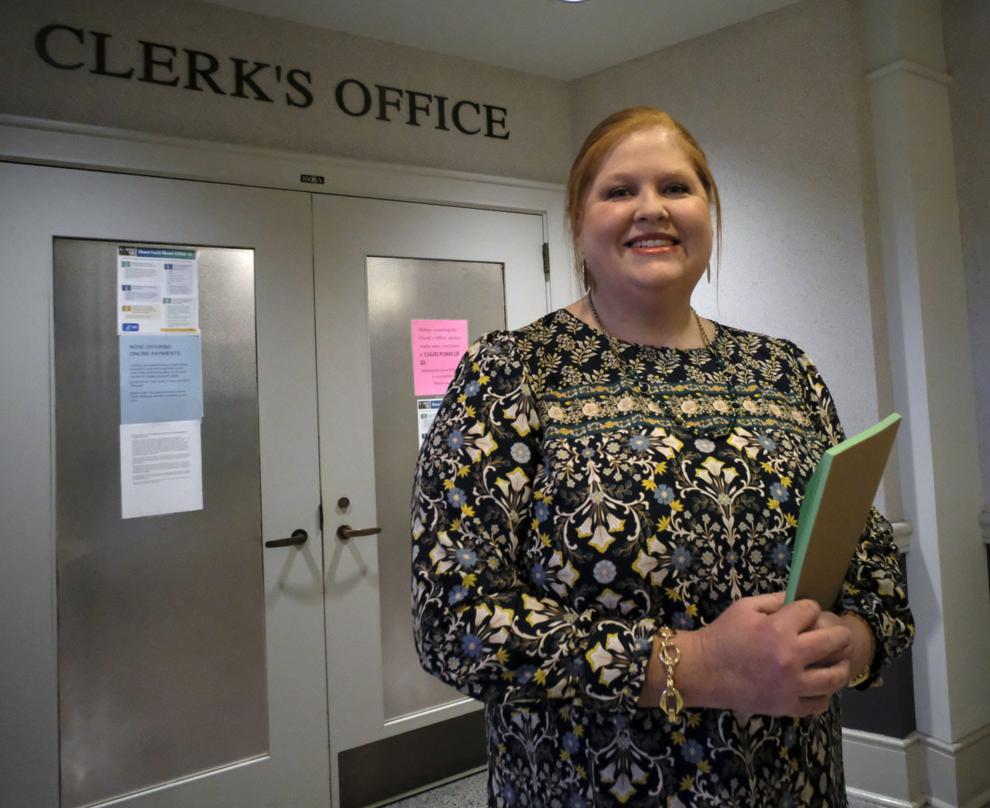 Laura Griffin
Clerk of Court, Chesterfield Juvenile and Domestic Relations District Court
Mother of one daughter: age 13
"I have been at work daily through all of this. We are the third-largest Juvenile and Domestic Relations Court in Virginia by caseload behind Fairfax and Virginia Beach. To put it mildly, I am exhausted.
"I'm home with my daughter right now, trying to get her on her Google classroom. I'll go into the office later. I feel like my daughter always gets the short end of the stick. My husband was home for three weeks while he was teleworking, but now he's back at work [for a small local company]. And she's home alone for most of the day. Her school is starting to introduce new concepts, and it's hard. One of us tries to get her started, but then we have to go to work.
"At night, when we get home, we only have about 30 minutes to keep her attention and before our own energy levels drop off. It's hard to get a 13-year-old motivated to do anything. It's frustrating for her. This is all new.
"At work, we have to go through cases, manually, to figure out which matters meet the criteria to be heard under a judicial emergency. I've been checking my email 24/7. I do it while cooking dinner, doing the dishes, and before bed. I have such a flurry of emails right now because we are hearing anything that has to do with a protective order, the abuse or neglect of a child, or any civil case where there is a life or death situation with a child. It's really hard when you have someone on the phone crying and you have to say, 'I'm so sorry, but we can't hear this case until the judicial emergency is over.'
"District courts are not staffed appropriately, and we're not paid enough. I try to impart to my staff that, despite that, you are essential. I tell them, 'Consider yourself a special tribe of people that are doing this for the public.' We're not like Walmart. There's only one juvenile and domestic relations court in Chesterfield. We serve a function that no one else can provide. It's been a good lesson in Civics 101.
"We really are essential. We're not on the front lines, but we're the waiting room. We are triage when it has to do with families who are broken and hurting.
"My job has always been stressful. I always felt like I give my work my best; when I get home I feel like my family only gets crumbs. The mom guilt is strong. I have really struggled with feeling like I've failed as a mom and as her home-school teacher. If this is what it's going to be like for six more months, it will be very difficult to manage.
"But the good news is: We're getting a puppy."
"We usually get together with my mother and mother-in-law and have a cookout. But I don't know if we can go over there or not this year. My brother and sister-in-law are Richmond police officers. If they are exposed at work, we won't be able to get together with them. I don't know. But we'll have the puppy to take our minds off of it."
Rachel Kurtz
Licensed at-home child care provider
Mother of two: ages 5 and 11
"I've continued to stay open because I serve essential personnel. The more I thought about it, I thought these parents really need care. My child care kids, they're all my babies. I have six children enrolled, but two left due to the virus. Now I have four, ranging in age from 17 months to 3 years old. We are worried [about being exposed to the virus], but we're all taking precautions.
"We've been busy this week making Mother's Day gifts. I try to make the holidays special. This year, I have a picture of the kids holding their arms out. Then we're going to make a bouquet of flowers to attach to the picture. I usually get the moms a gift. This year, they're getting a coffee mug that says 'Moms are the best' and a storybook. I have one parent who is a single mom, and I know no one's at home to make it special for her.
"I'm also caring for my own two children who are now out of school and balancing my day care duties with making sure their schooling continues. I'm especially concerned about my sixth-grader; I don't want him to fall behind. I work with him during naptime or at the dinner table while I'm making dinner."
"My husband usually makes a nice dinner like steak or fettucine Alfredo. Even before the virus, we didn't get many chances to go out. For Mother's Day this year, I think he'll take the kids to another room or part of the house and let mommy have time off, which is a good thing."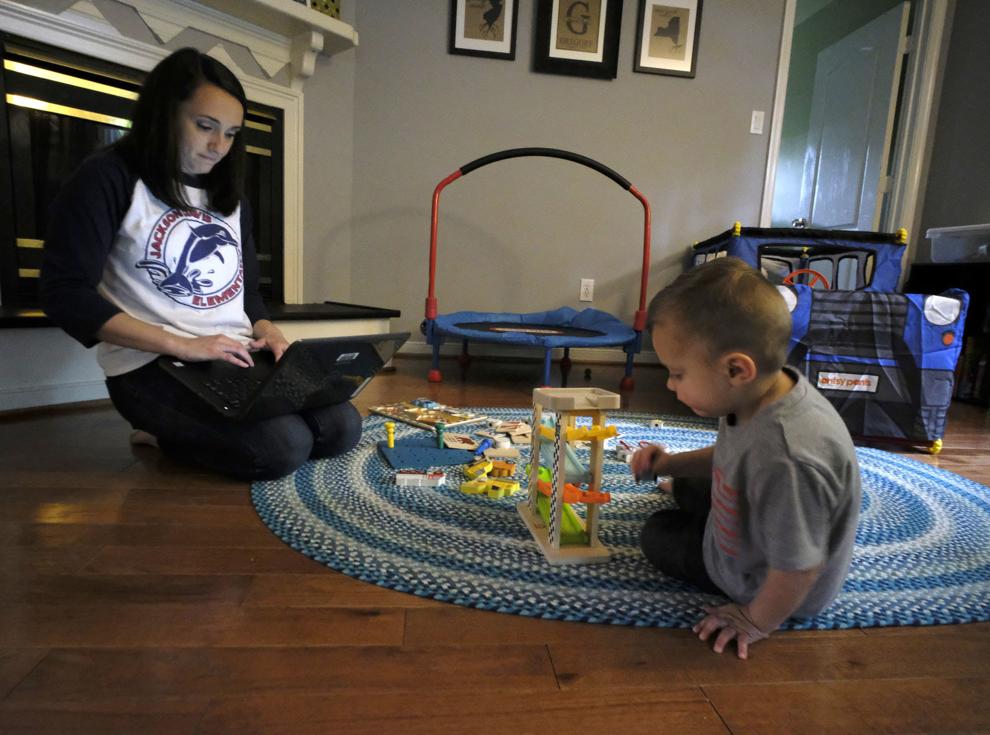 Randi Gregory
Special needs teacher at Jackson Davis Elementary School
Mother of one: age two and a half
"I have a K-5 special education classroom, mostly serving students on the autism spectrum. I've been doing recorded lessons for my students. We record it and send it to the parents. I'm still getting comfortable on camera. My assistants help me with it. It usually takes four to six tries. A 20-minute lesson usually takes an hour or more to record.
"One parent sent a video of their child interacting with multiple different things I provided, mimicking what I was doing. It was so unbelievably fulfilling, but also gut-wrenching, because I just wanted to be with him. Knowing we're still connected even if we're not there physically, it warms my heart but breaks it at the same time.
"Having a 21/2-year-old at home at the same time has been an emotional roller coaster. My attention is not undivided at any point. I'm always thinking about my students, worrying about them, wondering if I could have provided more. The rainy days put a damper on things. Typically, I'll try to get my son out of the house, even just a walk down the block, but if I get an email I have to go back, and he'll get upset. It's weighing on us, but I think it's like this for everyone."
"I'm just hoping for a sunny day. I hope we can sit outside on our deck and put aside our worries and just enjoy ourselves. Have a nice meal, soak each other up and enjoy being gifted this extra time with one another."
(804) 649-6151
Twitter: @collcurran