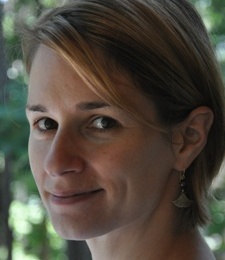 The opening line of the orientation was, "Are you ready to change your life?" I stifled my inner Chelsea Handler so I could hear that other voice in there as it whispered, "I think so."
I recently joined a "boot camp" exercise program that requires a 5:15 a.m. wake-up call for a workout that might entail anything from five-man carries, to bear-crawling backward up a steep, muddy hill, to logging miles on trails in the dark along the river. In warmer months, workouts might include a swim in the James.
I, almost notoriously, have never been a morning person.
Until this point, the thing at which I most excelled when it came to exercise was conversation. "Oh really? You're into the new barre classes in town? You're so toned!" "Hot yoga? It must feel so good to sweat!" "You take a spin class? Yeah, I really need to start working out."
After several years of momentous decisions and events including consecutive pregnancies and the birth of two daughters, I was A): happy and, B): really, really tired. Really. Tired. So after a few years of being tired, and being tired of talking about it, I got crazy with a Groupon one day and decided to "try" to get fit and healthy. (I have a friend and former boss whose motto is the old Yoda mantra "Do or do not — there is no try." Love and admire her — but in my world, you very much get points for trying.)
I struck a deal with myself that if the program made me more tired or at all miserable I would quit rather than make my family suffer.
To my own surprise, what I found when I got out there was that rising to meet the wake-up call was more than worth it.
I not only discovered a physical energy that I haven't felt in years, I also felt an inner light get brighter through the experience of being surrounded by those determined souls at sunrise: The girl with the broken ankle in a giant boot wrapped in foil, who still comes to do the pull-ups and push-ups. The rock star grandma who out-leg-lifts me by more than our age difference. The people climbing a figurative mountain as well as a literal one, to reach their goals of weight loss and better health, and whose encouragements never cease: "Go on girl! Work that body!" The elite athletes, who make it all look effortless. The people in recovery from injuries we can see and those we cannot, and the people who are choosing a healthy addiction every day over an unhealthy one.
They made me want to keep trying.
The people provided a healthy dose of aspiration, while inspiration came through our surroundings: seeing the red ball of a sun cut through the lifting fog over the river at daybreak. Lying on my back and seeing the moon and stars after sit-ups, as the slightest touches of pink begin to declare morning against the clouds in the sky. Climbing the "Mayan ruins" on Belle Isle, to catch the twinkling RVA skyline. Crawling across an athletic field and smelling the dirt, grass and leaves, and recalling an uncomplicated joy of living reminiscent of childhood.
I breathed in each new day, as I continued to admire the efforts of those from all walks of life whom I joined in this program. As the days turned to weeks, my appreciation for the experience grew, as did the realization that as much as we are encouraged by the efforts of our peers, the grit to gut it out with positive energy comes only from within. Others can fan the flame, but only you can light the match.
There are measurable, meaningful physical impacts that are resulting from the exercise, as well as a family history of conditions I hope will be stayed. I will likely never be among the elite athletes leading the way at boot camp, but, gratefully … I am awake.