Three years ago, Brad Kutner bought an inflatable pool for $200 at Walmart and turned his North Side backyard into a pool paradise.
At first, it was a bit of an eyesore, he said.
At the time, Kutner, now 34, was a freelance writer and living on a shoe-string budget. The pool he bought was a discontinued model, which was reflected in the price. Still, he knew he could transform his $200 pool into a thing of beauty.
He bought bamboo fencing to wrap around the pool, picked up planter pots at thrift shops for his palm fronds, strung lights in the backyard, added a patio set he got for his wedding and christened it, jokingly with his husband: Daddy's Grotto. "It's a little escape for us," Kutner said.
Now, it seems like a stroke of genius.
During the coronavirus pandemic, sales of above-ground and inflatable pools are surging, with large, affordable pools almost impossible to find.
Sales of inflatable pools that cost less than $150 have increased by 165% over a seven-week period that began March 15, compared with the same period last year, according to NPD Group, a data and consulting firm.
"It appears as if a lot of people are looking for pools and hot tubs for staycations," said Sabeena Hickman, CEO of the Pool & Hot Tub Alliance, an industry trade group. "We are anticipating that it will be a strong season for backyard pools."
Amid concerns about safety at public pools, affordable pools have become the newest must-have item of the summer. Under Gov. Ralph Northam's guidelines for Phase Two of reopening the commonwealth, public and community swimming pools can still only be used for lap swimming and exercise.
Large inflatable pools, like the popular Intex brand "Easy Set" 15-foot pool, have sold out on Amazon.com, Walmart.com, Target.com and more. Before the coronavirus, they could be purchased for a few hundred bucks. Now, they're being sold from third-party sellers for $600 or more.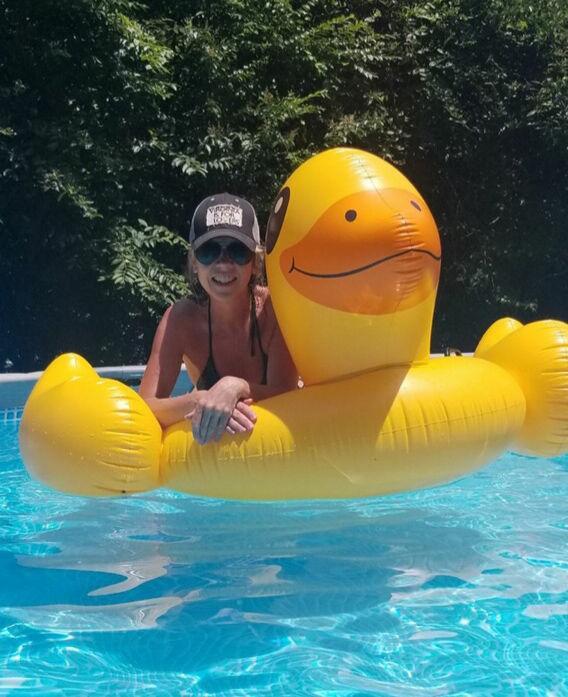 Jill Hammer, 53, grew up in Richmond and bought an Intex-type of easy-set pool a few years ago for her Forest Hill backyard.
"It's a total game changer," she said. "I can't believe I waited this long to get a pool in Richmond."
When one of her girlfriends was upgrading her pool, she gifted Hammer with an above-ground pool that was originally purchased for around $1,100.
"It really turns your backyard into a little resort. In the evening, when I come home for work on a hot humid night, I'll hop in. And now, being quarantined like this, it's been a godsend," Hammer said.
She owns a shop, Media Noche, at Stony Point Fashion Park. This year, she said, "I'm erring on the side of safety and not going to a public pool. I've got my own little low-key club in my backyard."
Pre-quarantine, she said up to 15 people could fit in her pool that's 18 feet across and 52 inches deep. This summer, she said she can have up to five people in the pool at an appropriate social distance of 6 feet apart.
"I invite my girlfriends over. We whip up a batch of basil margaritas. I'm in it every day," she said.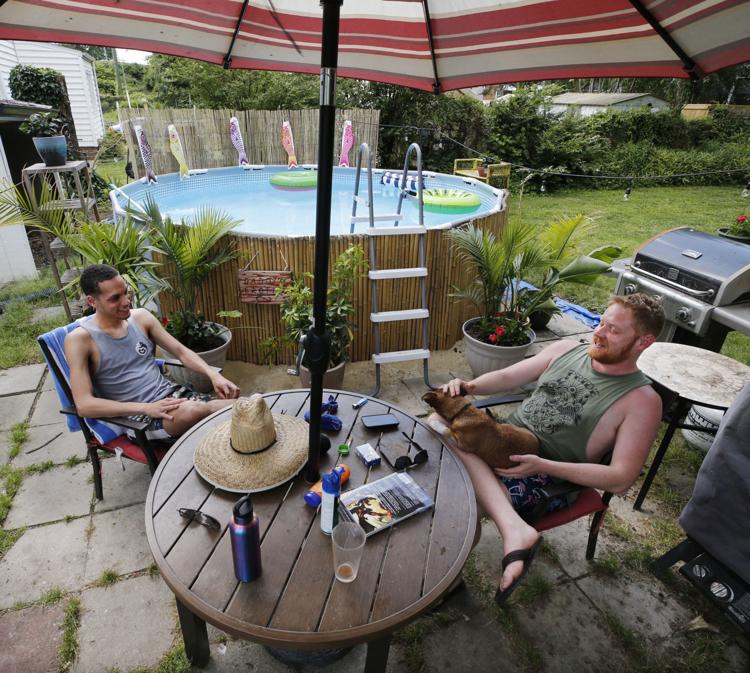 Above-ground pools do require daily maintenance, Hammer and Kutner said. If you're thinking of buying one, you should be prepared to take care of it, including cleaning it with chemicals, such as chlorine or shock treatment, a powered chlorine, plus vacuuming and running the filter daily, they said.
In years past, Kutner and his husband, Marcus Roberts, have thrown wild parties at The Grotto with musicians, bands and up to 12 people in the pool at once. This year, under the "safer at home" message, they're planning to throw low-key get-togethers with six people or fewer, including themselves.
"If you can manage it, it's a great source of fun and escape all summer. The joke is how little we paid for it. We've certainly gotten our money's worth," Kutner said.
If you can't find (or afford) an above-ground or large inflatable pool this summer, there are still ways to have fun and cool off while on quarantine.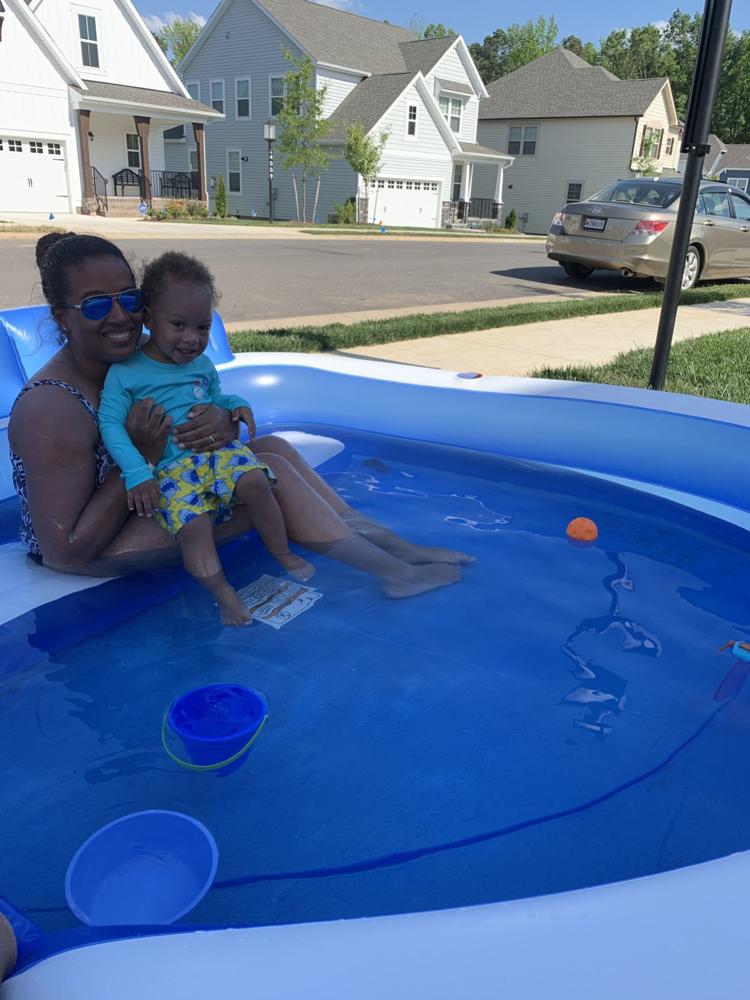 Bruce, 32, and Ashley Lewis, 31, bought a 7-foot inflatable pool from Sun Squad at Target for around $45 in May. He's a firefighter, she's a nurse and they set it up in their driveway for a splash session with their 2-year-old son, Logan.
"He loves it," Ashley Lewis said. "He enjoys anything water-related."
They live in Glen Allen in River Mill, a neighborhood that is still under construction and where the pool won't be ready for at least another year.
When her neighbors saw how much fun they were having, they bought inflatable pools for themselves.
"We nicknamed our two streets 'the compound.' Soon our whole compound will be out in their pools," Lewis said. "We certainly plan to use it often this summer."
With additional reporting from the Associated Press
(804) 649-6151
Twitter: @collcurran