High school seniors are having a pretty disappointing final semester because of the coronavirus: Most senior traditions are scrapped, graduation is still a question mark, and prom has been canceled.
Some are coming up with creative solutions to the cancellations, while others are feeling the emotional burnout of having the end of senior year stolen from them.
Caroline Burrows, a senior at Hermitage High School in Henrico County, decided to splurge on her prom dress this year.
"I thought it was my senior prom, I'll go out with a bang," she said.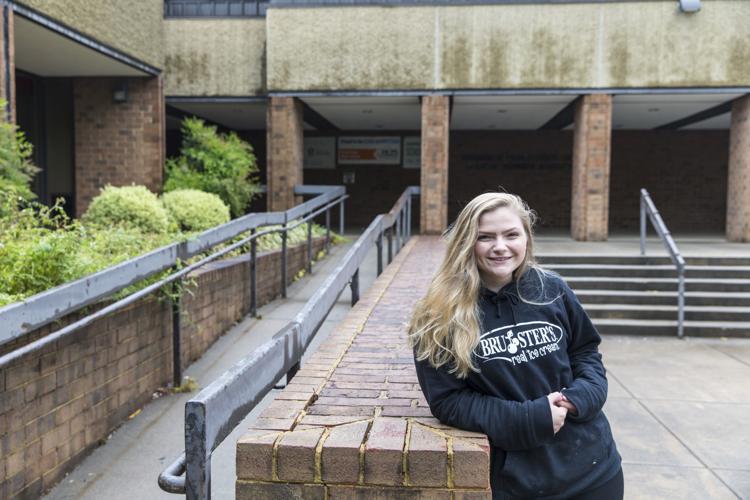 In the past, she'd always waited to try to find a deal and ended up scrambling to find a decent dress before the dance. This time, she went shopping in February and found the perfect dress -- a beautiful, floor-length stunner with pockets .
"I loved it. I felt beautiful in it," she said. "Our prom was supposed to be at the Hippodrome Theater downtown and I thought I'd have the pictures forever."
But instead of wearing her dress to prom, she found herself under the governor's stay-at-home order, getting dressed up for actor John Krasinki's virtual prom on "Some Good News" on YouTube. He hosted the streaming prom for all the seniors across the country who wouldn't get a regular prom this year with musical guests like The Jonas Brothers and Billie Eilish.
Burrows got dressed up with a friend and they danced along to the virtual prom in her living room.
"Honestly, this whole thing feels to me like a bad breakup. The first few days, you wake up and at first, you forget everything that has happened. Then you remember and it's this overwhelming feeling of, 'I can't believe this is happening right now.' And then you get used to it. We're at the part where everything feels normal. You figure out how to go about your day. It's unfortunate that this happened. But I'd rather have a canceled prom than an entire school of sick families," she said.
"We're at age when you understand why something is happening, but you still have that kid side, like 'Why is this happening to me?' But I'm coming to terms with it. My friends and I, we've been saying, 20 years later, we'll be the ones in the history books," she said.
She also said that she thinks the crisis is going to affect her generation for the better, not for worse.
"I don't think this will lead to a generation of germaphobes, but to a generation that knows how to react to a crisis," she said. "The biggest thing we've learned is that in the future, we'll need a plan of action. We can reflect on what happened and not let it happen again."
She's planning to go to Christopher Newport University in the fall where she will major in social work, pre-law and take advantage of the leadership program there. In the meantime, she's going to keep her part-time job at Bruster's ice cream and save money for college. She's also hoping to take a beach week this summer, if that's still allowed.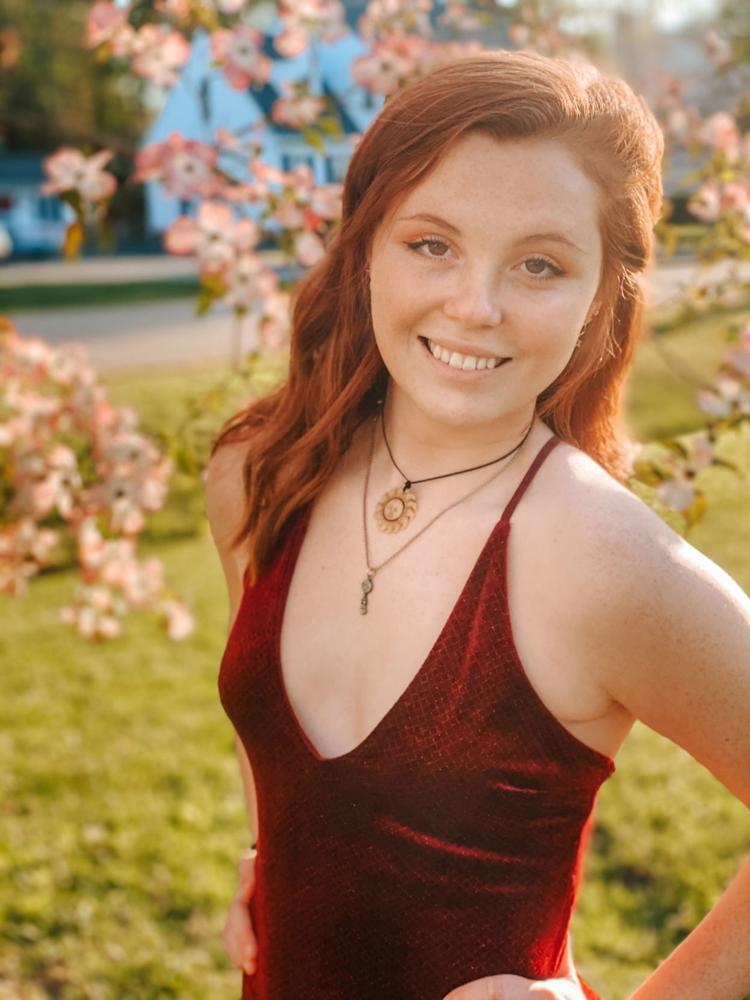 For Morgan Broce and her friends at Hanover High School, they decided to take their canceled senior prom and make an epic TikTok video out of it.
"Making the video with my friends gave me a reason to get dressed up," Broce said.
The TikTok video shows before and after images of each girl, getting glammed up in their prom dresses. In the video, Broce and her friends look beautiful and young, in their fancy dresses and glittery makeup, smiling for the camera. They titled it: "RIP Senior Prom."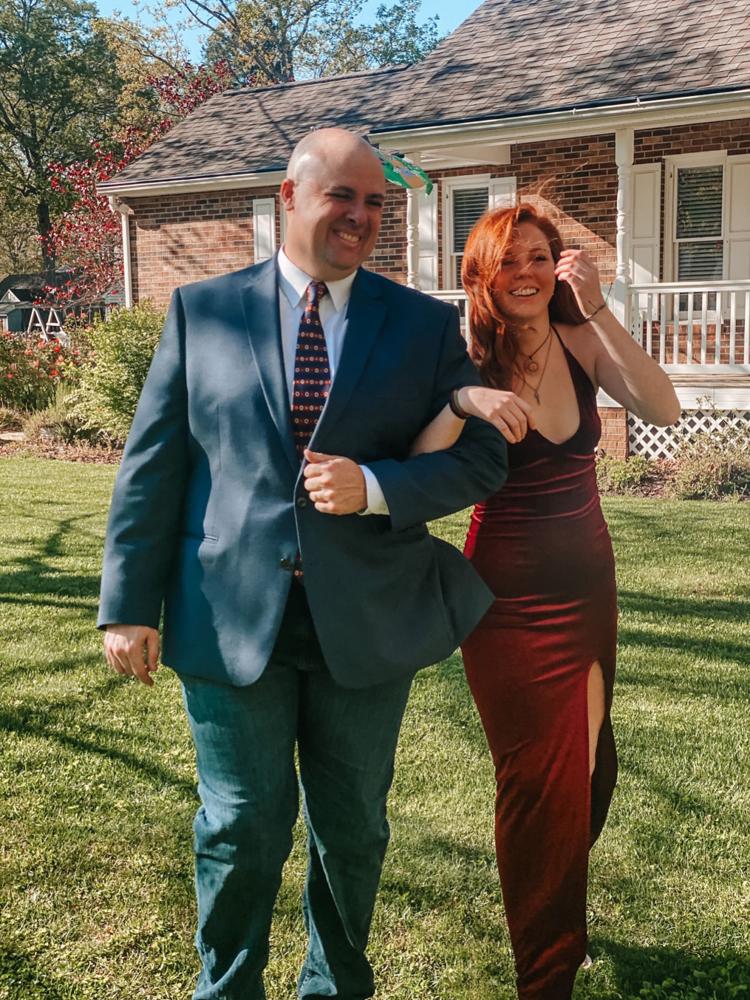 Afterwards, Broce took prom photos in the backyard in her plunging burgundy velvet dress. Her dad even showed up, in a suit, to serve as her stand-in date. While Broce and her dad went to pick up take-out dinner, her mom and college-age sister decorated the den with streamers and a small disco ball borrowed from a neighbor for a surprise mini-prom.
"My family still made it special," she said. "It wasn't what I had planned or hoped for, but we still made it memorable."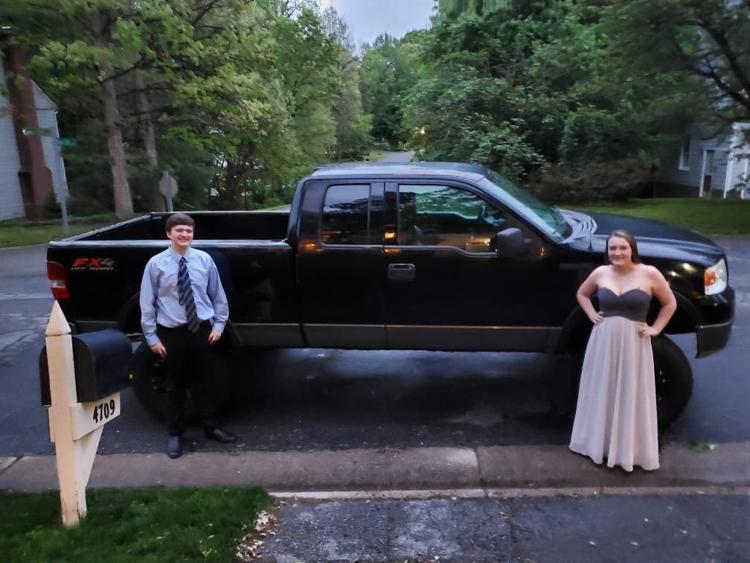 Mackenzie Green was looking forward to her first prom at Prince George High School with her boyfriend, Jacob Lively.
Before the coronavirus, they were planning to go out to dinner with friends and take pictures at Hopewell Riverwalk before heading to the dance. Green had her dress already picked out from Lex's of Carytown, but didn't have time to get it altered before the stay-at-home order came down.
"I was really sad I wasn't going to get to go," she said.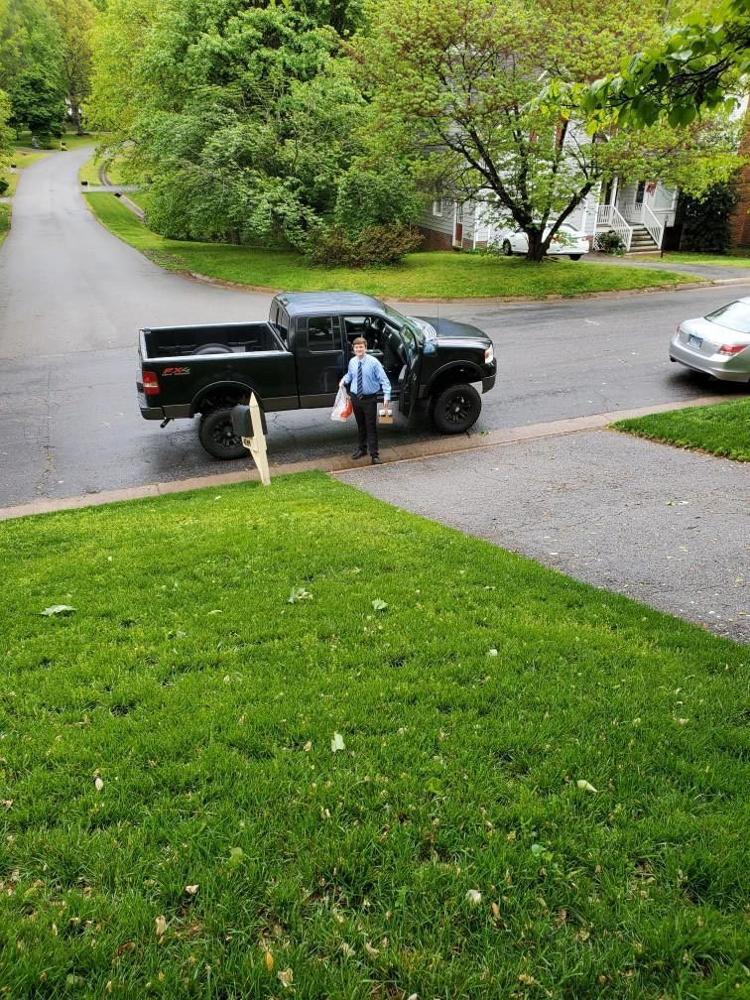 Green's mom and her boyfriend's mom decided to come up with a solution and throw their kids a surprise prom. Lively came over in a shirt and tie and Green wore a long dress, although not the one she had picked out at Lex's.
Green and her boyfriend shared dinner at her kitchen table, six feet apart. Afterwards, they socially-distance danced to songs by Ed Sheeran in the living room.
"We were so surprised," Green said. "We thanked both of our moms. It felt like 'Sixteen Candles' a little bit. We called it our 'fake prom.'"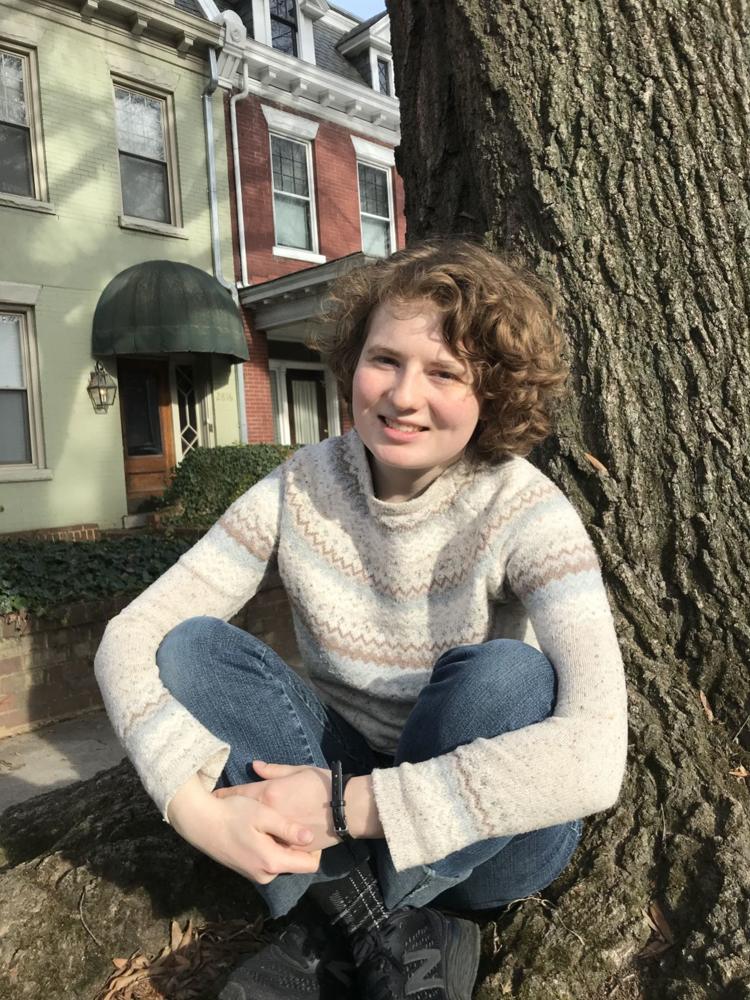 Other seniors are struggling. And they're not afraid to say it.
"I miss my friends the most," said Cora Lewis, 17, a senior at Maggie L. Walker Governor's School.
It's hard for her to connect with her friends online and she feels isolated. She's lost her drive for schoolwork and watched her grades slide.
"I've been super disorganized and worry that I'm falling behind. I took a test in calculus and got a grade almost 30 points below what I usually get on tests in that class. I was devastated. It's just far too easy to procrastinate," she said.
She was excited about her internship at a computer science lab at VCU, but after the stay-at-home order, she can only do it at home and said, "it just hasn't been the same."
Perhaps even scarier, she hadn't decided on what college she was going to attend before the stay-at-home order was in place. She was debating between the College of William and Mary in Williamsburg and Macalester College in Minnesota. She was supposed to visit Macalester over spring break but couldn't because of stay-at-home orders. Now, she's found herself enrolling at Macalester, sight unseen, because it offered her the best financial aid package.
"I really hope that things can get back to normal soon, because I'd like to be around people," she said. "And I hope I can start the fall semester in person."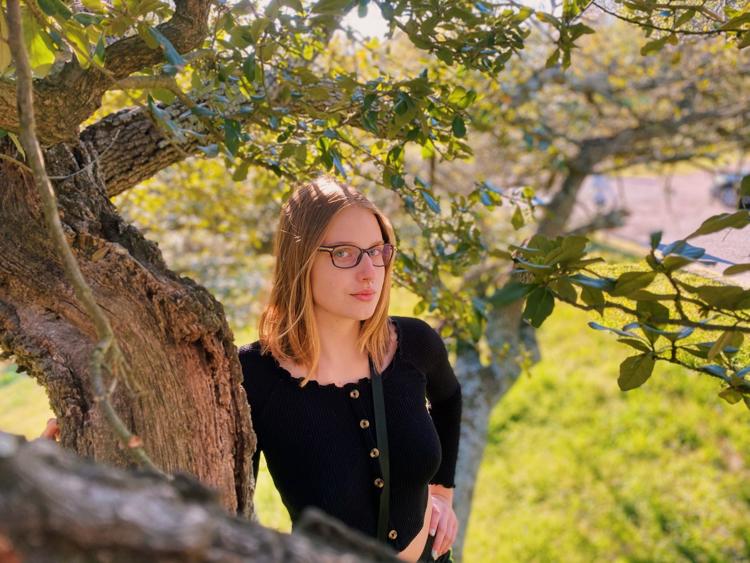 Liesel Bragg, a senior at Hanover High School, is also having a hard time finding the motivation to do just about anything.
Some days she gets out and rides her bike around her Lakeside neighborhood or watches Netflix or plays Animal Crossing online with her friends. Other days she finds it hard to get out of bed, often sleeping until 2 p.m.
"I'm struggling a lot to find the motivation," she said. "My school doesn't have the resources for online school so we have three pass/fail assignments for each class due May 22. I think a lot of teenagers are a little lost without the structure going to school provided them with. I know I am."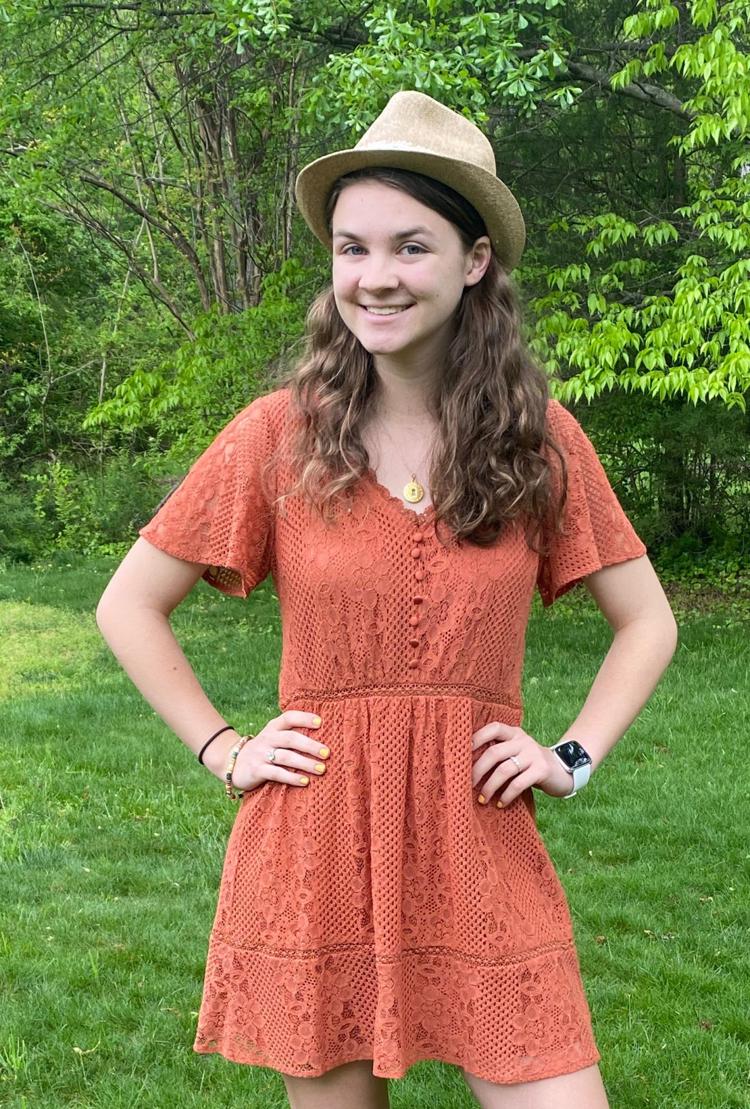 Jillian Allen, a senior at Trinity Episcopal School, said she's missing out on all the senior rites of passage: prom, senior chapel, baccalaureate and graduation.
"I just miss being on campus and seeing my friends," she said.
Missing senior chapel hurts the most, she said. It was a special school event where the seniors got dressed up, their parents were invited, and they all gathered together to celebrate their accomplishments, look at photos of themselves over the years and listen to speakers.
But, she said, she's enjoyed having more time with her family and her sister who came home from college. In the fall, Allen is planning to attend the University of Virginia.
"It's definitely disappointing that the end of the year didn't go how we wanted it to," she said. "I hope we get to walk for graduation at some point. But honestly, I'm trying to look forward and focus on spending my first semester on campus at UVa."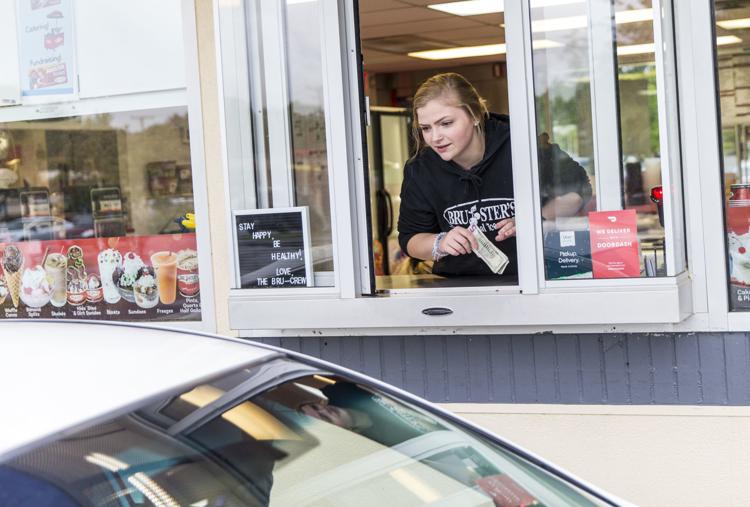 Without these typical rites of passage, many teens are left feeling in a weird limbo, stranded between adolescence and adulthood.
"This year, seniors won't have the finality I think a lot of us were waiting for. Now there's nothing to bring our educational experience to an end. Nothing to tell us that it's actually over," Bragg said. "So is it over now? Or is it over on May 22 [when homeschool ends]? We don't know, and that's a weird feeling we never thought we'd have."