The Richmond Folk Festival is back in a major way this weekend after going virtual last year due to the pandemic.
Over 30 performers will take to five stages on Richmond's riverfront — live! in person! — starting this Friday and running through Sunday.
From bluegrass and gospel to hip-hop and swing, the Richmond Folk Fest brings a variety of performers you've never heard of and many new styles of music, too.
"We are excited to welcome everyone back to downtown Richmond's beautiful historic riverfront. We're doing everything we can to make certain that the Richmond Folk Festival is the same exceptional event you've come to know and love," said Lisa Sims, CEO of Venture Richmond, which puts on the festival with other partners.
Festival organizers are asking that attendees "be a good neighbor" and wear a mask, regardless of vaccination status. All staff, crew, volunteers and vendors will be masked. Performers will also be masked unless they are on stage and performing.
"After creating a unique virtual event in 2020, we are ready to gather together again, in person, with masks on, to listen to live music outdoors," Sims added
The Richmond Folk Festival typically draws between 150,000 to 200,000 people over the three-day festival. But organizers expect to see a smaller turnout this year due to the continued challenges of the pandemic.
"We're seeing a decrease in event attendance regionally and across the country," said Stephen Lecky, director of events at Venture Richmond.
Videos from the 2019 Richmond Folk Festival
2019 Richmond Folk Festival opens
Legendary Ingramettes at Richmond Folk Festival
Dale Watson at Richmond Folk Festival
Iberi Choir at Richmond Folk Festival
Conjunto Guantanamo at Richmond Folk Festival
Super Chikan and the Fighting Cocks - Richmond Folk Festival Saturday
Woman stuck at the bottom of a hill rescued during Folk Festival
Still, plenty of people are ready and eager to experience live music at the Richmond Folk Festival.
"If you're a music lover, you'll love it. There's so much to see and do. And if you don't like the music at one stage, you go on to the next one," Don Harrison, a local music writer and member of the festival's planning committee, said. "The Folk Fest did an admirable job last year. But there's nothing like the live experience and sharing the music with everyone."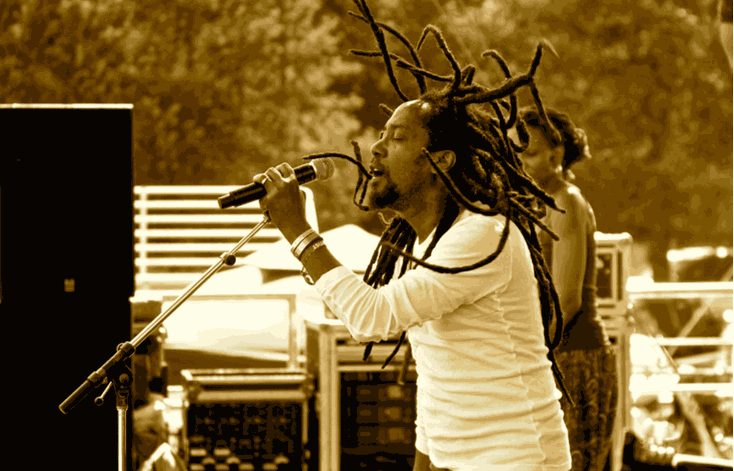 Insiders are already buzzing about Taj Weekes, a reggae artist from St. Lucia, now based in New York, who will be performing at the festival.
"Richmond is a reggae town. Every couple years, the Folk Festival brings in an amazing reggae artist," Lecky said. "I love hearing the response from the crowd."
A dreadlocked Rastafarian musician, Weekes is known for his great voice and activist lyrics. This year, Weekes released a new album, "Pause," written during the pandemic, which touches on issues of isolation, racial justice and equity.
The pandemic "was a strange time," Weekes said. "As a musician, I never imagined in my life of a time when we could not tour or perform. The pandemic exposed the cracks in the government and laid bare everything that was inequal. But it was a very creative time for me."
Weekes wrote 35 songs during his year and a half of lockdown and will be performing many of them at the Richmond Folk Festival this weekend.
"I'm smiling just thinking about it," he said of heading to Richmond to perform. "It feels absolutely wonderful."
Another group to look forward to: The Western Flyers from Texas who will be performing western swing at the festival.
"They're a bit of a super-group in my opinion," Lecky said. The band was formed by world champion fiddler Joey McKenzie and currently features Redd Volkaert, a Grammy-winning Telecaster master known for his work with Merle Haggard's band The Strangers.
"Redd is a heck of a guitar player. They have a honky tonk vibe that's really great," Lecky said.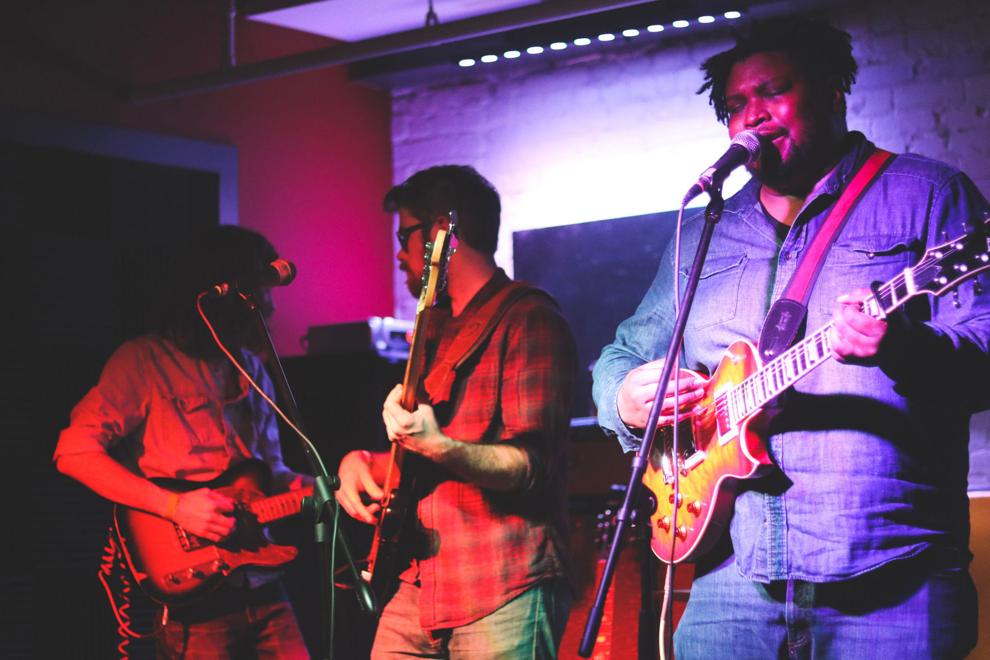 In the Virginia Folk Life area, there will be gospel, hip-hop and soul, as well as blues from young Richmond artist Justin Golden.
"We never shy away from artists based on their region," Lecky said. "This is a great example of a local, exciting artist."
The 30-year-old Golden grew up in Suffolk, but moved to Richmond in 2014 "for the music scene." He typically plays 100 to 150 shows per year and has played locally at The Camel, The Broadberry and Dominion Energy Riverrock.
A traditional blues man, Golden described his sound as a "modern or contemporary take on traditional blues. I play some soul music, a little bit of folk-gospel, but it's all about the blues."
Golden will be debuting several new songs from his upcoming album "Hard Times & A Woman" at the Folk Festival. To get a taste of his sound, he recently dropped a new single, "It Ain't Much," on streaming services such as Spotify.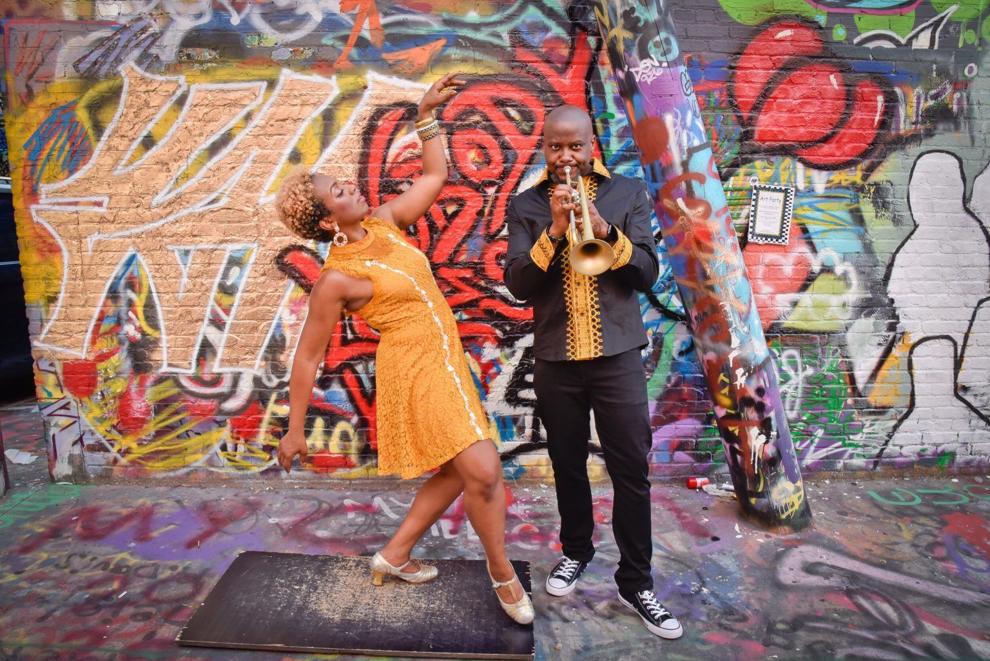 Trumpeter Sean Jones, who goes by the stage name "Dizzy Spellz," will be headed to the festival, along with his wife, tap dancer Brinae Ali. They perform a mix of jazz, hip-hop and tap dancing as a tribute to the famous trumpeter Dizzy Gillespie.
"We perform some of Dizzy's music and a few of our own originals," Jones said.
"We're using his music as a blueprint to analyze current day challenges," Ali said. She sees Gillespie as an important figure of Afrofuturism, a man ahead of his time, who saw equality for all people as well as being a forefather of bebop. Gillespie was also married to a dancer, which is where Ali's tap-dancing comes in.
"Hip-hop is the natural evolution of bebop. A few of the songs [we perform], you'll hear both elements together. They all influence one another," Jones said.
A relatively new married couple, Jones and Ali had their first baby, Phoebe, last year at the height of the pandemic in March. They said they're looking forward to bringing her with them to Richmond and performing live again in front of a crowd.
"We feed off of people. We feed off their energy. A performance is an exchange. It's arguably one of the greatest human exchanges out there, from the audience to the stage. It's awesome," Jones said.
In addition to music, the Folk Festival always serves up something visually exciting.
This year, the Virginia Folk Life area will feature Mongolian masks and ceremonial costumes from artist Gankhuyag "Ganna" Natsag, which seems pretty fitting for a masked-up pandemic.
The Folk Life area will also feature oyster champion shucking sisters Deborah Pratt and Clementine Macon Boyd and gospel from Richmond's Legendary Ingramettes.
For Folk Festival regulars, there will be plenty of bluegrass, Irish music, Cajun, tango, Native American dancing and go-go music this year.
Out of necessity, most of the performers coming to the festival this year live in the U.S. Due to the changing nature of the pandemic and the difficulty many artists are having getting the proper visas for travel "we had to adjust our programming a bit," Lecky said.
There will be plenty of craft beer from local purveyors such as Legend, Ardent Craft Ales and Bold Rock, as well as the Folk Festival's official canned beer — a hazy IPA called Folkus Pokus — from Hardywood.
New this year, there are no cash sales on site for beverages or festival merchandise, although debit and credit cards are accepted. Beer and wine can be pre-ordered before or at the event through the Noble app. This is a new system that was launched at Friday Cheers, much to the pleasure of fans who no longer have to wait in long lines at the beer truck.
The Folk Fest will also have 30 food vendors selling a variety of choices from traditional fair food to sweet and savory pies from The Pie Guy, Hawaiian style soba noodles from Island Noodles, and fried fish and cornbread from Croaker's Spot.
There will be no family area this year, since the children's area is highly interactive and there is no approved COVID-19 vaccine for children under 12 yet.
But the Folk Festival will be offering free COVID-19 vaccinations on Saturday and Sunday from 3 p.m. to 5 p.m.
Volunteers are still needed for the festival, especially for the beer tent. The festival "runs on volunteers," according to organizers, with over 1,300 volunteers pitching in every year. If you're interested in volunteering, visit www.richmondfolkfestival.org/volunteer.
(804) 649-6151
Twitter: @collcurran