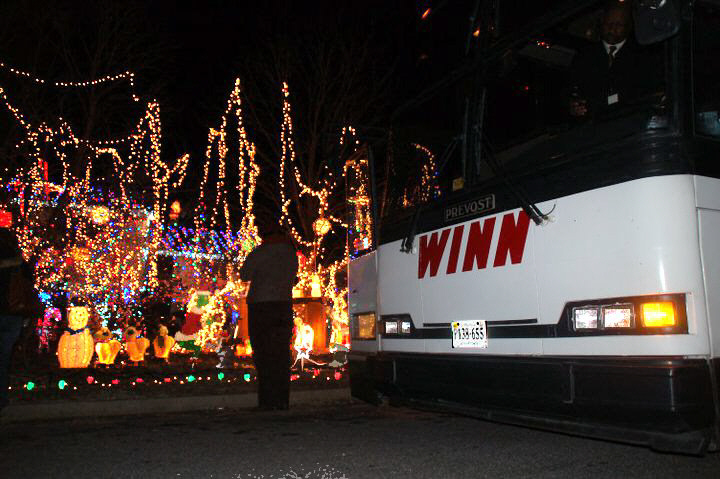 Richmond will be featured on the Travel Channel this holiday season for…yes, you guessed it, Tacky Lights!
The Travel Channel hopped on board Winn Bus Line's Tacky Lights tour last year – and now the episode will air on "Xtreme Xmas," Sunday, Dec. 15 at 7 p.m.
"Richmond is known as the tacky light capital of the world and they came here for that," says Winn Bus Lines' Mark Pounder.
Winn Bus took the Travel Channel on their standard Tacky Lights tour of the West End. They started at the Whitlock's house at 8720 River Road and then made stops at:
The bus visited 16 houses total on the three-hour tour. The Travel Channel interviewed several of the passengers and asked them what the Tacky Light tour meant to them.
The tour wrapped up at The James Center and included a stop at the Krispy Kreme.
"When you're in the South, you can't not do a stop at Krispy Kreme," Pounder says.
The Winn Bus Lines were the very first to do a Tacky Light Tour in 1985 and they continue to offer a very popular "Tacky Light" bus tour today.  Last year, they ran 128 Tacky Light tours. This year, they will add a Southside tour to their line-up. Check out their website for more info and to book your tour.
"Xtreme Xmas" is expected to include other cities that also feature "extreme" holiday traditions such as a brightly lit boat parade.
"Xtreme Xmas"  airs Sunday, Dec. 15 on the Travel Channel at 7 p.m.
We are currently compiling our Tacky Lights List. If you have a house with over 40,000 lights and haven't heard from us yet, send us an email at tackylights@richmond.com and we'll look into adding you to the list.