The Institute for Contemporary Art sits on the corner of Belvidere and West Broad streets, like a silver-winged present, waiting to be opened.
The art museum has been in the works from Virginia Commonwealth University for over 15 years.
Designed by New York-based Steven Holl Architects, the privately funded $41 million glass- and zinc-encased building won't open to the public until April 21, but we recently went inside for an exclusive preview.
The 41,000-square-foot museum was slowly filling up with art.
Hammers were banging, hydraulic lifts zoomed by and the floors were being marked with tape and construction paper for incoming installations.
"Want to ride on the coolest elevator in town?" asked Lesley Bruno, spokesperson for the museum, before whisking us inside an elevator with slashes that allowed light to fill up the space like an illuminated cube.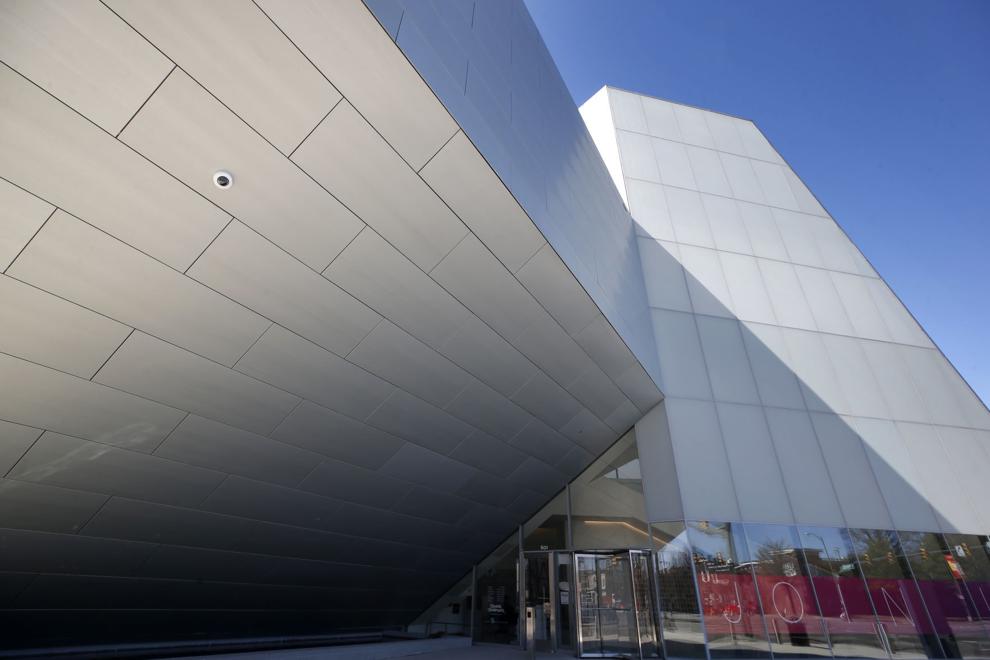 Richmond's new and eagerly anticipated art museum felt like a newly purchased house just before the furniture arrives: auspicious and full of promise - especially since the opening exhibit, "Declaration," likely will be a different kind of art experience for many Richmonders.
"Declaration" is contemporary art in all its forms.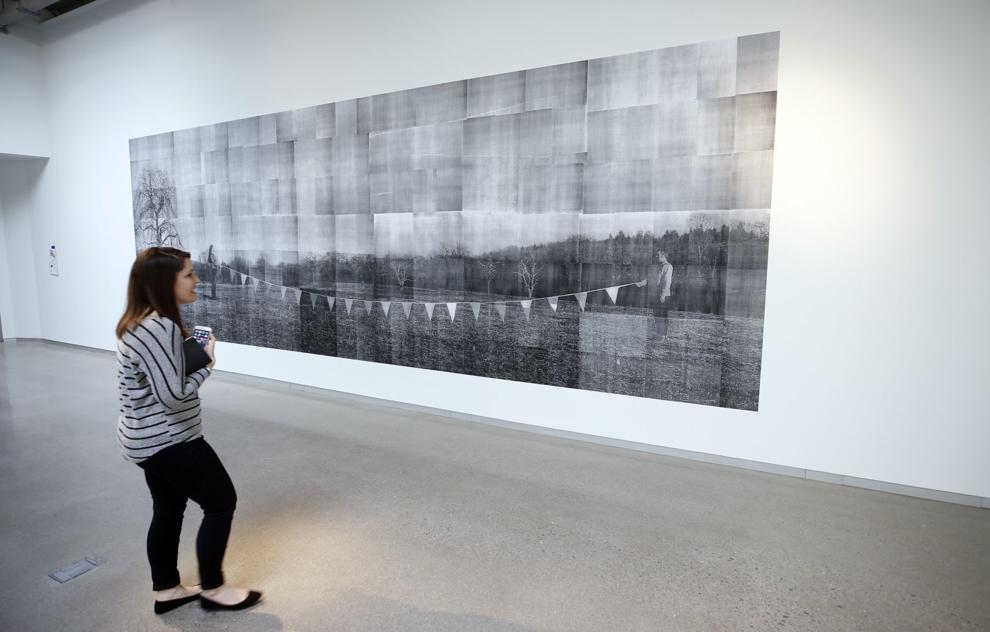 There's a piece that looks like a beautiful painting, but it's constructed from mimeograph paper.
And a neon sign that says "You Belong Here."
KKK robes in pink camouflage.
A sound installation of a short story by Jorge Luis Borges read by 17 different people.
GWAR costumes in latex and fake blood.
There are paintings, letterpress prints, puppets and photographs.
Beginning opening weekend, a mender on the third floor will repair your clothes and turn them into an installation, like a constellation in the sky.
The art at the Institute for Contemporary Art is new. It is different. And it's viscerally exciting.
On our visit, artist Paul Rucker was just beginning to set up his provocative, eye-catching piece "Storm in the Time of Shelter" in the first-floor gallery.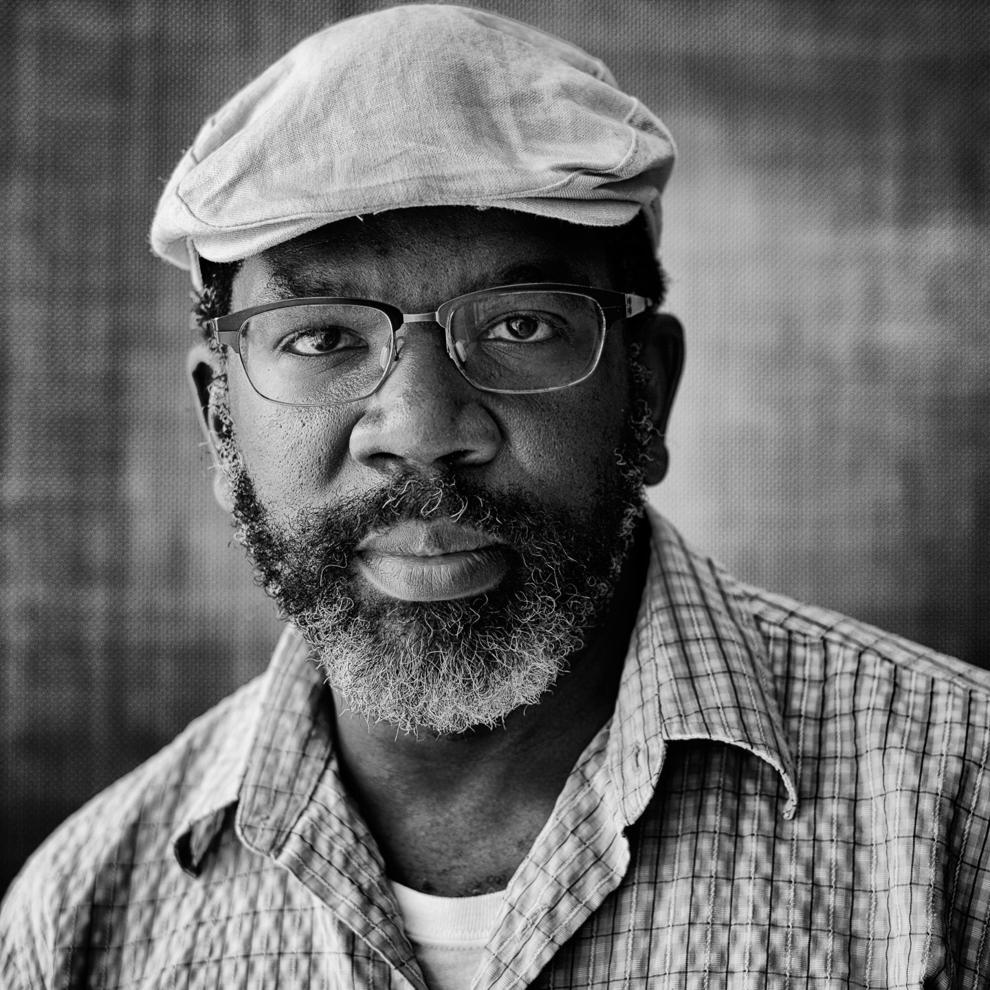 In his work, the Guggenheim fellow explores race and racism as well as the history and modern impact of slavery.
In "Storm in the Time of Shelter," he dresses life-size mannequins in KKK robes reimagined in kente cloth, camouflage, white satin and other fabrics.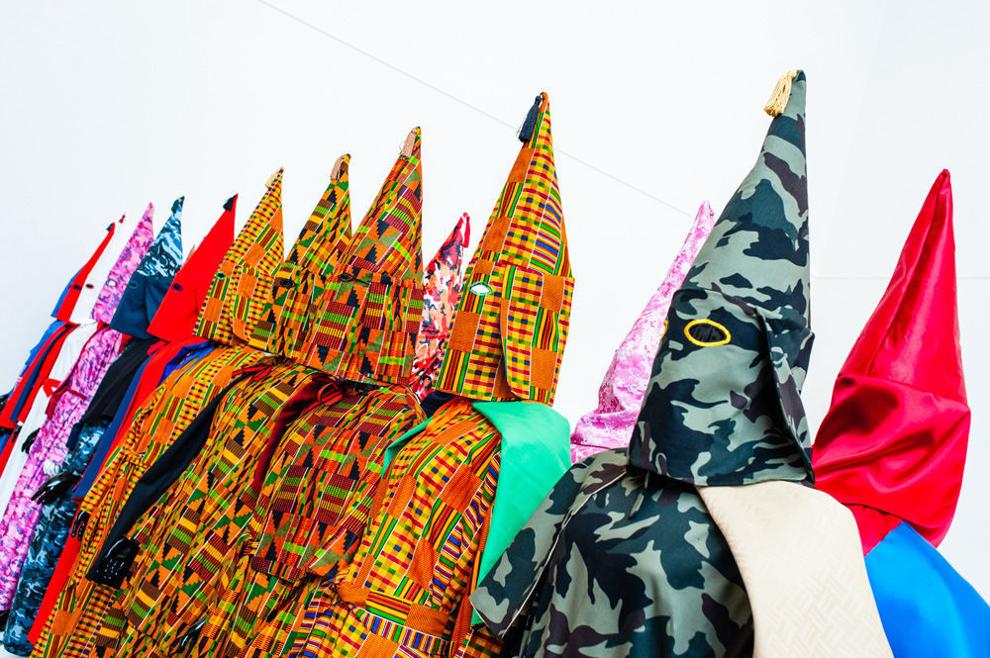 The robes are part of his touring exhibit, "Rewind," which has been grabbing headlines in publications such as the Huffington Post and The Baltimore Sun.
Originally from South Carolina, Rucker witnessed a Klan rally in 1989. Also a trained musician, Rucker was touring with an opera company in Augusta, Ga., when a man ran by, shouting, "Do you know what's going on? It's a Klan rally!"
Rucker stayed where he was, eating lunch, watching the Klansmen in their pointy-hooded robes march by.
The image stayed with him. But it wasn't until 25 years later that he began making art out of it.
The experience made him want to learn more about the origin, organization and ideology of the Ku Klux Klan, he said.
In 2014, he began making a robe a week out of different materials.
In "Declaration," roughly all 52 robes will be on display. That's 30 more robes than have been displayed anywhere else.  
"Each robe is a riddle," he said. "I enjoy watching people figure out what they mean. It's not nearly as interesting if they've been told."
Rucker lives in Seattle and Baltimore, but has called Richmond home for the past year as the artist-in-residence at the ICA.
"Storm in the Time of Shelter" also includes several artifacts that explore slavery and white supremacy in the U.S.
Lisa Freiman, former director of the ICA who stepped down suddenly in January to focus on academic work, brought on Rucker for "Declaration."
"He is committed to addressing issues of systemic racism in his art," said Stephanie Smith, ICA's chief curator. "His work speaks so powerfully to issues that matter deeply in Richmond, given the city's complicated history."
She added, "(Art) is a vehicle through which we can pay attention to issues of the past in new ways and to find new paths forward."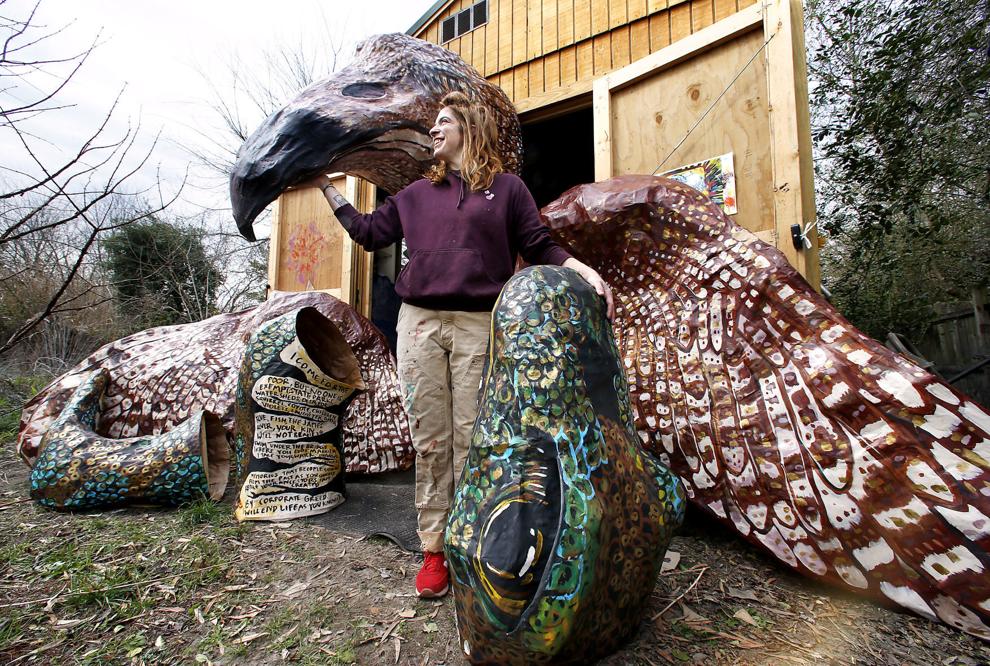 Many of the pieces on the first floor are political and meant to grab your attention.
"Declaration" features 33 artists and 70 art works exploring politics, protest and social justice.
Lily Lamberta, Richmond artist and creator of the All the Saints Halloween Parade in Oregon Hill, will be showing her new piece, "Our Waters Will Rise," near the Ellwood Thompson's cafe, which is located inside the museum. 
Known for her politically charged, mythic and larger-than-life puppets, Lamberta is creating a giant hawk with enormous wings and a black venomous snake.
"I'm pulling from the iconic Lakota prophesy of the hawk and the snake, to represent the two pipelines going into Virginia, threatening the Earth's resources," she said. "The hawk is the hawk of resistance. The snake is the pipeline."
Lamberta has shown her work in galleries and has performed at the Virginia Museum of Fine Arts. But she said this was her biggest opportunity to show her work in a large-scale museum.
Lamberta met Smith, the ICA curator, in D.C. in 2017 when she brought her puppets to the Women's March.
"That's what my work is for. It's large, big, colorful and loud," she said. "And it looks good."
With this new piece, she has written words and prayers on the snake's belly.
"There are hidden messages in all my work," she said. "It's part of the prayer. The actual ritual is making it. That's the intention."
The installation will include a map of the proposed Mountain Valley pipeline and the Atlantic Coast pipeline. At the opening, activist Vanessa Redbull Bolin will perform a ceremony in front of the piece to give homage to the land and invite the public to join her in active prayer.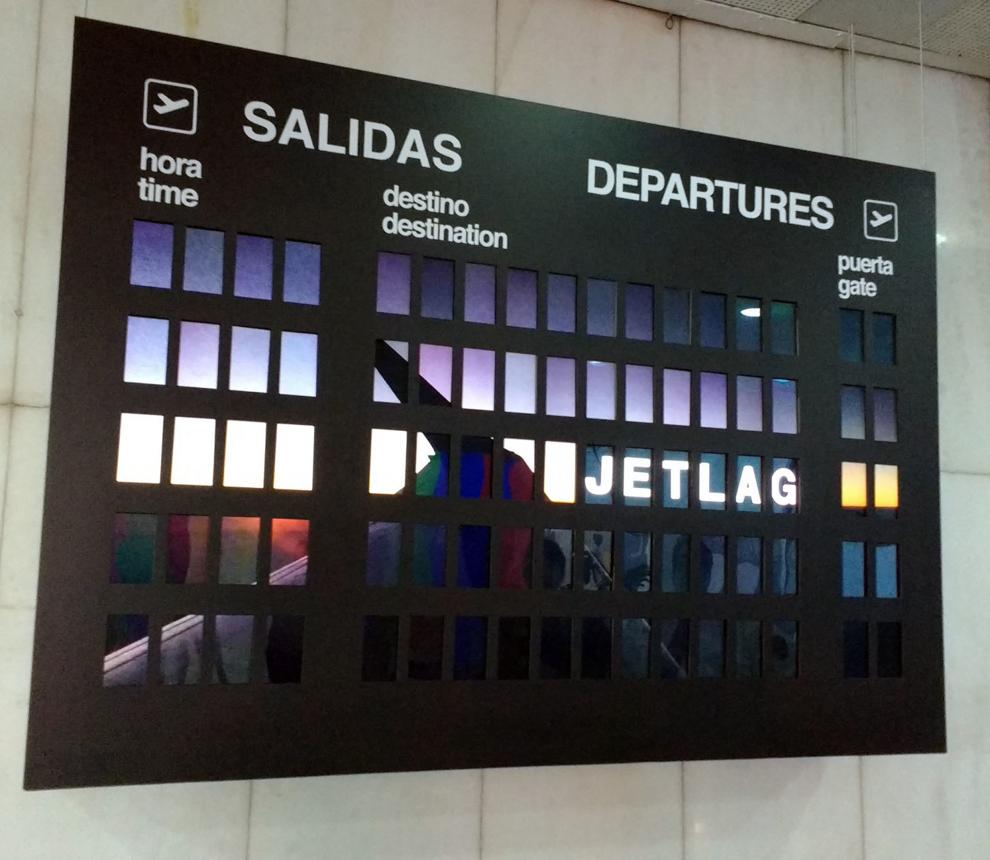 Argentine artist Martín Bonadeo's "Jet Lag" hangs on the wall on the first floor. Looking like a sign at an airport, it shows Salidas and Departures.
The artist describes it as a "light, dynamic and sonorous sculpture."
The sign has 85 cellphones that run on an app, flipping from picture to picture, to give you a sense of place and of time lost.
Bonadeo took pictures of a few places during different times of the day: his house in Richmond while he was teaching at the University of Richmond a few years ago, his studio and his garden. The pictures run on a loop that is five-hours-long, featuring 12 stories.
"Martin's piece connects us to the global world of contemporary art," Smith said. "It's about arrivals and departures, work and home, how our attention can get split between any given moment.
"He was very clear about the ways that this technology can pull us away from people that we know and love in any given moment."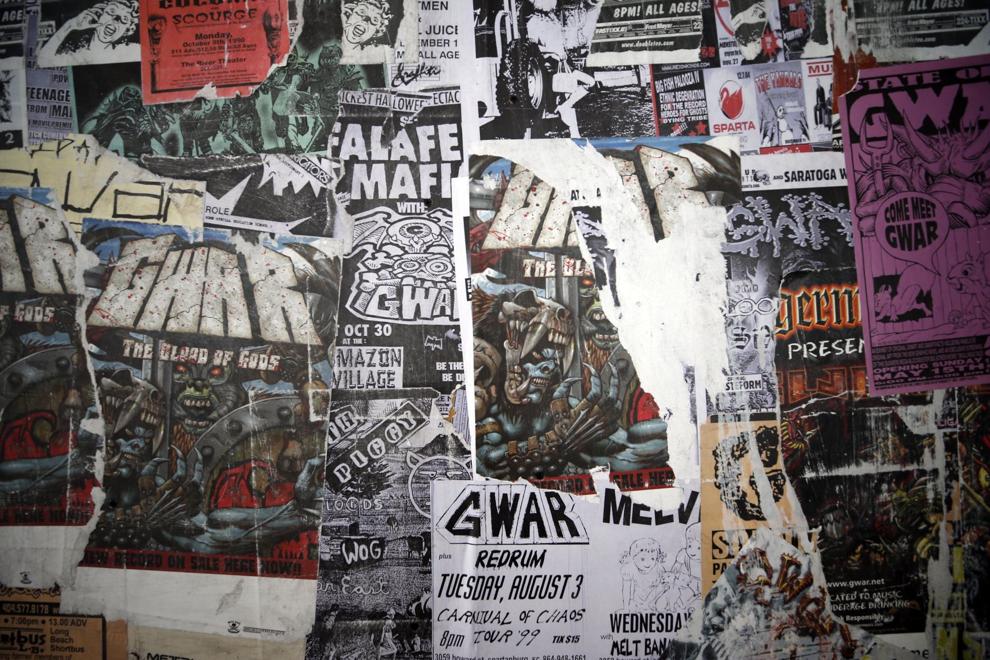 The ICA has three floors, and its galleries move organically from one to the next.
Smith compared putting together an art exhibit to "putting together a dinner party — sitting people next to each other so that they can have the best conversations possible."
With that in mind, there is a distinct feeling to each level.
"On the first floor, the mood is more intense. A lot of the works are dealing with the body. Many of the pieces are engaging with pressing political conversations," Smith said.
As you move onto the second floor, the mood changes and becomes more about voice.
At the top of the stairs, a sculpture depicts two megaphones facing each other in Cheryl Pope's "#Yell_Yell."
That's also where visitors will find costumes from Richmond metal band GWAR.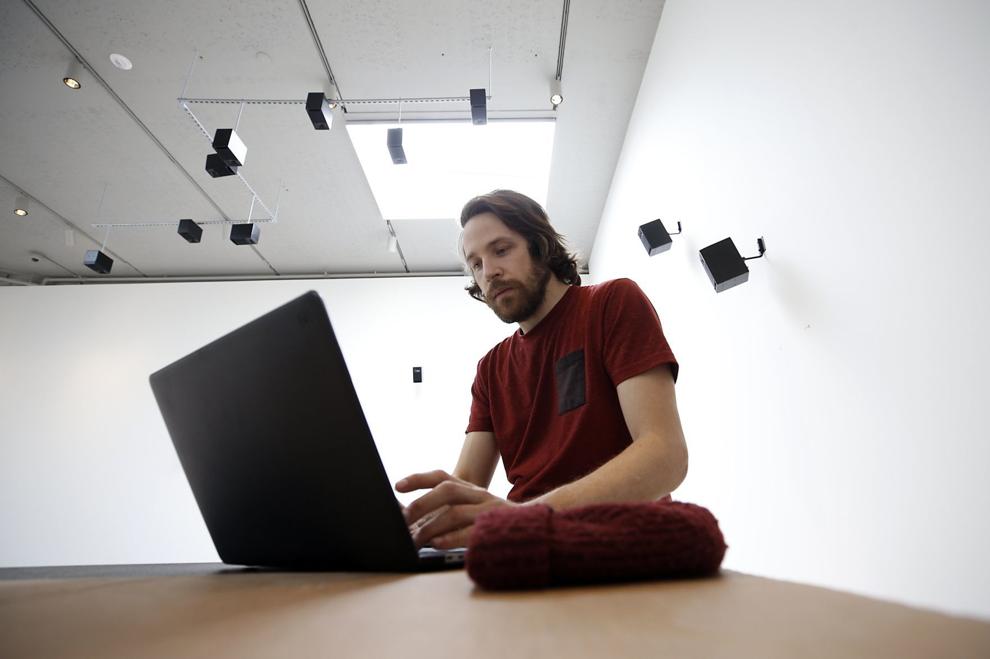 When we stopped by the museum, Stephen Vitiello was installing his 18-channel sound piece installation based on the Jorge Luis Borges' short story "The Garden of Forking Paths."
"Steven Holl, the architect of the ICA, said he was inspired by 'The Garden of Forking Paths' for the building," Vitiello said. "The idea is one story with many outcomes, an infinite number of interpretations."
Vitiello took that inspiration and ran with it, but in sound. He recorded 17 voices reading different translations of the Borges story – in English, German and the original Spanish. A chance-based algorithm moves the voices through the speakers at random, so each "reading" and hearing of the story will be unique.
"I have no control over the experience," Vitiello said. "I find I succeed if people stay longer than expected."
Originally from New York, Vitiello now teaches kinetic imaging at VCU Arts. His work has been shown all over the world, but his most famous work came from when he spent six months on the 91st floor of the World Trade Center in 1999, collecting noises and turning them into "The Sounds of the World Trade Center."
He described sound art as "something between music and visual art."
"I don't want to overwhelm the visitor, but I do want to immerse them. I hope to give them an appreciation for listening."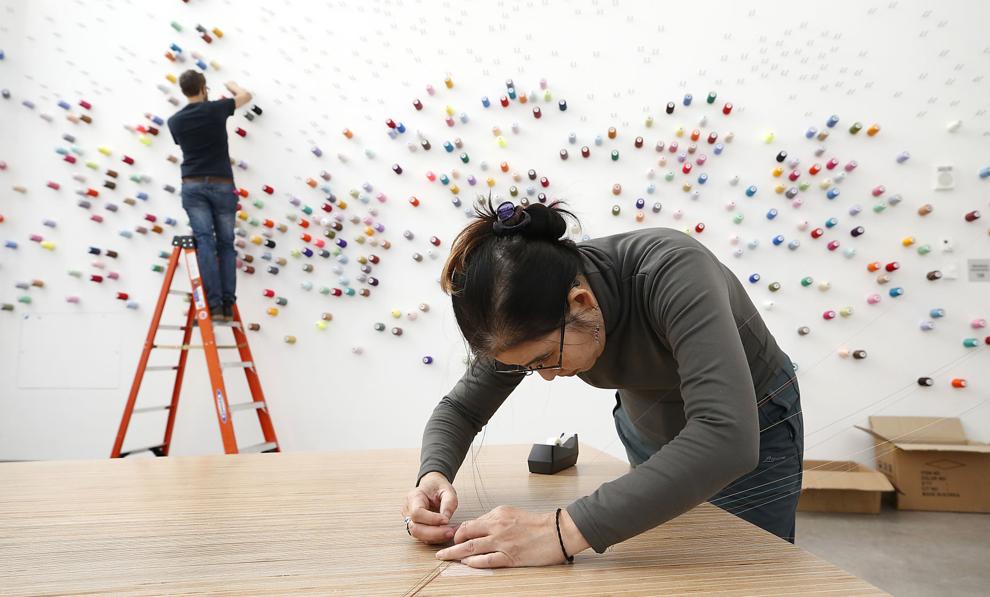 After three galleries of very intense art, the mood in the upper gallery is one of repair and connection.
The top gallery features "The Mending Project," an installation from Lee Mingwei, an artist born in Taiwan who lived in New York for several years.
The seed for the project came from the 9/11 World Trade Center attacks. Mingwei's partner was working in the World Trade Center when the airplanes hit. For hours, the artist didn't know if his partner was alive.
At home in their apartment — alone — Lee began gathering all the clothes that needed mending — socks, pants and items he had never had time to give his full attention to — and began darning them with a needle and thread.
"I was in a state of shock," Lee said. "It was intuitive. I wanted to repair something."
A few hours later, he heard a key in the door.
His partner survived, but they lost more than 400 friends and colleagues in the attacks.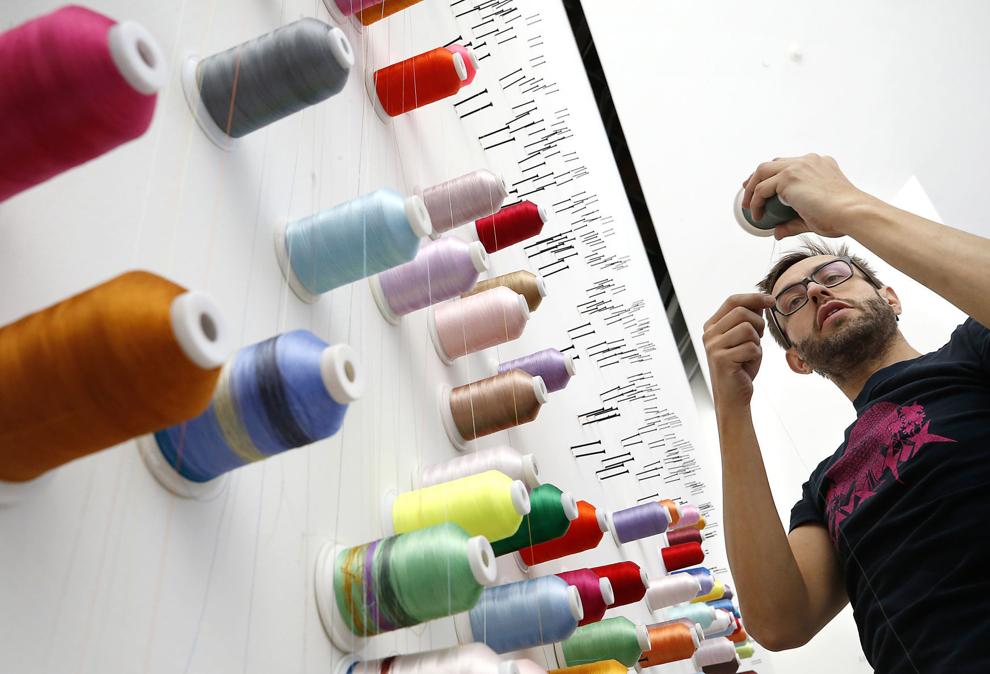 Nine years later, Lee began thinking of the experience as an art installation.
With the "The Mending Project," more than 1,200 spools of brightly colored thread are attached to a wall in the top gallery of the ICA.
Visitors to the exhibit are encouraged to bring an item of clothing that needs mending. They will sit with a volunteer at a large, uniquely shaped table who will repair their clothing. Together, they can talk or sit in silence. Afterward, the clothing will become part of the installation.
The idea behind "The Mending Project" is moments of connection.
"It is about how we can move forward as human beings and do something for each other to make us feel loved," Lee said.
"The Mending Project" will grow and change throughout its time at the ICA.
"People will read it differently," Lee said. "Some people will see a constellation or a map. Children often see animals. I think that's how our brains work."
With the finished project, "you can see the connections. All these strangers are connected," he said.
Lee now lives primarily in Paris. "The Mending Project" has been staged elsewhere, most recently at the Venice Biennale.
After the exhibit closes, people will get their clothes back, but traces of "The Mending Project" will remain in the community. As people walk around Richmond, they might see others who have a mending patch on their sleeves and know that they all were part of "The Mending Project."
"Art is not just objects, but experiences," Smith said. "We wanted to have the opportunity for Richmond audiences to be collaborators and bring the art to life."
As a noncollecting art museum, the ICA's displays will constantly change, bringing in new art and new experiences to Richmond.
In addition to the works in "Declaration," there will be films, music and performance installations timed with the opening of the museum.
Besides Freiman and Smith, the debut exhibit was also curated with the help of Amber Esseiva, Johanna Plummer and Lauren Ross.
"This is just the beginning of what we're doing. A 'declaration' of what will come," Smith said. "We think that the declarations of artists are more important than ever in a time of intense change in our nation. We truly believe in the socially transformative power of art and artists."
(804) 649-6151
Twitter: @collcurran