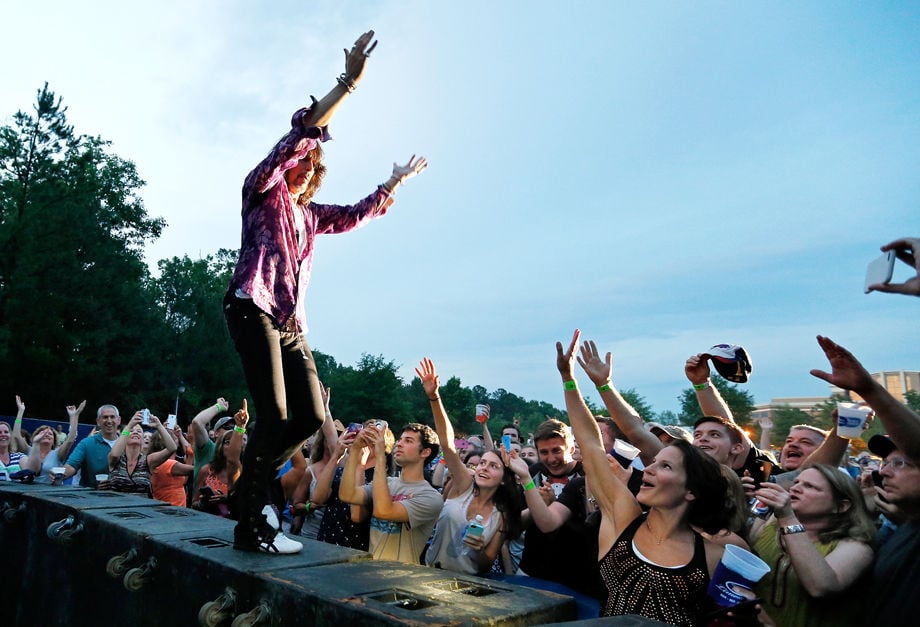 Innsbrook After Hours is moving to Meadow Event Park in Doswell this year for a larger footprint that will allow for social distancing during the pandemic.
The new season will kick off in May with Jamey Johnson on May 14; New Faces of Country featuring Jimmie Allen, Matt Stell and more on May 21; and Chase Rice on May 22.
The concert series will now be called the After Hours Concerts at Meadow Event Park. The 2021 season will feature at least 30 shows, many rescheduled from last year after being canceled due to the pandemic.
Those rescheduled shows include Aaron Lewis on June 4; Indigo Girls on June 19; Blues Traveler with JJ Grey & Mofro on June 25; Hanson on June 26; Toby Keith on July 17; Lee Brice on Aug. 6; Get The Led Out on Aug. 12; Train with Vertical Horizon on Aug. 13; Jon Pardi with Larry Fleet on Aug. 14; Tower of Power on Aug. 18; The Commodores on Aug. 26; Steve Earle and Los Lobos on Aug. 27; Ludacris on Sept. 17; and Lynyrd Skynyrd on Sept. 18. Those shows are on sale at afterhoursconcertseries.com.
New concerts have also been added, including Kip Moore on June 18, Sublime with Rome and Dirty Heads on July 18, Foreigner on Aug. 20, Scotty McCreery on Aug. 28 and Brad Paisley on Sept. 23. Tickets for these shows will go on sale Friday at 10 a.m.
Additional shows will be announced in the coming weeks. All existing tickets will be honored for shows at Meadow Event Park. Ticket prices vary per show, with early-bird options for some shows running $16 to $21 and general admission running $21 to $47.
Current guidelines and seating arrangements can be found at afterhours concertseries.com/Covid-19. Capacity will be limited to 8,500 with a strict social distanced plan. Normally, the venue can accommodate up to 20,000. Parking will be free.
The After Hours Concert Series will be situated on 12 acres within Meadow Event Park and will feature VIP viewing areas, as well as beverage and dining options.
"Our patrons have reached out to us expressing their excitement about live music this summer, and we can't wait to provide that for them," said Larry Creeger, executive producer of After Hours Concerts. "Our team has been working relentlessly since our last show at Innsbrook in October of 2019 to book the best talent at a location that can accommodate our patrons in a convenient, safe and family-friendly environment. I am confident that music lovers throughout Virginia will find this year's lineup the best in After Hours Concerts history."
EventMakers-USA has produced and managed the After Hours Concert series at Innsbrook After Hours for eight years. In 2019, shows at Innsbrook After Hours averaged around 4,000 patrons per performance and drew over 100,000 during its entire season.
In 2020, EventMakers announced it would be the last year it would hold the Innsbrook After Hours series at the Innsbrook Pavilion.
"We had known for a while that the property we were on in Innsbrook was the center of a large planned development that would begin in late 2020. To that end, we began a search in Henrico County. We met obstacles at every turn during a very difficult year for everyone. Again the size of the property needed to accommodate a social distancing layout," Creeger said. "We very much hope to be doing concerts in Henrico County in the future."
He added that EventMakers has been working on booking some concerts in Innsbrook at the Innsbrook Pavilion location on Saturdays.
"With talent being unsure of their tours and other complications, we have not been able to confirm shows. Hopefully later in the season, we will be able to do so," Creeger said. "We are looking at other locations throughout the area for additional venues."
Meadow Event Park, which also hosts the State Fair of Virginia, is located in Doswell at 13191 Dawn Blvd. For details, visit afterhoursconcertseries.com.
(804) 649-6151
Twitter: @collcurran