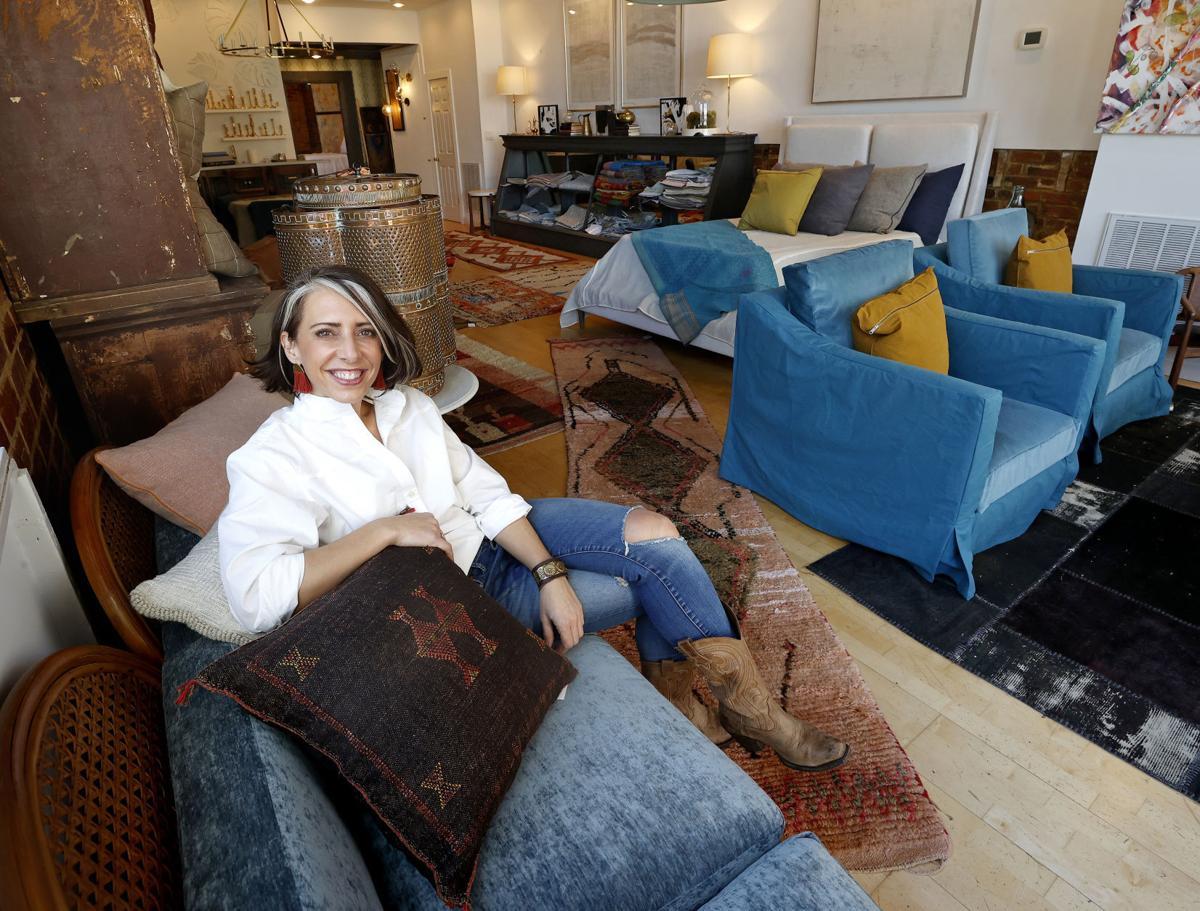 If you miss visiting local home furnishing retailers, such as Williams & Sherrill and Ruth & Ollie, where you could touch and feel the fabrics and furniture, be sure to check out The Flourish Collective in Jackson Ward.
The appointment-only showroom showcases furniture and home décor created by Virginia makers and designers.
"There is so much talent in Richmond," founder Stevie McFadden said. The Flourish Collective is meant to be a "space where we can bring them all together."
Stepping into The Flourish Collective space feels like entering an eclectic, lovingly decorated home. There are handwoven bedspreads and textiles sourced by local designer Jamie Coffey, buttery leather chairs from furniture designer Four Hands, and colorful Turkish rugs sourced by Tracey Love layered across the floor.
"I'm the kind of person who wanted unique finds for my home," McFadden said.
McFadden, who worked in the business world in human resources and leadership development before transitioning to home design, said she was frustrated and saddened by the closing of Williams & Sherrill and Ruth & Ollie — places where customers and designers could check out the furniture and fabrics in the store.
Enter The Flourish Collective, which carries unique and custom lines of furniture, wall coverings, lighting, rugs, linens, three-dimensional murals, art and décor from designers and makers based in the commonwealth. For example, starburst light fixtures from designer Wendy Umanoff hang from the ceiling, handpainted wallpaper from artist Sarah Rowland wraps around the front door, and custom furniture from Richmond-based Alicia Dietz peppers the space.
"I was really drawn to the Collective in that it's not just a showroom full of pieces, but has been designed as this layered space. It feels like you're walking into a home," Dietz said.
She enjoys seeing her furniture — like a set of handcarved bar stools — clustered around a custom island in The Flourish Collective space. Dietz creates seamless tables, chairs and end tables. Her pieces aren't made with any screws; they're held together with internal joinery.
A former Blackhawk maintenance test pilot, Dietz attended graduate school at Virginia Commonwealth University in its craft and material studies program. She said that her Army training taught her that "no plan survives first contact. You're constantly adjusting, assessing, executing. The same thing happens in woodworking: You cut a piece a little too short, you have to reassess. It's a constant cycle of assessment and execution."
"I want to create a piece of furniture that will fit into someone's home. Flourish Collective is an opportunity for [the client] to take a step back and see — from lighting to rugs to the art hung on the wall — how to complete a space," Dietz said.
Having her own storefront, as many local designers and makers do, doesn't make financial sense. Before Flourish, Dietz primarily sold her pieces through word of mouth and shows like the Craft + Design Show at the Visual Arts Center.
"To be surrounded by this group of makers and artists and designers, it's very rewarding," Dietz said. "The Collective is about the community and camaraderie and a shift of perspective."
Dietz's pieces run from $200 for a wall hanging to $6,000 for a table. Other items in The Flourish Collective have similar price points, from a few hundred dollars for a small rug to the thousands for sofas and bed frames.
The idea is to create a space filled with beautiful handcrafted, uniquely sourced items that you can't get off the internet. Other items in the store include a painted chinoiserie, giant planters, sculptural wood lamps, sconces, steam-bent shades, and functional art for walls. Customers can touch and feel hand-done wallpaper by Rowland or check out table-scape kits, including table runners and napkins, from local maker Devon Cushman. Or discover one-of-a-kind finds, like a vintage rattan settee that McFadden updated with a new Ralph Lauren animal print seat cushion.
"Hopefully, our clients will leave feeling inspired and emboldened to make some new choices and take some design risks," McFadden said.
The showroom is appointment only for design enthusiasts, professional designers and potential customers. Flourish also hosts open studio hours from noon to 4 p.m. most Thursdays and hopes to increase those hours in the months ahead.
(804) 649-6151
Twitter: @collcurran