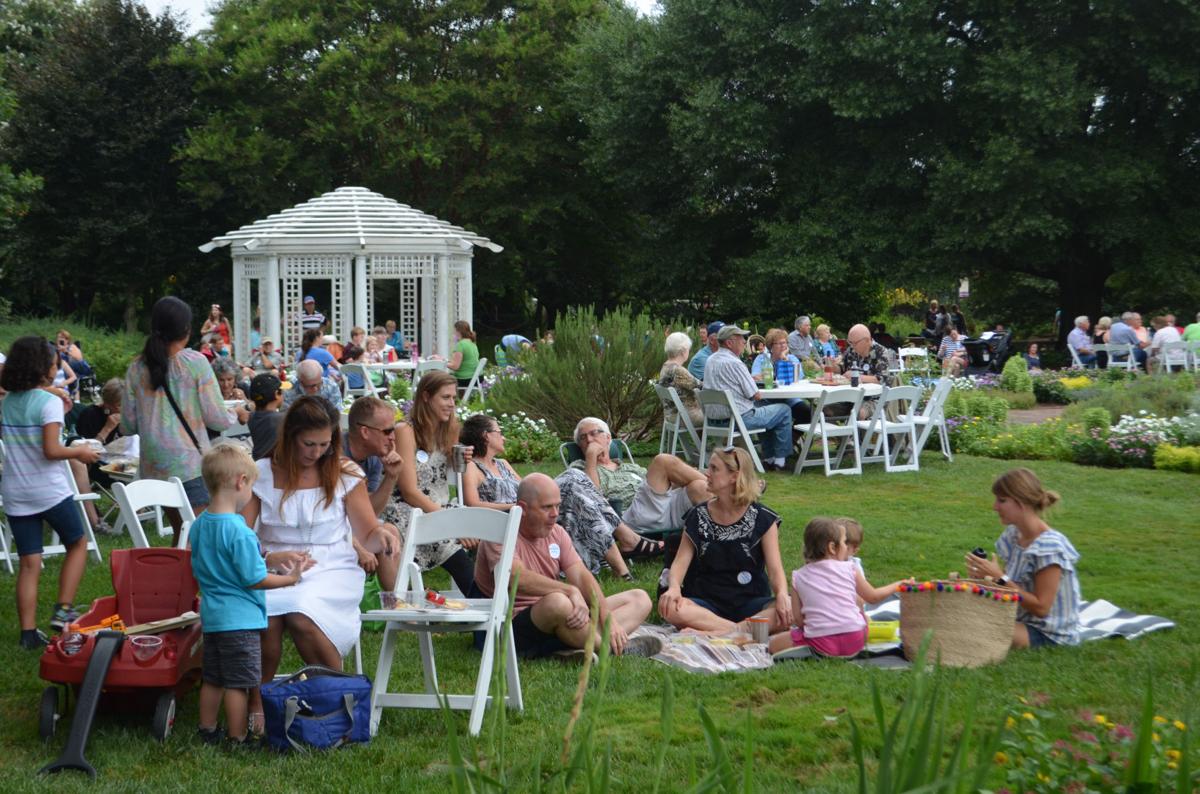 Outdoor concerts are on the schedule at Lewis Ginter Botanical Garden for the first time this summer, with a few changes due to the coronavirus.
Flowers After 5, the garden's outdoor concert series, will return from 5 to 9 p.m. Thursdays in August and September.
The garden, at 1800 Lakeside Ave., is also introducing Fridays Al Fresco, where it stays open until 9 p.m. Fridays in August and September.
Face coverings will be required for guests inside and strongly suggested outside. Tickets will be limited and required for all guests, including members. Tickets are available online only at lewisginter.org; no walk-up tickets will be issued.
Here are some other adjustments that have been made for Flowers After 5 this summer:
The music groups are splitting into soloists or duos and performing in two locations — on the terrace in front of Bloemendaal House and at The Luck Garden, in front of the Kelly Education Center — allowing for social distancing and providing background music for evening strolls and dining.
Guests can purchase boxed dinners, sandwiches, salads, kids meals, snacks, desserts and drinks from the garden online at lewisgintercafe.com.
There will be small stations scattered throughout the garden for attendees to purchase beer, wine and hard seltzers. Guests are invited to bring their own blankets and chairs.
The second and fourth Thursday nights are Fido's Nights when guests are allowed to bring leashed dogs.
Some sections of the garden, which is over 50 acres, will remain closed, such as areas of the Children's Garden. Restrooms will be available.
The events are rain or shine; no refunds. In cases of hazardous weather, the events would be canceled. Cost for Flowers After 5 is $14 adults; $11 for ages 65 and older; $8 for ages 3 to 12; free for ages 2 and younger and members.
In a normal year, Flowers After 5 typically draws 500 to 700 visitors over a four-hour period.
The lineup this year includes performers from the following bands:
Aug. 6: Whiskey Rebellion Bluegrass
Aug. 13: Paul Urban and Friends and Ken Von Kellner, also a Fido's Night
Aug. 20: Triple Crossing Jazz Project
Aug. 27: Hazeltone and Steel Pan Music, also a Fido's Night
Sept. 3: U&I Latin Band and Holy River
Sept. 10: Love Redemption and piano jazz with Andrew McCarty, also a Fido's Night
Sept. 17: Dead Letter Officers and Rick Shaffer
Sept. 24: Antique Melody Show and Jordan and Erin, also a Fido's Night
While anyone can enjoy the garden's new Fridays Al Fresco, with its extended hours, the event is designed to be a relaxing evening for couples or friends to spend time together while socially distanced from others in the garden.
Tickets, which cost $5 to $14, must be purchased online; boxed food will be available for sale, as well as beer and wine. Blankets will be provided, or guests can bring their own or lawn chairs.
Admission to both Flowers After 5 and Fridays Al Fresco includes the new outdoor exhibit "M&T Bank: Wind, Waves and Light."
Lewis Ginter follows state guidelines regarding COVID-19, and any changes in phases have the potential to affect its events. Find more information at lewisginter.org.
(804) 649-6151
Twitter: @collcurran