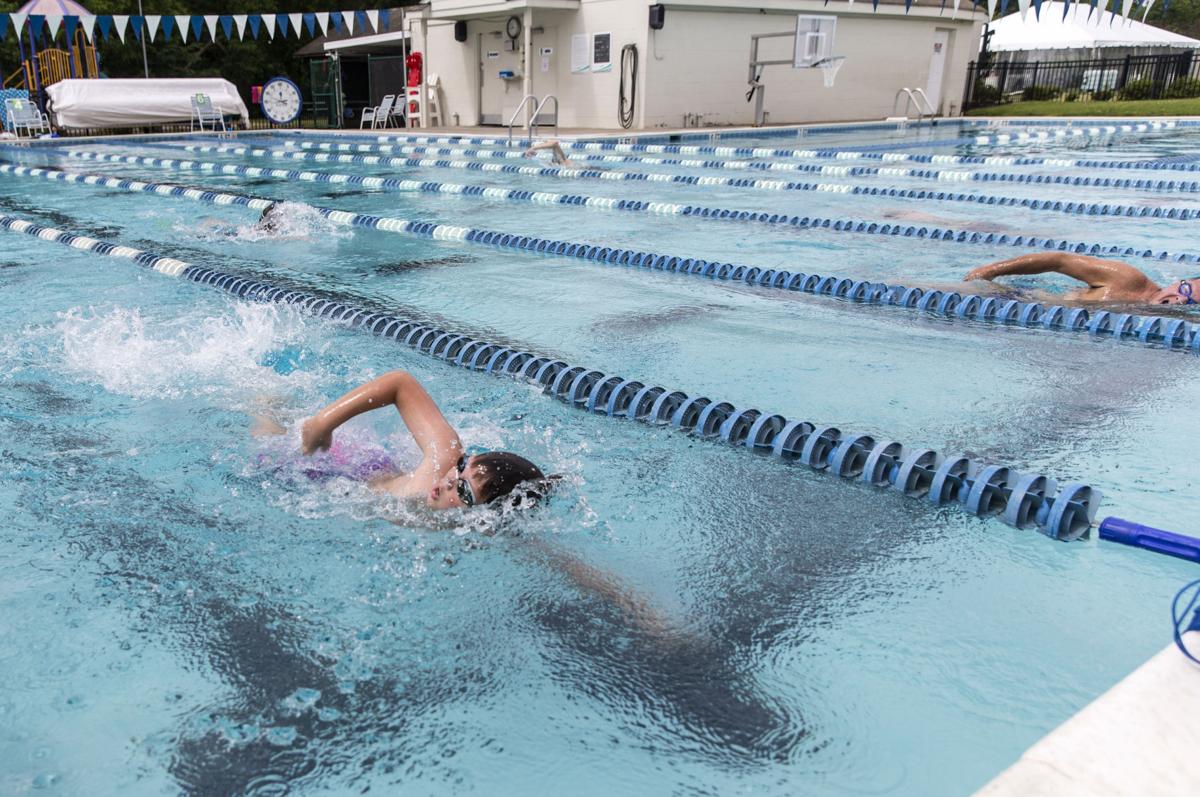 Virginia moved into the second phase of the state's COVID-19 reopening on Friday, with the exception of Richmond and Northern Virginia.
In Phase Two, folks in the region's suburbs — including Chesterfield, Hanover and Henrico counties — can now gather in social groups of 50, up from 10, though the guidelines call for social distancing of 6 feet to continue.
Restaurants and bars can open their businesses for indoor dining at 50% capacity, while gyms may open at 30% capacity. The state will allow some recreation and entertainment venues to reopen, such as pools, museums and outdoor concert venues; indoor concert venues and overnight camps will remain closed.
Guidelines for religious, retail and personal grooming establishments remain the same: Churches and retail can open at 50% capacity; salons and other personal care businesses must operate by appointment.
But with temperatures in the 90s on Saturday, expanded pool access interests many.
Under Phase Two, swimming pools may expand operations to both indoor and outdoor exercise, diving, and swim instruction. But they can't open their main pools for public wading or swimming.
"We were a little disappointed," said Joyce Steed, general manager of ACAC in Midlothian.
ACAC has a wading pool and a large outdoor play area with water slides and spray gardens that won't be open under Phase Two.
"I don't know when we'll be able to open the wading pool," Steed said. "It's really sad. We are eager for our kids to be able to enjoy the water again."
Under Phase Two, ACAC will be able to open its indoor pool for lap swimming and exercise, although not the hot tub. It will open the indoor pool on Monday.
In Phase Two, up to three people will be able to swim in a lane. For example, a parent could swim with a small child or as a family in one lane, which will allow smaller children to enjoy the water. In Phase One, only one person was allowed per lane.
"Kids can get in the water, but it's very limited. It's just for lap swim or instruction," Steed said.
ACAC will also be able to offer water exercise classes under Phase Two.
But for little kids who don't know how to swim yet, Steed isn't sure how they'll be able to offer classes under the current restrictions. Older swimmers who already know how to swim will be able to take lessons.
At the Midlothian Athletic Club, owner Melissa O'Toole said Phase Two "is a game changer for us," primarily because it means members can enter the facility at 30% occupancy.
"It's been really difficult for our members who want to use our equipment inside — like our weightlifting areas or our racquetball courts," she said.
The MAC bills on the 15th of the month, and O'Toole said that from a financial perspective, the timing couldn't have been better.
"It's literally the difference between serious financial distress and salvage," she said.
The MAC has a large outdoor water park with multiple water slides, a splash pad, buckets and sprinklers that it won't be able to open under Phase Two.
"We'd really hoped we'd be able to open that, but we're not allowed to," O'Toole said.
The indoor pool, however, will be open for lap swimming and exercise classes.
"Our lanes have been very busy with lots of families and kids signing up for swimming," she said.
But other pools in Richmond — such as the one at the Southampton Recreation Association — are still in Phase One.
"We've had quite a few people happy that we're open in some form but frustrated we're not open more," said Jeff Price, president of the Southampton pool's board.
At the pool, only children age 10 and over who can swim the length of the lane are allowed to lap swim — which means that younger children haven't been able to use the pool. Likewise, parents with babies haven't been able to swim with their children yet under Phase One.
During a regular pool season, the Southampton pool serves the Stratford Hills and Oxford neighborhoods and "really caters to [families with young kids]. They're the body and soul of our pool. They're the ones that are really disappointed. Adults can use the pool, but their kid cannot," Price said.
Financially, the Southampton pool is taking a hit. Price said 60% of the membership signed up for this year's season. He said families may join as late as early July but, meanwhile, the facility is operating at 40% below a normal season.
"We have money saved. I think we're in good enough financial shape to be fine through the year," Price said. "Our membership has grown tremendously, that's the only thing that saved us. But we'll definitely take a hit."
Swim team is a big part of many families' summers and that's changed due to the coronavirus.
The Richmond Metropolitan Aquatics League has decided to offer virtual meets this year, rather than in-person meets that can draw hundreds of kids. Last year, RMAL served roughly 1,400 swimmers. This year, the group is planning for 600 to 700 swimmers to participate in the virtual meets.
With virtual meets, swimmers use their home team's pool, socially distanced, with three swimmers in the pool, three timers and minimum officiating.
"Each pool has different protocols and measures. We wanted decisions to be made locally so that families and communities can decide what they're comfortable with," said Scott Soukup, president of RMAL.
"This is a summer for fun swimming. We're not going to worry about making records," Soukup said.
Richmond city pools are not currently open. The city's pools typically open for the season at the end of the school year in mid-June. A decision regarding opening is still being made, according to Parks, Recreation & Community Facilities.
(804) 649-6151
Twitter: @collcurran