I've been spending a lot of time at home lately ... like many of us of here in Virginia and across the nation.
Luckily, my house is my favorite place to be. I fell in love with it from afar and had a house crush on it for years.
It's a modern house, but different from any I'd ever seen.
I used to walk by it while pushing a stroller when my younger son was a baby. I'd crane my neck to get a good look at it: tucked away in the hollow of a hill above a small lake in the Bon Air area of Chesterfield County. The house was all angles, blue-gray wood siding and windows facing the water. It was indeed different: private, strange and artistic. Every time I saw it, I thought: What would it be like to live there?
One day, I saw the For Sale sign during my morning walk. I ran home, pushing the stroller, and Googled the house, out of breath. It was at the very top of our buying range, a little over, to be honest, but just barely within reach. I said to myself: I have to have it.
We called our real estate agent, then put in an offer. After a small bidding war and a crazy amount of luck, it was ours.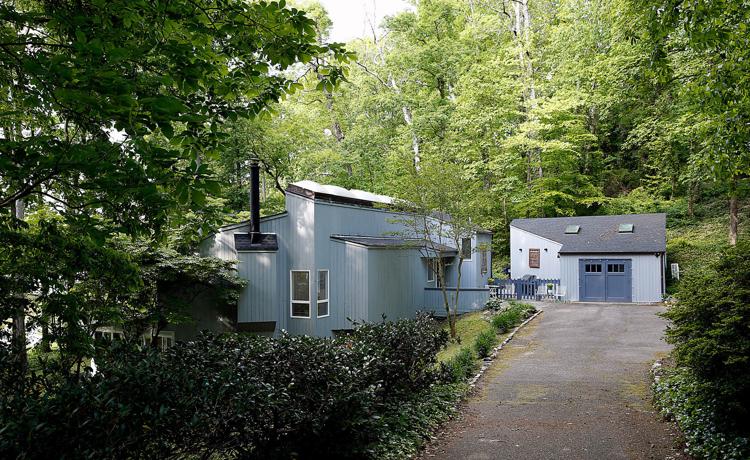 My house was built in 1974 by Richmond architect Ernie Rose for his family.
The house is all angles and light, strung together by a spine of skylights down the front hall, and turned toward the lake so that almost every room has a water view.
It's designed slightly in the Frank Lloyd Wright style, with its narrow entrance that forces you into the home, and then opens up, with a sweeping view of the water and an open floor plan. But it's also unique to itself and the architect who created it.
I didn't know much about Rose when we bought the house. But I wanted to know more. So I turned to the Richmond Times-Dispatch archives, where I found a stack of articles about him.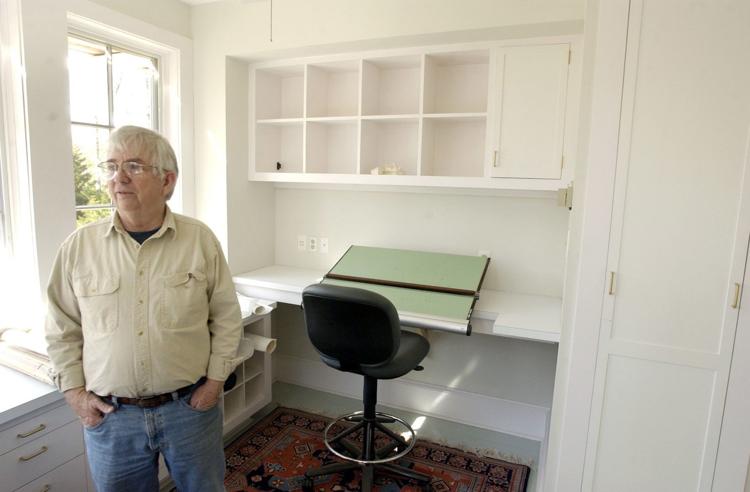 Born in Richmond, Rose ran a thriving architecture firm in the 1980s and 1990s, first with Ernie Rose Inc., followed by Rose Architects in the mid-1990s. Rose's firm designed some of the first office buildings in the Innsbrook Corporate Center, the Heilig-Meyers headquarters in Goochland County and the original CarMax showroom on West Broad Street that is now used as the prototype for over 150 locations.
Rose was known for his budget-conscious approach to projects. He could come up with a budget for a quality building and stick to it, an attribute hard to find in many architects, said his former business partner Mark Larson. He also designed condominiums in the Lockgreen community off River Road and the "new urban" housing development Winchester Greens off Hull Street Road.
Before out-of-town developers discovered Richmond, "he almost had a monopoly on office work in town. It became a chase for developers. Whoever could call him first got his services," Larson said.
In 1999, Rose Architects merged with Baskervill, and Rose retired shortly afterward. When he died in 2006 at the age of 67, projects of Rose Architects dotted the city as well as 20 other states.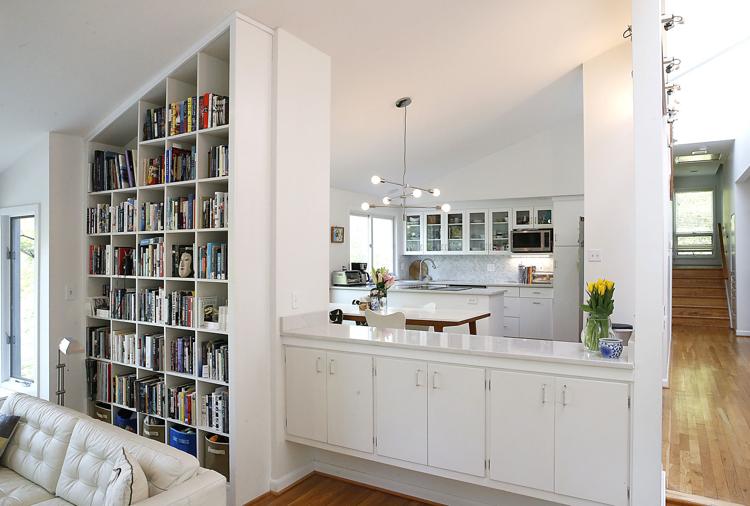 But what he didn't make — at least many of — were private residences.
"Ernie just didn't do houses. He was a commercial architect," his wife, Connie Rose, said.
"Designing houses requires a certain personality," Larson said. "It's labor intensive. It doesn't pay as well as [other projects]."
While Rose might be best known for his commercial work, his private homes are spectacular. But, of course, I'm biased.
PHOTOS: Modern houses by Richmond architect Ernie Rose
Richmond architect Ernie Rose is known for his commercial projects like Innsbrook and the CarMax showroom. But he also designed modern homes in the Bon Air neighborhood. 
Even though my house is over 45 years old, it feels so fresh and modern, and it speaks to how my family lives today.
It has an open floor plan with an open kitchen that looks over the large living room. I can cook and watch my children playing at the same time. There is no formal dining room, because Rose didn't believe in them at the time. What I love about this house is how efficient it is. It makes sense. It was designed with a distinctive vision and on a budget — which was classic Ernie Rose.
"Ernie didn't do showy stuff. His work was about quality, the craft, the scale. His houses were almost designed not to be flashy. He was a midcentury modern kind of guy. He liked Frank Lloyd Wright houses. Like those houses, it was hard to find the entrance. It's all about the scale, bringing the scale down to the human scale. They were very human-oriented," Larson said.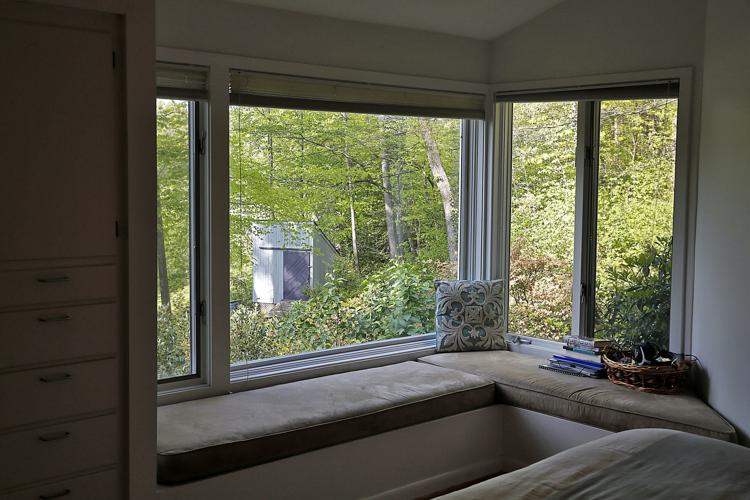 At my home, the entrance is tucked into the side of the house. The master bedroom is just off the front door, with a built-in window seat overlooking the lake and built-in closets and drawers. The windows are so large, that when you sit at the window seat, you feel as if you're outside in nature, even though you're inside. And that's how it feels throughout the house: that it was built to be one with nature.
Rose designed his homes to fit the landscape and to offer the best views of the nature around them. In the living room, built-in bookshelves climb one wall in a dramatic slant. There are built-ins throughout the house: a china cabinet in the kitchen, a linen closet in the hall, and filing cabinets and drawers in a small study upstairs.
"Ernie would lay out a house based on efficiency. He cared a lot about that. He designed to maximize the materials in the building and to minimize waste. The level of details — that was part of Ernie's mindset," Larson said. "A good architect will spend a lot of time worrying about those kinds of things."
The bones of the house are so great, we didn't have to do much to it when we moved in, except to purge most of our furniture, because with the built-ins, we didn't need it anymore. Instead, we focused on filling the walls with paintings signed by my artist father-in-law, Chase Decker.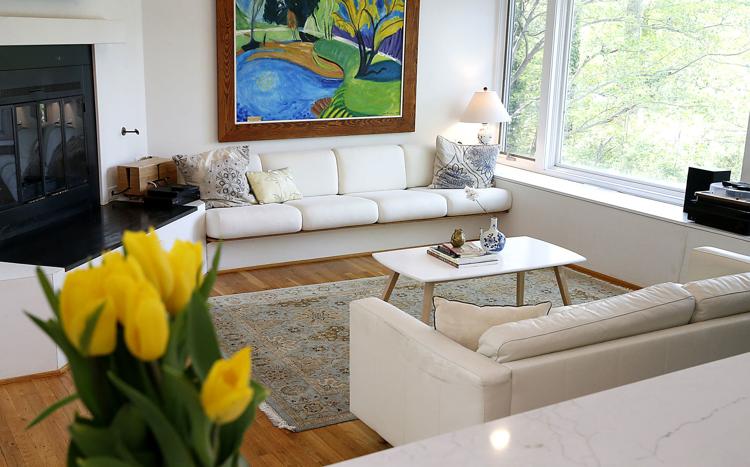 When I showed a friend a picture of our living room, she asked: "Where are all the books and toys and newspapers? Where is the clutter?" They're in the built-ins. Honestly, it's the easiest house to tidy up I've ever lived in. It has a whole-house vacuum (from the '70s that still works!) that has been a life-changer.
Even the long modern sofa in the living room is a built-in that Rose designed and built himself.
"Ernie was a craftsman. He worked on restoring old cars and MGs. But he also had a really great touch with furniture. He liked the simplicity of Shaker-type furniture. He would use that as a starting point and make it his own," Larson said.
Rose studied architecture at Virginia Tech and Pratt Institute in Brooklyn, N.Y. At Tech, he was inspired by the Bauhaus school, taught by many of the professors, which focuses on craft, simplicity and having a harmony of function.
"They taught him how to make things with your hands," Larson said.
"Ernie was very much into the modern and the midcentury, the Eames and Bertoia chairs," Connie said. "He made really good cabinets and beautiful furniture. He never had a plan. He'd just start cutting wood, and it always came together. I have a lot of pieces he built and so do the kids."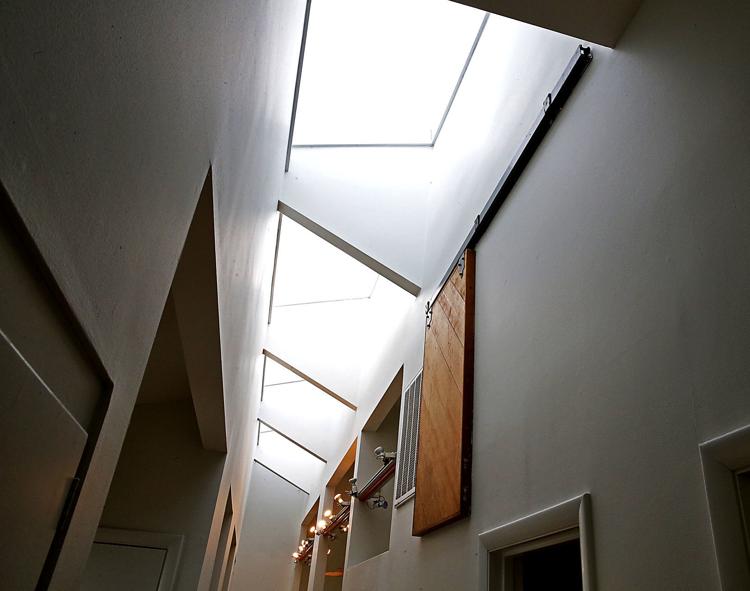 When the Roses lived here in the 1970s, they had three sons, and the house was so private, they didn't have any window coverings. The skylights in the main hall let in the softest, most diffused light, all day.
"Ernie was very big on having light come in. He didn't like dark interiors. He would put windows in corners and near the door to let in the light," Connie said.
When the lake behind the house became a popular spot for ice-skating in the winter, Connie had to invest in curtains for the bedroom for privacy. Otherwise, the house is turned away from the street, facing the water, for total privacy. It's the inverse of many houses, which typically face the street. It's not for everyone, but it spoke to me and my appreciation of privacy.
The house also has a garage with a pitched roof and doors that swing open where Rose used to work on vintage cars. My husband has turned it into the "man cave." He throws parties in there that I don't even realize are happening, and that, my friends, is marital bliss.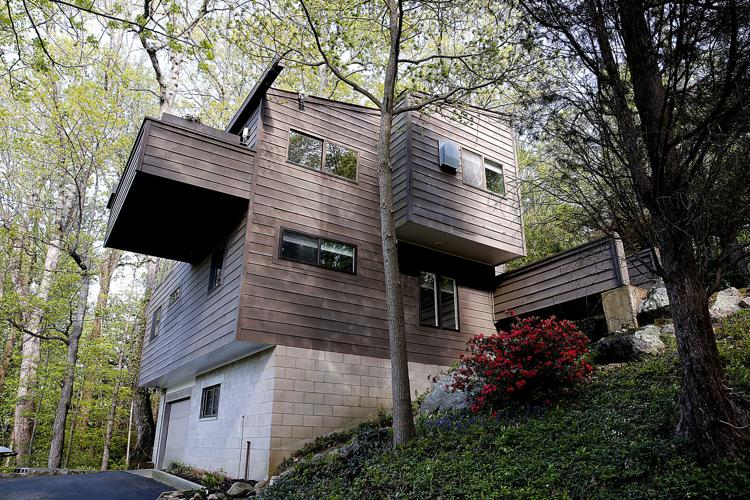 Our house wasn't the first that Rose built in the Bon Air neighborhood. He built another, modern in style, for the Hsu family in 1972. It's built into the hill, all cantilevers and levels, with a deep brown-stained siding. We struck up a friendship with the owners, Keith and Pennie Parkin, based on our love of Ernie Rose houses.
Parkin, a graphic designer, was looking for a house after his divorce in 2012. He spotted the Rose house while out driving.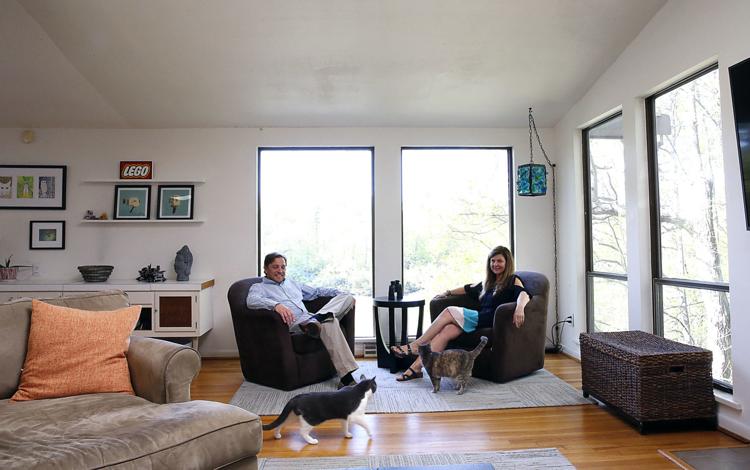 "No one was living here at the time. I pulled into the driveway and peeked into the windows. I wasn't sure if I could afford it. But I was like, 'This house has to be mine,'" Parkin said.
He called his agent, got a tour and learned the listing price was within his budget at $260,000. "It wasn't updated, but I didn't care," he said. "I liked the fact that it was contemporary, modern and completely different than any house I'd ever seen."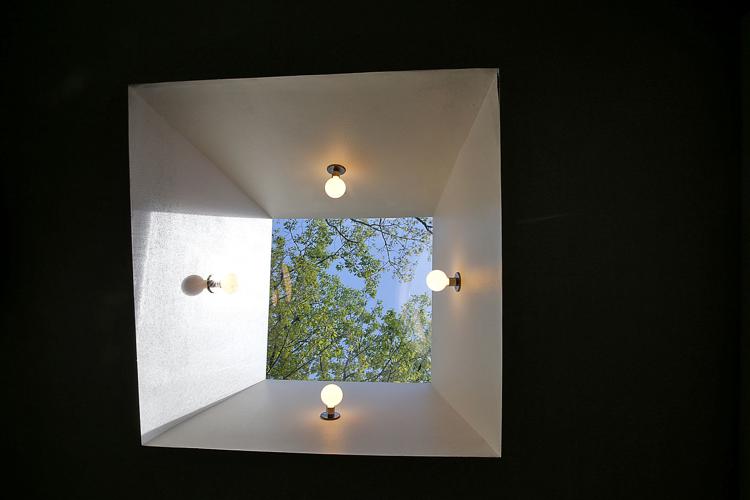 Their house is like a mirror image of ours. It has the familiar Ernie Rose trappings: the same white built-ins with silver pulls. They even have a built-in stereo cabinet and a giant square skylight in their living room.
While Ernie was working on that house, he came across the lot for our house.
The Roses bought the lakefront lot for $3,500. Rose didn't have a lot of work at the time, as he was just starting out with his own company, and Connie said he would often come out and help build the house.
"It took nine months to build, which wasn't a long time, but seemed like forever," she said. The budget for the house was a little under $45,000, which Rose stuck to, for the most part. To adjust for inflation, that would be around $250,000 today. In the interest of full disclosure, the list price when we bought the house in 2014 was a bit more — $300,000 — because it included two additional parcels of land, one on each side. My husband and I pooled all our savings together, every scrap and cent we'd ever saved or earned, for the deposit and never looked back.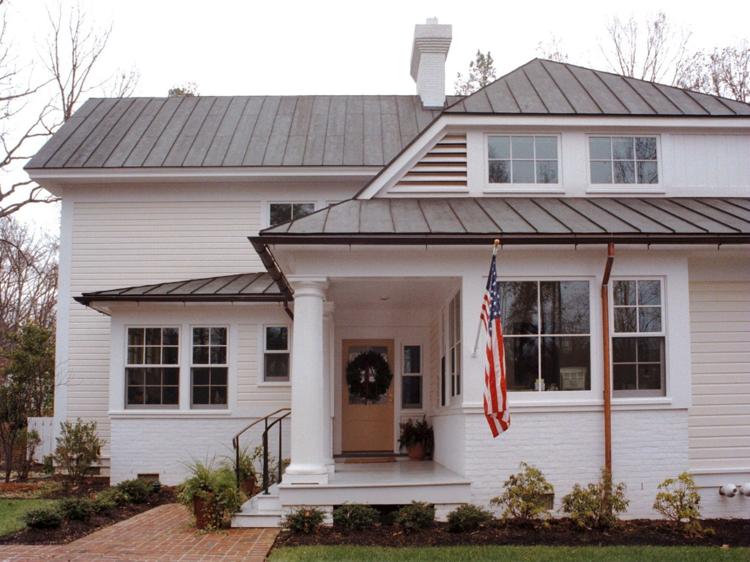 The house Ernie Rose is most well-known for is a white Victorian on Buford Road that was featured in Southern Living magazine twice. Built in 1995, the Buford Road house was custom-built to look like the late 19th-century Victorian homes that surround it, even though it was designed by a modern architect.
"The Buford Road house was a whole other turn completely. Ernie said, 'I cannot and will not build a contemporary house in the middle of Old Bon Air. It wouldn't be right,' " Connie said.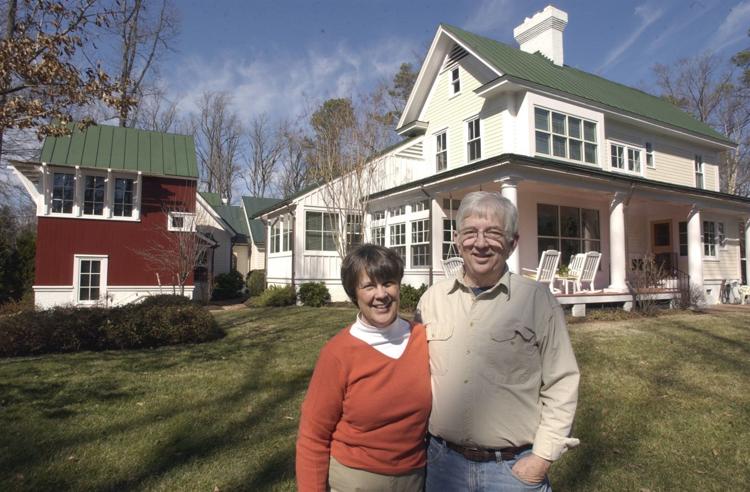 "The house on Buford Road was the greatest example of his craftsmanship," Larson said.
Outside, it almost looks like a farmhouse from the 1900s with a standing-seam green metal roof and copper gutters, but inside, it has all the modern amenities and functional design of today.
"It was such an amazing house with lots of oversize columns and woodwork," Connie said. It had built-in furniture, cabinets and Corian counters, which Ernie favored. The garage even had a hydraulic lift where he worked on his vintage cars.
When it sold in 2005, the listing price was around $750,000.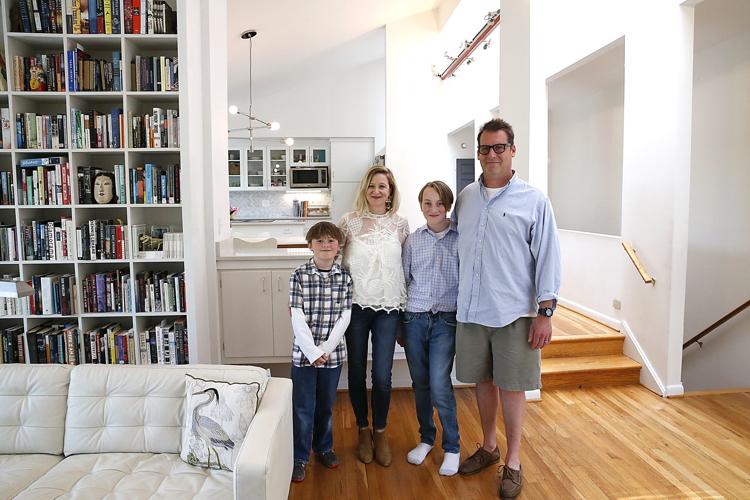 In these times when we're encouraged to be "safer at home," I feel lucky. Because this is the only place I want to be.
I think about Ernie Rose often and what it's like to live in a house that's well-designed. And how thankful I am for it, especially now.
Downstairs, the electrical box is signed, simply, in strong black letters: Rose. Like an artist signing a painting. A work of art. That we, by some sort of miracle, get to live in.
(804) 649-6151
Twitter: @collcurran