Legendary comedians Steve Martin and Martin Short will be in Richmond on Friday for their live show "The Funniest Show in Town at the Moment."
It's been a busy fall for the septuagenarians, which is hard to believe if you've watched their 2018 Netflix special "An Evening You Will Forget for the Rest of Your Life," where they deliver jokes rapid-fire, often at each other's expense.
Martin is 76, and Short is 71. Their hit murder mystery-comedy "Only Murders in the Building," co-starring Selena Gomez, just aired its finale this week. But don't tell us — we're still watching and don't know who killed Tim Kono yet. No spoilers.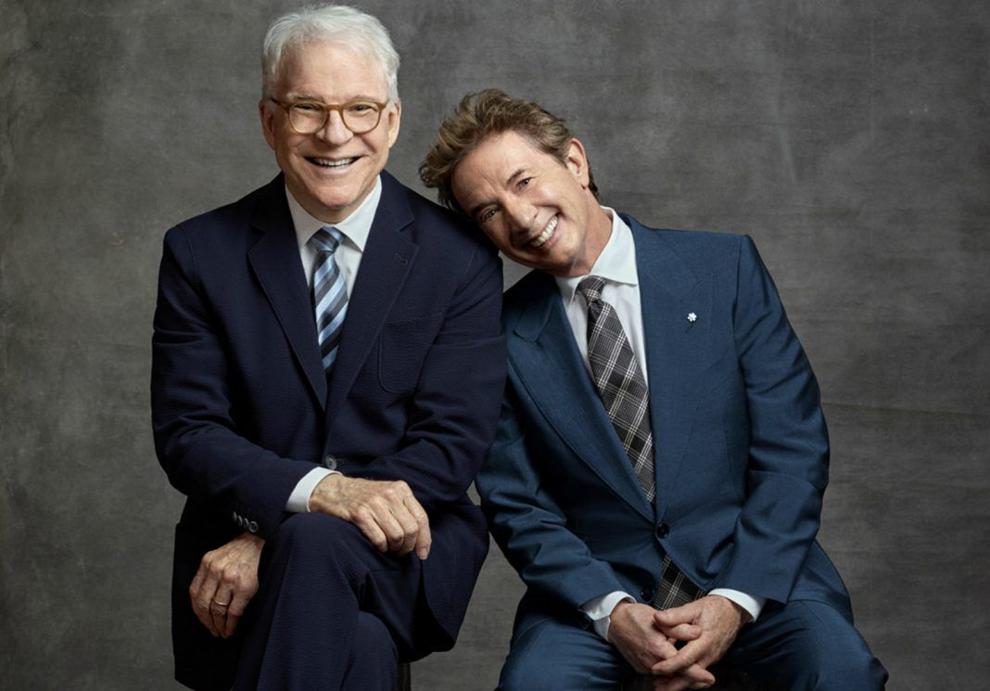 Critics have called the 10-episode series, about true crime obsessives launching a podcast, "fantastically funny" and a total "charmer."
"We didn't know Selena Gomez until we started shooting. You don't know, could she be difficult? Or moody?" Short said in an interview over the phone with the Richmond Times-Dispatch last week. "She was so immediately lovely and delightful. We worked in a loose, fun, happy set. It was a joyful experience."
The crew started filming the show in New York in December and continued for four or five months through the pandemic, with all the crew wearing double masks and face shields.
"At the end of the show, we were going to take a group picture. Everyone lowered their masks for 30 seconds. It was like 100 people I had never seen before in my life," Martin joked during his phone interview. The show has already been renewed for a second season.
Martin and Short met on the set of the 1986 film "The Three Amigos" with Chevy Chase.
"We have a similar sense of humor," Short said. The two became fast friends. "There were dinners and family vacations."
Short played a wedding planner on Martin's film "Father of the Bride." And the two started performing live shows together in 2015.
"We work in a positive way and have a great harmony," Short said.
As for their performance on stage, they mock Hollywood and the nature of celebrity. But what they make fun of most often is themselves — or each other. The fake compliment looms large in their show.
"I think the secret is that it starts with friendship," Short said.
They sing and dance. Martin breaks out the banjo, and Short performs a bunch of funny weird moves reminiscent of his Ed Grimley character on "Saturday Night Live."
"We're constantly working on the show. Adding new routines, new songs, new jokes. For our interest as well as the audience's," Martin said.
Their show was originally scheduled to stop in Richmond in 2020, but then the pandemic happened.
They were touring in Ireland when the pandemic hit in March 2020 and were sent home. Aside from filming "Only Murders in the Building," Martin said he spent the pandemic at home, like everybody else, "spraying down my groceries."
But the funny duo started performing again in August of this year.
"The first one, we were really nervous. But it falls into place fairly quickly," Short said. Some of the shows were outdoors and "relaxed and fun," he said.
The show in Richmond will be indoors at the Altria Theater and masked.
"We hope everyone wears their masks and feels comfortable," Short said.
Martin and Short will be bringing musical guests Jeff Babko and The Steep Canyon Rangers.
"It's a big show. The Steep Canyon Rangers do a solo number that always brings the house down," Martin said.
As for the performers, they said they were happy to be out and on the road again, performing in front of an audience, even if they're masked.
"The truth is that when you're onstage, the lights are in your eyes and you can't see the audience anyway. You just hear them," Martin said. "It's very much the same."
(804) 649-6151
Twitter: @collcurran