Travis Milton, former head chef of Richmond's Comfort restaurant, never thought he'd be joyriding with Padma Lakshmi around his Appalachian property in a four-wheeler.
On the show, Lakshmi, alsohost of the competition series "Top Chef," travels across the country, exploring a variety of cultures and cuisines.
Milton appears on Episode 203, "Padma and the Beanstalk," currently streaming on Hulu, in which Lakshmi visits Appalachia to learn more about the mountain South, its heritage, inventive recipes and complex history.
"I get a decent amount of asks to do stuff involving Appalachia. I'm very conscious about what I pick and choose," Milton said from his home in Bristol. "There's always a bit of nervousness on my part, as an advocate for social change and economic development in Appalachia."
Milton grew up in Castlewood in rural Southwest Virginia where he learned how to cook from family traditions, before becoming a chef and leading the kitchen at Jason Alley's Comfort restaurant downtown on West Broad Street.
Milton left Comfort in 2015 to launch his own restaurant. It took almost 10 years, but last year, he opened Hickory, a farm-to-table, high-end Appalachian food restaurant at the Inn at Nicewonder Farm & Vineyards in Bristol.
"I want to shine a light on what Appalachian food is, the cultures that have culminated in it. We're not this bastion of poor white people in a holler, which this place has been pigeonholed into. That's been my life's goal and mission since I left Comfort. This show really hit all those points for me. They wanted to show the Appalachia that I know," Milton said.
The roots of Appalachian food come from the people who lived in the mountains, from Native Americans and enslaved people of African descent to Scotch Irish and Italian immigrants, Milton said. "All of that culminates in Appalachian food. Throw in poverty and subsistence, which forces creativity, you get a crazy different cuisine," he said.
On the show, Lakshmi visits Milton in his kitchen where they cook a few of Milton's signature dishes, such as cornbread, chowchow, killed salad dressed in bacon fat, and leather britches, an Appalachian way of drying and preserving green beans that turns into a meaty, satisfying stew dish under Milton's hands.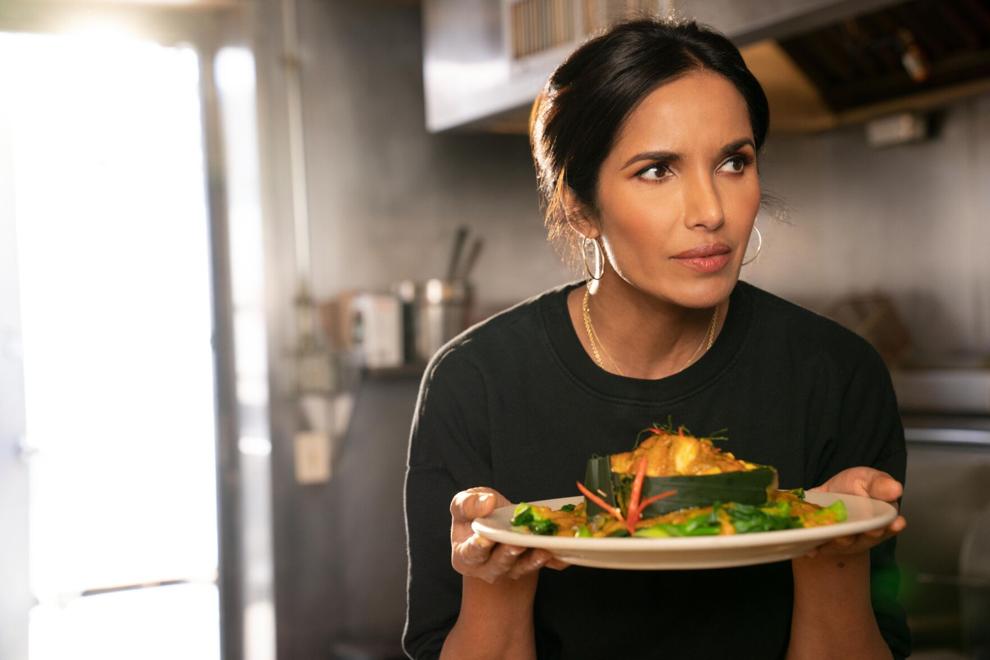 "Traditional Appalachian food doesn't always show well on TV. It's more like a smorgasbord, similar to other cultures around the world, like Korean foodways, with different dishes and pickles and stews. Appalachian food is very similar," Milton said.
The "Taste the Nation" producers visited Milton's restaurant before they started filming to get a sense of his Appalachian cooking.
At Hickory, Milton builds upon his childhood recipes in new and inventive ways, like whipped Spam with house pickles, nori, yuzu hot sauce and fried saltines, which was a hit with Lakshmi, Milton said.
"It's an homage to my great-grandmother. She was the best cook I've ever known," Milton said.
Dishes on the Hickory menu vary in price from $9 to $16 for small bites to $32 to $65 for large plates, ranging from the down-home and humble, such as cornbread with sorghum butter, to more elevated dishes, such as roasted oysters with smoked drawn butter, Benton's ham and buttermilk cheddar or the Tomahawk porkchop with hen of the woods mushroom and chervil.
"Once the producers sat down and ate with me at the restaurant and saw some of the elevated stuff we're doing, how we ate growing up, it took shape pretty quickly," Milton said. "It was eye-opening even for me."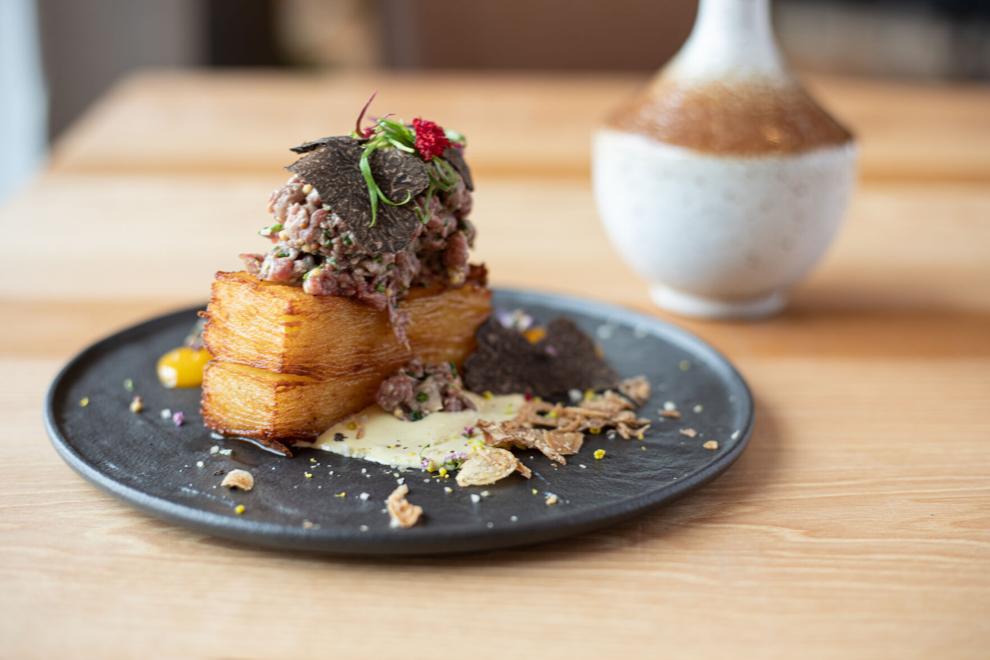 Nicewonder Farm & Vineyards is a 28-room luxury inn, restaurant, vineyard and event space located at The Virginian Golf Club in Bristol.
"It's everything I ever dreamed of having for a restaurant," Milton said. "Having the farm attached to the restaurant, a vineyard, being in the middle of farmland and this breathtaking spot. And I got to put up pictures of 'The Golden Girls' in my kitchen," Milton said, who has a love of 1980s television.
He even talked about "Golden Girls" with Lakshmi, who confessed her affection for the show "Frasier."
Milton still visits Richmond about once or twice a year to see friends and former co-workers. He said he always pops into GWARbar: "That was the place we'd always go to after Comfort," which eventually closed in 2020. He does the same at ZZQ Texas Craft Barbeque, to visit Chris Fultz and Alex Graf, and he checks in on the folks at Longoven in Scott's Addition.
"Richmond will always have a piece of my heart," he said.
But for now, he's fully focused on Hickory, the restaurant he's been dreaming of for years that is finally a reality.
"It's really insane. Having a concept in your head and trying to make it happen for over 10 years. You hit a lot of ups and downs. There's a lot of soul-searching. When you get so close, so many times and wonder, 'Am I ever going to do this?' " he said. "The most important thing to me is being able to create a place that is creating jobs and training for young cooks down here, to learn these fine-dining techniques. And then the level of service we offer here and the beauty of this property. It really blows my mind. Being able to show the Appalachia that I see. That's the most important thing to me."
Colleen Curran (804) 649-6151
@collcurran on Twitter