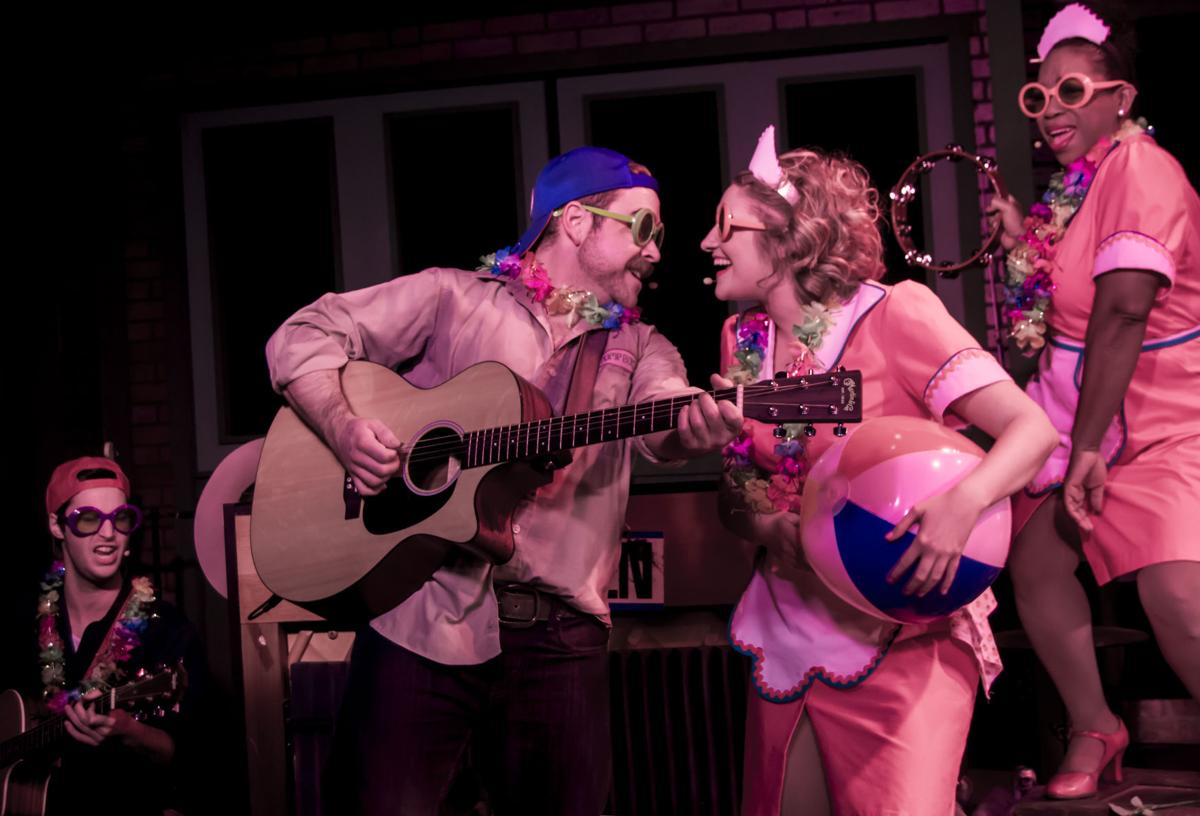 Somewhere down in the twisted loops and turns of our brains' deepest, darkest ganglia, "Pump Boys and Dinettes" must once have been the show we sorely needed.
Maybe it had to do with where we found ourselves by the early 1980s, when a mischievous duo working at The Cattleman restaurant in New York City started indulging in good-natured country-western musical high jinks for the lounge patrons.
Were we sobered by the paternal likeness of Ronald Reagan? Tuckered out by years of a nagging counterculture? Shamed by the bitter fruits of a land war in Asia? Exhausted by disco?
Whatever had gotten under our skin, a certain type of pleasant, calming stagecraft crept in to soothe our frayed and twitchy nerves: performances that harked back to simpler, straighter, narrower times and traded in mawkish knee-slapping, song, dance and humor.
Think of "Greater Tuna" and its several sequels. Or Stephen Wade's "Banjo Dancing," the '80s staple of Arena Stage's Old Vat Room. And Garrison Keillor's "A Prairie Home Companion," the 1970s radio confection that achieved its au courant moment in the decade that followed.
"Pump Boys and Dinettes," a shambling 100-minute (with intermission) co-production of 5th Wall Theatre and Hampton Roads' The American Theatre now running in TheatreLAB's The Basement, might remind you of those shows.
Four oil-stained "pump boys" (John Mervini, Mike Cefalo, Michael Bamford and Sean Powell) work at a gas station on North Carolina Highway 57 between the municipalities of Smyrna and Frog Level and toss off 21 short-form country songs on a range of instruments: piano, guitar, banjo, bass violin and ukulele.
Stage left, the Cupp sisters (Rachel Marrs and Desiree Roots Centeio), dressed in pink "dinette" waitress garb, busy themselves in the gas station's adjoining "Double Cupp" diner while singing, dancing and even offering the boys a bit of percussive assist by tapping on hanging pots and pans.
It's goofy. It's kitschy. It's filled with gentle platitudes: "Work won't kill you, but worry will," says Mervini as "Jim," the pump boy with the most grease-monkey charisma.
Functioning more as loose-fitting concert performance than carefully plotted musical story, "Pump Boys and Dinettes," has no story to speak of, exhibits no discernible character development, possesses neither pluck nor depth, and never bothers to salt its action with any actual pump or diner customers.
But might "Pump Boys," once nominated for multiple Tony Awards, still give relief from all that ails us as we face the smooth, cool contours of this know-it-all century?
For a certain audience happy to wallow in easygoing chord licks and shaggy-dog jokiness, "Pump Boys" still hits its overeager marks.
A larger venue and audience might supply "Pump Boys" with more grandeur and infectious charm, but the confines of The Basement give the show a certain bracing intimacy, and Roger Price's sound design adds just-right modulation to both voices and instruments.
And even as director Richard Parison gladly frees the boys to engage in circus-like antics — Powell's "Eddie" takes a turn playing the bass violin while lying down — it's the Dinettes' voices and abundant good cheer that do most of the show's heavy lifting.
Marrs and Centeio vamp but never overwhelm and have vocal chops that alone are worth the price of admission.
The show contains other winning moments: The women do a cowboy-boot tap dance; the boys raffle off a rearview-mirror-hanging deodorizer; the entire troupe brings audience members onstage to snap several group Polaroids.
Still, the time that has passed since "Pump Boys and Dinettes" wowed theatergoers in the 1980s has sharpened our emotional expectations and severely dated the show's throwback sentimentality, turning it more into music-box curiosity than reliable touchstone for the heart.
A quickie look at Google Maps shows that none of the "Pump Boys and Dinettes" stated geographical locations are contiguous — or even seem to exist at all. No matter: We are glad to let the show take its happy license. But wherever this station, diner and cheeky group might be found, it's clear they belong to an era that was, not the era that is.